2004 Jayco Bay Cycling Classic
Victoria, Australia, January 7-11, 2004
Home Course Map Men's Results Previous Race Next Race
Race 3 - Friday, January 9: Geelong - Ritchie Boulevard
NSW wins stage, Victoria retains overall lead
By Karen Forman in Geelong
Emma James from New South Wales
Photo ©: Shane Goss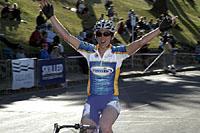 A couple of broken spokes, a flat spare tyre and a busted pump prevented 2003 winner Kate Bates (NSW) from fighting as hard as she wished in the third stage of the 2004 Jayco Bay Classic on the Geelong waterfront, but NSW didn't miss out as teammate Emma James crossed the finish line first after attacking with three laps to go.
The overall lead remains with Victoria, with series leader Hayley Rutherford collecting enough points from her fifth place to have the honour of wearing the leader's jersey for another day. The rivalry continues between the two states... But neither is having it all their way.
Stage one winner Oenone Wood, who put a spanner in the spokes of Victoria and NSW when she won for "the forgotten state" ACT on Wednesday and sits just one point behind Rutherford on the overall points aggregate after finishing fourth today.
The women set a brisk pace for their race, with Bates clocking up to 50kmh in the main straights and 45kmh out of the corners on the tight car park circuit. THe result was the loss of about half the field, but tactics didn't play a big role until Victorian Narelle Peterson attacked and established a gap with 10 laps to go.
The podium after race three (L to R):
Photo ©: Shane Goss
Bates had her own difficulties in the early laps. Riding too close to another rider had lost her a couple of spokes and some time while she stopped to change the wheel. Then, realising she was riding on a soft tyre, she battled with a broken pump.
"When I have good days I have really good days and when I have bad days I have really bad days," she told Cyclingnews later. "It was my fault about the tyre; I hadn't checked it."
She said she was disappointed for her team because she was up in standings and her teammates had been helping her on what she described as a tough course because of the corners.
"It's like being in a rubber band, stretching out, coming together," she said. "It really wears you out." She said she was starting to feel tired after racing three crits in three days and everyone was feeling the same. "We'll see tomorrow," she said. "We all want to work hard for Liv (Olivia Gollan)."
How it unfolded
Riders swing around the top bend
Photo ©: Shane Goss

Early attacks by James, Gollan, and Jessica Ridder (NSW) failed to establish any real breakaways, but then Peterson, a former junior world champion, leapt out of the saddle with 10 laps to go and powered off the front of the bunch. She established a 12 second gap fairly quickly and was still riding hard, head down, legs pumping like pistons, in the back straight four laps later when she was finally caught with seven to go.
With six laps to go, Amanda Spratt (NSW), Alison Wright (ACT), Rutherford and Wood were having a go in the back straight and with five to go, Peterson was on the front of the pack, trying to slow it down.
She attacked again off the front with four to go, playing cat and mouse with Jenny McPherson (Victoria) and Alexis Rhodes (South Australia), who tried to go with her, but it was James who surprised them with an attack of her own with three to go.
Naomi Williams (Tasmania) and Wright tried to follow and Katie Mactier (Victoria) rode hard on the front of the chasing bunch in a bid to real them back in, but James managed to stay out in front alone and crossed the finish line before anyone else could get to her. Teammate and series winner from two years ago, Rochelle Gilmore, was second. Afterwards, James paid tribute to her team, saying it was good to be part of a strong team.
Katie Mactier of Victoria
Photo ©: Shane Goss

"It's nice to be doing a bit of what the Skilled boys are doing­ riding as a team and helping each other out," she said.
Still, James said she would never give away a chance to win, like Bates had appeared to. "I saw she was having problems with her spokes and she placed well in the second sprint and I tried to help her get back on. I don't know what happened."
James said the tight circuit favoured sprinters. "It's like chess, playing your cards and seeing what happens," she said. She hadn't realised she would probably win the event until the last five metres and says she was concerned that the bunch would catch her, aided by a brisk tailwind in the finishing straight.
"I think I won because I had teammates back there, holding the others back," she said.
James, 27, finished 18th in the women's Tour de France last year and is hoping she might be one of the three women selected to represent Australia at the Athens Olympics.
"It depends on form leading up to the event," she said. "I think I still have a chance but with only three going, it will be tough competition. Australia has some really strong riders, we are number one in the world."
Rutherford, after donning her series leader's jersey for the second day running, said it appeared the series was now between she and Wood. "Kate only needs a win or a high placing to be back up there though," she warned.
She also spoke of the teamwork among the women, but admitted that now that she had the leader's jersey, she would like to keep it. "I am feeling pretty fit at the moment and I would like to push my way into the Olympic squad," she said.
Victoria had to do without rider Emma Rickards today. She is still suffering from soft tissue damage to her hand resulting from a fall in stage one on Wednesday at Hastings.
Photography
Images by Shane Goss/www.licoricegallery.com
Results
1 Emma James (Bicisport)
2 Rochelle Gilmore (Bankstown Sports CC)
3 Elizabeth Williams (Carnegie Caulfield CC)
4 Oenone Wood (Canberra Cycling Club)
5 Hayley Rutherford (Northern Districts)
6 Alison Wright (Canberra Cycling Club)
7 Olivia Gollan (Kooragang Open CC)
8 Jessica Ridder (Bathurst CC)
9 Jenny Macpherson (Carnegie Caulfield CC)
10 Naomi Williams (Northern Districts CC)
 
Intermediate sprints
 
Sprint 1
 
1 Olivia Gollan (Kooragang Open CC)
2 Katherine Bates (Parramatta CC)
3 Oenone Wood (Canberra Cycling Club)
 
Sprint 2 
 
1 Katherine Bates (Parramatta CC)
2 Olivia Gollan (Kooragang Open CC)
3 Alison Wright (Canberra Cycling Club)
 
General classification after race 3
 
1 Hayley Rutherford (Northern Districts)    28 pts
2 Oenone Wood (Canberra Cycling Club)       27
3 Emma James (Bicisport)                    18
4 Alison Wright (Canberra Cycling Club)     16
5 Olivia Gollan (Kooragang Open CC)         15
6 Rochelle Gilmore (Bankstown Sports CC)    15
7 Katherine Bates (Parramatta CC)           12
8 Elizabeth Williams (Carnegie Caulfield CC)11
9 Jessica Ridder (Bathurst CC)               9
10 Emma Rickards (Carnegie Caulfield CC)     7
11 Kate Nichols (St George CC)               7
 
Sprint classification
 
1 Katherine Bates (Parramatta CC)           14
2 Olivia Gollan (Kooragang Open CC)         10