2004 Jayco Bay Cycling Classic
Victoria, Australia, January 7-11, 2004
McEwen takes green at Jayco Bay Classic launch
Cooke suffers mechanical failure
By Karen Forman
Cooke, McEwen and other top pro's star in a series of events down under
Photo ©: James Worrell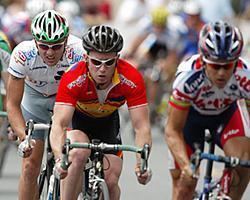 Australian Tour de France heroes Robbie McEwen and Baden Cooke came face to face in an event that was as far from the Tour as they could get during the official launch of Victoria's premier criterium series, the 2004 Jayco Bay Classic, in Melbourne this week.
In what was a highly comical spectacle at Docklands, the site of the final of five criteriums on January 11, McEwen and Cooke challenged each other on a tight 30-metre course riding mountain bikes and towing four-man Jayco camper trailers attached by special fixtures and tow balls designed by Jayco engineers.
Cooke had mechanical failure and could not reach the finish line, so McEwen was announced the winner and received a green can of beer in lieu of a green jersey for his efforts.
Other guests at the launch of the event, which following the development this month of a partnership between former owner John Trevorrow, Karin Jones, David Robb and Peter McKeddie, will be run by Cycling Events Downunder under Trevorrow's directorship, included previous sprint jersey women's winner Katie Mactier. She spoke of the rivalry between NSW and Victoria and said Victoria hoped to take the winners title back this year.
She also reiterated how much she enjoyed the series, with women from all around the world. "It is great to have an event like this in our home country," she said.
Cooke said he was ahead of his training schedule and unlike previous years would be up to the test, while McEwen said he was looking forward to making it a seventh win in a row.
Robbie McEwen
Photo: © James Victor

The battle of the Bay Crits 2004 will start with the appropriately named circuit at Hastings on the Mornington Peninsula on January 7. It will then move onto the grueling Portarlington circuit, then Geelong will play host on January 9 and 10 with late afternoon events on the picturesque waterfront and the magnificent Botanic Gardens. The Jayco Bay Cycling Classic will conclude at Melbourne's spectacular Docklands with its waterfront restaurants and bars, where enthusiasts and tourists alike are sure to be swept up in the euphoria of this spectacular event.
Cycling Events Downunder spokesperson Karin Jones said the 2004 series was shaping up to be "the best of the best".
"We have the full complement of 14 teams and some amazing riders," she said. "It is a pity that Stuart O'Grady can't be there due to commitments with his new team but it will be interesting to see how our two Tour de France heroes go. As well, we have the full FDJeux.com professional team, which is absolutely fantastic. Baden, of course, will be racing with his team."
McEwen, meanwhile, has been assigned an up and coming young group of riders for his MAB Mirvac Lend Lease and Vic Urban team - Trent Wilson, David Harrigan from NSW, Kane Oakley from Queensland and Brian Appleyard from NSW.
Liz Williams
Photo: © James Victor

Ex-members of the now defunct iTeamNova.com professional team, David McKenzie and Alan Iacuone will line up in the Bicycle Superstore team with Hector Morales and Jorge Libonatti, both from Uruguay. Other notable riders include Graeme Brown who will again ride with the SBR team including Hilton Clarke, former iTeamNova.com rider Brett Lancaster, Greg Henderson from New Zealand and Jeremy Hunt. Part of the British Olympic squad will be riding for 700C Business Objects (Steve Cummings, Christian House, Russell Downing, brother Dean Downing and Kieran Page).
Past winner, Olympic gold medallist Brett Aitken, is riding for the new Drapac cycling team, which is putting also entering a women's team. The elite women will race prior to the main feature each day. Mactier heads an impressive list and although a sprint jersey winner in previous series, she wants overall victory in 2004.
She won't have it all her own way, however, with the New South Wales Institute of Sport sending another strong contingent, including winners for the past two years, Kate Bates and Rochelle Gilmore who won't hear of losing the title to the Victorians.
Past Winners

2003 Robbie McEwen (Qld) Katie Bates (NSW)
2002 Robbie McEwen (Qld) Rochelle Gilmore (NSW)
2001 Robbie McEwen (Qld) Anna Millward (Vic)
2000 Brett Aitken (SA) Karen Barrow (Vic)
1999 Robbie McEwen (Qld) Anna Wilson (Vic)
1998 Brett Aitken (SA) Anna Wilson (Vic)
1997 Robbie McEwen (Qld) Sandra Smith (WA)
1996 David McKenzie (Vic) Anna Wilson (Vic)
1995 Neil Stephens (ACT) Kathy Watt (Vic)
1994 Rik McCaig (Vic) Kathy Watt (Vic)
1993 Peter Attard (Vic)
1992 Glen Clarke (Vic)
1990 Mornington Peninsula: Glen Clarke (Vic) - Bellarine Peninsula: Glen Clarke (Vic)
1989 Mornington Peninsula: Peter Stieger (Swi) - Bellarine Peninsula: Gary Sutton (NSW)