2004 Jayco Bay Cycling Classic
Victoria, Australia, January 7-11, 2004
Home Course Map Results Women's Results Previous Race Next Race
Race 4 - Saturday, January 10: Geelong - Botanic Gardens
Cooke takes back leader's jersey
McKenzie in overall contention, Aitken finds form at last
By Karen Forman in Geelong
Cooke on top
Photo ©: Shane Goss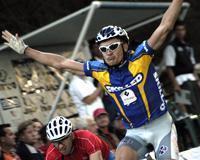 A fast and furious four-man sprint finish saw Skilled rider Baden Cooke take back the Jayco Bay Classic leader's jersey from his teammate Matt Wilson in Geelong last night, while the winner of the previous stage, David McKenzie (Bicycle Superstore), pushed himself into contention for the series prize with a hard earned third. Brett Aitken (Drapac) finally found the form he has been lacking throughout the series to clinch second.
Cooke and McKenzie now go into the fifth and final stage at Docklands in Melbourne tomorrow with just five points separating them ­ Cooke is on 31 and Macca 26. And a win from Wilson, on 23 points, could well push him back into the limelight. Under the event's point scoring system, a win is worth 12 points, and as the riders themselves say, "anything is possible."
With Cooke, Wilson and Skilled teammates Rodney McGee and Mark Renshaw in fifth and sixth on the aggregate respectively, it's no surprise that the team, which comprises the Australian contingent of the French FDJeux.com pro team, is pretty much unreachable at the top of the teams aggregate with 85 points. Next is Bicycle Superstore with 28 points followed by 700C Business Objects on 26, Team MGZT Bianchi with 22 and SBR with 14. In sixth is Victorian State Home Loans on 12, Giant/CBD Cycles on 11, Drapac on 10, Jayco-VIS five, FRF Couriers/Caravello four and Team Carnegie Caulfield, three.
Skilled rider Mark Renshaw leads the sprint competition with 13 points ahead of Hilton Clarke (SBR) with seven and McKenzie, also on seven.
Cooke said he had made the decision to be aggressive tonight to help Wilson out. "But he had a bad night, he wasn't going so good, so then it was up to me and he came through as he always does, to help me out," Cooke explained. "We are not just one person, we all ride together as a team."
He said the best way to help out his team was to put pressure on everyone else. "The fact that Matt was in the leaders jersey and still managed to lead me out at the hill shows what a tight unit we are."
He said the team planned to keep the same formula at Docklands tomorrow night, "attacking to keep the pressure on other people."
"I don't need to win the stage," Cooke said. "The whole trick is to ride like that, put the pressure on the others. I was quite surprised to do so well to be honest. I have been having trouble with my hip and haven't been doing much training. I have been working with a physio and masseuse and doing three to four hours training in the mornings, then having a snooze and then racing at night. Split training seems to be working for me.
"I have tightness through my hips and lower back and get twisted on my bike which causes weakness in one leg. I spent 60 to 70 per cent of the year riding with less power in my right leg. I hope I will be able to lock it in and stay strong for a month or two now."
Cooke said he hoped if he could win now through sustained efforts (i.e., after consistent attacks), early in the season, that he could do the same thing in the Tour of Flanders.
"I'm not just a sprinter who can dash away with 200 metres to go."
McKenzie was "stoked" with his third place after conceding he was on his limit 10 laps out. "Skilled did an awesome team effort, really," he said. "So did our guy. I am happy."
As to finding himself in contention for the overall, he said he didn't know what to expect. "Anything can happen. It's a hotdog circuit again and they are not usually my thing but I surprised myself last night. Tonight's race was the hardest of the series; it was like a tunnel down the back straight.
"I think tomorrow a lot of guys will be up for the win, some for the point score, others because it's the final race and they want to do well. I can still challenge for the win."
How it unfolded
If the previous stage was a brilliant display of professional bike racing, due in part to the teamwork of the Skilled riders and McKenzie, tonight's race on a kilometre-long circuit in the Geelong Botanic Gardens was possibly even greater.
Hector Morales
Photo ©: Shane Goss

It was fast and aggressive, featuring attack after attack- mostly by Bicycle Superstore riders Hector Morales and Jorge Libonatti, both from Uruguay, Michael Bailey and Allan Iacuone, setting it up to get McKenzie back to the front in time for the sprint. Once again, Skilled put in another great team ride despite the loss of stage two winner Bradley McGee when he withdrew on the 17th lap, less than halfway through the race.
McGee said later he had been feeling flat during the day, had been in bed till lunchtime "and should have stayed there". Also under the weather and not racing today was five-times series winner Robbie McEwen (MAB/Mirvac/Lend Lease/Vic Urban) who came down with a stomach ailment even as he was nursing a hip injury from a crash during the first stage on Wednesday.
Another of the hot favourites for the series, Graeme Brown (SBR), started but withdrew in early stages due to difficulties breathing associated with the chest infection that has kept him out of the last three stages. Both McEwen and Brown hope to be on the starting line tomorrow.
The attacks began early in the fourth stage. Morales went off the front on the fourth lap and quickly had 10 bike lengths on the field, putting the bunch under pressure right away. He was still off the front four laps later.
Brad McGee
Photo ©: Shane Goss

On the ninth lap, it was Wilson attacking and doglegging all over the place, with Morales, McGee and McKenzie on his wheel. When the whistle came for the first intermediate sprint, Iacuone and Trent Lowe (Team Carnegie Caulfield) fired off the front and it was Lowe who took it out ahead of Iacuone and David Harrigan (MAB/Mirvac/Lend Lease/Vic Urban).
Lowe and Iacuone maintained a break and were chased hard by sprint aggregate leader Renshaw on the front of the bunch. They were reeled in and by the 14th lap by the main players including Cooke, McKenzie and Clarke.
From then on the attacks continued. David McPartland gave it a go for FRF Couriers/Caravello, Nick Kiraly for Team Carnegie Caulfield and Libonatti, who pulled away on the 18th lap and held a break for three laps. Behind him, the field was suffering and starting to break up. Libonatti won the second intermediate sprint without being challenged, with Clarke second and McPartland third. He was joined on the 23rd lap by teammate Morales, McPartland and Brett Lancaster (SBR).
The bunch was back together by the 24th lap and two laps later, Cooke, Lancaster, Iacuone and Kieran Page were off the front of the bunch. Cooke was obviously trying to set something up for Wilson, back in the bunch in the leader's jersey. His efforts also assisted teammate Renshaw, who was able to go through to win the third intermediate sprint ahead of Rory Sutherland (Victorian State Home Loans) and Greg Henderson (SBR).
With six laps to go a breakaway had formed comprising Simon Gerrans (Team Carnegie Caulfield), last year's winner of this stage William Walker (Giant/CBD Cycles), Wilson and McKenzie, who was starting his move to the front for the upcoming sprint finish. He attacked with five to go and Cooke went with him, but with four to go the group was back together, despite consistent attacks from Gerrans, Cooke, McKenzie and Morales. Henderson was attacking hard with two to go and Downing with one to go but the final sprint was to come down to Christopher Sutton (Skilled), McKenzie, Cooke and Wilson... Or so it seemed.
Shooting through was Brett Aitken, who hadn't made a big showing this series due to a flare-up of tenonitis in his knee. He flew into the fray from behind to finish second to Cooke and in front of McKenzie.
Photography
Images by Shane Goss/www.licoricegallery.com
Images by Jean-Francois Quenet
Elite Men
Elite Men
 
1 Baden Cooke (Vic) Skilled                                
2 Brett Aitken (SA) Drapac Cycling Team                    
3 David McKenzie (Vic) Bicycle Superstore                  
4 Russell Downing (GBr) 700C Business Objects              
5 Dean Downing (GBr) 700C Business Objects                 
6 William Walker (Vic) Giant/CBD Cycles                    
7 Mark Renshaw (NSW) Skilled                               
8 Matt Wilson (Vic) Skilled                                
9 Rory Sutherland (ACT)Victorian State Home Loans          
10 Hilton Clarke (Vic) SBR                                 
 
Sprints
 
Sprint 1
 
1 Trent Lowe (Vic) Team Carnegie Caulfield                 
2 Allan Iacuone (Vic) Bicycle Superstore                   
3 David Harrigan (NSW) Mab/Mirvac/Lend Lease/Vic Urban     
 
Sprint 2
 
1 Jorge Libonatti (Uru) Bicycle Superstore                 
2 Hilton Clarke (Vic) SBR                                  
3 David McPartland (Vic) FRF Couriers/Caravello            
 
Sprint 3
 
1 Mark Renshaw (NSW) Skilled                               
2 Rory Sutherland (ACT)Victorian State Home Loans          
3 Greg Henderson (NZl) SBR                                 
 
Overall classification after race 4
 
1 Baden Cooke (Vic) Skilled                              31 pts
2 David McKenzie (Vic) Bicycle Superstore                26
3 Matt Wilson (Vic) Skilled                              23
4 Brett Aitken (SA) Drapac Cycling Team                  17
5 Bradley Mcgee (NSW) Skilled                            16
6 Mark Renshaw (NSW) Skilled                             14
7 Rory Sutherland (ACT)Victorian State Home Loans        12
8 Russell Downing (GBr) 700C Business Objects            10
9 Kristian House (GBr) 700C Business Objects             10
10 Jeremy Hunt (GBr) SBR                                  9
 
Sprint classification
 
1 Mark Renshaw (NSW) Skilled                             13 pts
2 David McKenzie (Vic) Bicycle Superstore                 7
3 Hilton Clarke (Vic) SBR                                 7
 
Young rider's jersey
 
1 Jorge Libonatti (Uru) Bicycle Superstore                 

A Grade Support

1 Jonny Clarke (Vic)                                      
2 Beritil Klootnijk (Ned)                                  
3 Klayten Smith (Clarence St CCC)                          
4 Daniel Newnham (Gold Coast Goldstars CC)                 
5 Simon Clarke (Carnegie Caulfield CC)                     
6 Mathew Rex (Norwood C.C.)                                
7 Adam Tully (C.A.T.S.)                                    
8 Anthony Smith (Blackburn Cycling Club Inc)               
9 Dean Windsor (Bathurst CC)                               
10 Stephen Rossendell (Hobart Wheelers)                    
 
Sprints
 
Sprint 1
 
1 Dean Windsor (Bathurst CC)                               
2 Zakkari Dempster (Bendigo & District CC)                 
3 Craig Butland (South Africa)                             
 
Sprint 2
 
1 Dean Windsor (Bathurst CC)                               
2 Simon Clarke (Carnegie Caulfield CC)                     
3 Klayten Smith (Clarence St CCC)                          
 
Overall classification after race 4
 
1 Beritil Klootnijk (Ned)                                34 pts
2 Mathew Rex (Norwood C.C.)                              30
3 Paul Richards (Warragul Cycling Club)                  25
4 Simon Clarke (Carnegie Caulfield CC)                   25
5 Daniel Newnham (Gold Coast Goldstars CC)               21
6 Klayten Smith (Clarence St CCC)                        18
7 Dean Windsor (Bathurst CC)                             16
8 Matthew Goss (West Tamar CC)                           13
9 Jonny Clarke (Vic)                                     12
10 Adam Tully (C.A.T.S.)                                 10