Tour of Georgia - 2.3
Georgia, USA, April 20-25, 2004
Main Page Live report Results Previous stage Next stage
Stage 3 : April 22 - Carrollton - Rome, 126.2 km
The Emperor returns to Rome
Armstrong sprints to stage win in Georgia
By Tim Maloney in Rome
Lance Armstrong (US Postal) takes a sprint win
Photo ©: Bob Badalucco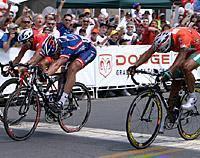 Today in Rome, Lance Armstrong demonstrated the presence of mind and sangfroid that's made him the emperor of the Tour De France. With a surprise, opportunistic sprint that won him Stage 3 in Rome, Armstrong grabbed the winner's 6" time bonus, propelling him into fourth place on GC. The win turned the tables on Lance's CSC adversaries in Georgia, Bobby Julich and Jens Voigt, in tonight's 30km individual time trial. No one expected the five time Tour winner to contest the fast downhill finish, but Lance told Cyclingnews post-race that, "Those finishing circuits were hard! I was up front on the last lap with Chris Horner, Bobby Julich and Ivan Dominguez...there weren't many other guys left. I had George (Hincapie) with me and what the heck, I just went for the sprint."
"In the last climb I was up front and then I found myself in a good position. I was fifth over the climb...we were marking each other and had I been in tenth I wouldn't have gone for it."
Big cheers and lots of camera-ready fans
Photo ©: CN/MZ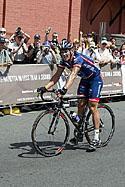 When we asked Armstrong if the Rome circuits reminded him of his criterium days, back 15 years ago, he chuckled and said, "Here (America) it's a whole different art. You can tell the guys here are used to racing differently. You have no friends, you have no allies, you have no breaks...in Europe, it's very different. There's a different hierarchy in the European peloton."
Was he concerned that he may have made too many efforts before the evening time trial? "I didn't make any efforts today...I followed, followed, followed and then sprinted. That was it!" As for tonight, Armstrong's intentions are clear. "Oh yeah, full on....I don't know what that means yet, though."
Emerging star Ivan Dominguez (Colavita-Bolla) was runner-up for the second day in row: yesterday to Cipollini and today to Lance Armstrong. The Cuban rider used his 4" time bonus to grab the Yellow Jersey from veteran Canadian sprinter Gord Fraser, who found the testing circuits too much and ended up in 11th place. Dominguez also took the lead in the Sprinter's jersey classification on what is certainly the biggest day in his cycling career to date.
Podium
Photo ©: CN/JD

"When I looked over and saw Armstrong today in the sprint, I said holy sheesh...then after the race when I congratulated him, Lance said 'I was on the right wheel'. I knew he was fast in the past but with his Tour riding, I wasn't sure about him. Now I have to worry about him in the sprints," joked Dominguez.
New Tour de Georgia leader "Papa" Dominguez likes hilly finishes more than most sprinters. "Most sprinters don't like this kind of a race, but I do. I'm not a climber, but I don't like flat races and criteriums. Coming to the last climb, I was behind Horner. He went at the bottom of the hill, but I got passed by Julich and Hincapie. I stayed on George's wheel and then Lance passed me."
Papa will start this evening's time trial in Yellow, but his battle with the speedy Fraser and his tenacious Health Net team is still to play out across the mountains of North Georgia. "It's gonna be OK. We'll see...one day at a time," Dominguez told Cyclingnews.
How it unfolded
The crowds are out
Photo ©: CN/JD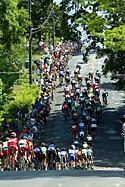 After a fast and furious start in Carrolton on the road to Rome with multiple attacks, mostly by duelling Northern California teams Ofoto and Sierra Nevada, the enterprising Ofoto squad managed to gain full exposure via the solo effort of their Jackson Stewart.
Powered by a strong tailwind, Stewart moved away from the Health Net led peloton in Tallapoosa after 32km. Although USA Cycling's Stuart Gillespie got halfway to Stewart in his attempt to bridge, the Ofoto pro's pace was too much for the U23 American to bridge. After 65km, Stewart's lead was at its maximum of 2'30" and by the sprint in Cedartown, his lead was 1'30" and falling.
Off the main highway and onto twisty Burkhalter Road for the run-in to Rome, Domina Vacanze joined the chase and eventually just outside the city limits, Stewart was reeled in after 75km. Current World U23 champ Sergey Lagutin made a counter attack, but the sprinters' trains were a-rollin' towards Rome and Lagu got sucked up almost immediately. Once on the circuits, Domina Vacanze and Health Net controlled the action until the last laps, when Chris Horner tried to upset the applecart with a few moves, but Armstrong took the winner's bouquet in the rapid average speed of 46.827 km/h.
Stage 4 - April 22: Rome Individual Time Trial, 30km
The afternoon's time test is on a testing, out and back course that starts in downtown Rome and heads west out of town to the difficult 4km climb up Radio Springs Rd. to 432m. Mt. Alto. Stage 4 will certainly shake up the overall general classification of the Dodge Tour De Georgia and Thursday's test shapes up as a battle between Armstrong, Julich and his CSC teammate Voigt. With Lance now riding behind the two CSC riders, expect Armstrong's onslaught to show no mercy.
Photography
Images by Jonathan Devich/Cyclingnews.com/www.epicimages.us
Images by Mark Zalewski/Cyclingnews.com
Images by Bob Badalucco/www.bbactionphoto.com
Results
1 Lance Armstrong (USA) US Postal Service presented by Berry Floor      2.41.42
2 Ivan Dominguez (Cub) Colavita Olive Oil, presented by Bolla Wines            
3 Benjamin Brooks (Aus) Jelly Belly/Aramark                                    
4 George Hincapie (USA) US Postal Service presented by Berry Floor             
5 Massimiliano Mori (Ita) Domina Vacanze                                       
6 Bobby Julich (USA) Team CSC                                                  
7 Ben Jacques-Maynes (USA) Sierra Nevada Cycling                               
8 Doug Ollerenshaw (USA) Jelly Belly/Aramark                                   
9 Chris Horner (USA) Webcor Builders                                           
10 Charles Dionne (Can) Webcor Builders                                        
11 Gordon Fraser (Can) Health Net Presented by Maxxis                          
12 Ciaran Power (Irl) Navigators Insurance                                     
13 Glen Mitchell (NZl) Sierra Nevada Cycling                                   
14 David Clinger (USA) Domina Vacanze                                          
15 Jens Voigt (Ger) Team CSC                                                   
16 Ivan Ravaioli (Ita) Barloworld-Androni Giocattoli                           
17 John Lieswyn (USA) Health Net Presented by Maxxis                           
18 Christopher Baldwin (USA) Navigators Insurance                              
19 Viatcheslav Ekimov (Rus) US Postal Service presented by Berry Floor         
20 Tim Larkin (USA) Ofoto/Lombardi Sports                                      
21 Antonio Bucciero (Ita) Saeco-Saunier Duval                                  
22 Mikhail Timochine (Rus) Landbouwkrediet-Colnago                             
23 Mario Cipollini (Ita) Domina Vacanze                                        
24 Nieko Biskner (USA) Ofoto/Lombardi Sports                                   
25 Chris Wherry (USA) Health Net Presented by Maxxis                           
26 Imanol Ayestaran Odriozola (Spa) Webcor Builders                            
27 Juan Jose Haedo (Arg) Colavita Olive Oil, presented by Bolla Wines          
28 Kirk O'Bee (USA) Navigators Insurance                                       
29 William Frischkorn (USA) Colavita Olive Oil, presented by Bolla Wines       
30 Dominique Perras (Can) Ofoto/Lombardi Sports                                
31 Kirk Albers (USA) Jelly Belly/Aramark                                       
32 Thomas Bruun Eriksen (Den) Team CSC                                         
33 Eric Wohlberg (Can) Sierra Nevada Cycling                                   
34 Sergio Marinangeli (Ita) Domina Vacanze                                     
35 Danny Pate (USA) Health Net Presented by Maxxis                             
36 Russell Hamby (USA) Sierra Nevada Cycling                                   
37 Vassili Davidenko (Rus) Navigators Insurance                                
38 Scott Moninger (USA) Health Net Presented by Maxxis                         
39 Phil Zajicek (USA) Navigators Insurance                                     
40 Antonio Cruz (USA) US Postal Service presented by Berry Floor               
41 Daniel Rincon (Col) US Postal Service presented by Berry Floor              
42 Lorenzo Bernucci (Ita) Landbouwkrediet-Colnago                              
43 Pavel Padrnos (Cze) US Postal Service presented by Berry Floor              
44 Yuri Metlushenko (Ukr) Landbouwkrediet-Colnago                              
45 Damon Kluck (USA) US Postal Service presented by Berry Floor                
46 Chad Hartley (USA) Jittery Joe's Coffee                                     
47 Salvatore Commesso (Ita) Saeco-Saunier Duval                                
48 Jimmi Madsen (Den) Team CSC                                                 
49 Francesco Bellotti (Ita) Barloworld-Androni Giocattoli                      
50 Cesar Grajales Calle (Col) Jittery Joe's Coffee                             
51 Juan Jose Cobo Acebo (Spa) Saeco-Saunier Duval                              
52 Kevin Bouchard-Hall (USA) USA National                                      
53 Adam Bergman (USA) Jelly Belly/Aramark                                      
54 Craig Lewis (USA) USA National                                              
55 Brian Vandborg (Den) Team CSC                                               
56 Gregory Henderson (NZl) Health Net Presented by Maxxis                      
57 Ernesto Lechuga (Mex) Jelly Belly/Aramark                                   
58 Mario Scirea (Ita) Domina Vacanze                                           
59 Aaron Olson (USA) Colavita Olive Oil, presented by Bolla Wines              
60 Stefan Adamsson (Swe) Barloworld-Androni Giocattoli                         
61 Mark Walters (Can) Navigators Insurance                                     
62 Timothy Duggan (USA) USA National                                           
63 Michael Creed (USA) US Postal Service presented by Berry Floor              
64 Jacob Rosenbarger (USA) Jittery Joe's Coffee                                
65 Thad Dulin (USA) Colavita Olive Oil, presented by Bolla Wines               
66 Daniel Bowman (USA) USA National                                            
67 Justin England (USA) Webcor Builders                                        
68 James Mattis (USA) Webcor Builders                                          
69 Tim Johnson (USA) Saeco-Saunier Duval                                       
70 Sergey Lagutin (Uzb) Landbouwkrediet-Colnago                                
71 Jason Klikna (USA) Sierra Nevada Cycling                                    
72 John Murphy (USA) Jittery Joe's Coffee                                  0.25
73 Caleb Manion (Aus) Jelly Belly/Aramark                                      
74 David George (RSA) Barloworld-Androni Giocattoli                            
75 Jason Bausch (USA) Ofoto/Lombardi Sports                                    
76 Marc Hagenlocher (USA) Webcor Builders                                      
77 Tyler Wren (USA) Colavita Olive Oil, presented by Bolla Wines               
78 Colby Pearce (USA) USA National                                             
79 Todd Herriott (USA) Colavita Olive Oil, presented by Bolla Wines            
80 Scott Zwizanski (USA) Ofoto/Lombardi Sports                                 
81 Maximilian Sciandri (GBr) Team CSC                                          
82 Benjamin Haldeman (USA) Webcor Builders                                     
83 Gustavo Artacho (Arg) Colavita Olive Oil, presented by Bolla Wines          
84 Mike Sayers (USA) Health Net Presented by Maxxis                            
85 James Schneider (USA) Jittery Joe's Coffee                                  
86 Sean Sullivan (Aus) Barloworld-Androni Giocattoli                           
87 Alessio Galletti (Ita) Domina Vacanze                                       
88 Jacky Durand (Fra) Landbouwkrediet-Colnago                              0.40
89 Giovanni Lombardi (Ita) Domina Vacanze                                      
90 Henk Vogels (Aus) Navigators Insurance                                      
91 Ludovic Capelle (Bel) Landbouwkrediet-Colnago                               
92 Jeff Louder (USA) Navigators Insurance                                      
93 Erik Saunders (USA) Ofoto/Lombardi Sports                                   
94 Stuart Gillespie (USA) USA National                                         
95 Blake Caldwell (USA) USA National                                       0.52
96 Peter Lopinto (USA) Ofoto/Lombardi Sports                               1.00
97 Matt Dubberley (USA) Sierra Nevada Cycling                                  
98 Sterling Magnell (USA) Sierra Nevada Cycling                            1.07
99 Paul Ellis (USA) Jelly Belly/Aramark                                        
100 Alex Candelario (USA) Jelly Belly/Aramark                              1.40
101 Nicola Gavazzi (Ita) Saeco-Saunier Duval                               3.08
102 Enrico Degano (Ita) Barloworld-Androni Giocattoli                          
103 Ben Stafford (USA) Webcor Builders                                         
104 Jakob Piil (Den) Team CSC                                                  
105 Francesco Secchiari (Ita) Domina Vacanze                                   
106 Jason McCartney (USA) Health Net Presented by Maxxis                       
107 James Lewis Perry (RSA) Barloworld-Androni Giocattoli                      
108 Jonathan Sundt (USA) Jittery Joe's Coffee                              3.59
109 Jesse Lawler (USA) Jittery Joe's Coffee                                4.23
110 Christopher Pic (USA) Jittery Joe's Coffee                                 
111 Ian Macgregor (USA) USA National                                       5.52
112 Jackson Stewart (USA) Ofoto/Lombardi Sports                                
 
General classification after stage 3
 
1 Ivan Dominguez (Cub) Colavita Olive Oil, presented by Bolla Wines    10.41.09
2 Gordon Fraser (Can) Health Net Presented by Maxxis                       0.01
3 Mario Cipollini (Ita) Domina Vacanze                                     0.06
4 Lance Armstrong (USA) US Postal Service presented by Berry Floor         0.10
5 Jens Voigt (Ger) Team CSC                                                0.12
6 Benjamin Brooks (Aus) Jelly Belly/Aramark                                0.14
7 George Hincapie (USA) US Postal Service presented by Berry Floor         0.16
8 Bobby Julich (USA) Team CSC                                                  
9 Charles Dionne (Can) Webcor Builders                                         
10 Nieko Biskner (USA) Ofoto/Lombardi Sports                                   
11 David Clinger (USA) Domina Vacanze                                          
12 Doug Ollerenshaw (USA) Jelly Belly/Aramark                                  
13 Kirk Albers (USA) Jelly Belly/Aramark                                       
14 Vassili Davidenko (Rus) Navigators Insurance                                
15 Yuri Metlushenko (Ukr) Landbouwkrediet-Colnago                              
16 Ben Jacques-Maynes (USA) Sierra Nevada Cycling                              
17 Viatcheslav Ekimov (Rus) US Postal Service presented by Berry Floor         
18 Salvatore Commesso (Ita) Saeco-Saunier Duval                                
19 Chris Horner (USA) Webcor Builders                                          
20 Russell Hamby (USA) Sierra Nevada Cycling                                   
21 Imanol Ayestaran Odriozola (Spa) Webcor Builders                            
22 Antonio Bucciero (Ita) Saeco-Saunier Duval                                  
23 Christopher Baldwin (USA) Navigators Insurance                              
24 Gregory Henderson (NZl) Health Net Presented by Maxxis                      
25 Thomas Bruun Eriksen (Den) Team CSC                                         
26 Ciaran Power (Irl) Navigators Insurance                                     
27 Antonio Cruz (USA) US Postal Service presented by Berry Floor               
28 Cesar Grajales Calle (Col) Jittery Joe's Coffee                             
29 Ivan Ravaioli (Ita) Barloworld-Androni Giocattoli                           
30 Pavel Padrnos (Cze) US Postal Service presented by Berry Floor              
31 Chris Wherry (USA) Health Net Presented by Maxxis                           
32 Lorenzo Bernucci (Ita) Landbouwkrediet-Colnago                              
33 William Frischkorn (USA) Colavita Olive Oil, presented by Bolla Wines       
34 John Lieswyn (USA) Health Net Presented by Maxxis                           
35 Eric Wohlberg (Can) Sierra Nevada Cycling                                   
36 Damon Kluck (USA) US Postal Service presented by Berry Floor                
37 Dominique Perras (Can) Ofoto/Lombardi Sports                                
38 Adam Bergman (USA) Jelly Belly/Aramark                                      
39 Jimmi Madsen (Den) Team CSC                                                 
40 Aaron Olson (USA) Colavita Olive Oil, presented by Bolla Wines              
41 Massimiliano Mori (Ita) Domina Vacanze                                      
42 Juan Jose Cobo Acebo (Spa) Saeco-Saunier Duval                              
43 Brian Vandborg (Den) Team CSC                                               
44 Sergio Marinangeli (Ita) Domina Vacanze                                     
45 Francesco Bellotti (Ita) Barloworld-Androni Giocattoli                      
46 Jacob Rosenbarger (USA) Jittery Joe's Coffee                                
47 Phil Zajicek (USA) Navigators Insurance                                     
48 Daniel Rincon (Col) US Postal Service presented by Berry Floor              
49 Danny Pate (USA) Health Net Presented by Maxxis                             
50 Tim Johnson (USA) Saeco-Saunier Duval                                       
51 Mark Walters (Can) Navigators Insurance                                     
52 Michael Creed (USA) US Postal Service presented by Berry Floor              
53 Timothy Duggan (USA) USA National                                           
54 Jason Klikna (USA) Sierra Nevada Cycling                                    
55 Ernesto Lechuga (Mex) Jelly Belly/Aramark                                   
56 James Mattis (USA) Webcor Builders                                          
57 Thad Dulin (USA) Colavita Olive Oil, presented by Bolla Wines               
58 Mario Scirea (Ita) Domina Vacanze                                           
59 Caleb Manion (Aus) Jelly Belly/Aramark                                  0.41
60 Maximilian Sciandri (GBr) Team CSC                                          
61 Tyler Wren (USA) Colavita Olive Oil, presented by Bolla Wines               
62 David George (RSA) Barloworld-Androni Giocattoli                            
63 Colby Pearce (USA) USA National                                             
64 Mike Sayers (USA) Health Net Presented by Maxxis                            
65 Todd Herriott (USA) Colavita Olive Oil, presented by Bolla Wines            
66 Alessio Galletti (Ita) Domina Vacanze                                       
67 Juan Jose Haedo (Arg) Colavita Olive Oil, presented by Bolla Wines      0.45
68 Chad Hartley (USA) Jittery Joe's Coffee                                     
69 Stefan Adamsson (Swe) Barloworld-Androni Giocattoli                         
70 Scott Moninger (USA) Health Net Presented by Maxxis                         
71 Giovanni Lombardi (Ita) Domina Vacanze                                  0.56
72 Erik Saunders (USA) Ofoto/Lombardi Sports                                   
73 Stuart Gillespie (USA) USA National                                         
74 Justin England (USA) Webcor Builders                                    0.58
75 Daniel Bowman (USA) USA National                                        1.02
76 Kevin Bouchard-Hall (USA) USA National                                      
77 Gustavo Artacho (Arg) Colavita Olive Oil, presented by Bolla Wines      1.10
78 Mikhail Timochine (Rus) Landbouwkrediet-Colnago                         1.21
79 Jacky Durand (Fra) Landbouwkrediet-Colnago                              1.25
80 Jeff Louder (USA) Navigators Insurance                                      
81 James Schneider (USA) Jittery Joe's Coffee                              1.27
82 Craig Lewis (USA) USA National                                          1.31
83 Glen Mitchell (NZl) Sierra Nevada Cycling                               1.41
84 Kirk O'Bee (USA) Navigators Insurance                                       
85 Marc Hagenlocher (USA) Webcor Builders                                  1.44
86 Benjamin Haldeman (USA) Webcor Builders                                 1.46
87 Scott Zwizanski (USA) Ofoto/Lombardi Sports                                 
88 Sean Sullivan (Aus) Barloworld-Androni Giocattoli                           
89 Paul Ellis (USA) Jelly Belly/Aramark                                    1.52
90 Matt Dubberley (USA) Sierra Nevada Cycling                              2.02
91 Blake Caldwell (USA) USA National                                       2.13
92 Sergey Lagutin (Uzb) Landbouwkrediet-Colnago                            2.24
93 Alex Candelario (USA) Jelly Belly/Aramark                               2.25
94 John Murphy (USA) Jittery Joe's Coffee                                  2.41
95 Henk Vogels (Aus) Navigators Insurance                                      
96 Jason Bausch (USA) Ofoto/Lombardi Sports                                2.49
97 Ludovic Capelle (Bel) Landbouwkrediet-Colnago                           3.04
98 Peter Lopinto (USA) Ofoto/Lombardi Sports                               3.16
99 Enrico Degano (Ita) Barloworld-Androni Giocattoli                       3.24
100 Sterling Magnell (USA) Sierra Nevada Cycling                           3.48
101 Nicola Gavazzi (Ita) Saeco-Saunier Duval                               4.20
102 Ben Stafford (USA) Webcor Builders                                     4.29
103 Christopher Pic (USA) Jittery Joe's Coffee                             4.39
104 Tim Larkin (USA) Ofoto/Lombardi Sports                                 5.02
105 Francesco Secchiari (Ita) Domina Vacanze                               5.32
106 James Lewis Perry (RSA) Barloworld-Androni Giocattoli                      
107 Jackson Stewart (USA) Ofoto/Lombardi Sports                            6.08
108 Jesse Lawler (USA) Jittery Joe's Coffee                                6.13
109 Jakob Piil (Den) Team CSC                                                  
110 Jason McCartney (USA) Health Net Presented by Maxxis                   8.48
111 Jonathan Sundt (USA) Jittery Joe's Coffee                             10.30
112 Ian Macgregor (USA) USA National                                      15.24
 
Points classification

1 Ivan Dominguez (Cub) Colavita Olive Oil, presented by Bolla Wines

King of the Mountain classification

1 Mark Walters (Can Navigators Insurance

Young riders classification

1 Nieko Biskner (USA) Ofoto/Lombardi Sports

Teams classification
 
1 Jelly Belly-Aramark                                                  32.04.15
2 Domina Vacanze                                                               
3 Team CSC                                                                     
4 Health Net Pro Cycling Team presented by Maxxis                              
5 Colavita Olive Oil presented by Bolla Wines                                  
6 Ofoto Cycling Team                                                           
7 Us Postal Service presented by Berry Floor                                   
8 Sierra Nevada Cycling                                                        
9 Webcor Cycling Team                                                          
10 Navigators Insurance Cycling Team                                           
11 Team Barloworld - Androni Giocattoli                                        
12 The Jittery Joe's Cycling Team                                              
13 Saeco-Saunier Duval-Prodir/Mixed Team                                       
14 USA National Team                                                           
15 Landbouwkrediet - Colnago                                               0.29