Recently on Cyclingnews.com
Tour de Georgia - 2.3
Georgia, USA, April 20-25, 2004
2003 results Preview Start list Past winners
Georgia makes big leagues in year two
By Tim Maloney
Michael Barry in 2003
Photo: © Jon Devich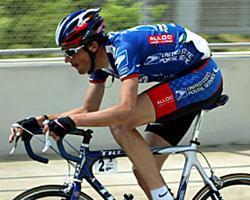 The slogan of the second edition of the Dodge Tour de Georgia is "6 Days, 23 Cities, 648 Miles, 1 Million Spectators, 1 Cause... Georgia's Race to Defeat Cancer". And despite the commercial connection to Daimler-Chrysler's Dodge brand, the Georgia race is a non-profit where all proceeds will benefit the Georgia Cancer Coalition. That's one reason that Lance Armstrong will be the star attraction at this year's race. Besides the cancer connection, Lance Armstrong has chosen the Dodge Tour de Georgia this year as a key part of his preparation in his quest for an unprecedented sixth Tour De France win. After his divorce late last year, Armstrong decided to forego his early season training program in Europe that culminated in the hilly classics like Amstel and Liege to stay closer to home in Austin, Texas and his three kids. That put the Georgia race on Lance's program and will add a new dimension to the race.
In its second year as America's premier stage race, the 2004 edition of the Dodge Tour de Georgia has all the elements necessary to surpass its predecessor the Tour DuPont. The six-day, seven stage 1050km race around the Peach State of Georgia has a more difficult parcours than last year and perhaps the most competitive field to ever race in North America outside of the Olympics or World Championships.
Although Lance Armstrong told Cyclingnews last month that he wasn't coming to Georgia to win, with Stage 4's 30km time trial and two tough stages in the Georgia Appalachians on tap, Armstrong must be considered a real favourite to win here. For support, Armstrong will have a George Hincapie in superb shape, always crafty Ekimov, awesome rouleur Pavel Padrnos and young guns Mike Creed and Daniel Rincon.
2003 jersey winners
Photo: © Jon Devich

When Armstrong was coming up through the ranks in the early 1990s, his main American rival was Bobby Julich, who battled with Lance back then. As Armstrong emerged in his pre-cancer days as one of the best one-day riders in the world with the strength to dominate short stage races like the Tour DuPont, Julich paid his pro dues, overcame a severe heart arrhythmia problem and eventually showed his talent with a superb third place at the 1998 Tour de France.
Whether Bobby has been an underachiever since or not is open to argument, but unquestionably, 2004 has shown the Julich talent. Since Telekom unceremoniously dumped Julich last year, his off-season switch to CSC has proved you can still teach an old dog new tricks. Julich has ridden well all season, starting in the Tour of the Med, Paris-Nice and Pays Basque, where he won the final TT stage over Tyler Hamilton. With his great form and superb team support in the Dodge Tour of Georgia coming from German powerhouse Jens Voigt, 2003 Tour de France stage winner Jakob Storm Piil and Mad Max Sciandri. Coming into the race, Bobby Julich has made no bones that he's coming to Georgia, his first race in America in eight seasons, to take the winner's bouquet home to his wife Angela in Reno, Nevada.
America's best domestic racer Chris Horner won last year's Georgia tour and with his super world championship ride in Hamilton, and dominating performances at Redlands and last weekend's Sea Otter Classic, the freckle-faced flyer clearly demonstrated that he can be the best of the rest in the 2004 edition. Horner has a new team this year; a tiny, inexperienced Webcor team, but who are 100 percent dedicated to supporting Horner. Can he be competitive with Armstrong and Julich in Georgia? Perhaps, but his lack of high-level racing and a strong team may put the talented American at a disadvantage when racing on this level.
Unquestionably, the presence of Mario Cipollini will add a special dimension to the second edition of the race. The last time Cipollini raced in Georgia was eight years ago in the Olympic road race at Atlanta. Lion King, Super Mario, you name it, Mr. Cipollini is Stateside because he was looking for some hard racing prior to the Giro d'Italia next month and he'll certainly find it in Georgia.
Cipo has brought a team to Georgia that's focused on setting the sprints for the big Domina Vacanze rider, with his leadout men par-excellence Giovanni Lombardi and Mario Scirea ready to rock in the finale of the sprinters' stages. Whether the tight finishing circuits in Georgia will be to Mr. Mario's liking could be another matter, but the lanky Tuscan speedster will certainly make his mark in Georgia.
Past winners
2003 Chris Horner (USA) Saturn Cycling Team