Tour of Georgia - 2.3
Georgia, USA, April 20-25, 2004
Main Page Live report Results Previous stage Next stage
Stage 4 : April 22 - Rome - Rome TT, 29.9 km
Armstrong takes command
A good day's work: Armstrong wins second stage of the day
By Tim Maloney, European editor, in Rome, Georgia
Lance Armstrong (US Postal)
Photo ©: Bob Badalucco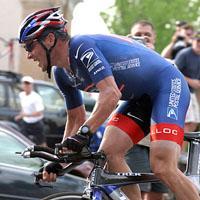 In a dazzling display of virtuoso bicycle racing, five-time Tour de France champion Lance Armstrong (USPS-Berry Floor) showed why the challengers to his throne this year should be afraid, very afraid. After his surprise sprint win in Thursday's morning stage, Armstrong powered to a solid time trial win on the testing out and back course in Rome 22 seconds ahead of CSC's Jens Voigt to take over the yellow jersey of race leadership in the Georgia tour from Colavita-Bolla's Ivan Dominguez.
Afterwards, Armstrong said, "I went all-out today and am very happy to win here. The next few days should be tough." Runner-up today and now second on GC, Jens Voigt (CSC) was pleased with his ride. "It was a good result for us today and to come in second to Lance Armstrong is not bad at all," said the likeable Voigt. With Voigt's American teammate Bobby Julich fourth in today's TT and also fourth on GC, plus the lead in team GC, the CSC riders must try and put the squeeze on Lance and his Blue Train in the next two stages across the Appalachian Mountains of North Georgia.
Although he looks ten years younger, 32 year old Chris Horner (Webcor Builders) rides like the experienced, seasoned pro he is. Wearing dossard number one of the defending Tour of Georgia champion, Horner set a fast intermediate time and went on to take an excellent third place, 45 seconds behind Armstrong. Horner told Cyclingnews, "I just got this TT bike and it's not dialed in yet... if the position was right, I could have gone 30 seconds faster." And the always brash Horner may have the legs to back up his podium promise today that, "I've been winning all year and I'm not done yet." The freckle-faced Horner wouldn't reveal his strategy in the next two stages other than to say, "you'll see in the mountains."
France's Jacky Durand
Photo ©: Jonathan Devich

USPS strongman Tony Cruz.

Chris Horner

Race leader for a stage

Mario Cipollini

Lance Armstrong crosses the line

The podium

USPS-Berry Floor director Johan Bruyneel was obviously pleased with his main man's performance today, but the always level-headed Bruyneel didn't get ahead of himself even after the remarkable day. "It's a very good day for us today... our focus here was the time trial. This morning, we just wanted to stay out of trouble because we knew that the circuits had a tricky climb. Lance won the morning stage and then the time trial so it cannot be better."
Speaking of Lance's TT performance, Bruyneel praised Armstrong, saying, "he rode very smart; he started very well and then slowed down in the kilometer before the climb so he could go up steadily. He put in time on Voigt all the way through so it was a very good time trial for Lance."
With three stages left in the Tour de Georgia, Bruyneel analyzed the competition and the parcours with the win in mind for Lance. "Friday's [stage five] is probably the hardest for a team to control. And Saturday's stage has a very hard finish. But there are not so many contenders, so it's not like you have to watch the whole peloton. Horner, Julich and Voight are the main threats in my opinion." But even after all the big wins Lance Armstrong has racked up in the USA, from the US amateur championship in 1990, to the Million Dollar Triple Crown in 1992 and even his last Stateside win in the 1998 Cascade Classic in Oregon, Lance Armstrong still has only one goal in mind for 2004: win six consecutive Tours de France.
Lewis stable after crash
Today's stage was marred by accident when 19 year old Craig Lewis of the US national under-23 team was hit by an SUV that had been driven on to the course.
Lewis sustained concussion and broken ribs in the crash, according to the race medical communiqué, and was taken to the Intensive Care Unit at Rome's Floyd Medical Center. A spokesperson for the Center told Cyclingnews that Lewis' condition was stable.
According to the Rome News-Tribune, police said the driver of the SUV, Edgar Bishop, 65, was trying to turn into the American Legion parking lot when he hit Lewis. Bishop was charged with failing to yield right of way.
Stage 5 - April 23: Dalton-Dahlonega, 224km
The queen stage of the race, this 220+ kilometer romp across the Appalachian Mountains of North Georgia promises to be a battle royal between USPS-Berry Floor and CSC. First on the day's menu is an 12km ascent up Fort Mtn to 877m, then a plunge down to Ellijay and across the ups and downs of the north Georgia hills.
Once into Union County after 126km of racing, the Tour of Georgia's Stage five hits the "Three Gaps" circuit. First, there's a steepish climb up to Woody Gap (975m) after 144km, then a descent to the 2nd feed zone. Another climb up the narrow climb of Neel's Gap (975m) is followed by the penultimate climb up the steep Wolfpen Gap (1019m) at 185km. This is followed by the second ascent of Woody Gap after 200km and then a 20km descent into Dahlonega. This stage should separate the contenders from the pretenders once and for all at the 2004 Dodge Tour de Georgia.
Photography
Images by Mark Zalewski/Cyclingnews.com
Images by Bob Badalucco/www.bbactionphoto.com
Images by Jonathan Devich/www.epicimages.us
Results
1 Lance Armstrong (USA) US Postal Service presented by Berry Floor         39.52
2 Jens Voigt (Ger) Team CSC                                                 0.22
3 Chris Horner (USA) Webcor Builders                                        0.45
4 Bobby Julich (USA) Team CSC                                               1.00
5 Brian Vandborg (Den) Team CSC                                             1.24
6 Viatcheslav Ekimov (Rus) US Postal Service presented by Berry Floor       1.25
7 Jason McCartney (USA) Health Net Presented by Maxxis                      1.27
8 Christopher Baldwin (USA) Navigators Insurance                            1.31
9 Eric Wohlberg (Can) Sierra Nevada Cycling                                 1.33
10 George Hincapie (USA) US Postal Service presented by Berry Floor         1.43
11 Pavel Padrnos (Cze) US Postal Service presented by Berry Floor           2.21
12 Scott Moninger (USA) Health Net Presented by Maxxis                      2.24
13 Phil Zajicek (USA) Navigators Insurance                                  2.26
14 Danny Pate (USA) Health Net Presented by Maxxis                          2.37
15 John Lieswyn (USA) Health Net Presented by Maxxis                        2.45
16 Thad Dulin (USA) Colavita Olive Oil, presented by Bolla Wines            2.46
17 Sergio Marinangeli (Ita) Domina Vacanze                                  2.57
18 Dominique Perras (Can) Ofoto/Lombardi Sports                             2.58
19 Adam Bergman (USA) Jelly Belly/Aramark                                   3.17
20 Cesar Grajales Calle (Col) Jittery Joe's Coffee                          3.18
21 William Frischkorn (USA) Colavita Olive Oil, presented by Bolla Wines    3.21
22 Aaron Olson (USA) Colavita Olive Oil, presented by Bolla Wines               
23 Alessio Galletti (Ita) Domina Vacanze                                    3.27
24 Chris Wherry (USA) Health Net Presented by Maxxis                        3.41
25 Mark Walters (Can) Navigators Insurance                                  3.44
26 Jeff Louder (USA) Navigators Insurance                                   3.48
27 Ben Jacques-Maynes (USA) Sierra Nevada Cycling                           3.49
28 Glen Mitchell (NZl) Sierra Nevada Cycling                                    
29 Gordon Fraser (Can) Health Net Presented by Maxxis                           
30 Tim Larkin (USA) Ofoto/Lombardi Sports                                   3.52
31 Benjamin Brooks (Aus) Jelly Belly/Aramark                                3.55
32 Timothy Duggan (USA) USA National                                            
33 Maximilian Sciandri (GBr) Team CSC                                           
34 Antonio Cruz (USA) US Postal Service presented by Berry Floor            3.59
35 Jason Bausch (USA) Ofoto/Lombardi Sports                                 4.10
36 Todd Herriott (USA) Colavita Olive Oil, presented by Bolla Wines         4.11
37 Mario Scirea (Ita) Domina Vacanze                                        4.12
38 Kirk O'Bee (USA) Navigators Insurance                                    4.13
39 Francesco Bellotti (Ita) Barloworld-Androni Giocattoli                   4.14
40 Sean Sullivan (Aus) Barloworld-Androni Giocattoli                            
41 Jacky Durand (Fra) Landbouwkrediet – Colnago                             4.17
42 Henk Vogels (Aus) Navigators Insurance                                   4.18
43 Jimmi Madsen (Den) Team CSC                                                  
44 Ivan Ravaioli (Ita) Barloworld-Androni Giocattoli                        4.21
45 Gregory Henderson (NZl) Health Net Presented by Maxxis                   4.23
46 Jacob Rosenbarger (USA) Jittery Joe's Coffee                             4.25
47 Scott Zwizanski (USA) Ofoto/Lombardi Sports                              4.26
48 Ciaran Power (Irl) Navigators Insurance                                  4.28
49 Christopher Pic (USA) Jittery Joe's Coffee                               4.30
50 Daniel Rincon (Col) US Postal Service presented by Berry Floor           4.33
51 Mike Sayers (USA) Health Net Presented by Maxxis                         4.35
52 Stefan Adamsson (Swe) Barloworld-Androni Giocattoli                      4.37
53 Ernesto Lechuga (Mex) Jelly Belly/Aramark                                4.41
54 Lorenzo Bernucci (Ita) Landbouwkrediet – Colnago                         4.43
55 Damon Kluck (USA) US Postal Service presented by Berry Floor                 
56 Justin England (USA) Webcor Builders                                     4.44
57 Erik Saunders (USA) Ofoto/Lombardi Sports                                    
58 Ivan Dominguez (Cub) Colavita Olive Oil, presented by Bolla Wines        4.46
59 Juan Jose Haedo (Arg) Colavita Olive Oil, presented by Bolla Wines       4.47
60 Juan Jose Cobo Acebo (Spa) Saeco-Saunier Duval                               
61 James Mattis (USA) Webcor Builders                                       4.49
62 Vassili Davidenko (Rus) Navigators Insurance                             4.54
63 Benjamin Haldeman (USA) Webcor Builders                                  4.57
64 Nieko Biskner (USA) Ofoto/Lombardi Sports                                    
65 Blake Caldwell (USA) USA National                                        5.00
66 Kevin Bouchard-Hall (USA) USA National                                   5.05
67 Giovanni Lombardi (Ita) Domina Vacanze                                   5.08
68 Francesco Secchiari (Ita) Domina Vacanze                                 5.09
69 Daniel Bowman (USA) USA National                                         5.10
70 Marc Hagenlocher (USA) Webcor Builders                                   5.12
71 Caleb Manion (Aus) Jelly Belly/Aramark                                   5.13
72 Doug Ollerenshaw (USA) Jelly Belly/Aramark                               5.15
73 Tim Johnson (USA) Saeco-Saunier Duval                                    5.19
74 Tyler Wren (USA) Colavita Olive Oil, presented by Bolla Wines            5.22
75 Massimiliano Mori (Ita) Domina Vacanze                                   5.27
76 Charles Dionne (Can) Webcor Builders                                     5.30
77 Colby Pearce (USA) USA National                                          5.31
78 Sergey Lagutin (Uzb) Landbouwkrediet – Colnago                           5.32
79 David Clinger (USA) Domina Vacanze                                           
80 Mario Cipollini (Ita) Domina Vacanze                                     5.38
81 Chad Hartley (USA) Jittery Joe's Coffee                                  5.43
82 Thomas Bruun Eriksen (Den) Team CSC                                          
83 Enrico Degano (Ita) Barloworld-Androni Giocattoli                        5.45
84 Salvatore Commesso (Ita) Saeco-Saunier Duval                             5.50
85 David George (RSA) Barloworld-Androni Giocattoli                         5.51
86 Yuri Metlushenko (Ukr) Landbouwkrediet – Colnago                         5.55
87 Jonathan Sundt (USA) Jittery Joe's Coffee                                    
88 Antonio Bucciero (Ita) Saeco-Saunier Duval                               5.58
89 Imanol Ayestaran Odriozola (Spa) Webcor Builders                         6.01
90 James Schneider (USA) Jittery Joe's Coffee                               6.04
91 Mikhail Timochine (Rus) Landbouwkrediet – Colnago                        6.13
92 Russell Hamby (USA) Sierra Nevada Cycling                                6.18
93 Jakob Piil (Den) Team CSC                                                6.22
94 Stuart Gillespie (USA) USA National                                      6.24
95 Jesse Lawler (USA) Jittery Joe's Coffee                                  6.30
96 Paul Ellis (USA) Jelly Belly/Aramark                                     6.31
97 Ludovic Capelle (Bel) Landbouwkrediet – Colnago                          6.35
98 Michael Creed (USA) US Postal Service presented by Berry Floor           6.37
99 Alex Candelario (USA) Jelly Belly/Aramark                                6.41
100 Matt Dubberley (USA) Sierra Nevada Cycling                              6.47
101 Jackson Stewart (USA) Ofoto/Lombardi Sports                             6.54
102 John Murphy (USA) Jittery Joe's Coffee                                  7.01
103 Nicola Gavazzi (Ita) Saeco-Saunier Duval                                7.05
104 Kirk Albers (USA) Jelly Belly/Aramark                                   7.29
105 Jason Klikna (USA) Sierra Nevada Cycling                                    
106 James Lewis Perry (RSA) Barloworld-Androni Giocattoli                   7.35
107 Gustavo Artacho (Arg) Colavita Olive Oil, presented by Bolla Wines      7.39
108 Peter Lopinto (USA) Ofoto/Lombardi Sports                               7.46
 
Teams
 
1 Team CSC                                                              34.06.34
2 US Postal Service Presented By Berry Floor                                0.22
3 Health Net Pro Cycling Team Presented By Maxxis                           3.42
4 Navigators Insurance Cycling Team                                         4.55
5 Sierra Nevada Cycling                                                     6.25
6 Colavita Olive Oil Pro Cycling Team Presented By Bolla Wines              6.42
7 Webcor Cycling Team                                                       7.32
8 Domina Vacanze                                                            7.50
9 Ofoto Cycling Team                                                        8.14
10 Jelly Belly-Aramark                                                      9.07
11 The Jittery Joe's Cycling Team                                           9.27
12 Team Barloworld - Androni Giocattoli                                    10.03
13 USA National                                                            11.14
14 Landbouwkrediet - Colnago                                               12.15
15 Saeco-Saunier Duval-Prodir/Mixed Team                                   13.10
 
General classification after stage 4
 
1 Lance Armstrong (USA) US Postal Service presented by Berry Floor      11.21.10
2 Jens Voigt (Ger) Team CSC                                                 0.24
3 Chris Horner (USA) Webcor Builders                                        0.51
4 Bobby Julich (USA) Team CSC                                               1.06
5 Brian Vandborg (Den) Team CSC                                             1.30
6 Viatcheslav Ekimov (Rus) US Postal Service presented by Berry Floor       1.31
7 Christopher Baldwin (USA) Navigators Insurance                            1.37
8 Eric Wohlberg (Can) Sierra Nevada Cycling                                 1.39
9 George Hincapie (USA) US Postal Service presented by Berry Floor          1.49
10 Pavel Padrnos (Cze) US Postal Service presented by Berry Floor           2.27
11 Phil Zajicek (USA) Navigators Insurance                                  2.32
12 Danny Pate (USA) Health Net Presented by Maxxis                          2.43
13 John Lieswyn (USA) Health Net Presented by Maxxis                        2.51
14 Thad Dulin (USA) Colavita Olive Oil, presented by Bolla Wines            2.52
15 Scott Moninger (USA) Health Net Presented by Maxxis                      2.59
16 Sergio Marinangeli (Ita) Domina Vacanze                                  3.03
17 Dominique Perras (Can) Ofoto/Lombardi Sports                             3.04
18 Adam Bergman (USA) Jelly Belly/Aramark                                   3.23
19 Cesar Grajales Calle (Col) Jittery Joe's Coffee                          3.24
20 William Frischkorn (USA) Colavita Olive Oil, presented by Bolla Wines    3.27
21 Aaron Olson (USA) Colavita Olive Oil, presented by Bolla Wines               
22 Gordon Fraser (Can) Health Net Presented by Maxxis                       3.40
23 Chris Wherry (USA) Health Net Presented by Maxxis                        3.47
24 Mark Walters (Can) Navigators Insurance                                  3.50
25 Ben Jacques-Maynes (USA) Sierra Nevada Cycling                           3.55
26 Alessio Galletti (Ita) Domina Vacanze                                    3.58
27 Benjamin Brooks (Aus) Jelly Belly/Aramark                                3.59
28 Timothy Duggan (USA) USA National                                        4.01
29 Antonio Cruz (USA) US Postal Service presented by Berry Floor            4.05
30 Mario Scirea (Ita) Domina Vacanze                                        4.18
31 Francesco Bellotti (Ita) Barloworld-Androni Giocattoli                   4.20
32 Jimmi Madsen (Den) Team CSC                                              4.24
33 Maximilian Sciandri (GBr) Team CSC                                       4.26
34 Ivan Ravaioli (Ita) Barloworld-Androni Giocattoli                        4.27
35 Gregory Henderson (NZl) Health Net Presented by Maxxis                   4.29
36 Jacob Rosenbarger (USA) Jittery Joe's Coffee                             4.31
37 Ciaran Power (Irl) Navigators Insurance                                  4.34
38 Ivan Dominguez (Cub) Colavita Olive Oil, presented by Bolla Wines        4.36
39 Daniel Rincon (Col) US Postal Service presented by Berry Floor           4.39
40 Todd Herriott (USA) Colavita Olive Oil, presented by Bolla Wines         4.42
41 Ernesto Lechuga (Mex) Jelly Belly/Aramark                                4.47
42 Lorenzo Bernucci (Ita) Landbouwkrediet – Colnago                         4.49
43 Damon Kluck (USA) US Postal Service presented by Berry Floor                 
44 Juan Jose Cobo Acebo (Spa) Saeco-Saunier Duval                           4.53
45 James Mattis (USA) Webcor Builders                                       4.55
46 Vassili Davidenko (Rus) Navigators Insurance                             5.00
47 Nieko Biskner (USA) Ofoto/Lombardi Sports                                5.03
48 Jeff Louder (USA) Navigators Insurance                                       
49 Mike Sayers (USA) Health Net Presented by Maxxis                         5.06
50 Stefan Adamsson (Swe) Barloworld-Androni Giocattoli                      5.12
51 Glen Mitchell (NZl) Sierra Nevada Cycling                                5.20
52 Doug Ollerenshaw (USA) Jelly Belly/Aramark                               5.21
53 Juan Jose Haedo (Arg) Colavita Olive Oil, presented by Bolla Wines       5.22
54 Tim Johnson (USA) Saeco-Saunier Duval                                    5.25
55 Erik Saunders (USA) Ofoto/Lombardi Sports                                5.30
56 Justin England (USA) Webcor Builders                                     5.32
57 Jacky Durand (Fra) Landbouwkrediet – Colnago                                 
58 Massimiliano Mori (Ita) Domina Vacanze                                   5.33
59 Mario Cipollini (Ita) Domina Vacanze                                     5.34
60 Charles Dionne (Can) Webcor Builders                                     5.36
61 David Clinger (USA) Domina Vacanze                                       5.38
62 Caleb Manion (Aus) Jelly Belly/Aramark                                   5.44
63 Kirk O'Bee (USA) Navigators Insurance                                        
64 Sean Sullivan (Aus) Barloworld-Androni Giocattoli                        5.50
65 Tyler Wren (USA) Colavita Olive Oil, presented by Bolla Wines            5.53
66 Giovanni Lombardi (Ita) Domina Vacanze                                   5.54
67 Salvatore Commesso (Ita) Saeco-Saunier Duval                             5.56
68 Kevin Bouchard-Hall (USA) USA National                                   5.57
69 Yuri Metlushenko (Ukr) Landbouwkrediet – Colnago                         6.01
70 Scott Zwizanski (USA) Ofoto/Lombardi Sports                              6.02
71 Colby Pearce (USA) USA National                                              
72 Daniel Bowman (USA) USA National                                             
73 Antonio Bucciero (Ita) Saeco-Saunier Duval                               6.04
74 Imanol Ayestaran Odriozola (Spa) Webcor Builders                         6.07
75 Chad Hartley (USA) Jittery Joe's Coffee                                  6.18
76 David George (RSA) Barloworld-Androni Giocattoli                         6.22
77 Thomas Bruun Eriksen (Den) Team CSC                                          
78 Russell Hamby (USA) Sierra Nevada Cycling                                6.24
79 Benjamin Haldeman (USA) Webcor Builders                                  6.33
80 Michael Creed (USA) US Postal Service presented by Berry Floor           6.43
81 Marc Hagenlocher (USA) Webcor Builders                                   6.46
82 Henk Vogels (Aus) Navigators Insurance                                   6.49
83 Jason Bausch (USA) Ofoto/Lombardi Sports                                     
84 Blake Caldwell (USA) USA National                                        7.03
85 Stuart Gillespie (USA) USA National                                      7.10
86 James Schneider (USA) Jittery Joe's Coffee                               7.21
87 Mikhail Timochine (Rus) Landbouwkrediet – Colnago                        7.24
88 Kirk Albers (USA) Jelly Belly/Aramark                                    7.35
89 Jason Klikna (USA) Sierra Nevada Cycling                                     
90 Sergey Lagutin (Uzb) Landbouwkrediet – Colnago                           7.46
91 Paul Ellis (USA) Jelly Belly/Aramark                                     8.13
92 Gustavo Artacho (Arg) Colavita Olive Oil, presented by Bolla Wines       8.39
93 Matt Dubberley (USA) Sierra Nevada Cycling                                   
94 Tim Larkin (USA) Ofoto/Lombardi Sports                                   8.44
95 Alex Candelario (USA) Jelly Belly/Aramark                                8.56
96 Enrico Degano (Ita) Barloworld-Androni Giocattoli                        8.59
97 Christopher Pic (USA) Jittery Joe's Coffee                                   
98 Ludovic Capelle (Bel) Landbouwkrediet – Colnago                          9.29
99 John Murphy (USA) Jittery Joe's Coffee                                   9.32
100 Jason McCartney (USA) Health Net Presented by Maxxis                   10.05
101 Francesco Secchiari (Ita) Domina Vacanze                               10.31
102 Peter Lopinto (USA) Ofoto/Lombardi Sports                              10.52
103 Nicola Gavazzi (Ita) Saeco-Saunier Duval                               11.15
104 Jakob Piil (Den) Team CSC                                              12.25
105 Jesse Lawler (USA) Jittery Joe's Coffee                                12.33
106 Jackson Stewart (USA) Ofoto/Lombardi Sports                            12.52
107 James Lewis Perry (RSA) Barloworld-Androni Giocattoli                  12.57
108 Jonathan Sundt (USA) Jittery Joe's Coffee                              16.15