Wachovia Cycling Series
USA, June 3-8, 2003
Results Live Report Past winners
Wachovia Liberty Classic: Philadelphia, PA 91 km - 4 laps of 22.64km
Bessette Breaks the Rossner Streak
By Kristy Scrymgeour
Lyne Bessette wins
Photo: © Jon Devich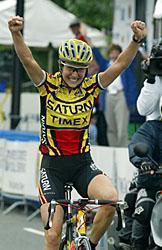 Lyne Bessette and the Saturn Team broke Petra Rosser's winning streak today when Bessette won theWachovia Liberty Classic in a late solo effort. In what had become a race owned by the German sprinter from Nurnberger, Saturn used their numbers and tactics to take the title from her.
The 90km race was contended on a 23 kilometer circuit in conjunction with the Men's USPRO Championships. Starting ten minutes after the men, the women's race was aggressive from the start with T-Mobile and Saturn using their numbers and strength to make the race hard.
An early break of five riders with Kristin Armstrong and Dorothy Cowden (T-Mobile) , Katie Mactier and Jessica Phillips (Saturn), Margaret Hemsley (Nurnberger)gained 15 seconds on the field but did not survive, Nurnberger doing a good job to bring it back. T-Mobile and Saturn continued to attack constantly and made the day very hard for the Nurnberger team who only had five riders to work with. Another break of fifteen was out there for a while until T- Mobile decided they weren't happy with it and managed to reel it in.
On the podium
Photo: © Cyclingnews

At the 50km mark, Manon Jutras (Saturn) broke away alone and gained 42 seconds on the field. Jutras, who spent a lot of time riding on the front of the peloton recently for her teammates in the Tour de L'Aude, was well prepared. She put her head down and soloed alone for 30 kilometers until she was eventually reeled in at the base of the famous Manayunk Wall by T-Mobile. Nurnberger immediately went to the front of the peloton to control the race for Rossner with only 14 kilometers remaining in the race.
Dede Barry (T-Mobile) pushed the pace hard the last time up the wall and as the riders peaked the climb Bessette put in a hard attack and gained a significant gap on the field. Barry was able to bridge the gap and other riders soon caught them as a small remaining bunch grouped together. T-Mobile continued their onslaught of attacks with Kim Anderson going first and Kimberley Bruckner countering, but it was Lynn Gaggioli riding for Fuji who put it the strongest attack on Strawberry Hill. Gaggioli held her lead for a while and looked strong. The field was totally split behind her, but soon four riders managed to catch her. Bessette, Bruckner, Judith Arndt (Nurnberger) and another T-Mobile rider had all bridged the gap just as Bessette put in another hard attack and went alone.
With only a few kilometers to go Bessette powered away knowing that this was her only chance. "It was only three kilometers," Lyne told Cyclingnews afterwards; "I knew I had to ride it like a pursuit. The problem was Arndt is a great pursuit rider too so I thought they were going to catch me."
The four chased hard behind with T-Mobile working hard to get back up to Bessette, but it was not to be. Bessette was strong enough to hold them off all the way to the line as both the break and the rest of the bunch rapidly closed in on her. Gaggioli finished off her strong performance to take second and Arndt took third.
Rossner, in one last attempt from the field started her sprint from 400m out and was so fast that she caught the break on the line to take 5th place overall. Rossner was still in great spirits after the race when she talked with Cyclingnews. "I thought I would be disappointed, but actually I feel ok. We really didn't have the numbers today and Saturn rode a really smart race. I still had fun out there because I love this race."
Bessette was very excited after the race. "We rode so well out there today as a team, everyone played their part and that's the only reason we made it to the line. Ina (Teutenberg) was so great for me. I was supposed to be helping her today, but she guided me the whole way through the race and told me when to go. I owe this win a lot to her. We were in a good position most of the way through the race. We had people in the break all day and when I was alone at the end I knew that if I couldn't make it we still had Ina there for the sprint.
Teutenberg, who has been attributed by Rossner for being a big part of her wins here since 1998, has managed to do it again for her team, it just wasn't a team with Rossner on it. Cyclingnews spoke with Teutenberg after the race who was very satisfied with the day. "I feel very happy that our plan worked today. Lyne was great. She listened to exactly what I said and it all worked out perfectly."
Photos
Images by Jonathan Devich/www.wachoviacycling.com
Images by Kristy Scrymgeour/Cyclingnews
Images by Zui Hanafusa/miyashojicycling.com
Images by Aron Kansal/www.USWebPro.com
Images by Emory Ball
Results
1 Lyne Bessette (Can) Saturn Cycling Team                2.23.16
2 Lynn Gaggioli (USA) Velo Bella                            0.09
3 Judith Arndt (Ger) Equipe Nurnberger
4 Kim Anderson (USA) Team T Mobile
5 Petra Rossner (Ger) Equipe Nurnberger Fuji
6 Kimberly Bruckner (USA) Team T Mobile
7 Karen Bockel (Ger) Team Rona Esker
8 Ina Teutenberg (Ger) Saturn Cycling Team
9 Tina Mayolo-Pic (USA) Diet Rite
10 Elizabeth Begosh (USA) Snow Valley
11 Lauren Franges (USA) Victory Brewing Amoroso's
12 Andrea Hannos (USA) Team Rona Esker
13 Melissa Holt (NZl) Team Rona Esker
14 Miho Oki (Jpn) Japanese National Team
15 Anne Samplonius (Can) TDS Cycling Team
16 Erinne Willock (Can) Team Rona Esker
17 Magen Long (USA) Freddie Fu Cycling
18 Mari Holden (USA) Team T Mobile
19 Katie MacTier (Aus) Saturn Cycling Team
20 Dotsie Cowden (USA) Team T Mobile
21 Rebecca McClintock (USA) Colavita Bolla
22 Candice Blickem (USA) Genesis Scuba FFCC
23 Kate Maher (USA) Team Basis
24 Jo-Jo Kiesanowski (NZl) Diet Rite
25 Nicolita Freedman (USA) Team Basis
26 Laura Van Gilder (USA) Saturn
27 Leigh Valletti (USA) Genesis Scuba
28 DeDe Demet-Barry (USA) T-Mobile
29 Susan Duff (USA) Tri State Velo Amoroso
30 Julie Hutsebaut (Can) Canadian National
31 Nicole Demars (Can) Victory Brewing Amoroso's
32 Gina Grain (Can) Victory Brewing Amoroso's
33 Christina Underwood (USA) Team Fuji
34 Jennifer Leonard (USA) Tri State Velo Amoroso
35 Kori Kelly (USA) Diet Rite
36 Catherine Powers (USA) Richard Sachs Cycling Team
37 Sandra Kolb (USA) Los Gatos Bicycling Racing Club
38 Katheryn Curi (USA) Los Gatos Bicycling Racing Club
39 Kori Kelly (USA) Diet Rite
40 Amy Moore (Can) Saturn
41 Brooke O'Conner (USA) Colavita Bolla
42 Melissa Sanborn (USA) Velo Clips NCVC
43 Catherine Bearce (USA)
44 Shawn Heidgen (USA) TDS Cycling Team
45 Laura Schmidt (USA) LSV Trek VW
46 Charmian Breon (USA) Freddie Fu Cycling
47 Shannon Hutchison (USA) Colavita Bolla
48 Caroline L'Heureux (Can) Canadian National
49 Kristy Scheffenacker (USA) Snow Valley
50 Kele Hulser (USA) Velo Clips NCVC
51 Alicia Genest (USA) Richard Sachs Cycling Team
52 Vanessa Guyton (NZl) Snow Valley Cycling Team
53 Hiroko Shimada (Jpn) Japanese National Team
54 Amber Neben (USA) Team T Mobile
55 Kristin Armstrong (USA) Team T Mobile
56 Ann Marie Miller (USA) Verzizon Wireless Cervelo
57 Grace Fleury (USA) Genesis Scuba FFCC
58 Megan Elliott (USA) Saturn Cycling Team
59 Katrina Davis (USA) Richard Sachs Cycling Team
60 Cybil DiGuistini (Can) Diet Rite
61 Sandy Espeseth (Can) Victory Brewing Amoroso's
62 Emma Rickards (Aus) Freddie Fu Cycling
63 Heather Abert (USA) Team Basis
64 Julia Hawley (USA) Snow Valley
65 Ashley Kimmet (USA) Colavita Bolla
66 Myoko Karami (Jpn) Japanese National Team
67 Alisha Little (USA) Team Fuji
68 Manon Jutras (Can) Saturn Cycling Team
69 LeeAnne Manderson (USA) Freddie Fu Cycling
70 Eryn Hanna (USA) Los Gatos Bicycling Racing Club
71 Leah Goldstein (Isr) Victory Brewing Amoroso's           0.19
72 Jessica Phillips (USA) Saturn Cycling Team               0.21
73 Trixi Worrack (Ger) Equipe Nurnberger Fuji               1.04
74 Madeleine Lindberg (Swe) Equipe Nurnberger Fuji          2.05
75 Tracy Sproule (USA) Colavita Bolla                       2.17
76 Sherri Stedji (USA) Los Gatos Bicycling Racing Club
77 Francis Harrison (USA) Century Road Club
78 Ayumu Otsuka (Jpn) Japanese National Team
79 Stacey Peters (USA) Team T Mobile                        2.34
80 Margaret Hemsley (Aus) Nurnberger                        2.42
81 Esther Davis (USA) Century Road Club                     3.25
82 Sue Palmer-Komar (Can) Genesis Scuba                     4.59
83 Jenette Williams (USA) LSV Trek VW
84 Sophie St Jacques (Can) Victory Brewing Amoroso's        6.19
85 Larssyn Staley (USA) Genesis Scuba FFCC                  9.44
86 Susan Duff (USA) Tri State Velo Amoroso
87 Lauren Gaffney (USA) Team Basis                         11.27
88 Heidi Wollever (USA)                                    13.09
89 Carrie Tuck (Can) Team Rona Esker                       13.44
90 Sheba Farrin (USA) LSV Trek VW
91 Susan Hefler (USA) LSV Trek VW
92 Skelly Kunsbeck (USA) LSV Trek VW

 
Past Winners
2002 Petra Rossner (Ger) Saturn Cycling Team   92.8 kms in 2.27.09 (37.86 km/h)
2001 Petra Rossner (Ger) Saturn Cycling Team  116.9 kms in 3.01.47 (38.29 km/h)
2000 Petra Rossner (Ger) Saturn Cycling Team  116.9 kms in 3.00.02 (38.68 km/h)
1999 Petra Rossner (Ger) German National Team 116.9 kms in 3.01.23
1998 Petra Rossner (Ger) 
1997 Clara Hughes (Can)
1996 Petra Rossner (Ger)