89th Tour de France - Grand Tour
France, July 6-28, 2002
Teams preview pt 1 - Teams preview pt 2 - Teams preview pt 3 - Teams preview pt 4
The teams line up - part one
With the start list more or less finalized for the 2002 Tour, Cyclingnews European editor Tim Maloney tips the chances for success of the teams and the roles of their major players.
Oscar Freire
Photo: © Sirotti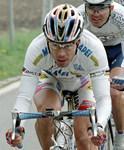 Mapei-Quick Step (Italy)
With mighty Mapei regretfully leaving the sport of cycling at the end of '02, this squad will be looking for stage wins rather than any presence on the overall. In the sprinting department, newly crowned Belgian champ Tom Steels looks like he's in the best form in years. The question is, how does speedy Steels co-exist with World Champ Oscar Freire? Easy! Mapei will be like Doublemint Gum; double the sprinting pleasure, double the sprinting fun! Steels can win on the flat stages, while Freire will be able to win if there is a more rolling parcours. Then there are guys like Italian meat-pounder Andrea Tafi and rapid South African Robert Hunter who will be looking for opportunistic wins on transition stages. Mapei's major question mark is how they will do in the mountain stages. Young climbers like Austrian Gerhard Trampusch and French mountain bike star Miguel Martinez may get hammered in the difficult TdF climbing stages.
Richard Virenque
Photo: © Sirotti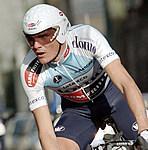 Domo-Farm Frites (Belgium)
France's most popular rider, Richard "Allez" Virenque will make his Tour comeback this year and will certainly be a candidate for his fifth TdF stage wins and perhaps a shot at his sixth Maillot Pois, which would equal Belgian Lucien Van Impe's TdF record. Axel Merckx will be looking to improve on last year's 22nd place on general classification, while Piotr Wadecki, recovering from his terrible head injuries in March was an excellent runner-up in the recent Tour de Suisse. Leon van Bon will be after another stage win, while Servais Knaven, Dave Bruylandts, Enrico Cassani and Tomas Konecny will be in support roles. Fred Rodriguez, in the final year of his contract with Domo-Farm Frites, will also be hungry for a win as the team's designated sprinter.
Igor Gonzalez
Photo: © AFP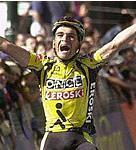 O.N.C.E.-Eroski (Spain)
Like General Santa Ana at the Alamo, O.N.C.E.-Eroski team boss Manolo Saiz is gunning for Texans... one to be exact. O.N.C.E. has the squad that may pose the most serious threat to Lance Armstrong's fourth consecutive TdF win. Saiz has focused everything this season on the TdF, since Joseba Beloki has already been on the bottom rung of the TdF podium twice running. With Jan Ullrich absent, this most excellent follower of wheels is certainly looking to finish at least second this year, while newly crowned Spanish TT champ Igor Gonzalez de Galdeano will also be looking to put the hurt on Lance when and where he can. Most notably backed by Olano, Serrano and Jaksche and Igor's younger brother Alvaro, O.N.C.E. will be waiting for just the right moment to set up Armstrong for a major attack, just as they did in the last stage of the Midi-Libre. They might be waiting until Paris.
Kelme-Costa Blanca (Spain)
Recently bailed out of financial woes by co-sponsor Costa Blanca (Community of Valencia), Kelme - Costa Blanca could have some interesting cards to play at the Tour de France this year if team morale is on the rebound. Colombian Santiago Botero will be looking to repeat as Maillot Pois winner, and the battle between the fearless do-all man from Medellin and Virenque could inflame the mountain stages. Kelme's jewel in the crown from Albacete, Oscar Sevilla, seventh in last year's TdF and a close runner-up in the 2001 Vuelta d'Espana will certainly challenge Beloki as top Spanish TdF rider as part of the intense rivalry between Kelme and O.N.C.E. Puncher Cabello and Gomez, Gutierrez, Tauler and company will purely play the support role at the Tour to ensure that Kelme-Costa Blanca makes its usual solid showing.
Tyler Hamilton
Photo: © Sirotti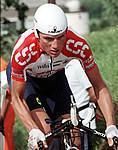 CSC-Tiscali (Denmark)
Bjarne Riis has made things tough on himself by naming three leaders for the 2002 TdF; Laurent Jalabert, Tyler Hamilton and Carlos Sastre. Of course, only one of these riders, Hamilton, realistically has any chance to perform in the TdF general classification, as Jaja is just a shadow of his former self and Sastre can't time trial well enough. As in the Giro d'Italia, where Hamilton finished second, the Man From Marblehead will be a dark horse outsider in the TdF, but don't be too surprised to see tough Tyler up on the podium this year in Paris.
Dario Frigo
Photo: © Sirotti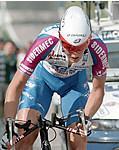 Tacconi Sport (Italy)
Bleached blond Dario Frigo is a rider with lots of talent; despite his enforced stop last year due to bad vibes from the Giro blitz, Frigo's '02 season has been respectable. His recent win in the Italian TT championship and runner-up for the road demonstrate that the Italian will enter the Tour de France with good and improving form. As to how he'll survive in the crucible of le Tour is another thing, although Frigo is one of the best time trialists in the Grand Boucle. With climbers Luttenberger and Donati, Frigo may be a surprise at the Tour, while his speedy Slovenian team-mate Andrej Hauptman will be looking for sprint stage placings.
Teams preview pt 1 - Teams preview pt 2 - Teams preview pt 3 - Teams preview pt 4