Tour of Somerville - NE
Somerville, New Jersey, USA, May 25, 2009
2008 Results Results Past Winners
Haedo wins cycling's Kentucky Derby
By Kirsten Robbins in Somerville, New Jersey
Colavita/Sutter Home's Sebastian Haedo takes the finish
Photo ©: Marco Quezada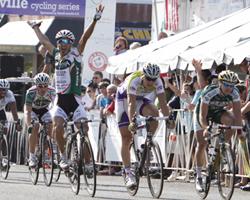 Sebastian Haedo (Colavita-Sutter Home) claimed a second consecutive victory of the Tour of Somerville, after team-mates slung shot the Argentinean from a perfectly timed lead-out into the hard-fought bunch sprint. Team Type 1 looked good for victory as it threw sprinter Aldo Ino Ilesic into the mix, but he was overtaken on the final straight by Haedo and Jake Keough (Kelly Benefit Strategies) for second place, forcing him to settle for third place.
"My team-mates lined up behind the other lead out trains," said Haedo. "It was a long final lap and with the two long straights on either side of the course, I wanted my team-mates to take it easy. I had my train jump right before the last corner. We expected the fight from the other teams, we prepared for it and I had no reason to be afraid of it."
The Tour of Somerville held an added importance for both Colavita-Sutter Home and Team Type 1, with both teams' title sponsors located in neighboring New Jersey cities. "This race is always one of the most important races of the year for us," said Haedo, who received a congratulatory cheer from John A. Profaci, vice president of Colavita USA. "It is not just to say thank you for our professional teams but for the whole family. The U23 and junior teams, the women's teams, the amateur teams and all the clubs around the nation -- it's for everyone."
The four corner course runs nearly two kilometres in length acting as a speedway where thousands of cycling enthusiasts. The inner square is full of cycling vendors and live music to add to the Memorial Day festivities. Team Type 1's primary sponsor, sanofi-aventis, sponsored the long weekend events that culminated with the oldest criterium in the nation.
Matt Wilson (Team Type 1)
Photo ©: Marco Quezada

"It was a great race and especially because we sponsored the event we had a great time here this weekend," said Ilesic. "I realise how historical this event is in American bike racing. Even though it is my first time racing in this race, the fans were so into it and I look forward to coming back. My team worked perfect today."
The professional men's field let loose to a flurry of attacks in the first half of the 40-lap dash. Local teams Mengoni, CRCA-Empire, CCB Racing and Champion Systems turned the screws on the peloton but the most aggressive squad was newly formed Mountain Khakis.
"We really wanted to use our strengths today with a few key riders who are great in the breakaways," said Mountain Khakis directeur sportif Jason Snow. "We have two strong sprinters so we saved them for the end."
Mountain Khakis continued to send one rider after another forming some threatening separations in the field. Teams quick to respond included Kelly Benefits Strategies, Team Type 1, Colavita-Sutter Home, Battley Harley Davidson, Champions System and Kenda. Kyle Wamsley (Colavita-Sutter Home) and John Minutrn (CRCA- Empire) took separate solo flyers with in the final 10 laps of the race. However the peloton, hungry for a field sprint, began to show signs of emergency and reeled in all breakaways with in the final five laps.
"This race is all about the swarms and trying to surf that wave," said runner up Keough. "With eight laps to go there was a big swarm that came over the top of the field and I rode that in. I was going to wait but that was a good one.
"My team helped me out a lot today making sure I was kept in good position," he added. "It is always tough to have sponsors in the audience but that is apart of bike racing and we always want the win."
Pic sprints to second Somerville title
Tina Pic proves the strength behind
Photo ©: Marco Quezada

Five time United States of America Criterium Champion Tina Pic (Colavita-Sutter Home) showed she hasn't lost an ounce of speed winning a second Tour of Somerville, one of the fastest criteriums in the country. Pic wound up her lengthy sprint from the final corner, with Theresa Cliff-Ryan (Verducci-Breakaway) taking second place from Laura van Gilder (C3-Sollay).
"We call this race the Colavita World Championships," said Pic, referring to the large Colavita-Sutter Home area between the first and second corner. "It's important for us because the whole company comes out to support us, so it's an event we always want to do well in."
The women's event rounded the same four corner circuit as the men. The relatively non-technical course was deceivingly difficult due to two long straight-aways on either side. The professional women completed 17-laps, which featured aggressive racing but was marred by several crashes.
The most significant break away of the day included United States of America Time Trial Champion Alison Powers (Team Type 1), Nikki Wangsgard (Colavita-Sutter Home) and Jesse MacLean (Verducci-Breakaway). "We would have worked with a break if it looked like a right move for us," said Pic. "That one break would have been all right with us but we thought the Verducci rider was Theresa. That actually would have been good for us."
Bridie O'Donnell (Australian National Team) keeps the pace
Photo ©: Marco Quezada

With the exception of several crashes during the last two laps, the field remained in tact and ready to play out a bunch sprint. The teams with strong representation at the front included Team Type 1, Colavita-Sutter Home, Australian National Team, NECB/Cycle Loft and Verducci-Breakaway.
"It seemed like every rider was up there in the end taking a turn on the front and keeping the pace really high," Pic said. "It was so dicey and it was hard to get back into position after the crash on the last lap. It was actually hard to organize a lead out on this course because the field swarms on the long straight-aways. Riders were coming from all directions and so that was really tough."
Verducci-Breakaway was hoping for a field sprint given they have a strong squad of prominent sprinters. As a former criterium champion Cliff-Ryan was the go-to-girl in the final sprint, but fell just a few inches shy from victory.
"My girls do a great job dropping me off in good position," she said. "I seem to do better when I find my own way in the actual sprint. We've tried proper lead outs before but for some reason it works out better if they spend energy getting me into good position with a couple of laps to go."
Photography
For a thumbnail gallery of these images, click here
Images by Marco Quezada/www.nyvelocity.com
Images by Todd Leister / leister.smugmug.com
Results
Elite & Cat. 1 men

1 Lucas Sebastian Haedo (Colavita Sutter Home P/b Cooking)    1.44.22
2 Jacob Keough (Kelly Benefit Strategies)                        0.00
3 Aldo Ino Ilesic (Team Type 1)                                      
4 Alejandro Borrajo (Colavita Sutter Home P/b Cooking)           0.00
5 Maxime Vives (Planet Energy)                                   0.00
6 Kenneth Hanson (Team Type 1)                                       
7 Kyle Wamsley (Colavita Sutter Home P/b Cooking)                0.01
8 Hugo Houle (Garneau Club Chaussures Ogilvy)                        
9 Amaury Perez (G.S. Mengoni)                                    0.01
10 Colin Jaskiewicz (CCB Racing)                                     
11 Emile Abraham (Aerocat Cycling Team)                          0.01
12 Chad Burdzilauskas (UCI CT: Kenda Pro Cycling)                0.01
13 Stephen Kincaid (CRCA / Empire Cycling Team)                      
14 Eric Barlevav (Team Mountain Khakis)                              
15 Adam Myerson (Team Mountain Khakis)                           0.01
16 William Dugan (CCB Racing)                                    0.01
17 Clayton Barrows (CRCA / Empire Cycling Team)                  0.02
18 Ian Holt (US Armed Forces)                                    0.02
19 Jaime Gandara (UCI CT: Kenda Pro Cycling)                     0.02
20 Matthew Johnson (CRCA / Empire Cycling Team)                  0.02
21 Rafael Meran (G.S. Mengoni)                                       
22 Bobby Lea (Toyota-united Pro Cycling Team)                        
23 Jonathan Page (Battley Harley-davidson/sonoma)                0.02
24 Anthony Lowe (WS Unted)                                       0.02
25 Brendan Cornett (Richmond Pro Cycling)                        0.03
26 Vladimir Estevez (Champion Systems)                           0.03
27 David Wiswell (GS Mengoni USA)                                0.03
28 Jerome Townsend (IF/ Lionette's Market)                       0.04
29 Jared Nieters (Haymarket Bicycles)                            0.04
30 Robbie King (IF/ Lionette's Market)                               
31 Anibal Borrajo (Colavita Sutter Home P/b Cooking)             0.04
32 Shawn Milne (Team Type 1)                                         
33 Ryan Dewald (Battley Harley-davidson/sonoma)                  0.05
34 Valeriy Kobzarenko (Team Type 1)                                  
35 Melito Heredia (Innovation Bike)                              0.05
36 Jonathan Parrish (UCI CT: Kenda Pro Cycling)                  0.05
37 Ryan Nye (Mvp Healthcare Cycling)                             0.06
38 Mark Hekman (Team Mountain Khakis)                            0.06
39 Davide Frattini (Colavita Sutter Home P/b Cooking)            0.06
40 Aaron Levin (Herriott Sports Performance)                     0.06
41 Jermaine Burrowes (W.S. United)                                   
42 Stephan Dioslaki (Metra/victor Homes/MHP)                         
43 Mark Light (Liberty Cycle)                                    0.06
44 Franklin Burgos (Champion Systems)                            0.06
45 Eric Tremble (Kenda/raleich Cycling)                          0.06
46 Matthew Kressy (Millwork One Racing/weebike.com)              0.07
47 David Martin (Northeastern Hardware)                          0.07
48 Rodney Mcewan (Team Mcor)                                     0.07
49 Marco Aledia (UCI CT: Kenda Pro Cycling)                      0.09
50 Cheyne Hoag (Kelly Benefit Strategies)                        0.09
51 Michael Joanisse (Nativo Concept)                             0.09
52 Scottie Weiss (UCI CT: Kenda Pro Cycling)                     0.10
53 Clay Mufret (Kelly Benefit Strategies)                        0.10
54 Anthony Taylor (Ccv-hotfoot Cycles/iron Hill)                 0.10
55 Amos Brumble Iv (CCB Racing)                                      
56 Adam Farabaugh (Hershey Cancer Institute-GPOA)                0.11
57 Salvatore Scotto Divetta (Speedzone)                          0.11
58 Austin Roach (Metlife Cycling Team)                           0.12
59 Tyler Wren (Colavita Sutter Home P/b Cooking)                 0.12
60 Diego Garavito (Aerocat Cycling Team)                         0.12
61 Gilberth Gomez Valverde (Northeastern Hardware)               0.12
62 Randy Smargiassi (Gotham Cyclists)                                
63 Emilio Asconeguy (Aerocat Cycling Team)                       0.12
64 Giancarlo Bianchi (We Stand United (w.s.))                    0.12
65 Joshua Alexander (CRCA/foundation)                            0.12
66 Rafal Urzedowski (Northeastern Hardware/ Cjct)                0.13
67 Robert Mcconville (Aerocat Cycling Team)                      0.14
68 Igor Volshteyn (Champion System Racing)                       0.14
69 Edwin Bull (Van Dessel Factory Team)                          0.14
70 Jason Walters (Nature Valley Cycling Team)                    0.14
71 David Guttenplan (Team Mountain Khakis)                           
72 Antoine Matteau (Garneau Club Chaussures Ogilvy)              0.15
73 Matt Inconiglios (Stage 1/fusionthink)                            
74 Charles (Joe) Eldridge (Team Type 1)                          0.15
75 Shane Kline (Kelly Benefit Strategies)                        0.15
77 Ryan Anderson (Kelly Benefit Strategies)                      0.16
78 Scott Zwizanski (Kelly Benefit Strategies)                    0.17
79 David Sommerville (Sommerville Sports World Team)             0.18
80 Fabio Calabria (Team Type 1)                                  0.19
81 Christopher Gottwald (Hershey Cancer Institute-gpoa-)         0.19
82 Aaron Hubbell (Nuvo Cultural Trail)                           0.19
83 Sean Barrie (Battley Harley-davidson)                         0.20
84 David Bozak (Clean Currents P/b Don Beyer V)                  0.20
85 Paul Burrowes (W.S. United)                                   0.21
86 Tyler Stanfield (UCI CT: Kenda Pro Cycling)                   0.21
87 Todd Scheske (Mvp Healthcare Cycling)                         0.21
88 Jason Meidhof (Dc Velo P/s Don Beyer Volvo)                   0.21
89 Jonathan Chodroff (Ouch/maxxis)                               0.22
90 Luca Damiani (Colavita Sutter Home P/b Cooking)               0.22
91 Benjamin Zawacki (Richmond Pro Cycling)                       0.22
92 Jonathan Bruno (IF/ Lionette's Market)                        0.22
93 Barry Miller (Mikefrayssesports.com)                          0.25
94 Edward Beamon (Edj Sports)                                    0.26
95 Todd Yezefski (IF/ Lionette's Market)                         0.27
96 Eugene Petrella (Ccc/keltic Const./zanes Cycles)              0.27
97 Geoff Smith (Watchung Wheelmen)                               0.27
98 Cristian Velasquez (Ten Speed Drive / Bh Bicycles)            0.27
99 Francois Parisien (Planet Energy)                             0.31
100 Kevin Wolfson (IF/ Lionette's Market)                        0.31
101 Wilson Vasquez (Champion System Racing)                     14.54
102 Remi Mcmanus (UCI CT: Kenda Pro Cycling)                         
103 Matt Wilson (Team Type 1)                                        
104 Eric Brownell (CRCA / Empire Cycling Team)                  14.54
105 John Minutrn (CRCA / Empire Cycling Team)                        
107 Ryan Mele (Richmond Pro Cycling)                                 
108 Scott Jackson (Richmond Pro Cycling Team)                        
109 Raj Seepersaud (Champion System Racing)                          
110 Lisban Quintero (CRCA/foundation)                                
111 Horace Burrowes (W.S. United)                                    
112 Mike Creed (Team Type 1)                                         
113 Daniel Ramsey (Team Mountain Khakis)                             
114 Spencer Beamer (Team Mountain Khakis)                            
115 Jackie Sims (Mountain Kakis)                                14.54
116 Jake Hollenbach (CRCA / Empire Cycling Team)                     
117 Unknown Rider                                                    
DNS  Joshua Alexander (CRCA/foundation)                              
DNS  Joao Correia (Bissell Pro Cycling Team)                         
DNS  Emerson Oronte (IF/ Lionette's Market)                          
DNS  Joseph Whitman (Team Alliance Environmental)                    
DNS  Daniel Estevez (CRCA/foundation)                                
DNF  Adam Alexander (CRCA/foundation)                                
DNF  James Carney (Salamander Racing)                                
DNF  Brian Cooblall (Team Ws United/sheepshead)                      
DNF  William Elliston (Van Dessel Factory Team)                      
DNF  J Alain Ferry (Millwork One Racing)                             
DNF  Ryan Fleming (Metlife P/b Unlose.it)                            
DNF  Phillip Gaimon (Fiordifrutta)                                   
DNF  Elliot Gaunt (Hershey Cancer Institute-GPOA)                    
DNF  Alejandro Guzman (CRCA/foundation)                              
DNF  Isaac Howe (Mountain Khakis)                                    
DNF  Charles Hutcheson (Battley Harley-davidson/sonoma)              
DNF  Nicholas Keough (Bikereg.com / Cannondale)                      
DNF  Russell Langley (Battley Harley-davidson/sonoma)                
DNF  Cody O'reilly (Bissell Pro Cycling Team)                        
DNF  Vincent Quirion (Garneau Club Chaussures)                       
DNF  Jorge Romero (Caico)                                            
DNF  Colin Sandberg (Hershey Cancer Institute-GPOA)                  
DNF  Rodney Santiago (Champion System Racing)                        
DNF  Jonathan Sundt (Kelly Benefit Strategies)                       
DNF  Christopher Tirone (Ridley Factory Team)                        
DNF  Euris Rafael Vidal Paulino (Champion System Racing)             
DNF  Ken Walsh (Talksoft Racing)                                     
DNF  Bennet Van Der Genugten (UCI CT: Kenda Pro Cycling)             
DNF  Jeff Buckles (Richmond Pro Cycling)                             
DNF  Luis Aquino (Champion Systems)                                  
DNF  Eric Schildge (Bikereg.com/cannondale)                          
DNF  Chris Black (Morgan Stanley /team Spine)                        
DNF  Paul Choo-Weenam (Bradley& Son Racing)                          
DNF  Roselvert Marte (G.S. Mengoni)                                  

Elite & Cat. 1/2 Women

1 Tina Pic (Colavita Sutter Home P/b Cooking)                   45.49
2 Theresa Cliff-Ryan (Verducci/breakaway Racing)                 0.00
3 Laura Van Gilder (High Gear Watchung)                              
4 Melissa Sanborn (Vanderkitten Racing)                          0.00
5 Laura Mccaughey (Salamander Racing)                            0.01
6 Erica Allar (BMW-Bianchi)                                      0.01
7 Emma Petersen (Team Ultralink)                                 0.02
8 Kori Seehafer (Team Type 1)                                    0.02
9 Brooke O'Connor (Nebc/cycle Loft/devonshire)                   0.02
10 Alison Powers (Team Type 1)                                   0.03
11 Leigh Hopkins (Vanderkitten Racing)                           0.04
12 Davina Summers (Australia)                                    0.04
13 Colleen Gulick (Team Kenda)                                       
14 Amy Mcguire (Hub Racing)                                      0.04
15 Shontell Gauthier (Colavita Sutter Home P/b Cooking)          0.08
16 Mary Costelloe (Alliance Environmental)                       0.08
17 Cath Cheatley (Colavita Sutter Home P/b Cooking)              0.09
18 Kelly Benjamin (Colavita Sutter Home P/b Cooking)             0.09
19 Rebecca Wellons (Ridley Factory Team)                         0.10
20 Leslie Jennings (Cyclelife Powered By Specialized)                
21 Kate Veronneau (Altarum Women's Cycling Team)                     
22 Jessie Maclean (Verducci/breakaway Racing)                    0.11
23 Erica Zaveta (Zaveta Cycling)                                 0.11
24 Monique Hanley (Team Type 1)                                  0.12
25 Amity Elliot (Salamander Racing)                              0.12
26 Kathleen Billington (Anthem Cycling)                          0.13
27 Sinead Miller                                                 0.13
28 Evelyn Stevens (CRCA/radical Media)                           0.13
29 Clara Kelly (Nebc/cycle Loft/devonshire)                      0.16
30 Amber Halliday (Australia)                                    0.16
31 Tricia Carnila (Verducci/breakaway Racing)                    0.21
32 Bridie O'donnell (Australia)                                  0.22
33 Dale Tye (Altarum Women's Cycling Team)                       0.24
34 Sally Annis (Hub Racing)                                      0.34
35 Cecelia Pleva (CRCA / Radical Media)                          0.35
36 Colleen Hayduk (Verducci Breakaway Racing)                    0.35
37 Jacquelyn Crowell (Team Type 1)                               0.35
38 Rachel Heal (Colavita Sutter Home P/b Cooking)                    
39 Andrea Dvorak (Colavita Sutter Home P/b Cooking)                  
40 Patricia Black (Morgan Stanley /team Spine)                   0.35
41 Christy Blakely (Bmw-Bianchi)                                     
42 Liz Leyden (Hub Racing)                                           
43 Andrea Luebbe (Human Zoom/pabst Blue Ribbon)                      
44 Rachel Herring (Alliance Environmental)                           
45 Jacqueline Paull (Watchung Wheelmen/high Gear)                    
46 Kristy Scheffenacker (Altarum Women's Cycling Team)               
47 Debony Diehl (Sunapee S&w)                                        
48 Lauren Shirock (BMW-Bianchi)                                  0.35
49 Nichole Wangsgard (Colavita Sutter Home P/b Cooking)              
50 Michele Bote (Altarum Women's Cycling Team)                       
51 Lenore Imhof (EPS-Team Riptide Cycling)                           
52 Veronica Martinez (Hub Racing)                                    
53 Kristy Swope (Team Eps/css P/b Riptide Cycle)                     
54 Rachel Warner (Salamander Racing)                            10.21
55 Morgan Patton (Team Type 1)                                       
56 Elizabeth Morse Hill (Hub Racing)                                 
57 Julia Farell (Team Ultralink)                                     
58 Diane Castor-Grim (Latitude / Abrt)                               
DNS  Rebecca Blatt (Team Kenda Tire)                                 
DNS  Sarah Caravella (Alan North America Racing)                     
DNS  Samantha Dery (Nebc ? Cycle Loft/ Devonshire)                   
DNS  Sheba Farrin (Hub Racing)                                       
DNS  Belinda Goss (Australia)                                        
DNS  Beth Mason (C3-sollay.com)                                      
DNF  Carola Berger (Nebc/cycle Loft/devonshire)                      
DNF  Kathryne Carr (Sunapee S&w)                                     
DNF  Kristine Church (Nature Valley Cycling Team)                    
DNF  Susanne Delaney (Nebc/cycle Loft/devonshire)                    
DNF  Natalie Dumont (Nebc/cycle Loft/devonshire)                     
DNF  Josephine Giddens (Hub Racing)                                  
DNF  Bianca Grecu (Human Zoom/pabst Blue Ribbon)                     
DNF  Nonnie Howard (Human Zoom / Pabst Blue Ribbon)                  
DNF  Lisa Jellett (Verducci/breakaway Racing)                        
DNF  Arley Kemmerer (Hub Racing)                                     
DNF  Lauren Kitchen (Australia)                                      
DNF  Camie Kornely (Innovation Bike)                                 
DNF  Kristen Lasasso (High Gear Cyclery)                             
DNF  Veronica Leal (Team Type 1)                                     
DNF  Sarah Sauvayre (CRCA/comedy Central)                            
DNF  Erin Silliman (Artemis)                                         
DNF  Melanie Swartz (Cyclelife Powered By Specialized)               
DNF  Carlee Taylor (Australia)                                       
DNF  Pamela Wahl (Zaveta Cycling)                                    
DNF  Eve Mcneill (Dartmouth College)                                 
DNF  Wendy Ulmer (Team Cyclelife)                                    
DNF  Kirsten Davis (BMW Bianchi)                                     

Junior men 15-18

1 Gavin Mannion (Hot Tubes Development Team)                    31.52
2 Matthew Baranoski (Alliance Environmental)                     0.00
3 Kevin Mcguire (ACT)                                            0.00
4 Tynan Farley (Alliance Environmental)                              
5 Robin Carpenter (Mainline Cycling)                             0.01
6 Wesley Kline (Young Medalists / Team Dual)                     0.01
7 Jesse Keough (Clnoonan/kam/coast To Coast)                     0.01
8 Paul Lynch (Clnoonan/kam/coast To Coast)                       0.01
9 Roberto Torres-Aguiar (Errol Cycling)                          0.02
10 Matteo Dal-Cin (Pro Bike Pool Kuota)                              
11 Waldy Ferrer (Errol Cycling)                                  0.02
12 Jordan Strober (CRCA Jrdev/ Orbea)                            0.02
13 Zack Noonan (Young Medalists / Team Dual)                     0.02
14 Jake Hill (Best Of The Bay Cyclist)                           0.03
15 Steven Black (National Capital Velo Club)                     0.04
16 Cooper Ray (Gs-gotham/toga Bikes)                             0.04
17 Zachary Semian (Team Alliance Environmental)                  0.04
18 Collin Huston (Clnoonan/kam/coast To Coast)                       
19 Jeffrey Alpert (Young Medalists / Team Dual)                  0.05
20 Bill Golembieski (CRCA Junior Development)                    0.08
21 Synjen Marrocco (Clnoonan/kam/coast To Coast)                 0.09
22 Ryan Clune (Team Vortex)                                      0.10
23 Jacob Gorke (CRCA Jr Dev)                                     0.10
24 Max Kaplan (Colavita Racing)                                  0.12
25 Emmanuel Goguen (Clnoonan/kam/coast To Coast)                 0.24
26 Benjamin Salibra (CRCA Junior Development)                    0.38
27 Matt Muney (Young Medalists / Team Dual)                      0.38
28 Nathan Brown (Hot Tubes Junior Developement)                  0.38
29 Trevor Damen (Euro-sports.ca)                                     
30 James Geddis (3d Racing Team)                                     
31 Tommy Schubert (Tri State Velo)                                   
32 Thomas Barnett (Cycles 54 / Ysg)                                  
33 Harry Chen (Colavita Racing)                                      
34 Dag Anderson (Team Somerset)                                      
35 David Stires (Crc Of A)                                           
36 Nate Morse (C.l. Noonan/kam/coast To Coast)                   0.38
37 Zachary Bender (Gs Park Ridge-team Cyclesport)                    
38 David Dawson (Human Zoom Cycling)                                 
DNS  Noah Granigan (Team Somerset)                                   
DNS  Luke Keough (Clnoonan/kam/coast To Coast)                       
DQ  Avery Wilson (National Capital Velo Club)                        
DQ  Ryan Peterson (Endorphin Fitness)                                
DQ  Eli Robinson (ChrisCookinG.S.swancycles)                         
DNF  Nicholas Blanchard (Colavita Racing Inc.)                       
DNF  Jared Calimano (Colavita Racing)                                
DNF  Miles Camp (Cape Atlantic Racing)                               
DNF  Ricky Gargiulo (Colavita Racing)                                
DNF  Matthew Spinks (Team Metra/wendy's)                             
DNF  Dan Blauvelt (Colavita Racing)                                  
DNF  Nathaniel Wilson (Kelly Benefit Strategies/LSV)                 
DNF  Zane Dordai (Colavita Racing)                                   
DNF  Teddy Kozlowski (Team Liberty)                                  
DNF  Joshua Kozlowski (Team Type 1)                                  
DNF  Joshua Wade (Matrix Rbm)                                        
DNF  Nicholas Roeder (Jvr Sports)                                    
DNF  Stuart Wight (Hot Tubes Development Cycling)                    

Master men 50+

1 Joseph Manacchio (MLC Bikyle)                                 32.58
2 Christopher Regan (Saroff Racing Team)                         0.00
3 Chris Black (Morgan Stanley /team Spine)                           
4 Rich Ross (Mambo Kings Racings)                                0.00
5 Patrick Gellineau (Team Squiggle)                              0.01
6 Bruce Donaghy (Morgan Stanley)                                 0.01
7 John Grenier (Team Fuji)                                           
8 Michael Maclaga (Colavita Racing)                                  
9 Thomas Bain (Geri Atrix)                                       0.01
10 Darin Benson (Gs Lancaster)                                   0.01
11 Stephen Cochrane (Mambo Kings Racing)                         0.01
12 Thomas Kellogg (Amroso Tri-state Velo)                            
13 James Alvord (Quaker City Wheelmen)                           0.02
14 Robert Wellmon (Quaker City Wheelmen/breakaway)                   
15 Robert Kehl (Guys Racing)                                     0.02
16 Martin Friedman (Watchung Wheelman)                               
17 Rui Ponte (Dc Velo/martens Volvo)                             0.02
18 Don Clapp (Liberty Cycle)                                     0.02
19 Paul Pearson (Tru-brew)                                       0.03
20 Patrick Kennedy (Liberty Cycle)                               0.03
21 Brian Gristick (Americas Cycling Team)                            
22 Unknown Rider                                                 0.03
23 John Lennox (Watchung Wheelmen)                               0.03
24 Curt Hurst (Liberty Cycle)                                    0.04
25 Steven Tinston (Westwood Velo)                                0.04
26 Michael Shapanka (Watchung Wheelmen)                          0.04
27 Marco Bonelli (Road Dawgz)                                    0.04
28 Joe Saling (Team Somerset/van Dessel)                         0.04
29 Scott Butler (Bike Line/LWA)                                  0.05
30 Lawrence Towner (Liberty Cycle)                               0.06
31 Dirk Cowley (Ffkr/sbo P/b Tour Of Utah)                       0.06
32 Shreeram Mudambi (Guy's Racing)                               0.06
33 William Jones (BCRC/tru-brew Coffee)                          0.06
34 Barrie Drabble (Colavita Racing)                              0.08
35 Thomas Grim (Era Cycling)                                     0.09
36 Jozef Urzedowski (Watchung Wheelmen)                          0.09
37 Robert Lea (T.e.a.m. Fuji)                                    0.10
38 John Barrett (Team Somerset)                                  0.10
39 Bryan Barrett (Bike Line / LWA)                               0.14
40 Jim Kaeli (Colavita Racing)                                   0.14
41 Robert Kowal (Team Somerset)                                  0.15
42 Lee Mestres (Mambo Kings Racings)                             0.19
43 Chip Berezny (Bike Line / LWA)                                0.20
44 Charles Carnila (Mambo Kings Racing)                          0.25
45 Robert Black (Hall Nissan)                                    0.27
46 Andrew Buck (Bike Line/LWA)                                       
47 Stephen Gerard (Atlantic Bike Club)                           0.29
48 Peter Swan (NCVC/inova Health Systems)                        0.29
DNS  Douglas Crane (Cafeteros)                                       
DNS  Karl Fenske (Colavita Racing)                                   
DNS  Donald Fuchs                                                    
DNS  Conrad Gomez (Sotheby's/strictly Bicycles)                      
DNS  Andrew Hepburn (AVC)                                            
DNS  Kenneth Hochman (Deno's Wonder Wheels)                          
DNS  John Leighty (Mambo Kings Racing)                               
DNS  Pleasant Lewis (ASV)                                            
DNS  Barry Nazarian (Team Bikery/shebell Shebell)                    
DNS  David Nesler (MLC Bikyle/mazure Coaching)                       
DNS  Douglas O'neill (Deno's Wonder Wheel)                           
DNS  Earl Osborne (Century Road Club Association)                    
DNS  Earl Perretti (Team Bikery/shebell Shebell)                     
DNS  Jeffrey Pollock (Watchung Wheelman)                             
DNS  Diego Rodriguez (Team Sotherby's/strictly Bicycles)             
DNS  Ted Slack (Quaker City Wheelmen)                                
DNS  Scott Snyder (Treasure Coast Racing)                            
DNS  Ivan Solero (Bikyle)                                            
DNS  Edward Troianello (Watchung Wheelmen)                           
DNS  Brian Wolf (Bethel Cycle Sport Club)                            
DNS  Grard Remsen Iii (Skylands)                                     
DNS  Grard Remsen Iii (Skylands)                                     
DNF  Edward Bertucio (C C Evesham)                                   
DNF  Alvaro Betancur (Cafeteros Cycling Club)                        
DNF  Andrew Buchanan (Skylands Cycling)                              
DNF  John Dalzell (Quaker City Wheelmen/breakaway)                   
DNF  Keith Davies (Mambo Kings Racing)                               
DNF  Lawrence Dudek (Team Somerset)                                  
DNF  Gilbert Hatton (Texas Roadhouse)                                
DNF  Michael Karr (Montclair Cyclists)                               
DNF  Daniel Kiningham (Bikeline/LWA)                                 
DNF  Daniel Mitchell (Lehigh Wheelmen)                               
DNF  Carl Nelson (Colavita Racing)                                   
DNF  Russ Padgett (Cycle Funattic)                                   
DNF  Robert Phillips (Annapolis Bicycle Racing Team)                 
DNF  Gerry Ryerson (Skylands Cycling)                                
DNF  Glenn Schneider (Colavita Racing)                               
DNF  Ben Williams (Abrt / Team Latitude)                             
DNF  Joseph Zuppa Jr (Colavita Racing)                               

Cat. 2 Men

1 Thomas Wood (Team Alliance Environmental)                     43.29
2 Matthew Spohn (Dynaflo)                                        0.00
3 Neil Bezdek (Kissena)                                          0.01
4 Lanell Rockmore (Team Alliance Environmental)                  0.01
5 Gavin Robertson (CRCA/foundation)                              0.01
6 Jamil Kayin (Quaker City Wheelmen/breakaway)                   0.01
7 Sean Melcher (Hershey Cancer Institute-GPOA)                       
8 Theodore Inoue (Liberty Cycle)                                 0.01
9 Gavin Mannion (Hot Tubes Development Team)                     0.02
10 David Walker (Liberty Cycle)                                  0.02
11 Glenroy Griffith (Major Taylor Iron Riders)                       
12 Epes Harris (Team Alliance Enviromental)                      0.02
13 Ronald Larose (Ccns)                                              
14 David Hoyle (Ccns)                                            0.02
15 Christopher Worden (CCB Racing)                                   
16 Luke Keough (Cl Noonan/kam/coast To Coast)                    0.02
17 John Grenier (Team Fuji)                                      0.02
18 Lewis Almonte (Foundation)                                        
19 Nathaniel Ward (Spooky / NCC / Kenda)                         0.03
20 Luciano Pavan (Optimum Performance/FCC)                       0.03
21 Ryan Pomajevich (Gotham Cyclists)                             0.03
22 Angel Martinez (3d Racing/toms Atlantic Cyclery)                  
23 Jonathan Bernhard (CCB Racing)                                    
24 Christopher Kohnle (Ccns)                                         
25 Patrick Bradley (Heart House/CADV/CC Evesham)                 0.03
26 Ryan Mitchell (Talksoft Racing)                               0.03
27 Benjamin Miller (Guinness Cycling)                            0.03
28 Kevin Putman (Battenkill United)                                  
29 Ernest Tautkus (ExodUS Racing)                                0.04
30 Robert Way (3d Racing Team/tom's Atlantic)                    0.04
31 Logan Cernel (Euro-sports.com)                                0.04
32 Matt Deluco (Euro-sports.ca)                                  0.04
33 Thomas Mains (Van Dessel Factory Team)                            
34 Pascal Sauvayre (CRCA/pacifico)                               0.05
35 Gregory Battista (Metra Industries/wendys)                    0.05
36 Gary Steinberg (Global Locate)                                0.05
37 Jason Ward (Latino Cycling Team)                                  
38 Dylan Mcnicholas (CCB Racing)                                 0.05
39 Glenn Schneider (Colavita Racing)                             0.06
40 Kyle Centrella (Dynaflo Racing)                               0.08
41 David Wells (Van Dessel Factory Team)                         0.08
42 Nathan Brown (Hot Tubes Junior Development)                   0.10
43 Paul Basler (Team Hall Nissan)                                0.11
44 Alex Cox (CCB Racing)                                         0.12
45 Aubrey Gordon (Liberty Cycle)                                 0.13
46 Patrick Goguen (Cl/noonan/coast To Coast)                     0.14
47 Daniel Coleman (Colavita Racing)                              0.17
48 Robert Quincy (Liberty Cycle)                                 0.17
49 Matthew Purdy (Spooky / Ncc / Kenda)                          0.20
50 Nathaniel Wilson (Unattached)                                 0.21
51 Glenn Murray (Hershey Cancer Institute-GPOA)                      
52 Jeff Zygo (Mvp Healthcare Cycling)                            0.21
53 Joshua Bardige (Team Independence)                            0.24
54 Stefan Grecu (Hershey Cancer Institute-GPOA)                  0.28
55 J Partland (Kissena Cycling Club)                             0.33
56 Greg Cordasco (Liberty Cycyle)                                0.35
57 Michael Jenks (Heart House/cadv/cc Evesham)                   0.36
58 Richard Ball (Watchung Wheelman/high Gear)                    0.38
59 Hunter Pronovost (Ccns \ Cheshire Cycle)                      0.39
60 Daniel Fox (Corner Cycle Cycling Club)                        0.40
61 Matt Rossman (Noreast)                                        0.42
62 Matt Mainer (Spooky / Ncc / Kenda)                            0.44
63 Conrad Gomez (Sotheby's/strictly Bicycles)                    0.44
64 Matthew Swiatek (Gotham Cyclists)                                 
65 Nick Price (Dynaflo Racing)                                       
66 Clay Parks (Pacesetter Steel Service)                             
67 Robert Livingston (Unattached)                                    
68 Steven Black (Inova Health Systems)                               
DNS  David Bonser (Gotham Cyclists)                                  
DNS  Alexander Butterfield (NCVC/inova Health System)                
DNS  Jake Castor (Mvp Healthcare Cycling)                            
DNS  Christopher Chaput (CRCA/jonatha Adler Racing)                  
DNS  Daniel Hoffman (Westwood Velo)                                  
DNS  Hugo Houle (Garneau Club Chaussures)                            
DNS  Darco Lalevic (Philadelphia Gentleman's)                        
DNS  Antoine Matteau (Garneau Club Chaussures)                       
DNS  Kevin Mcneill (Major Taylor Iron Riders)                        
DNS  Shannon Morgan (Cclean Currents)                                
DNS  Kyle Peppo (CRCA/jonathan Adler Racing)                         
DNS  Vincent Quirion (Garneau Club Chaussures)                       
DNS  Jorge Romero (Caico)                                            
DNS  Jorge Romero (Caico)                                            
DNS  Jorge Romero (Caico)                                            
DNS  Mario Sanchez (Battley Harley-davidson)                         
DNS  Blair Saunders (Henrys)                                         
DNS  Antony Slokar (CRCA/jonathan Adler Racing)                      
DNS  Stuart Wight (Hot Tubes Development Cycling)                    
DNF  Johann Burrowes (W S United)                                    
DNF  Jurandir Dealmeida (Wendys/pb Cycles 54)                        
DNF  Kyle Eckley (Hershey Cancer Institute-GPOA)                     
DNF  Andy Munas (Dynaflo Racing)                                     
DNF  Nick Pignatello (ExodUS Road Racing)                            
DNF  Paul Ziminski (Metra Industries/wendys)                         
DNF  Ricky Gargiulo (Colavita Racing Inc.)                           
DNF  Matthew Spinks (Team Metra / Wendy's)                           

Cat. 3 Men

1 Filip Capala (Capala Bros Polska)                             44.11
2 William Federico (Van Dessel Factory Team)                     0.00
3 Eric Robertson (Kissena)                                       0.01
4 Hammean Walker (Usi)                                           0.01
5 Gene Victori (Skylands Cycling)                                0.01
6 Juan Pimentel (Global Locate)                                      
7 Andrew Walsh (Foundation)                                          
8 Dan Greene (Trizilla)                                              
9 Neal Stoeckel (Guardian CoachinG.S.preme)                      0.01
10 Wayne Lumkong (Skylands Cycling)                              0.01
11 Edgar Pimentel (Global Locate)                                0.01
12 Adam Driscoll (Team Type I)                                   0.01
13 Marc Innella (Westwood Velo)                                      
14 Jeremy Shirock (South Mountain Cycles)                        0.01
15 Christopher Castaldi (Deno's Wonder Wheel)                        
16 Kevin Yarde (Northampton Cycling Club)                        0.01
17 Andrew Kuklis (Gotham Cyclist)                                0.02
18 Matthew Latyszonek (Fat Frogs Racing)                         0.02
19 Daniel Abreu (Dominican USA Team)                                 
20 Sergio Atocha (Gs Gotham/ Toga)                               0.02
21 Adam Duncan (CRCA Avenue A | Razorfish)                       0.02
22 Michael Norton (Cyclonauts Racers)                                
23 Jeff Johnson (Guardian Coaching P/b Brielle)                  0.02
24 Andrew Cummings (Wells Fargo Advisors)                            
25 Kenneth Thomas (Wells Fargo Advisors)                         0.02
26 Keith Hatton (Elite Bicycles Inc.)                                
27 Colin Prensky (CRCA/sanchez-houlihan Lokey)                   0.02
28 Anthony Maisto (Deno's Wonder Wheel)                              
29 Richard Steele (Ccv-hotfootcycles/ironhill)                       
30 David Gulick (Bike Line/LWA)                                  0.02
31 Richard Gonzalez (Bikyle/mazur Coaching)                      0.03
32 Paul Taus (Gotham Cyclist)                                    0.03
33 Willie Payton (We Stand United)                                   
34 Christopher Esnes (Watchung Wheelmen)                         0.03
35 David Grant (Ccv-hotfoot Cycles/iron Hil)                         
36 Edmund Zalenski (Team Independence)                           0.03
37 Stephen Szwec (Ccv-hotfootcycles/ironhill)                    0.04
38 Eric Salzer (Chester County Velo - Iron Hil)                  0.04
39 Donnell Hudson (Donnell Hudson)                               0.04
40 Samuel Martinez (We Stand United)                             0.04
41 Victor Lopez (Innovation Bike)                                    
42 Christopher Pagoda (Philadelphia Ciclismo)                    0.04
43 Alex Binder (Seacoast Builders/dcm)                           0.05
44 Milo Bastianelli (Skylands Cycling)                           0.05
45 Bryan Zieroff (Stage 1/fusionthink)                           0.05
46 Christopher Fuller (Wells Fargo Advisors)                         
47 Tadeusz Marszalek (Sommerville Sports)                        0.05
48 Brian Ursu (Gotham Cyclists)                                  0.05
49 Michael Prokopec (Mita Shoji)                                 0.06
50 Kevin Keane (Skylands Cycling)                                0.07
51 Christopher Redmond (Rutgers University Cycling)              0.07
52 Steven Persak (Liberty Cycle)                                 0.07
53 Joseph Rudolph (Clean Currents P/b Don Beyer)                     
54 Stephen Sambrano (Biklye Flyers)                              0.09
55 Joseph Piscitello (Talksoft Racing)                           0.10
56 Cameron Reider (Gotham Cyclists)                              0.10
57 Alex Driscoll (Adventures For The Cure)                       0.10
58 Matthew Brooks (Team Type 1)                                  0.10
59 Jorge Cordero (Toga/Dutham)                                       
60 Robert Brown (CRCA/major Taylor Iron Riders)                  0.10
61 Thomas Lyons (Main Line Cycling-bikyle)                       0.11
62 John Morales (Cafeteros Cycling Club)                             
63 Adam Schildge (Brooklyn Velo Force)                           0.11
64 Michael Joseph (Colavita Racing)                              0.11
65 Myles Fennell (3d Racing Team)                                0.11
66 Diego Atehortua (Cafeteros Cyclin Club)                       0.12
67 Alan Buday (CRCA-global Locate)                               0.12
68 John Olsen (Bennetts Bicycle)                                     
69 Michael Coyle (Qcw/breakawaybikes.com)                        0.12
70 Craig Callan (Highland Park Hermes)                               
71 Benjamin Willis (Wells Fargo Advisors)                        0.13
72 Michael Maloney (Cyclonauts Racers)                           0.13
73 Marc Wolman (Quaker City Wheelmen/breakaway)                  0.15
74 Brett Cleaver (Sommerville Sports World Team)                 0.15
75 Ryan Parker (Van Dessel Factory Team)                         0.16
76 Doan Pendleton (Watchung Wheelmen)                            0.16
77 Jose Collado (CRCA/global Locate)                             0.18
78 Joseph Mcwilliams (Watchung Wheelmen)                         0.18
79 Ian Stanley (CRCA/major Taylor)                               0.19
80 John Forgatch (Liberty Cycle)                                 0.20
81 Jonathan Frederick (Millwork One Racing)                      0.21
82 Walter Risse (Main Line Cyclin)                               0.21
83 Jeffrey Oliver (Watchung Wheelmen)                            0.23
84 Matthew Diefenbach (Alliance Environmental)                   0.24
85 Michael Cavros (Cyclonauts Racers)                                
86 Robert Mecea (Brooklyn Velo Force)                            0.24
87 Cecil Bernard (Team Aggress)                                  0.27
88 Oscar Mejia (Bikeland)                                        0.28
89 Timothy Doherty (Watchung Wheelmen)                           0.30
90 Robert Webster (Watchung Wheelmen)                            0.30
91 Scot Willingham (Sanchezmetro CRCA)                           0.32
92 Jason Taitt                                                   0.32
93 Greg Visicaro (Van Dessel Factory Team)                       0.32
94 Cooper Ray (Gs-gotham/toga Bikes)                             0.33
95 Raul Baez (Dominican USA Team)                                0.34
96 Unknown Rider                                                 0.34
97 Lewis Runnion (Deno's Wonder Wheel)                           0.34
98 Wade Hess (Cape Atlantic Racing)                              0.35
99 William Cukierski (Rutgers University Cycling)                0.37
100 Warren Holzman (Team Alliance Environmental)                 0.40
101 Stephen Tvedt (Colavita Racing)                              0.44
102 Andrew Singson (Highland Park Hermes)                        0.49
103 Sender Sakajani (Team Sotheby's / Strictly)                  0.59
104 Doug Hover (Rocket Racing/ysg)                                   
105 Todd Lippin (3d Racing Team/tom's Atlantic)                      
DNS  Italo Bastianelli (ACT)                                         
DNS  Philip Castaldi (Denos Wonder Wheel)                            
DNS  Christopher Chapleau (Stage 1 / Fusionthink)                    
DNS  John Conway (Rocket Racing)                                     
DNS  Charles Crocco (Team Somerset)                                  
DNS  Nick Iacovelli (Colavita Racing)                                
DNS  Juston Manville (ABRT \ Latitude)                               
DNS  William Ross (Van Dessel Factory Team)                          
DNS  Mark Valentine                                                  
DNS  Anthony Vandunk (Team Squiggle)                                 
DNS  Mark Vareschi (Rutgers University Cycling)                      
DNF  Frank Arroyo (CRCA-team-pacifico)                               
DNF  Raymond Campeau (Watchung Wheelmen)                             
DNF  Vincent Cintron (Western Union/CRCA)                            
DNF  Mark Fontanilla (Liberty Cycle)                                 
DNF  Harold Francis (Major Taylor Iron Riders)                       
DNF  James Furman (Van Dessel Factory Team)                          
DNF  Maurice Gamanho (CRC Of A - Pete's Bike Shoppe)                 
DNF  Ruben Hurtado (Western Union/CRCA)                              
DNF  David Sean Jordan (Die Hard/jordan Coaching)                    
DNF  James Joseph (Team United)                                      
DNF  Darren Lange (3d Racing Team)                                   
DNF  Douglas Mckeon (Cyclonaut Racers)                               
DNF  Jonathan Podwil (Brooklyn Velo Force/gq Racing)                 
DNF  Alexander Pratt (Team Independence)                             
DNF  Eutimio Quintero (CRCA/foudation)                               
DNF  Eric Ragot (Kissena Cycling Club)                               
DNF  Carlos Restrepo (Targetraining)                                 
DNF  Chris Rodgers (Colavita Racing)                                 
DNF  Diego Rodriguez (Team Sotherby's/strictly Bicycles)             
DNF  Franklin Saillot (Colavita Racing)                              
DNF  Santiago Santana (James Vincent)                                
DNF  Christopher Shaw (CRCA/FGX Racing)                              
DNF  Daniel Underwood (Saroff Racing Team)                           
DNF  Francisco Vargas (Dominican USA Team)                           
DNF  Edward Zimmermann (We Stand United)                             


Past Winners
2008 Lucas Sebastian Haedo (Colavita/Sutter Home)       Tina Mayolo-Pic (Colavita/Sutter Home)
2007 Hilton Clarke (Aus) Navigators                     Theresa Cliff-Ryan (USA) Verducci/Breakaway Racing
2006 Juan Jose Haedo (Arg) Toyota-United                Tina Pic (USA) Colavita/ Cooking Light Cycling Team
2005 Kyle Wamsley (USA) Snow Valley                     Laura Van Gilder (USA) Quark
2004 Victor Rapinski (Rus) Navigators                   Melissa Sanborn (USA)
2003 Jonas Carney (USA)                                 Sarah Uhl (USA)
2002 Jonas Carney (USA)                                 Laura Van Gilder (USA)
2001 Eric Wohlberg (Can)                                Christina Underwood (USA)
2000 Jonas Carney (USA)                                 Tina Mayolo (USA)
1999 Eric Wohlberg (Can)                                Laura Van Gilder (USA)
1998 Jonas Carney (USA)                                 Karen Bliss-Livingston (USA)
1997 Brett Aitken (Aus)                                 Karen Bliss-Livingston (USA)
1996 Julian Dean (NZl)                                  Jessica Grieco (USA)
1995 Jason Snow (USA)                                   Jessica Grieco (USA)
1994 J-Me Carney (USA)                                  Jeanne Golay (USA)
1993 Gary Anderson (USA)                                Marianne Berglund (Swe)
1992 Jonas Carney (USA)                                 Laura Charmeda (USA)
1991 Brian Moroney (USA)                                Karen Bliss (USA)
1990 Matt Eaton (USA)                                   Jan Bolland (USA)
1989 Graeme Miller (NZl)                                Susan Elias (USA)
1988 Roberto Gaggioli (Ita)                             Susan Elias (USA)
1987 Paul Pearson (USA)                                 Henny Top (Ned)
1986 Marc Maertens (Bel)                                Peggy Mass (USA)
1985 Matt Eaton (USA)                                   Sophie Eaton (USA)
1984 Davis Phinney (USA)                                Sue Novara-Reber (USA)
1983 Steve Bauer (Can)                                  Sue Novara-Reber (USA)
1982 Gary Tevisiol (Can)                                Sue Novara-Reber (USA)
1981 Wayne Stetina (USA)                                Karen Strong (Can)
1980 Steve Bauer (Can)                                  Karen Strong (Can)
1979 William Martin (USA)                               Karen Strong (Can)
1978 Jocelyn Lovell (Can)                               Sue Novara (USA)
1977 Dave Ware (USA)                                    Karen Strong (Can)
1976 Dave Boll (USA)                                    Mary Jane Reoch (USA)
1975 Rory O'Reilly (Can)
1974 Ron Skarin (USA)
1973 Ron Skarin (USA)
1972 Roger Young (USA)
1971 Edward Parrott (USA)
1970 Robert Farrell (USA)
1969 Jackie Simes (USA)
1968 Siegi Koch (USA)
1967 Jackie Simes (USA)
1966 John Aschen (USA)
1965 Eckhard Viehover (Ger)
1964 Hans Wolfe (USA)
1963 Olaf Moetus (USA)
1962 Richard Centore (USA)
1961 Robert McKnown (USA)
1960 Mike Hiltner (USA)
1959 Rupert Waitl (USA)
1958 Art Longsjo (USA)
1957 Arnold Uhrlass (USA)
1956 Jack Heid (USA)
1955 Pat Murphy (Can)
1954 John Chiselko (USA)
1953 Hugh Starrs (USA)
1952 Ernest Seubert (USA)
1951 Francis Mertens (USA)
1950 Richard Cortright (USA)
1949 Frank Brilando (USA)
1948 Donald Sheldon (USA)
1947 Donald Sheldon (USA)
1942 Carl Anderson (USA)
1941 Furman Kugler (USA)
1940 Furman Kugler (USA)