83rd Tre Valli Varesine - 1.1
Italy, August 19, 2003
2002 Results Results Past winners
Trittico Lombardo
Tre Valli Varesine - August 19
Coppa Agostoni - August 20
Coppa Bernocchi - August 21
Di Luca sprints to superb win in 83rd Tre Valli Varesine
By Tim Maloney / European Editor
Di Luca, back in winning form
Photo: © Sirotti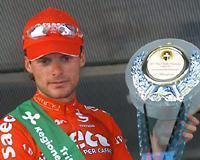 After his 2nd place last year in Varese, a determined Danilo Di Luca (Saeco) came back this year to decisively lead out today's sprint of 40 riders from 300 metres and win the 83rd edition of Tre Valli Varesine ahead of Andrea Ferrigato (Alessio) and Markus Zberg (Gerolsteiner). "There were a lot of guys left so I decided to go long in the sprint and it worked," Di Luca explained. "My team worked well today and I wanted to repay them. This is an important race and I'm glad that I could win here since I was second last year."
Di Luca's Saeco team had battled all day with Fassa Bortolo and Alessio but in the final, the power of Saeco and class and speed of Di Luca made the difference in the final drag race to the finish line in Varese. The highly touted Di Luca hadn't won a race since March and as he punched his right fist in the air, the Saeco man grabbed his 4th win of the 2003 season and 25th career bouquet. Although Di Luca may head to Cofidis next year, the deal isn't quite done yet. Di Luca told RAI-TV's Alessandra DiStefano post-race that "I may stay with Saeco... I'm meeting with (Saeco team manager) Claudio Corti in the next few day so nothing is decided yet."
How It Happened
On a hot, sunny late August Tuesday, 134 riders from 17 teams took the start of the 83rd Tre Valli Varesine in front of the Casino in Campione d'Italia along Lago Lugano for the fast, difficult Italian semi-classic, the first of three consecutive mid-week race Italian races that make up the "Trittico Lombardo." Wednesday brings the 57th edition of Coppa Agostoni (198km) and Thursday is the 85th Coppa Bernocchi (199km).
After 41km across the verdant hills of Swiss Ticino and Varese, Tre Valli Varesine had three tough 20.1km circuits near Lago Maggiore with the difficult ascent of Colle Runo. After 101km, TVV heads west towards Varese, up the Brinzo climb and into in the city of Varese. The race finishes with 4 final circuits of 11.3km, with the decisive Ronchi climb, a 2.5km ascent with three hairpin turns and sections at a 10% grade.
Today's early action featured constant attacking and the first move that stuck was by Sandro Bertolini (Alessio) and Staf Scherlinx (Flanders-iTeam Nova), who attacked after 20km. They came back before the first climb of Fornasette and finally, 26 year old Tadej Valjavec (Fassa Bortolo), clad in his red, white and blue Slovenian champion's jersey, got away in solo move after 45km on the Runo climb.
After 86km, Valjavec reached his maximum lead of 12'30". Saeco decided to ride and sent Cristian Peopli to ride tempo, with some help from Mauro Gerosa (Vini Caldirola) and Michael Albasini (Phonak), 2002 European U23 road champion.
At the GPM in Brinzo with 63km to go, Valjavec still had a 9 minute lead, but the heat and hard parcours began to take their toll on the Fassa man. Twenty kilometres later, Valjavec hit the finish line on via Sacco in the city of Varese with four laps of the final circuit of 11.3km with a 4'13" lead after 106km away. Valjavec was losing more time as Saeco was still chasing hard, seemingly playing perfectly into the game plan of Fassa Bortolo's Giancarlo Ferretti, who wanted to set-up the final attacks by his key man Ivan Basso.
With three circuits to go, Valjavec had 1'45"and the Slovenian began easing up after a 130km break. Valjavec was caught with 2.5 laps to go as 70 riders passed him on the Ronchi climb. Saeco cranked up the pace with Sacchi and suddenly Danilo Di Luca exploded off the front. His move was covered by Dufaux (Alessio), Basso, Mason (Caldirola) and Peron (CSC) as the final phases of Tre Valli Varesine began.
Di Luca's dynamic move blew the gruppo apart at first, but as the front of the race hit the finish line on via Sacco with 22.7km to race, there were still 50 riders up front with Saeco's Fabio Sacchi in control. The action continued with 20km to go with Dufaux and Bertolini (Alessio), Gobbi (Colpack), Elmiger (Phonak) and Giunti (Domina Vacanze) active.
As the penultimate climb of Ronchi began, Douma (Colnago-Landbouwkrediet) attacked, provoking an immediate counter-move by Patxivilla (Lampre), Zanotti (Colpack) and Pellizotti (Alessio). This move was covered by Moreni, Basso, Di Luca, Luttenberger, Noé, Giunti, Sacchi and Nocentini and as the final 11.3km began, Lance Armstrong's legal adversary Pippo Simeoni (Domina Vacanze) made a strong move with one lap to go and was covered Dufaux and Popovych with 40 riders still left up front.
As the final lap began, Dufaux and Popo sat up, but Brit Charlie Wegelius (Colpack) and ever-active Cristian Moreni (Alessio) bridged across. With 10km to go as the three fugitives descended to Lago Varese, the lead trio had a narrow lead of 10". Climber Scarselli (Selle Italia-Colombia) bridged up, but the group wasn't going to let the quartet just ride away and as the break hit the base of the final ascent of Ronchi, the gap was only 5" and the break was doomed.
As the final assault of the Ronchi began with 3.5km to go, Moreni made his move and dumped the others, but Luttenberger (CSC) and Di Luca got across. Then Basso and Andrea "Baby Face" Masciarelli (Vini Caldirola) bridged with Swiss riders Oscar Camenzind (Phonak) and Dufaux again. Basso tried to escape with 2km to go, but the climb had finished and the Fassa man couldn't make the difference. 40 riders hit the final straight with 400m. to go and Di Luca went long at 300m, easily beating Ferrigato and Zberg for the honors.
Photography
Images by Fotoreporter Sirotti
Results - 193 km
1 Danilo di Luca (Ita) Team Saeco                       4.54.27 (39.38 km/h)
2 Andrea Ferrigato (Ita) Alessio
3 Markus Zberg (Swi) Gerolsteiner
4 Oscar Camenzind (Swi) Phonak Hearing Systems
5 Luca Mazzanti (Ita) Ceramiche Panaria-Fiordo
6 Vladimir Duma (Ukr) Landbouwkrediet-Colnago
7 Ruggero Marzoli (Ita) Alessio
8 Paolo Lanfranchi (Ita) Ceramiche Panaria-Fiordo
9 Massimo Giunti (Ita) Domina Vacanze-Elitron
10 Paolo Valoti (Ita) Domina Vacanze-Elitron
11 Stefano Garzelli (Ita) Sidermec
12 Marco Serpellini (Ita) Lampre
13 Gianni Faresin (Ita) Gerolsteiner
14 Andrea Noe' (Ita) Alessio
15 Cristian Gasperoni (Ita) Mercatone Uno-Scanavino
16 Fabio Sacchi (Ita) Team Saeco
17 Andrea Masciarelli (Ita) Sidermec
18 Ruggero Borghi (Ita) Mercatone Uno-Scanavino
19 Sergio Barbero (Ita) Lampre
20 Massimiliano Gentili (Ita) Domina Vacanze-Elitron
21 Yaroslav Popovych (Ukr) Landbouwkrediet-Colnago
22 Francisco Vila (Spa) Lampre
23 Peter Luttenberger (Aut) Team CSC
24 Marco Zanotti (Ita) Fassa Bortolo
25 Rinaldo Nocentini (Ita) Formaggi Pinzolo Fiavé
26 Cristian Moreni (Ita) Alessio
27 Ivan Basso (Ita) Fassa Bortolo
28 Laurent Dufaux (Swi) Alessio
29 Uros Murn (Slo) Formaggi Pinzolo Fiavé
30 Joseba Albizu (Spa) Mercatone Uno-Scanavino             0.33
31 Vincent Cali (Fra) Flanders-IteamNova.com
32 Bekim Christensen (Den) Team Coast                      0.37
33 Massimiliano Mori (Ita) Formaggi Pinzolo Fiavé
34 Oscar Pozzi (Ita) Tenax
35 Michele Gobbi (Ita) De Nardi-Colpack
36 Devis Miorin (Ita) De Nardi-Colpack
37 Ellis Rastelli (Ita) Gerolsteiner                       1.02
38 Sven Montgomery (Swi) Fassa Bortolo
39 Ruben Daniel Bongiorno (Arg) Ceramiche Panaria-Fiordo   1.07
40 Gerhard Trampusch (Aut) Gerolsteiner
41 Martin Derganc (Slo) Domina Vacanze-Elitron             1.46
42 Charles Wegelius (GBr) De Nardi-Colpack                 2.25
43 Mauro Zanetti (Ita) Tenax
44 Luca Solari (Ita) Mercatone Uno-Scanavino               2.41
45 Andrea Peron (Ita) Team CSC                             2.58
46 Frank Schleck (Lux) Team CSC                            3.02
47 Kyrylo Pospyeyev (Ukr) Domina Vacanze-Elitron
48 Leonardo Scarselli (Ita) Colombia-Selle Italia
49 Fortunato Baliani (Ita) Formaggi Pinzolo Fiavé
50 Filippo Simeoni (Ita) Domina Vacanze-Elitron
51 Franco Pellizotti (Ita) Alessio
52 Stefano Zanini (Ita) Team Saeco
53 Oscar Mason (Ita) Sidermec                              3.40
54 Alexandre Moos (Swi) Phonak Hearing Systems
55 Yonny David Leal (Col) 05 Orbitel
56 Marzio Bruseghin (Ita) Fassa Bortolo                    5.25
57 Marco Fertonani (Ita) Phonak Hearing Systems
58 Nicki Sörensen (Den) Team CSC                           6.41
59 Dario Cioni (Ita) Fassa Bortolo                         6.58
60 Srguei Lelekin (Rus) Tenax
61 Gustavo Mario Toledo (Arg) Paternina-Costa de Almeria
62 Giuliano Figueras (Ita) Ceramiche Panaria-Fiordo
63 Sergiy Adyeyev (Ukr) Landbouwkrediet-Colnago
64 Michele Colleoni (Ita) De Nardi-Colpack
65 Mauro Facci (Ita) Fassa Bortolo
66 Udo Bölts (Ger) Gerolsteiner


Past winners
2002 Eddy Ratti (Ita) Mapei-Quick Step 
2001 Mirko Celestino (Ita) Saeco Macchine per Caffe 
2000 Massimo Donati (Ita)
1999 Sergio Barbero (Ita)
1998 Davide Rebellin (Ita)
1997 Roberto Caruso (Ita)
1996 Fabrizio Guidi (Ita)
1995 Roberto Caruso (Ita)
1994 Claudio Chiappucci (Ita)
1993 Massimo Ghirotto (Ita)
1992 Massimo Ghirotto (Ita)
1991 Guido Bontempi (Ita)
1990 Pascal Richard (Swi)
1989 Gianni Bugno (Ita)
1988 Giuseppe Saronni (Ita)
1987 Franco Ballerini (Ita)
1986 Guido Bontempi (Ita)
1985 Giovanni Mantovani (Ita)
1984 Pierino Gavazzi (Ita)
1983 Alessandro Paganessi (Ita)
1982 Pierino Gavazzi (Ita)
1981 Gregor Braun (Ger)
1980 Giuseppe Saronni (Ita)
1979 Giuseppe Saronni (Ita)
1978 Francesco Moser (Ita)
1977 Giuseppe Saronni (Ita)
1976 Francesco Moser (Ita)
1975 Fabrizio Fabbri (Ita)
1974 Costante Conti (Ita)
1973 Enrico Paolini (Ita)
1972 Giacinto Santambroggio (Ita)
1971 Giancarlo Polidori (Ita)
1970 Gianni Motta (Ita)
1969 Marino Basso (Ita)
1968 Eddy Merckx (Bel)
1967 Gianni Motta (Ita)
1966 Gianni Motta (Ita)
1965 Gianni Motta (Ita)
1964 Marino Vigna (Ita)
1963 Italo Zilioli (Ita)
1962 Giuseppe Ferrardi (Ita)
1961 Willy Vannitsen (Bel)
1960 Nino Defilippis (Ita)
1959 Dino Bruni (Ita)
1958 Carlo Nicolo (Ita)
1957 Germain Derijcke (Bel)
1956 Gastone Nencini (Ita)
1955 Fausto Coppi (Ita)
1954 Giorgio Albani (Ita)
1953 Nino Defilippis (Ita)
1952 Giuseppe Minardi (Ita)
1951 Guido De Santi (Ita)
1950 Antoni Bevilacqua (Ita)
1949 Nedo Logli (Ita)
1948 Fausto Coppi (Ita)
1947 Fiorenzo Magni (Ita)
1946 Enrico Mollo (Ita)
1945 Adolfo Leoni (Ita)
1942 Luciano Succi (Ita)
1941 Fausto Coppi (Ita)
1940 Cino Cinelli (Ita)
1939 Olimpio Bizzi (Ita)
1938 Gino Bartali (Ita)
1937 Olimpio Bizzi (Ita)
1936 Cesare Del Cancia (Ita)
1935 Piero Chiappini (Ita)
1934 Severino Canavesi (Ita)
1933 Alfredo Bovet (Ita)
1932 Domenico Piomontesi (Ita)
1931 Luigi Giacobe (Ita)
1930 Albino Binda (Ita)
1929 Ambrogio Morelli (Ita)
1928 Battista Visconti (Ita)
1927 Renato Zanone (Ita)
1926 Mario Bonvicini (Ita)
1925 Giovanni Tizzoni (Ita)
1924 Libero Ferrario (Ita)
1923 F. Brusatori (Ita)
1922 Domenico Pieomontesi (Ita)
1921 Adriano Zamaga (Ita)
1920 R. Rosa (Ita)
1919 Piero Bestetti (Ita)

Past winners by Mario Stiehl, www.world-of-cycling.com