57th Coppa Agostoni - 1.2
Italy, August 20, 2003
2002 Results Results Past winners
Trittico Lombardo
Tre Valli Varesine - August 19
Coppa Agostoni - August 20
Coppa Bernocchi - August 21
Casagrande Crushes all in Coppa Agostoni solo flight
By Tim Maloney, European Editor
Casagrande hits the spot
Photo: © Sirotti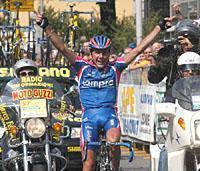 Tuscan tough guy Francesco Casagrande of Team Lampre demonstrated why he's still considered one of the most dangerous riders in the world in a hilly race as he demolished the competition today in the 57th edition Coppa Agostoni-Giro di Brianza. Already a winner at Agostoni two years ago over Jan Ullrich, Casagrande soloed in for his fourth bouquet of the season and his 50th career victory today in Lissone. "Today was a win I really wanted", declared Casagrande in his strong Tuscan accent post-race. "Di Luca was strong, I really went after the win. It's never easy to win but I had a good legs today."
With his victory in front of Italian World's team selector Franco Ballerini, Casagrande certainly improved his chances to be selected for "la squadra azzuro" in Hamilton. "Canada is a hard circuit, and it might be one of my last World's, so I hope to be selected", explained Casagrande.
Coppa Agostoni runner up Cristian Moreni (Alessio) has fantastic form right now and has his hopes up for his first selection to the Italian national team in October. Moreni said after Agostoni that "I'm in good form now after my bad luck in the Giro...after yesterday (Tre Valli Varesine) I thought I would ride today for training but I had good legs and ended up in the break. I really hope to go to the Worlds and want to convince Ballerini that I deserve a chance to ride for Italy."
How it unfolded
Wednesday's second and hardest leg of Trittico Lombardo, was the 57th edition of Coppa Agostoni, another Italian late summer semi-classic starting in Lissone, north of Milano in the Brianza area. Named after local man Ugo Agostoni, who won Milano-San Remo in 1914, 2002's edition saw Laurent Jalabert win Coppa Agostoni for his final career victory. Today, 170 riders from 23 teams took the start this morning at 10:30 in sunny, warm weather.
Staring in Lissone, near Monza, after 66km across the rolling green terrain of Brianza, Coppa Agostoni commences five hilly, difficult circuits of 21 km through Lissolo, crowned by 5 ascents of the "Piccolo Stelvio", a steep, narrow twisting climb of 2.5km in Morrazone that concludes with a 500m ramp at 18%. Once the finishing circuits make the key selection, Agostoni has a mostly downhill and flat run-in 25m back to Lissone.
Casagrande and Di Luca
Photo: © Sirotti

After a fast start with multiple attacks, most notably by Polish squad CCC-Polsat, the first three hours of Coppa Agostoni were run at 42km/h over the hilly terrain. By the second climb of Lissolo a break of nine was up the road when Di Luca (Saeco) and Casagrande (Lampre) bridged across the 30" gap. Di Luca sent Pugaci to the front to make the race hard, exactly at the same point where Jaja attacked on the second climb of Lissolo last year. Pugaci, Di Luca, Casagrande, Mason (Caldirola), Nocentini (Formaggi), Popovych (Colnago) and Montgomery (Fassa Bortolo) were now up front.
The third time up Lissolo, Casagrande was forcing hard with Di Luca and Gentili (Domina). This trio had 15" on chasers and 54" on a 30 strong peloton, but after the Lissolo there was a regrouping up front and the peloton was now 1'30" behind.
On the penultimate fourth time: Casagrande went again on the steep Piccolo Stelvio climb in a huge gear, while DiLuca tempoed up to him with a more agile gear. Mason, Strauss and Gentili were at 25", Popo at 30" with the group at 1'30".
Casagrande was having a great day and pounded a huge gear up the climb, and eventually with 40km to go, Casagrande cracked DiLuca and went solo, as the Saeco man bonked a huge "crisi di fame" and was caught and passed by the break.
As Casagrande began his final ascent up Lissolo, he had 40" lead on five chasers; Strauss (Gerolsteiner), Giunti (Domina), Moreni (Alessio), Mason (Vini Caldirola) and Popovych (Colnago), with the deteriorating peloton at 3'00. Casagrande had a lead of 1'20" at summit of the final climb of Lissolo with the mostly downhill and flat run-in back to Lissone.
Although with 13km to go in Casa Albiate, Casagrande's gap dropped to 55", there was little collaboration behind and the gap went back up and the terrible Tuscan won by 1'27" over Moreni, who won the sprint from the five man chasing group. Bo Hamburger (Formaggi) was the best of the rest in 7th at 2'22".
Photography
Images by Fotoreporter Sirotti
Results - 198 km
1 Francesco Casagrande (Ita) Lampre                     4.56.22 (40.389 km/h)
2 Cristian Moreni (Ita) Alessio                            1.27
3 Oscar Mason (Ita) Sidermec
4 Massimo Giunti (Ita) Domina Vacanze-Elitron
5 Marcel Strauss (Swi) Gerolsteiner
6 Yaroslav Popovych (Ukr) Landbouwkrediet-Colnago
7 Bo Hamburger (Den) Formaggi Pinzolo Fiavé                2.22
8 Luca Mazzanti (Ita) Ceramiche Panaria-Fiordo
9 Heiko Szonn (Ger) Flanders-IteamNova.com
10 Alessandro Bertolini (Ita) Alessio
11 Tadej Valjavec (Slo) Fassa Bortolo                      3.05
12 Paolo Lanfranchi (Ita) Ceramiche Panaria-Fiordo
13 Eddy Mazzoleni (Ita) Sidermec
14 Oscar Pozzi (Ita) Tenax
15 Filippo Simeoni (Ita) Domina Vacanze-Elitron
16 Gianni Faresin (Ita) Gerolsteiner
17 Jamie Burrow (GBr) Amore & Vita-Beretta                 3.29
18 Gianluca Tonetti (Ita) Tenax
19 Francisco Vila (Spa) Lampre
20 Massimiliano Gentili (Ita) Domina Vacanze-Elitron       5.03
21 Gerhard Trampusch (Aut) Gerolsteiner
22 Gustav Larsson (Swe) Fassa Bortolo
23 Mauro Gerosa (Ita) Sidermec
24 Gabriele Missaglia (Ita) Lampre                         5.24
25 Ruggero Borghi (Ita) Mercatone Uno-Scanavino
26 Giampaolo Cheula (Ita) Sidermec
27 Charles Wegelius (GBr) De Nardi-Colpack

Past winners
2002 Laurent Jalabert (Fra) CSC-Tiscali
2001 Francesco Casagrande (Ita) Fassa Bortolo
2000 Jan Ullrich (Ger) Telekom
1999 Massimo Donati (Ita) Vini Caldirola
1998 Andrea Tafi (Ita) Mapei-Bricobi
1997 Massimo Apollomio (Ita)
1996 Filippo Casagrande (Ita)
1995 Gianni Bugno (Ita)
1994 Oscar Pelliccioli (Ita)
1993 Davide Cassani (Ita)
1992 Stefano Colage (Ita)
1991 Davide Cassani (Ita)
1990 Maurizio Fondriest (Ita)
1989 Dimitri Konychev (Rus)
1988 Gianni Bugno (Ita)
1987 Bruno Leali (Ita)
1986 Marino Amadori (Ita)
1985 Acacio Da Silva (Por)
1984 Franco Chioccioli (Ita)
1983 Alfons De Wolf (Bel)
1982 Giuseppe Saronni (Ita)
1981 Francesco Moser (Ita)
1980 Cees Priem (Ned)
1979 Giovanni Battaglin (Ita)
1978 Giuseppe Saronni (Ita)
1977 Francesco Moser (Ita)
1976 Roger De Vlaeminck (Bel)
1975 Roger De Vlaeminck (Bel)
1974 Felice Gimondi (Ita)
1973 Arnoldo Caverzasi (Ita)
1972 Mauro Simonetti (Ita)
1971 Franco Bitossi (Ita)
1970 Eddy Merckx (Bel)
1969 Franco Bitossi (Ita)
1968 Giovanni Micheletto (Ita)
1967 Franco Bitossi (Ita)
1966 Felice Gimondi (Ita)
1965 Tommso De Pra (Ita)
1964 Italo Zilioli (Ita)
1963 Jaime Alomar (Spa)
1961 Giovanni Bettinelli (Ita)
1960 Pietro Chiodini (Ita)
1959 Michele Gismondi (Ita)
1958 Giaccobe Boggian (Ita)
1957 Carlo Zorzoli (Ita)
1956 Silvano Tessari (Ita)
1955 Lino Pizzoferato (Ita)
1954 Aldo Moser (Ita)
1953 Andrea Barro (Ita)
1952 Ezio Bicocca (Ita)
1951 Renzo Accordi (Ita)
1950 Giorgio Albani (Ita)
1949 Antonio Ausenda (Ita)
1948 Luigi Malabrocca (Ita)
1947 Franco Fanti (Ita)
1946 Luigi Casola (Ita)


Past winners by Mario Stiehl, www.world-of-cycling.com