85th Coppa Bernocchi - 1.3
Italy, August 21, 2003
2002 Results Results Past winners
Trittico Lombardo
Tre Valli Varesine - August 19
Coppa Agostoni - August 20
Coppa Bernocchi - August 21
Oh no! Giunti raises arms too soon as Barbero wins Bernocchi
Giunti wins Trittico Lombardo overall classification
By Tim Maloney, European Editor
Barbero on the line
Photo: © Sirotti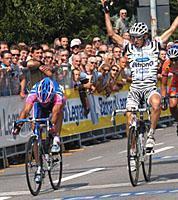 "I really didn't expect to win here today", said an incredulous Sergio Barbero (Lampre) today in Legnano, as the 34 year old from Biella took his 10th career win and his first of the 2003 season. Barbero's win was the second in two days for Lampre after Francesco Casagrande won the Coppa Agostoni. "I haven't had a win in Italy in two years, so it was a great feeling."
Barbero's last win was in October 2002 in the Japan Cup and the experienced 11 year pro passed Massimo Giunti (Domina Vacanze) right on the finish line for the win in Coppa Bernocchi. "I hope this win today will help me find a contract for next year", explained Barbero. "I'll just keep working."
Massimo Giunti, a talented 29 year old Domina Vacanze rider who was third at last year's San Francisco GP lost Coppa Bernocchi as he made the classic mistake of raising his arms too soon. As Barbero passed Giunti on the right side, the Domina rider, who thought he had his first pro win, grabbed his helmet in anguish over his error. Giunti will be able to console himself with a diamond worth 10,000€, the prize for the best placed rider in all three races of the Trittico Lombardo.
"Maybe I was too certain that I had won so I raised my arms and lost on the line," a stunned Giunti said after his narrow loss. "It's really true, you shouldn't raise your arms until you pass the finish line. I was so sure I was going to win and I've never won (a pro race), but unfortunately it went the other way."
How It Happened
On Thursday morning at 10am, 175 riders from 21 teams took the start of the 85th edition of Coppa Bernocchi in warm, sunny weather. Starting and finishing in Legnano on a rolling course northwest of Milano, Coppa Bernocchi is a race that favours sprinters and attacking riders. After 52km, the race enters five circuits of 18 km around Valle Olona with the tough hairpinned "Piccolo Stelvio" climb up to Morrazone. After completing the five central circuits, Coppa Bernocchi has a 30km run-in south towards Legnano, with two finishing circuits of 17 km through Busto Arsizio to finish in the centre of Legnano.
After 10kmin Busto Garolfo, four riders got away, including Contrini (Gerolsteiner), Portmann (Macandia), Bertolini (Phonak) and McCann (Endura Sport). Tuesday's Tre Valli Varesine winner Danilo Di Luca (Saeco) retired after 30km, while yesterday's Coppa Agostoni victor Casagrande took a day off and will return to competition for Saturday's tough Giro del Veneto.
The pace was fast today, as the first three hours were raced at an average speed of 43km/h. Once the lead quartet cruised away, after 100km, it had a 12 minute lead on the disinterested peloton. But the pace and the climbs on the Piccolo Stelvio on the central circuits took a toll on the break and with 90km to go, Contrini attacked with two central circuits to race and only McCann could hang with the Italian.
Eventually, with 70km to go and a 6' lead, Contrini dumped McCann for good and exited the central circuits with a lead of 2'15"on the now splintering chasers. But there was no way Contrini was going to ride alone to the finish and with 50km to go, after a 140km break, he was sucked up by the fast moving front group of 12 riders that made the final today in Coppa Bernocchi.
The dirty dozen consisted of Giunti (Domina Vacanze), who started as a reserve for his teammate Bennati, who is leaving Domina for Phonak. Lampre had Barbero & Ratti, Ivanov (Alessio), Galletti (Saeco), strongman Basso (Fassa Bortolo), Mercatone duo Moletta and Serri, Ukranians Matveyev (Panaria) and Adveyev (Colnago), Zanotti (De Nardi-Colpack) and tireless attacker Aggiano (Formaggio).
Giunti got the overall prize
Photo: © Sirotti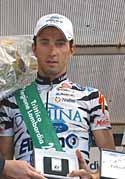 Despite an attack by Basso and Ratti on the Gorle climb, the front dozen hit the two flat finishing circuits together with 34km to go. Coppa Bernocchi then became a pursuit match between the break and the 15 man chase group that was trying to closing down the 30" gap. The pursuers included Swiss champ Schnider and the tireless Elmiger (Phonak), local lad Dario Andriotto (Vini Caldirola), Montgomery (Fassa Bortolo), 2001 winner Valoti (Domina Vacanze) and speedy swede Karlstrom (Amore & Vita).
The pursuit match continued and with 5km to go the break had 25" when Lampre made the first move in the city of Legnano. Ratti went and Ivanov covered his move, then Barbero went with 3km to go, but Basso brought him back. In the closing kilometres, Aggiano made two good moves but he came back both times. As the dozen front runners made the right turn onto the finishing straight with 500m to go, Giunti was well positioned and made a powerful jump in the centre of the road, but Barbero rode a great sprint, coming from last place down the right hand side of the road to pass Giunti at the line. Behind the break in a repeat of Philadelphia's Wachovia USPRO sprint, Stefano Zanini (Saeco) beat Uros Murn (Formaggio) for 15th place in the group sprint.
Photography
Images by Fotoreporter Sirotti
Results - 199km
1 Sergio Barbero (Ita) Lampre                           4.49.41 (41,362 km/h)
2 Massimo Giunti (Ita) Domina Vacanze-Elitron
3 Sergiy Matveyev (Ukr) Ceramiche Panaria-Fiordo
4 Serguei Ivanov (Rus) Fassa Bortolo
5 Sergiy Adyeyev (Ukr) Landbouwkrediet-Colnago
6 Eddy Serri (Ita) Mercatone Uno-Scanavino
7 Ivan Basso (Ita) Fassa Bortolo
8 Eddy Ratti (Ita) Lampre
9 Alessio Galletti (Ita) Team Saeco
10 Marco Zanotti (Ita) Fassa Bortolo
11 Elio Aggiano (Ita) Formaggi Pinzolo Fiavé
12 Gianpaolo Mondini (Ita) Domina Vacanze-Elitron          0.38
13 Ruben Daniel Bongiorno (Arg) Ceramiche Panaria-Fiordo   0.42
14 Stefano Zanini (Ita) Team Saeco
15 Uros Murn (Slo) Formaggi Pinzolo Fiavé
16 Stefano Casagranda (Ita) Alessio
17 Matteo Tosatto (Ita) Fassa Bortolo
18 Marco Serpellini (Ita) Lampre
19 Graziano Gasparre (Ita) De Nardi-Colpack
20 Santo Anzà (Ita) Landbouwkrediet - Colnago
21 Martin Elmiger (Swi) Phonak Hearing Systems
22 Martin Derganc (Slo) Domina Vacanze-Elitron
23 Arkadiusz Wojtas (Pol) CCC-Polsat
24 Devis Miorin (Ita) De Nardi-Colpack
25 Manuel Quinziato (Ita) Lampre
26 Kjell Carlström (Fin) Amore & Vita-Beretta
27 Markus Knöpfle (Ger) Tenax
28 Gerhard Trampusch (Aut) Gerolsteiner
29 Roberto Petito (Ita) Fassa Bortolo
30 Oscar Camenzind (Swi) Phonak Hearing Systems
31 Luca Bompadre (Ita) Nippon Hodo
32 Yonny David Leal (Col) 05 Orbitel
33 Michele Colleoni (Ita) De Nardi-Colpack
34 Fabiano Fontanelli (Ita) Mercatone Uno-Scanavino
35 Dario Andriotto (Ita) Sidermec
36 Jamie Burrow (GBr) Amore & Vita-Beretta
37 Eddy Mazzoleni (Ita) Sidermec
38 Vincent Cali (Fra) Flanders-IteamNova.com
39 Paolo Valoti (Ita) Domina Vacanze-Elitron
40 Andrea Moletta (Ita) Mercatone Uno-Scanavino            2.23
41 Yonny David Leal (Col) 05 Orbitel                       3.51
42 Michael Albasini (Swi) Phonak Hearing Systems           9.54
43 Marcel Strauss (Swi) Gerolsteiner
44 Bert Scheirlinckx (Bel) Flanders-IteamNova.com         11.20
45 Dario Cioni (Ita) Fassa Bortolo
46 Gustav Larsson (Swe) Fassa Bortolo

 
Final Classification
 
1 Massimo Giunti (Ita) Domina Vacanze-Elitron         23 pts
2 Danilo Di Luca (Ita) Team Saeco                     15
3 Andrea Ferrigato (Ita) Alessio                      12


Past winners

2002 Daniele Nardello (Ita) Mapei-Quick Step
2001 Paolo Valoti (Ita) Alessio
2000 Romans Vainsteins (Lat) Vini Caldirola
1999 Giancarlo Raimondi (Ita) Liquigas
1998 Fabio Sacchi (Ita) Team Polti
1997 Gianluca Bortolami (Ita)
1996 Fabio Baldato (Ita)
1995 Stefano Zanini (Ita)
1994 Bruno Cenghialta (Ita)
1993 Rolf Sörensen (Den)
1992 Charly Mottet (Fra)
1991 Giorgio Furlan (Ita)
1990 Davide Cassani (Ita)
1989 Rolf Sörensen (Den)
1988 Guido Bontempi (Ita)
1987 Guido Bontempi (Ita)
1986 Roberto Gaggioli (Ita)
1985 Johan Van de Velde (Ned)
1984 Vittorio Algeri (Ita)
1983 Palmiro Masciarelli (Ita)
1982 Silvano Contini (Ita)
1981 Giuseppe Saronni (Ita)
1980 Giuseppe Saronni (Ita)
1979 Valerio Lualdi (Ita)
1978 Giovanni Battaglin (Ita)
1977 Carnelo Barone (Ita)
1976 Franco Bitossi (Ita)
1975 Enrico Paolini (Ita)
1974 Francesco Moser (Ita)
1973 Felice Gimondi (Ita)
1972 Marino Basso (Ita)
1971 Virginio Levati (Ita)
1970 Pietro Guerra (Ita)
1969 Giacinto Santambroggio (Ita)
1968 Franco Bitossi (Ita)
1967 Vittorio Adorni (Ita)
1966 Rafaele Marcoli (Ita)
1965 Adriano Durante (Ita)
1964 Gianni Motta (Ita)
1963 Aldo Moser (Ita)
1962 Pierino Baffi (Ita)
1961 Arturo Sabbadin (Ita)
1960 Giuseppe Fallarini (Ita)
1959 Noé Conti (Ita)
1958 Rik Van Looy (Bel)
1957 Rik Van Looy (Bel)
1956 Vasca Modena (Ita)
1955 Renato Ponzini (Ita)
1954 Fausto Coppi (Ita)
1953 Giorgio Albani (Ita) and Antonio Bevilacqua (Ita)
1952 Primo Volpi (Ita)
1951 Luigi Casola (Ita)
1950 Fiorenzo Crippa (Ita)
1949 Mario Ricci (Ita)
1948 Virgilio Salimbeni (Ita)
1947 Mario Ricci (Ita)
1946 Osvaldo Bailo (Ita)
1945 Sergio Maggini (Ita)
1944 Oreste Conte (Ita)
1942 Glauco Servadei (Ita)
1941 Serverino Canavesi (Ita)
1940 Aldo Bini (Ita)
1939 Adolfo Leoni (Ita)
1938 Cino Cinelli (Ita)
1937 Francesco Albani (Ita)
1936 Enrico Mollo (Ita)
1935 Gino Bartali (Ita)
1934 Pietro Rimoldi (Ita)
1933 B. Negri (Ita)
1932 Marco Giuntelli (Ita)
1930 Eugenio Gestri (Ita)
1929 Allegro Grandi (Ita)
1928 Carlo Galluzzi (Ita)
1927 Giuseppe Pancera (Ita)
1926 Giuseppe Pancera (Ita)
1925 Luigi Mainetti (Ita)
1924 Alfredo Dinale (Ita)
1923 Libero Ferrario (Ita)
1922 Libero Ferrario (Ita)
1921 Angelo Testa (Ita)
1920 Giovanni Tragella (Ita)
1919 Ruggero Ferrario (Ita)

Past winners by Mario Stiehl, www.world-of-cycling.com