Italy's Ivan Basso
Photo ©: Roberto Bettini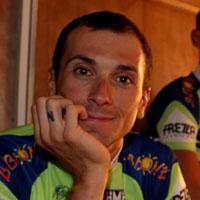 Brighter days ahead: The Ivan Basso Diary
Ivan Basso is back to racing after a forced rest of two years due to his involvement in Operación Puerto. The Italian, winner of the 2006 Giro d'Italia, looks to set the records straight and prove himself stronger than before while giving Cyclingnews' readers an inside look at his training and racing.
Back from a 16-month suspension, Basso ended his ban at the Japan Cup, October 26. He finished third in a close finish behind Damiano Cunego and Giovanni Visconti. The result was promising and Basso hopes there will be even brighter days ahead in 2009. Stay tuned as he recounts his journey back to the top of the sport.
May 7, 2009
Heading to Venice
Ivan Basso gets a big round of applause
Photo ©: Sirotti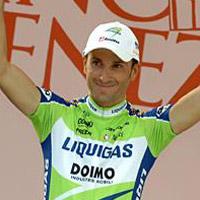 Hello everyone! I am on my way to the start of the centennial Giro d'Italia in Venice, my first after three years. Tomorrow [Thursday] is a press conference, Friday the final bit of training and then Saturday the Corsa Rosa begins with a team time trial in the magical city of Venice.
I'm travelling in a car with Kjell Carlström and we are about an hour away from our hotel on the outskirts of Venice. Kjell will also be my roommate for three weeks. He was one of the first riders from Liquigas I met last year and we hit it off right away. He is a smart guy and knows how to do the work required of a professional cyclist.
Often when we are out training or racing he will give me advice and I take his words to heart; it is best to have four eyes and two heads. If he sees I am pedaling too hard, he tells me to use an easier gear. His help continues when we are off our bikes as he is always assisting me if I have trouble with my computer!
My computer is not the only thing extra I packed in my suitcase for the three week journey. There is always a photo of my family, which will accompany me for these weeks. Certainly I can see photos on my computer, but to have a printed photo is a lot better than anything else. The other thing that I always bring is a pillow for sleeping, you never know what you are going to find at the hotels.
Kjell Carlström on Basso
"The Giro is the most important race of the year for Liquigas. There is some pressure having the favourite on the team, but it is an honour to be working for someone like Basso.
"He has concentrated on the Giro, when he wants to go after something he really focuses and tries to avoid all the mistakes. If there are problems he tries to solve them immediately. As a person, Ivan is quite calm, but every now and then a little impatient, wanting to have things immediately.
"He brings his pillow and family photo, but we both bring our ear plugs so we don't know if each other is snoring! In this way everything works out and he is a perfect roommate."
The most important thing is to have a lot of enthusiasm for this Giro, which I have because I have been waiting for it for a long time.
It is not just Kjell, but all of my teammates who are great. We have guys who can hammer on the flats and others who can fly up the passes. We are all able to pull the weight if one of us is having a bad day.
First, there's Franco Pellizotti who knows how to lead the team. Manuel Quinziato and Alessandro Vanotti will lead the charge on the flats, Sylvester Szmyd and Vladimir Miholjevic are our mountain goats, Valerio Agnoli will guide us through the technical finales and Carlström is like our multi-use tool, he's a complete rider that covers our every need.
Venice's time trial
The crono will be a high-speed affair that will depend a lot on the wind: If there is no wind the average will be high, if there is a strong wind then attention will need to be given to its direction. It will be a very spectacular crono with only four or five turns in 20.5 kilometres. I don't even want to think about rain. We will have to just focus ourselves on a safe ride and take our rain capes if it does.
Rivals, rivals, rivals
Ivan Basso spends some time with his rivals
Photo ©: Roberto Bettini

Everyone asks me who will be the man to beat, who will be my strongest rival. I can tell you it will be a very challenging Giro when you consider the rivals I am facing. Each team has two men who can challenging for the overall: Armstrong and Leipheimer, Cunego and Bruseghin, Di Luca and Bosisio, Simoni and Scarponi, Basso and Pellizotti. Then look at the others, like Carlos Sastre and Denis Menchov... It will be very dangerous with all these guys battling for the maglia rosa.
The overall winner of the maglia rosa is easy to figure out, however. The winner will be the one who goes the fastest in the mountains and the strongest in the time trials.