Recently on Cyclingnews.com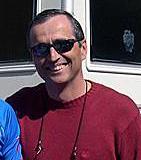 Dr Michele Ferrari
Photo: © CN/Tim Maloney
Doctor's orders: The Dr Michele Ferrari Journal
Dr Michele Ferrari, coach to cycling greats including Moser, Bugno, Argentin and Rominger, in addition to five-time Tour de France winner and defending champion Lance Armstrong, has never been afraid to push the boundaries of sports science.
In 2004, cycling's most controversial sports doctor will once again provide Cyclingnews readers with his unique insight into the mindset of what makes or breaks a champion.
Latest entry: Stage 21: Determination
2004 entries
Vuelta a Espana
Tour de France
Mid-year
Giro d'Italia
Spring 2004
Editor's note: Dr Ferrari often discusses 'VAM'. This stands for Velocita Ascensionale Media [average climbing speed], and is a measure of the rider's rate of ascent. In mountain stages of races such as the Tour, most of the work a rider does goes to overcome gravity, so VAM is a useful indicator of the rider's form on that day.
2003 entries
Vuelta a España
Tour de France
Profile and Interview