Dr Ferrari (right) & a client
Photo: © Tim Maloney/CN

An Interview With Dr. Michele Ferrari, part two
The Eye Of The Storm
Tim Maloney / Cyclingnews European Editor
In part two of our exclusive interview with Dr. Michele Ferrari, he talks with us about the ongoing court case in Italy and his relationship with Lance Armstrong. (Click here for part one.)
While he continues with his regular business of advising cyclists, Dr. Michele Ferrari is the subject of an investigation by the Italian justice system. In December 2001 in Bologna, Judge Passarini began a case that accuses Ferrari of sporting fraud and doping. Two months later, in February 2002, pro cyclist Filippo Simeoni testified on behalf of state prosecutor Spinosa, claiming that Ferrari prescribed EPO and explaining the Ferrara doctor's alleged system to avoid doping controls. In March 2002, Dr. Michele Ferrari defended himself against Simeoni's accusations .
Between last October and February 2003, both Ivan Gotti and Claudio Chiappucci testified in Judge Passarini's court on behalf of Dr. Ferrari, with Chiappucci contradicting many of Simeoni's accusations. In the last month, Ferrari has been back in court in Bologna for two sessions, in April and as recently as last week. Besides some expert witnesses who explained the theraputic use of EPO, State prosecutor Spinosa presented another witness, a former amateur rider named Carlo Colbalchini (1990 world military cycling champion). Colbalchini claimed that while on Team Ecojet in autumn of 1992, "Ferrari didn't explicitly talk to me about EPO because it was part of a program of training and diet so I could get in shape for the next season." Colbalchini, who was 10kg overweight at the time, refused to follow a diet program that Ferrari recommended.
Ivan Gotti has defended Ferrari
Photo: © Sirroti

Ferrari defended himself staunchly in court as well, testifying in Bologna that, "the use of drugs to improve sporting performance is a boomerang for the athlete, because, beside the negative effect on the athlete's health, it will cause an athlete to think that there are [drugs] that can help them perform even better. I will add that 90 percent of the drugs on the official list of substances considered as doping products don't work to improve performance, but actually make it worse. Personally, I have always fought these [doping] practices inside the world of [sports] science. For that reason, I categorically deny that I had suggested or prescribed doping products to athletes who came to me for sports preparation."
Ferrari's trial entered a new phase last week when his attorney, avv. Bolognesi challenged the entire premise of prosecutor Spinosa's accusations with a 'super partes' brief. This brief contests Spinosa's conclusions that the changes in the haematocrit levels of athletes treated by Ferrari were due to administration of EPO. At the time of writing, the trial of Dr Ferrari continues with no end in sight. As the case continues, Cyclingnews offers Part 2 of our exclusive interview with Dr. Michele Ferrari.
Cyclingnews: At what point is your trial in Bologna? [We spoke to Dr Ferrari in April, just before the next phase in late April.]
Dr Michele Ferrari: The trial has been going for a year and a half and even this is something strange. The basis of the accusations is the testimony of Filippo Simeoni, and the only evidence is his testimony. In reality, all the others who have testified in my case have denied and contradicted these allegations. But Simeoni isn't pure as a witness as he has culpability in related matters. So his allegations need to be corroborated by other evidence or testimony. And that's what the [prosecutor] has been looking for a year and a half.
CN: Like the stars you made in riders' training diaries?
Dr MF: Yes, the very same. Simeoni says "this star means that I was to take Andriol" [an oral testosterone compound, or steroid] but that is absolutely not true. It's even written in his program that he was supposed to take vitamins, and the stars were intended to draw attention to the training that day, which was very specific, perhaps very hard, and then to remind the riders to take vitamins or amino acids.
There was no hidden significance to these markings, that it meant a doping product. As well, all the others (who have testified in Ferrari's case) said "No, these stars corresponded with vitamins or amino acids or a cream." This is the reality of the situation but the media is reporting things differently.
Also, the actual accusations were ridiculous to start with.There is no scientific basis for any of these accusations and the facts will show that [my case] is a political maneuver that is seeking to paint all pro cyclists as implicated in doping. It's a 'castello accusatorio' [mountain of accusations] that has been built up over the last five or six years. That's not normal either, since Italian law says a person can't be investigated for over a year and a half. [Dr Ferrari hits the table for emphasis.]
CN: Have you changed your approach to working with pro riders since this?
Dr MF: The way I work hasn't changed. Since some riders have become used to taking something every time they have a problem, a pharmacological solution if you will, I have a different approach to this. If a rider comes to me and asks me for a way to solve a problem, I listen to what they want and very gradually, over time, propose alternatives to what the riders have been used to taking. Rather than giving a rider an anti-inflammatory because they have pain in their leg, I want to find out why they have this pain, perhaps it's because their position isn't ideal, or the training isn't ideal for the riders condition at that moment. It's my job to propose alternatives to a pharmacological solution. If you tell a rider, "no you can't take [this]", well you can say that to a young 17 year old rider, but that won't work with a professional rider; it doesn't work, it's never worked.
So in my work, I've always sought to fight against the use of pharmacological products in general in cycling - let's not even talk about doping - and have sought to propose to professional riders an alternative to use of drugs, legal or otherwise. You can't just say "no", you have to explain why the alternative is better; yes it may take longer and may be harder, but the results are certainly going to be better.
Ferrari client lance Armstrong
Photo: © Luc
CN: Can you tell us about your collaboration with Lance Armstrong and Chris Carmichael?
Dr MF: I met Lance at the end of 1995; Eddy Merckx introduced us and I think Lance's Motorola team used Merckx's bikes. After that, we started to work together and above all at that time, Lance was interested in the Classics.
We worked together and unfortunately, Lance had his problem with cancer in October 1996.
After that, we still kept in contact; I tried to encourage him but I didn't tell him that he couldn't come back [to pro cycling]. He then had some problems with his team, Cofidis I think, who told him that they weren't interested in him after the cancer. Lance then had a moment of crisis; he thought of retiring because he found that he was not accepted back into cycling. At the end of 1997, he found a new possibility to come back with the US Postal team. We had always maintained our contact and since he was in the US, we didn't see each other often. But I would send Lance suggestions or his training program that were very, very prudent and gradual. At that time, we [Lance and Chris Carmichael] discussed a major change in Lance's pedaling style.
I had already worked with Tony Rominger at the end of his career on this; because I realized that the tendency to use big gears was causing problems for riders; problems with tendons and the back. So already with Tony in the 1997 season, he changed his pedaling cadence. However, he was at the conclusion of his career at that point and wasn't too motivated to continue.
With Lance, also because he had lost a lot of muscle mass due to his cancer treatment, I found fertile terrain for this new approach to cadence. So we started already in the winter of 1997-98 to work on this change for Lance to use a higher cadence; above all, with changes of cadence which is the basis of my method. I mean, to go from a high cadence to a low cadence during training depending on whether the terrain is flat or a climb.
In spring '98, Lance had a crisis at [Stage 3 of] Paris-Nice but he wasn't going badly; he was in the top 10 on GC, I think, but his character as a "winner" couldn't accept that he would have a bad day. Lance overcame this and from that point on, we were in contact more often; always with Chris Carmichael as well. Lance would come to see me in Ferrara, he would do his tests here and worked on his performance on his time trial bike too. We worked very closely during 1998 with Lance and Chris Carmichael to develop this new approach with a higher cadence; it's become part of the story of Lance.
After his cancer, Lance didn't have the same level of power that he had before, the prior level of muscular force. That was the reality so I proposed to Lance and Carmichael to work with a higher pedaling cadence and they agreed 100 percent.
At the end of 1998, Lance had gotten fourth in the Vuelta and fourth in the World championships, which were encouraging results. The next winter, we refined this approach with a higher cadence for Lance. It worked so well that in the spring of 1999, [Armstrong] beat Rominger's record for the climb of the Col de la Madone in Menton [near Nice, France] that [Rominger] had set five years before. Lance beat the best time by 40 or 45 seconds and from that time on, we realized that Lance had made a 'salto di qualità' (jump of quality) in his cycling performance.
When I told Tony, who has a character similar to that of Lance that Armstrong had beaten his record on Col de la Madone, he was surprised and disappointed. Tony told me "Well, I never won the Tour, but I'm really sorry to lose this record!" As for the rest, there is all the success Lance has had in the Tour but this is recent history; I've invested a lot of time to work with Lance and his group; Chris Carmichael, Johan Bruyneel and others. I've expanded my collaboration with Lance and as of today, this is continuing.
CN: What about the famous orange juice quote that you gave to l'Equipe that was so controversial?
That l'Equipe Interview
Evgeni Berzin, one of the Gewiss trio that swept Fleche Wallonne in 1994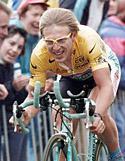 In April 1994, after the Gewiss team dominated Flèche Wallonne, taking all three podium spots after a 72km break, Dr Michele Ferrari gave a combative interview with French sports newspaper l'Equipe in which he sparred with journalist Jean-Michel Rouet over Gewiss' dominance, doping controls, and the role of the team doctor.
Then, Rouet asked Ferrari the question that has followed him ever since.
Jean-Michel Rouet: Speaking of EPO, do your riders use it?
Dr Michele Ferrari: I don't prescribe this stuff. But one can buy EPO in Switzerland for example without a prescription, and if a rider does, that doesn't scandalize me. EPO doesn't fundamentally change the performance of a racer.
J-MR: In any case, (EPO) is dangerous! Ten Dutch riders have died in the last few years.
Dr MF: EPO is not dangerous, it's the abuse that is. It's also dangerous to drink 10 liters of orange juice.
Dr MF: Have you read the interview? I said what I said as a specific response to a specific question. It's a long story that certain elements in the Italian media took this quote out of context and exaggerated it. That's the story. They asked me about EPO, if EPO in and of itself was dangerous and I responded that "EPO itself has pharmacological indications that are quite precise and of itself, it's not a dangerous drug. It's the abuse that's dangerous."
CN: In the past, didn't investigative journalists come to Ferrara and obtain information about Lance Armstrong's hotel stays during his visits to your clinic?
Dr MF: No, that's not how things went; this sports reporter for a British newspaper didn't come to Ferrara, he went to Firenze and spoke to the N.A.S. [National Drug Squad] Carabineri.
They called the Ferrara police station and asked them to check their hotel records for Lance Armstrong. And that information was then put in the paper.
CN: How did you react to that information?
Dr MF: It's not normal! This was an excessive use of the power of the Carabineri; they are not supposed to give a journalist this type of information. But we had nothing to hide regarding Lance; he came here to do his tests and we never denied it at all! It wasn't hidden at all. I don't know this journalist; I've never met him at all.
CN: How do you view the future of cycling from the point of view of a doctor who's specialty is sports preparation?
Dr MF: Well, an important new trend is the way to communicate via internet. It's great to be able to bring my more than 20 years on professional experience in this field and make it available to everyone via 53x12.com. Clearly, this can't be a training program that would be as in-depth and comprehensive like Lance Armstrong's. Or any other pro rider. But the fundamental way we approach cycling via the internet is new. We are also seeking to educate and inform people to get more out of their cycling experience. If we succeed in reaching 1000 young riders, or not so young riders via our site and help them improve their riding and their understanding of how to ride better; not just how to pedal differently, but in their sports nutrition, that will already be an important result.
The vast majority of cicloamatori don't have any method to their training and we can offer them this methodology to improve their performance via our website. We want to invite people to become part of an internet community at 53x12.com to help them get more out of their cycling experience.