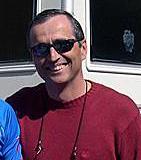 Dr Michele Ferrari
Photo: © CN/Tim Maloney
Doctor's orders: The Dr Michele Ferrari Journal
Dr Michele Ferrari, coach to cycling greats including Moser, Bugno, Argentin and Rominger, in addition to five-time Tour de France winner and defending champion Lance Armstrong, has never been afraid to push the boundaries of sports science.
In 2004, cycling's most controversial sports doctor will once again provide Cyclingnews readers with his unique insight into the mindset of what makes or breaks a champion.
Paris-Roubaix - April 12, 2004
If I had a hammer
A total of 51,000 meters of pavé, with five or six stones every meter, is about 250,000-300,000 hammer blows on the legs of each rider.
At 40 km/h, that's an average of 10-12 blows per second, a constant vibration that leaves its mark on the entire body: neck, hands, arms, back and even the blood circulation get extremely stressed from the outside.
Vibrations slow down the venous return from the legs (but also from the arms), hindering the delicate work of the valves that is necessary to defeat gravity's pull.
The four minutes of harsh pavé in the Arenberg forest did make selection, but the headwind and the weather conditions - no rain - favor catch-ups (returns) with the bigger teams working hard to 'keep the race sewn up' for the best riders. Lotto, Quick-Step and T-Mobile never left too much space for the attackers.
Boonen, Hincapie and Flecha tried to escape at 20 km from the finish line: the action seemed a determining one, but the peloton behind eventually did not leave any space. Still too many 'gregari' were working to catch up, bringing on their rear wheels other strong riders ready to attack.
In a quick turn of events, four 'outsiders' could eventually advantage themselves with merit and play the win with a sprint inside the velodrome.
Magnus Backstedt, the strongest and fastest man of the four, easily took the victory after his brilliant second place in Gent-Wevelgem.