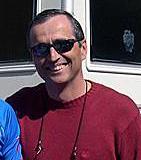 Dr Michele Ferrari
Photo: © CN/Tim Maloney
Doctor's orders: The Dr Michele Ferrari Journal
Dr Michele Ferrari, coach to cycling greats including Moser, Bugno, Argentin and Rominger, in addition to five-time Tour de France winner and defending champion Lance Armstrong, has never been afraid to push the boundaries of sports science.
In 2004, cycling's most controversial sports doctor will once again provide Cyclingnews readers with his unique insight into the mindset of what makes or breaks a champion.
Liège-Bastogne-Liège - April 25, 2004
Rebellin's secret weapon
Davide Rebellin let Boogerd lead the chase for Vinokourov's fierce attack on the Ans ascent, catching up with both of them with a steady progression; with the same approach he was closing again on Boogerd's spurt, easily winning the final sprint, with Vino slightly dropped behind and in oxygen debt.
Indeed the progression was Rebellin's most effective weapon in these last three Classics. He never responded to attacks with sharp and sudden tempo changes, but with continuous accelerations, unbearable for his adversaries.
Not only a full and powerful pedal stroke, but also remarkable strategic intelligence eventually made the difference.
Once again Liege Bastogne Liege was not so selective, with still 70 riders in the group at the feet of Cote Sarte-Tilman, a little more than 10km from the finish line, notwithstanding the efforts of the CSC team to stir up the race.
Many of the favorites failed to live up to expectations: Bettini, Vandenbroucke, Bartoli could not really turn into profit the hard work of their teammates.