91st Tour de France - July 3-25, 2004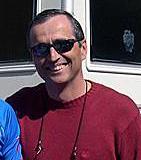 Dr Michele Ferrari
Photo: © CN/Tim Maloney
Doctor's orders: The Dr Michele Ferrari Journal
Dr Michele Ferrari, coach to cycling greats including Moser, Bugno, Argentin and Rominger, in addition to five-time Tour de France winner and defending champion Lance Armstrong, has never been afraid to push the boundaries of sports science.
For the 2004 Tour de France, cycling's most controversial sports doctor will once again provide Cyclingnews readers with his unique insight into the mindset of what makes or breaks a champion.
Stage 20 - Sunday July 25: Montreau - Paris-Champs-Elysees, 163 km
Lance's attitude
"Do you think you can run 5 km in less than 17 minutes?" - I asked Lance.
"How fast would it be every mile?"
"5'20, more or less".
"Sure, I can do it!"
With wary skepticism I asked him, "But, have you trained recently for running?"
"I played tennis 3-4 times..."
"Then it is impossible for you to run below 17 minutes with no training at all!"
A little pause - pondering. "Well, I think I can do it."
"Wanna bet a thousand bucks you won't?" I replied, sure of myself.
Thank God that, in front of my certainty, Lance Armstrong did not take the bet.
It was some day at the beginning of December 2002 and we were at the start of the Dirty Duathlon: 5 km running, 20 km MTB and another 5 km running somewhere in the desolate Texan country, one and a half hours drive from Austin.
Needless to say that Lance literally crushed the record of that race, thanks to some excellent running segments, well ahead of all the good duathletes that had come from any part of Texas to win and beat Lance Armstrong.
To see him race is always an amazing experience: it is pure unconditional competition spirit, enjoying the challenge at its fullest. To see him run up and down among the rocks of the course was spectacular: Johann (Bruyneel) and I were exchanging stupefied looks to each other, getting a little worried for the integrity of his muscle joints over such a harsh ground.
But this is Lance.
He undoubtedly suffered atrocious pain in the legs for a good week afterwards, but he would never admit it.
Armstrong won and enjoyed this year's Tour de France with the same spirit he had when he crushed the Dirty Duathlon in the Texan country: and this despite an enormous pressure and a definitely not-so idyllic atmosphere around the Grande Boucle.
Lance confirmed the level of his best performances in both climbing and time trialing, either strategically or emotionally.
Stage 17 - July 22: Bourg d'Oisans - Le Grand Bornand, 204.5 km
Fabulous Floyd
What a stage today!
It was hard also to watch on TV: truly a marathon with 5000m of total elevation and over 70 km of climbing.
The excellent tempo imposed by Floyd Landis on the final ascent (a VAM of 1700 m/h!) forced a selection of the five best riders at the end of a very hard stage, the 17th day of racing with temperatures over 30°C.
Wild competition in the final kilometers: Landis has some amazing downhill skills, he tried to advantage himself after the climb, Ullrich chased him with the intention of winning the stage, but Lance did not agree...
Stage 16 - July 21: Bourg d'Oisans - Alpe d'Huez ITT, 15.5 km
Something wicked this way comes
Tomorrow's terrible stage hangs over the protagonists of the Tour de France: 212 km with the Col du Glandon after 36 km and right after it the harder Col de la Madeleine, 19.5 km at 8 percent average gradient.
The course surely lends itself to important attacks far from the finish line, making it the choice for those who aspire to revolutionize the general classification.
Today on L'Alpe d'Huez we beheld the wonderful ankle movement in Lance's uphill pedaling, a real prodigy of biomechanical efficiency (see article on 53x12.com for further info about pedal stroke efficiency). I could count 90-92 RPM on the hardest distances and up to 100 RPM in the easiest sections. Such cadences allow sharp accelerations at the exit of every bend of the road, speeding up again and facing the next steep slope with more impetus.
Jan Ullrich climbed almost all the ascent in aero position with good cadences (80-85 RPM), confirming a growing condition that now makes him the most dangerous adversary for Armstrong, despite the consistent gap.
Jan has excellent endurance skills and he is a splendid fighter; he will undoubtedly try something tomorrow. Klöden and Guerini were able of some very good time trials today, and they will surely support him.
Armstrong's VAM was 1790 m/h; Ullrich's was 1754 m/h, a difference of two percent: both excellent and close performances, making the result in Saturday's flat time trial all the more uncertain.
Stage 15 - July 20: Valreas - Villard-de-Lans, 180.5 km
Jan transformed
The excellent work made by Floyd Landis to counteract the beautiful attack of Jan Ullrich on the Col de l'Echarasson today was really determining.
Jan looked like a totally different athlete: he climbed up fast, with an agile cadence of 90-92 RPM; he did seem to slacken the hand brake that was holding him last week! 1675 m/h was his VAM on the 12 km climb at 7,4% gradient.
The CSC team stopped Voigt, already on a long breakaway, who nullified Ullrich's courageous attempt, together with Landis.
A great selection, with 10 men fighting for the stage victory on the 2.3 km climb (at 6,6% gradient) in Villard-de-Lans; an imperial stage result, with Armstrong ahead of Basso and Ullrich. Their VAM for this last ascent was 1820 m/h.
Stage 13 - Saturday July 17: Lannemezan - Plateau de Beille, 205.5 km
A merciless elimination
Today's 'marathon' on the Pyrenees was truly a merciless elimination race.
5000m of total elevation gain, over six hours of riding with a good three hours spent at Medio and Soglia intensities (see related article on 53x12.com) on the climbs, in addition to yesterday's stage efforts, have widened the gaps between the riders on the final ascent to Plateau de Beille.
In the peloton, the best riders climbed the Col d'Agnes at a good pace (1580 m/h) and the following Port de Lers reduced the recovery times and chances for riders having a hard time. The narrow and tricky descent made it all more difficult for them to eat and drink properly.
45 minutes for Basso and Armstrong to climb the 1240m of elevation to the Plateau de Beille (VAM = 1650 m/h) is an excellent performance, considering the profile of the stage and the elevated speed average (34 km/h). Even the strongest riders today were running low on glycogen in their legs, wisely keeping themselves prudent and therefore affecting the absolute performance.
So far, the race has suggested Ivan Basso to be the most dangerous adversary for Armstrong; much improved from last year, light and powerful on the climbs.
Lance today was more brilliant than yesterday, a sign of excellent recovery and endurance skills that probably compensate for a minor explosiveness if compared to some years ago. His climbing action was very fluid (90-95 RPM), while Ullrich confirms his unhappiness, suffering on much lower cadences than those displayed last year.
Stage 12 - July 16: Castelsarrasin - La Mongie, 197.5 km
Hard to swallow
The good pace held in the rain in the climb of Col d'Aspin favored a sharp selection on the adjacent ascent towards La Mongie.
1600 m/h on the not-so-demanding gradients of Aspin is an excellent performance; the following wet descent stiffened the legs of the most fatigued riders, who would pay a heavy toll in terms of time gap at the finish line.
The first part of the way up La Mongie has some very modest gradients, but the rhythm imposed by US Postal was constantly high, leaving no room for attackers.
1684 m/h was the VAM on the whole final ascent for Basso and Armstrong, while in last 3km was approximately 1760 m/h.
As often happened, the first true climb of the Tour was somewhat indigestible for many riders, even for some of the favorites for the podium in Paris.
Rain in the first part of the Tour, several crashes, the infernal pace of the so-called 'flat stages' - all of this was undoubtedly responsible of the counter-performances seen today.
But anything can happen, everything can change, beginning from tomorrow's stage that suggests a good 6-7 hours of harsh suffering, where a crisis might strike any time... to any rider.
A LeMond encounter
I still clearly remember my very brief encounter with Greg LeMond in the January of 1994 in Encinitas, close to San Diego, CA.
We were visiting a popular and well furnished cycling shop called Nytro, and Greg was there too, big and fat as so often happened in the last years of his career.
We introduced ourselves and he did show me an SRM power meter mounted on his bike. I objected that I still preferred to rely on heart rate for the training programs of my athletes, essentially because the latter allowed the evaluation of the so-called 'carico interno' (internal loading) of work that they were subjected to.
In fact, watt measuring gives a rather absolute evaluation, not considering the fluctuations in condition of the athlete: the same load of 400 watts may change 'meaning' from day to day, according to status of fatigue in the rider.
Today, more than 10 years later, I still tend to evaluate with much prudence all the numbers we get from computers, always integrating them with the feelings and the instinct of the athlete.
And this still continues to make the difference.
Stage 10 - July 14: Limoges - St Flour, 237 km
Virenque endures
Richard Virenque confirms himself as one of the best endurance athletes of the peloton: more than 200 km of getaway, 4000 m of total elevation climbed at an average of 40 km/h!
His engine is not so powerful, but an optimal use and distribution of the fuel allows him to maintain a constantly elevated intensity for many hours.
Together with a perhaps too generous Axel Merckx for 130 km, the French rider gave his best in the last 2 hours of the stage: while Axel ran out of fuel (read: glycogen), Virenque's metabolism, privileging the use of fat as energetic source, allowed him to spare glycogen stores for the final part of the race.
The yellow jersey Thomas Voeckler, 5th today, showed his determination and value, together with his team: they pulled the peloton all day and were 5 of them at the end of the race.
Rest day #1 - July 12
A chance to recover
The prologue and eight stages flew away at an average of 44 km/h. Notwithstanding the merciless wind, cold and rain, this has been a very hard beginning of the Tour.
Crashes and nervousness in the peloton increased the fatigue even further; the thousands of brakings and subsequent accelerations meant huge energy expenditure for every rider. The most expert ones, protected by teammates or others during the race, were able to spare more energy than those riders not so used to Tour's 'bagarre'.
I remember in the past some very gifted and strong riders coming to the feet of the first mountains already exhausted because they were had been riding in the wind all day and simply because they were not masters in drafting. Even Tony Rominger, in his prime years as a professional, was continuously exposed to winds and for this reason he had to give up after only 1 or 2 weeks of the race.
The rest day comes at the right time, allowing some recovery for the most fatigued athletes and a chance to treat injuries for many a rider who crashed in these 9 days. Usually professional cyclists prefer to take a 1-2 hours easy ride on such a day, in order to keep the muscles and metabolism active; but some do feel the need to pedal at a rather good pace for 2-3 hours, so to avoid a 'sloppy' feeling the next day: Claudio Chiappucci was one of them.
Stage 5 - July 8: Amiens - Chartres, 200.5km
Not what it had seemed
More rain, wind and crashes on the roads of northern France. Fatigue and sore legs for many riders.
Rain and cold stiffen up muscles, forcing tendons and joints with the risk of tendonitis and injury, especially for those riders pushing high gears. The back of the main group broke up several times today with the last ones trying to chase, while riders in the front avidly drafted in oblique rows.
Faces swollen with cold and fatigue. And crashes again: the strong wind forced the cyclists to follow dangerous trajectories in order to limit the exertion as much as possible, increasing the risk of collisions. Nervousness in the peloton, with the GC contenders always careful in the first rows.
Some pale sunrays penetrated the dark clouds, then fierce wind and rain again to pour down mercilessly on the athletes. The group cut the line at 6:00 p.m. Less time for recovery and the usual massage. The stage was indeed much harder than what it seemed.
The young, strong and determined French champion Thomas Voeckler conquered the yellow jersey after a 184 kilometre breakaway with four other riders; now he finds himself managing a gap of almost 10 minutes on the favorites...
Stage 4 - July 7: Cambrai - Arras TTT, 64.5 km
Perfect
Once again they were simply perfect, just as the perfection of simplicity.
Despite terrible wet conditions, the US Postal Team was able to perform an optimal and ideal distribution of the whole effort: after 20 km the Blue Train was giving 37 seconds up to Illes Baleares, while in the final 36 km they gained almost two minutes on the Spanish squad.
The choice of a single row and the precise order of the riders, wisely tried out and fine-tuned for a long time, confirmed itself to be the winning one for such a long event. The strongest riders were pulling a bit longer trying to keep the speed as constant as possible and not to trouble those companions who are less prone to such a difficult specialty.
Stage 5 is another 'sprinters stage', or so to speak: most likely those riders who tried to economize today will attack tomorrow.
Stage 3 - July 6: Waterloo - Wasquehal, 210 km
3 minutes and 57 seconds was enough
George Hincapie led the peloton at the entrance of the 2800m of pavè at km 146 of today's stage: 3 minutes and 57 seconds (average of 42 km/h!) was enough to blow up the peloton into three groups.
Only a few km before, the inevitable crash had taken away about 60 riders from the main bunch - Mayo, Menchov and Moreau among them - who were forced to a long, exhausting and vain chase. A gap of 3'52" is too big a price at the third stage of the Tour de France.
The US Postal, T-Mobile and Phonak teams did show efficient performances, being able to set an elevated pace while protecting their own leaders, always in the first positions of the group.
Today's average speed was again well above 40 km/h; many riders will feel it in their legs in tomorrow's TTT...
Stage 1 - July 4: Liège-Charleroi, 202.5 km
Definitely a hard day
Definitely a hard day of racing, already in the first stage of the Tour de France. A flashing start, then rain and a slippery pavement made it all harder in a course that was absolutely not flat, tormenting more than one rider along its 200 kilometres.
The 5-man breakaway with Bettini and Voigt compelled the Fassa Bortolo team to a long chase, keeping a very high tempo for more than 100 kilometres, while all the GC contenders tried to remain in the first positions of the peloton in order to avoid crashes and abrupt speed accelerations. Jan Ullrich took advantage of some of the uphill distances to perform "strength-recall" exercises with a very low pedaling cadence.
The compact sprint for the stage victory was favourable to an experienced privateer such as Kirsipuu, who was indeed perfect both in timing and his legs' power output.
Prologue - July 3: Prologue Liege ITT, 6.1 km
Lance brilliant, but Jan blocked
After almost 30 years, the prologue of the Tour de France went back into Belgium: in the 1975 edition, a young Francesco Moser overtook super-favourite Eddy Merckx in Charleroi.
Today in Liège, the excellent specialist Fabian Cancellara, with a perfect distribution of the effort, deservedly claimed the prologue of this 2004 Tour. He had an average pedalling cadence that was just ideal: 110 RPM, pushing a power output of around 550 watts, distributed over 6'50" of exertion. [See related article on 53x12.com for more info. on ideal cadences.]
Among the best pure climbers, Mayo was the fastest, slightly ahead of Scarponi and Azevedo, while the best among the great sprinters was Tom Boonen, two seconds faster than Cipollini.
Of the yellow jersey GC contenders, Armstrong had a brilliant Tour start compared to last year, whereas a very powerful yet "blocked" on too low a cadence (90-92 RPM) Jan Ullrich lost 2.5 seconds/km from the Texan.
July 1: Pre-Tour thoughts
The hardest race
The evolution of human locomotion through the millennia basically developed two possibilities: walking and running.
Cycling is a stranger to such evolutionary process, being a physical activity introduced in the last 2 centuries - nothing, if compared to the time needed to produce evolutionary change.
Walking is a relatively untraumatic means of movement for muscles and joints, with low intensity and a relatively low energy expenditure for time unit, which makes it possible to keep it up for long periods every day with no problems.
Running has obviously a much higher speed and intensity, with greater energy cost. Being very traumatic for muscles and joints it's not possible to keep it up for many hours for days on end without risking inflammation and injury.
Cycling basically unites both these methods of locomotion, combining the particularities of each: it's not very traumatic in its movement, it allows high intensities with great energy expenditure and can be repeated for several continuous days, with prolonged periods of effort expenditure.
While one aspect of the bicycle proved itself to be a most efficient system of locomotion, the exhaustive nature of cycling competition, especially professional racing, brought forward new problems and issues for the body, certainly unexpected in the human evolutionary process.
The Tour de France is the most demanding cycling race on Earth: the repetition of intense and prolonged efforts every day for three weeks, often under extreme weather conditions. It requires extraordinary energy consumption, up to 6000-7000 kcal per day, that has to be compensated by proper "super-nutrition".
This implies a digestive apparatus overcharge, and makes demands on liver and kidneys in a way that was not provided for by human evolution if we consider how difficult it was in the past to get such high caloric amounts in every day life.
Extreme heat conditions, not rare in the Tour de France, also imply proper "super-hydration", sometimes with ingestion of as much as 10 liters of fluid in one day in order to compensate for perspiration. Such demands never appeared in the evolutionary history of the human race!
Elevated, repeated and prolonged intensities of exertion that are so peculiar to cycling also put a heavy stress on respiratory, kidney and cardio-circulatory apparatuses, unlike any other sport activity.
Many sports medicine publications have documented a whole series of lesions (luckily most of them reversible) to cells and function of these apparatuses; lesions that have to be prevented or treated with appropriate training, nutrition and diet supplementation strategies, always within the limits of sports and legislative regulations, which should in their turn take these unique physical demands into consideration.