91st Tour de France - July 3-25, 2004
Main Page Live report Results Overall standings Previous Stage Next Stage
Stage 13 - July 17: Lannemezan - Plateau de Beille, 205.5 km
Armstrong confirms, but Voeckler hangs on
Basso again strong in the mountains
By Tim Maloney, European editor in Plateau de Beille
Lance Armstrong (USPS)
Photo ©: Roberto Bettini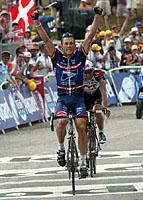 High atop Plateau de Beille, deep in the Pyrenees, Lance Armstrong took his 17th 'en-ligne' stage win in the Tour de France and took another giant step towards winning an all-time record of six consecutive Tour victories. Lance knew he needed to send a message to the rest of the Tour peloton, even on a day when his main rivals Ullrich and Mayo faded and his friendly fellow American rival Tyler Hamilton was forced to abandon due to his injuries.
Armstrong explained after his win that, "It's important because of the time bonuses; twenty seconds is twenty seconds. It's good to have it and it's also nice to win a stage of the Tour. People win a stage of the Tour and it makes the entire year...and I can't forget that and I won't forget it. I would have been nice to be back in yellow. It was sort of our intention before the day started."
But Armstrong ran into an determined young Frenchman, the current maillot jaune Thomas Voeckler, who hung tough all day on a stage where he yo-yo'ed off back all day and managed to maintain possession of the cherished yellow tunic by just 0'22.
Thomas Voeckler (Brioches la Boulangere)
Photo ©: Sirotti

Currently the darling of the French cycling media, Voeckler is said to have "du temperment" (a champion's character) and showed a lot today as he suffered on the ascent of Plateau de Beille. Clearly tired, the 25 year old said after Stage 12 that, "Not many people thought I would be able to keep the maillot jaune today, and not even me in some ways...it was really hard today, I was hurting all day and all my teammates, especially Jerome (Pineau) and Sylvain (Chavanel) gave me a lot of encouragement all during the stage. Plus all along the stage, all the people were encouraging me...but when I passed the finish and saw I was still the maillot jaune, it was a big relief. Today, I did it on guts alone."
Armstrong had nothing but praise for Voeckler today, as he evaluated the French champion's performance on Stage 13. "You know, when you have a rider like Voeckler who gets dropped and then comes back, gets dropped and comes back and fights all the way to the end, and he keeps the yellow jersey, he absolutely earned it, he deserves it," said Armstrong. "It might be close, but I can tell you, Voeckler gave his maximum on the last climb, so he absolutely deserves to have that jersey for another day or however long until he loses it so...I'm very, very, very impressed with him."
Ivan Basso (CSC)
Photo ©: Sirotti
Yesterday's stage winner in La Mongie Ivan Basso had another good day at the Tour. Basso was today's runner-up on Plateau de Beille and the classy 26 year old Italian told RAI-TV's Alessandra Di Stefano post-stage, "I'm really happy with my performance. I pulled a lot in the finale since we had dropped a lot of contenders for the GC. But there's still a long way to go in this Tour, so I'm waiting for the others to do something. But it's still too soon to talk about the podium. I'm feeling very good, but I'm taking it day by day, just like everyone else. Because the Tour is always hard every day. Today it was really hard to stay with Lance; I was right on my limit."
Armstrong clearly knows that Basso is a potential threat and isn't underestimating the CSC rider in any way. Lance explained post-stage that, "I know that we take him very seriously; he's riding super-strong and he's a rider that we considered to be a threat and one that we considered to be one of the brightest hopes for the Tour de France. We tried to get him on (USPS) last year. He's a threat. Absolutely. He'll ride good in the Alps and I think he'll ride a tough final time trial. The gap between us is 1'17 and it's not a big gap; I have to be careful and Villard de Lans won't be a big day for selection, but he will be good on l'Alpe d'Huez."
Ullrich (T-Mobile)
Photo ©: Caroline Yang

One rider who has become less of a threat is Jan Ullrich, who Armstrong nominated as his chief rival before the Tour, but who just hasn't had the climbing legs to compete with Armstrong and Basso at this year's Tour. USPS sports director Johan Bruyneel said of Ullrich that, "I think he's six minutes down already. That's a lot after two mountain stages."
Bruyneel evaluated the other threats, saying, "I think there are other riders now who are more dangerous. We have Basso, who yesterday and today was the only rider who could stay with Lance. Then there's Klöden, who's been showing some good form and he's a good time trialist. Mancebo has been showing some good form... I think they're going to be the main rivals for now."
Mayo (Euskaltel)
Photo ©: Caroline Yang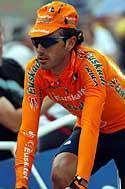 Another major rival for Armstrong, Tyler Hamilton abandoned today at the feed zone. Phonak team spokesman Urs Freuler told Cyclingnews that, "Tyler crashed badly in Angers and we didn't talk much about it, but he had a large and painful bruise on his lower back and was just in too much pain to continue. Tyler couldn't get out of the saddle when he was climbing...it's really too bad."
Once and perhaps future rival for Lance Armstrong, Iban Mayo didn't have a great day at the Tour today, and it's not the first time at the 2004 Tour for the highly-touted Basque who's been a major flop so far. Mayo tried to abandon today, but then was convinced to continue, albeit a bit more slowly than before. After his entertaining mid-stage antics, Mayo then finished almost 38 minutes behind today and is now 49th, 45'04" behind maillot jaune Voeckler. He explained post-stage that, "I already knew that I couldn't give it my all today and I'm sad about that. I wanted to abandon but my teammates told me I must continue...and then I realised that when you lose you can learn more from this. But I'm mad because I'm not going good and I don't know why! But it's not the worst day of my life today; I'm only 26 and I know and there will be more Tours for me in the future."
Orange throng
Photo ©: Jon Devich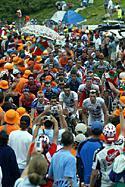 But Lance and Johan and the USPS-Berry Floor team are well aware of the competitive landscape going forward on the way to Paris. Talking about the competition, Armstrong explained that, "That's the Tour...we come in with the perception of who's dangerous and that changes daily. And we have to change our tactics and our view of the peloton daily. If somebody drops out, or if somebody rides super, than we have to either subtract them or add them. By losing riders, it's not devastating for us; we just take their name off the list. We add Basso, Mancebo, Klöden...these are not names we had at the top of the list before the Tour, aside from Basso. The names that drop off, they drop off and the others, we watch closely."
At this Tour de France, after Armstrong and USPS have yet again totally dominated the race, it's now clear that closely watched names will no longer include Hamilton, Ullrich and Mayo.
How it unfolded
Michael Rasmussen (Rabobank)
Photo ©: Sirotti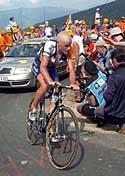 After the black sox clad Lance Armstrong listened to Incubus on his iPod this morning, eventually he and 164 other riders took the start this morning in Lannemezan. Sergio Marinangeli (Domina Vacanze) didn't take the start. After numerous attacks in the first half-hour, Frenchman Sylvain Chavanel (Brioches la Boulangère), teammate of maillot jaune Thomas Voeckler made a move that stuck and was joined by the ever aggressive Jens Voigt (CSC). The dynamic duo went away after 26km near Barbizan. 15 kilometres later, at the summit of the day's first climb, the Col des Ares, the lead was 3'00 on the peloton. Chavanel took the points ahead of Voigt, while Rasmussen had attacked out of the peloton to try and bridge up to the leaders. Saeco's Gerrit Glomser abandoned, and on the descent of the Ares, Rasmussen was bridging up to the front duo.
Chavanel (Brioches)
Photo ©: Caroline Yang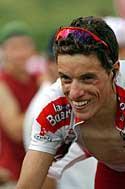 The gap was steady and as the lead duo approached the foot of the Col du Portet d'Aspet, where Fabio Casartelli lost his life in nine years ago, Rasmussen was closing fast. 1km before the summit, the Rabobank rider got across and there were now three riders away. Chavanel took the points with the peloton 3'30 behind and the blue train of US Postal pounding away at the front, already putting maillot jaune Voeckler in trouble. Down the valley in Orgibet, Chavanel took the sprint points and as the peloton passed the feed zone in Argein 5km later, American Tour hopeful Tyler Hamilton (Phonak) decided to call it a day. Other notable abandons today were Denis Menchov (Illes Balears) with knee problems, Euskaltel's Haimar Zubeldia and Saeco's Gerrit Glomser
At the base of the Col d'Agnes, drama unfolded with the almost-abandon of Iban Mayo as well as seeing maillot jaune Thomas Voeckler distanced by Postal's infernal tempo. Mayo had been dropped earlier and climbed off when he was 5' behind the group maillot jaune/Armstrong. Mayo's remaining teammates awaited, while the demoralized Basque was convinced to climb back on his bike by ds Julien Gorospe and halfheartedly put his leg back over his steed. Halfway up the Col d'Agnes, Spanish champion Paco Mancebo decided to test his legs and attacked the peloton. Levi Leipheimer testified as to the absolute vice-like control the USPS team had on Stage 13 at that point. "On the climb of the Agnes, it was unbelievable...I counted 22 riders in the group, with seven US Postal guys in front. I've never seen anything like that."
Up ahead of the Postal onslaught, Rasmussen and Voigt had dumped Chavanel on the steep slopes of d'Agnes and were 0'50 ahead of Chavanel, while chaser Mancebo and the US Postal led peloton were 4'30 in arrears. Lance's blue train was keeping the break close and they went over the summit 2'00 ahead of Chavanel and 3'40 ahead of the 30 strong chasers. Voeckler was hanging tough at 0'20 and once over the summit, managed to chase back on after the Port de Lers on the descent to the Ariege valley below.
Richard Virenque (Quick.Step-Davitamon)
Photo ©: Roberto Bettini

With 35km to go on the descent of the Port de Lers, suddenly Armstrong had a rear flat and after a quick wheel change, he chased back with teammate Ekimov. Up front, the gap between the break and the peloton began to increase as Postal slowed the tempo considerably. Rasmussen and Voigt looked like they had the chance they needed as Postal had to momentarily release their stranglehold on the race, but as soon as the five-time Tour winner came back after a short chase, the Blue Train opened the throttle once again as the gap dropped under 4'00.
At the sprint in Ornolac with 23km to go, Voigt and Rasmussen were hanging on with 3'15 on the chasers, as the USPS-Berry Floor Blue Train steamed along the Ariege River Valley with Floyd Landis at the throttle. As the lead duo careened through Les Cabannes to the sharp right at the base of the ascent, the gap was under 3'00 and falling fast. Chechu Rubiera and Jose Azevedo hit the front, the tempo rose and in a matter of a thousand meters, riders started coming off the back, including maillot jaune Voeckler and Jan Ullrich.
Armstrong leads Basso
Photo ©: Roberto Bettini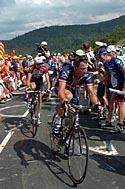 Azevedo dropped off with 7km to go and as yesterday up the Tourmalet, it was Basso and Lance shoulder to shoulder up Plateau de Beille until the final kilometres when thousands of drunk, badly behaved Basque fans forced the front runners into single file until 2km to go. Armstrong explained, "With 2k to go, the barriers started and we had just come through a group of Basque people that were very loud and very aggressive...so we both remarked that it was unbelievable that we made it through there. Last year (crash at Luz Ardiden) crossed my mind...I tried to stay as much in the middle of the road as I can. But when they're waving flags, it's tough since they can catch the handlebar and you can go down. Another problem was that the cars and the motos were in the way so we weren't able to ride as fast as we could. They were blocking the way, but it's probably better to have them there as sort of a buffer anyway."
With 100m to go, Lance launched his sprint and took the win over the Italian rider today. "That was an all-out sprint...that was all the sprint I had in my legs but it worked," explained the American.
After yet another audacious break today, Rabobank's Rasmussen was finally caught with 10km to go on the final ascent of the Plateau de Beille. Although he lost seven minutes by the finish to arrive 22nd, the Dane explained that "Yes, I didn't succeed today, but at least I tried. I'm not disappointed; I can't be after my ride today. I'm always willing to take a risk. If you want to win, you have to be ready to lose." An undaunted Rasmussen promised more attacks in Alpine stages to come at this year's Tour.
Stage 14 - July 18: Carcassone-Nimes, 192.5km
The Pyrenees are over and with Monday a rest day, Stage 14 is a dead flat transitional stage for sprinters from the fortified city of Carcassonne to Nimes, site of an ancient Roman amphitheatre. Sunday will likely see maillot vert Robbie McEwen and his foes battle it out in final on the last stage left for the fast men before Paris. With a prevailing tailwind from the west along the Mediterranean Sea, Stage 14 is likely to be run at a superfast pace.
Photography
Images by Jon Devich/www.epicimages.us
Images by Chris Henry/Cyclingnews.com
Images by Roberto Bettini
Images by Fotoreporter Sirotti
Images by Roberto Bettini
Images by Caroline Yang/Caroline Yang Photography
Results
1 Lance Armstrong (USA) US Postal p/b Berry Floor                  6.04.38 (33.81 km/h)
2 Ivan Basso (Ita) Team CSC                                               
3 Georg Totschnig (Aut) Gerolsteiner                                  1.05
4 Andreas Klöden (Ger) T-Mobile Team                                  1.27
5 Francisco Mancebo Pérez (Spa) Illes Balears - Banesto                   
6 Jan Ullrich (Ger) T-Mobile Team                                     2.42
7 Jose Azevedo (Por) US Postal p/b Berry Floor                        2.50
8 Christophe Moreau (Fra) Crédit Agricole                             2.51
9 Pietro Caucchioli (Ita) Alessio-Bianchi                                 
10 Gilberto Simoni (Ita) Saeco                                        3.43
11 Oscar Pereiro (Spa) Phonak Hearing Systems                         4.29
12 Stéphane Goubert (Fra) AG2R Prévoyance                                 
13 Thomas Voeckler (Fra) Brioches La Boulangère                       4.42
14 Axel Merckx (Bel) Lotto-Domo                                       5.56
15 Vladimir Karpets (Rus) Illes Balears - Banesto                     6.06
16 Carlos Sastre (Spa) Team CSC                                       6.34
17 Sylvain Chavanel (Fra) Brioches La Boulangère                          
18 Oscar Sevilla (Spa) Phonak Hearing Systems                         6.39
19 Levi Leipheimer (USA) Rabobank                                         
20 David Moncoutié (Fra) Cofidis - Le Crédit Par Téléphone                
21 Sandy Casar (Fra) Fdjeux.com                                       7.21
22 Michael Rasmussen (Den) Rabobank                                   7.33
23 Jérôme Pineau (Fra) Brioches La Boulangère                         7.44
24 Laurent Brochard (Fra) AG2R Prévoyance                             8.21
25 Thierry Marichal (Bel) Lotto-Domo                                      
26 Rik Verbrugghe (Bel) Lotto-Domo                                        
27 Michael Rogers (Aus) Quick Step-Davitamon                              
28 Iker Camaño (Spa) Euskaltel - Euskadi                              8.49
29 Giuseppe Guerini (Ita) T-Mobile Team                                   
30 Michele Scarponi (Ita) Domina Vacanze                              9.39
31 Jose Luis Rubiera (Spa) US Postal p/b Berry Floor                  9.41
32 Juan Miguel Mercado (Spa) Quick Step-Davitamon                     9.52
33 Richard Virenque (Fra) Quick Step-Davitamon                       11.28
34 Alexandre Botcharov (Rus) Crédit Agricole                         12.30
35 Patrice Halgand (Fra) Crédit Agricole                                  
36 Jens Voigt (Ger) Team CSC                                         12.52
37 José Enrique Gutierrez (Spa) Phonak Hearing Systems               18.08
38 Floyd Landis (USA) US Postal p/b Berry Floor                      18.46
39 George Hincapie (USA) US Postal p/b Berry Floor                        
40 Egoi Martínez (Spa) Euskaltel - Euskadi                           19.29
41 Iker Flores (Spa) Euskaltel - Euskadi                                  
42 Mikel Astarloza Chaurreau (Spa) AG2R Prévoyance                   20.17
43 Jean-Cyril Robin (Fra) Fdjeux.com                                 20.33
44 Jörg Ludewig (Ger) Saeco                                               
45 Manuel Beltran (Spa) US Postal p/b Berry Floor                         
46 Pierrick Fedrigo (Fra) Crédit Agricole                            20.39
47 Claus Michael Møller (Den) Alessio-Bianchi                        21.18
48 Aitor Osa Eizaguirre (Spa) Illes Balears - Banesto                21.35
49 Roberto Heras Hernandez (Spa) Liberty Seguros                          
50 José I.Gutierrez Palacios (Spa) Illes Balears - Banesto                
51 Michael Boogerd (Ned) Rabobank                                    22.14
52 Daniele Nardello (Ita) T-Mobile Team                              23.54
53 Grischa Niermann (Ger) Rabobank                                        
54 Evgueni Petrov (Rus) Saeco                                             
55 Kim Kirchen (Lux) Fassa Bortolo                                        
56 Santiago Perez (Spa) Phonak Hearing Systems                            
57 Nicolas Jalabert (Fra) Phonak Hearing Systems                     24.03
58 Benjamin Noval (Spa) US Postal p/b Berry Floor                    24.09
59 Santos Gonzalez (Spa) Phonak Hearing Systems                      24.23
60 Nicolas Portal (Fra) AG2R Prévoyance                              25.09
61 Paolo Bettini (Ita) Quick Step-Davitamon                          26.58
62 Andrea Peron (Ita) Team CSC                                            
63 Pavel Padrnos (Cze) US Postal p/b Berry Floor                          
64 Viatcheslav Ekimov (Rus) US Postal p/b Berry Floor                     
65 Christian Vandevelde (USA) Liberty Seguros                             
66 Michele Bartoli (Ita) Team CSC                                         
67 Erik Zabel (Ger) T-Mobile Team                                    31.14
68 Ronny Scholz (Ger) Gerolsteiner                                        
69 Benoît Salmon (Fra) Crédit Agricole                                    
70 Yuriy Krivtsov (Ukr) AG2R Prévoyance                                   
71 Laurent Dufaux (Swi) Quick Step-Davitamon                              
72 Nicki Sørensen (Den) Team CSC                                          
73 Marcos Serrano Rodriguez (Spa) Liberty Seguros                         
74 Santiago Botero (Col) T-Mobile Team                                    
75 Allan Davis (Aus) Liberty Seguros                                      
76 Juan Antonio Flecha Giannoni (Spa) Fassa Bortolo                       
77 Massimo Giunti (Ita) Domina Vacanze                                    
78 Mark Scanlon (Irl) AG2R Prévoyance                                     
79 Ludovic Martin (Fra) R.A.G.T. Semences - MG Rover                      
80 Bert Grabsch (Ger) Phonak Hearing Systems                              
81 Daniel Becke (Ger) Illes Balears - Banesto                             
82 Koos Moerenhout (Ned) Lotto-Domo                                       
83 Bram de Groot (Ned) Rabobank                                           
84 Christophe Mengin (Fra) Fdjeux.com                                     
85 Sergei Ivanov (Rus) T-Mobile Team                                      
86 Walter Bénéteau (Fra) Brioches La Boulangère                           
87 Sebastian Lang (Ger) Gerolsteiner                                      
88 Marius Sabaliauskas (Ltu) Saeco                                        
89 Marzio Bruseghin (Ita) Fassa Bortolo                              33.49
90 Aitor Gonzalez Jimenez (Spa) Fassa Bortolo                        33.51
91 Jakob Piil (Den) Team CSC                                         34.20
92 Franck Renier (Fra) Brioches La Boulangère                        37.40
93 Francesco Secchiari (Ita) Domina Vacanze                               
94 Bernhard Eisel (Aut) Fdjeux.com                                        
95 Carlos Dacruz (Fra) Fdjeux.com                                         
96 Scott Sunderland (Aus) Alessio-Bianchi                                 
97 Stuart O'Grady (Aus) Cofidis - Le Crédit Par Téléphone                 
98 Massimiliano Mori (Ita) Domina Vacanze                                 
99 Thor Hushovd (Nor) Crédit Agricole                                     
100 Peter Farazijn (Bel) Cofidis - Le Crédit Par Téléphone                
101 Stefano Zanini (Ita) Quick Step-Davitamon                             
102 Julian Dean (NZl) Crédit Agricole                                     
103 Igor Gonzalez de Galdeano (Spa) Liberty Seguros                       
104 Isidro Nozal Vega (Spa) Liberty Seguros                               
105 Rolf Aldag (Ger) T-Mobile Team                                        
106 Pierre Bourquenoud (Swi) R.A.G.T. Semences - MG Rover                 
107 Salvatore Commesso (Ita) Saeco                                        
108 Karsten Kroon (Ned) Rabobank                                          
109 Fabian Cancellara (Swi) Fassa Bortolo                                 
110 Danilo Hondo (Ger) Gerolsteiner                                       
111 Martin Elmiger (Swi) Phonak Hearing Systems                           
112 Anthony Charteau (Fra) Brioches La Boulangère                         
113 Marc Lotz (Ned) Rabobank                                              
114 Wim Vansevenant (Bel) Lotto-Domo                                      
115 Iban Mayo (Spa) Euskaltel - Euskadi                                   
116 David Etxebarria (Spa) Euskaltel - Euskadi                            
117 Filippo Pozzato (Ita) Fassa Bortolo                                   
118 Unai Etxebarria (Ven) Euskaltel - Euskadi                             
119 Iñigo Landaluze (Spa) Euskaltel - Euskadi                             
120 Matteo Tosatto (Ita) Fassa Bortolo                                    
121 Laurent Lefèvre (Fra) Brioches La Boulangère                          
122 Uwe Peschel (Ger) Gerolsteiner                                        
123 Marc Wauters (Bel) Rabobank                                           
124 Erik Dekker (Ned) Rabobank                                            
125 Alessandro Bertolini (Ita) Alessio-Bianchi                            
126 Xabier Zandio (Spa) Illes Balears - Banesto                           
127 José V. Garcia Acosta (Spa) Illes Balears - Banesto                   
128 Fabio Baldato (Ita) Alessio-Bianchi                                   
129 Frédéric Guesdon (Fra) Fdjeux.com                                42.20
130 Janek Tombak (Est) Cofidis - Le Crédit Par Téléphone                  
131 Andrea Noè (Ita) Alessio-Bianchi                                      
132 Robbie McEwen (Aus) Lotto-Domo                                        
133 Didier Rous (Fra) Brioches La Boulangère                              
134 Jean-Patrick Nazon (Fra) AG2R Prévoyance                              
135 Tom Boonen (Bel) Quick Step-Davitamon                                 
136 Peter Wrolich (Aut) Gerolsteiner                                      
137 Marcus Ljungqvist (Swe) Alessio-Bianchi                               
138 Dariusz Baranowski (Pol) Liberty Seguros                              
139 Jan Hruska (Cze) Liberty Seguros                                      
140 Dmitri Fofonov (Kaz) Cofidis - Le Crédit Par Téléphone                
141 Davide Bramati (Ita) Quick Step-Davitamon                             
142 Guillaume Auger (Fra) R.A.G.T. Semences - MG Rover                    
143 Gilles Bouvard (Fra) R.A.G.T. Semences - MG Rover                     
144 Aart Vierhouten (Ned) Lotto-Domo                                      
145 Christophe Laurent (Fra) R.A.G.T. Semences - MG Rover                 
146 Sylvain Calzati (Fra) R.A.G.T. Semences - MG Rover                    
147 Filippo Simeoni (Ita) Domina Vacanze                                  
148 Kurt-Asle Arvesen (Nor) Team CSC                                      
149 Jimmy Engoulvent (Fra) Cofidis - Le Crédit Par Téléphone              
150 Christophe Edaleine (Fra) Cofidis - Le Crédit Par Téléphone           
151 Paolo Valoti (Ita) Domina Vacanze                                     
152 David Loosli (Swi) Saeco                                              
153 Servais Knaven (Ned) Quick Step-Davitamon                             
154 Christophe Rinero (Fra) R.A.G.T. Semences - MG Rover                  
155 Bobby Julich (USA) Team CSC                                           
156 Baden Cooke (Aus) Fdjeux.com                                          
157 Matthew Wilson (Aus) Fdjeux.com                                       
158 Frédéric Finot (Fra) R.A.G.T. Semences - MG Rover                     
159 Sébastien Joly (Fra) Crédit Agricole                                  
160 Jimmy Casper (Fra) Cofidis - Le Crédit Par Téléphone             47.55
DNF Sergio Marinangeli (Ita) Domina Vacanze                               
DNF Gerrit Glomser (Aut) Saeco                                            
DNF Fabian Wegmann (Ger) Gerolsteiner                                     
DNF Denis Menchov (Rus) Illes Balears - Banesto                           
DNF Haimar Zubeldia (Spa) Euskaltel - Euskadi                             
DNF Tyler Hamilton (USA) Phonak Hearing Systems                           
 
Points
 
1 Lance Armstrong (USA) US Postal p/b Berry Floor                       20 pts
2 Ivan Basso (Ita) Team CSC                                             17
3 Georg Totschnig (Aut) Gerolsteiner                                    15
4 Andreas Klöden (Ger) T-Mobile Team                                    13
5 Francisco Mancebo Pérez (Spa) Illes Balears - Banesto                 12
6 Jan Ullrich (Ger) T-Mobile Team                                       10
7 Jose Azevedo (Por) US Postal p/b Berry Floor                           9
8 Christophe Moreau (Fra) Crédit Agricole                                8
9 Pietro Caucchioli (Ita) Alessio-Bianchi                                7
10 Gilberto Simoni (Ita) Saeco                                           6
11 Oscar Pereiro (Spa) Phonak Hearing Systems                            5
12 Stéphane Goubert (Fra) AG2R Prévoyance                                4
13 Thomas Voeckler (Fra) Brioches La Boulangère                          3
14 Axel Merckx (Bel) Lotto-Domo                                          2
15 Vladimir Karpets (Rus) Illes Balears - Banesto                        1
 
Mountains
 
Col des Ares - Cat. 3, 42.50 km
1 Sylvain Chavanel (Fra) Brioches La Boulangère                          4 pts
2 Jens Voigt (Ger) Team CSC                                              3
3 Michael Rasmussen (Den) Rabobank                                       2
4 Benjamin Noval (Spa) US Postal p/b Berry Floor                         1
 
Col Du Portet d'Aspet - Cat. 2, 64.00 km
1 Sylvain Chavanel (Fra) Brioches La Boulangère                         10 pts
2 Jens Voigt (Ger) Team CSC                                              9
3 Michael Rasmussen (Den) Rabobank                                       8
4 Richard Virenque (Fra) Quick Step-Davitamon                            7
5 David Moncoutié (Fra) Cofidis - Le Crédit Par Téléphone                6
6 Manuel Beltran (Spa) US Postal p/b Berry Floor                         5
 
Col de la Core - Cat. 1, 99.50 km
1 Sylvain Chavanel (Fra) Brioches La Boulangère                         15 pts
2 Michael Rasmussen (Den) Rabobank                                      13
3 Jens Voigt (Ger) Team CSC                                             11
4 Richard Virenque (Fra) Quick Step-Davitamon                            9
5 Christophe Moreau (Fra) Crédit Agricole                                8
6 Francisco Mancebo Pérez (Spa) Illes Balears - Banesto                  7
7 Laurent Dufaux (Swi) Quick Step-Davitamon                              6
8 Manuel Beltran (Spa) US Postal p/b Berry Floor                         5
 
Col de Latrape - Cat. 2, 131.00 km
1 Sylvain Chavanel (Fra) Brioches La Boulangère                         10 pts
2 Michael Rasmussen (Den) Rabobank                                       9
3 Jens Voigt (Ger) Team CSC                                              8
4 Richard Virenque (Fra) Quick Step-Davitamon                            7
5 Paolo Bettini (Ita) Quick Step-Davitamon                               6
6 Christophe Moreau (Fra) Crédit Agricole                                5
 
Col d'Agnes - Cat. 1, 146.00 km
1 Michael Rasmussen (Den) Rabobank                                      15 pts
2 Jens Voigt (Ger) Team CSC                                             13
3 Sylvain Chavanel (Fra) Brioches La Boulangère                         11
4 Richard Virenque (Fra) Quick Step-Davitamon                            9
5 Christophe Moreau (Fra) Crédit Agricole                                8
6 Francisco Mancebo Pérez (Spa) Illes Balears - Banesto                  7
7 Floyd Landis (USA) US Postal p/b Berry Floor                           6
8 George Hincapie (USA) US Postal p/b Berry Floor                        5
 
Port De Lers - Cat. 3, 155.00 km
1 Michael Rasmussen (Den) Rabobank                                       4 pts
2 Jens Voigt (Ger) Team CSC                                              3
3 Sylvain Chavanel (Fra) Brioches La Boulangère                          2
4 Richard Virenque (Fra) Quick Step-Davitamon                            1
 
Plateau-de-Beille - HC, 205.50 km
 
1 Lance Armstrong (USA) US Postal p/b Berry Floor                       40 pts
2 Ivan Basso (Ita) Team CSC                                             36
3 Georg Totschnig (Aut) Gerolsteiner                                    32
4 Andreas Klöden (Ger) T-Mobile Team                                    28
5 Francisco Mancebo Pérez (Spa) Illes Balears - Banesto                 24
6 Jan Ullrich (Ger) T-Mobile Team                                       20
7 Jose Azevedo (Por) US Postal p/b Berry Floor                          16
8 Christophe Moreau (Fra) Crédit Agricole                               14
9 Pietro Caucchioli (Ita) Alessio-Bianchi                               12
10 Gilberto Simoni (Ita) Saeco                                          10
 
Sprints
 
Orgibet, 74.00 km
1 Sylvain Chavanel (Fra) Brioches La Boulangère                          6 pts
2 Michael Rasmussen (Den) Rabobank                                       4
3 Jens Voigt (Ger) Team CSC                                              2
 
Ornolac, 182.50 km
1 Jens Voigt (Ger) Team CSC                                              6 pts
2 Michael Rasmussen (Den) Rabobank                                       4
3 Floyd Landis (USA) US Postal p/b Berry Floor                           2
 
Young rider
 
1 Thomas Voeckler (Fra) Brioches La Boulangère                     6.09.20
2 Vladimir Karpets (Rus) Illes Balears - Banesto                      1.24
3 Sylvain Chavanel (Fra) Brioches La Boulangère                       1.52
4 Sandy Casar (Fra) Fdjeux.com                                        2.39
5 Jérôme Pineau (Fra) Brioches La Boulangère                          3.02
6 Michael Rogers (Aus) Quick Step-Davitamon                           3.39
7 Iker Camaño (Spa) Euskaltel - Euskadi                               4.07
8 Michele Scarponi (Ita) Domina Vacanze                               4.57
9 Mikel Astarloza Chaurreau (Spa) AG2R Prévoyance                    15.35
10 Benjamin Noval (Spa) US Postal p/b Berry Floor                    19.27
11 Nicolas Portal (Fra) AG2R Prévoyance                              20.27
12 Yuriy Krivtsov (Ukr) AG2R Prévoyance                              26.32
13 Allan Davis (Aus) Liberty Seguros                                      
14 Mark Scanlon (Irl) AG2R Prévoyance                                     
15 Sebastian Lang (Ger) Gerolsteiner                                      
16 Bernhard Eisel (Aut) Fdjeux.com                                   32.58
17 Fabian Cancellara (Swi) Fassa Bortolo                                  
18 Anthony Charteau (Fra) Brioches La Boulangère                          
19 Filippo Pozzato (Ita) Fassa Bortolo                                    
20 Tom Boonen (Bel) Quick Step-Davitamon                             37.38
21 Sylvain Calzati (Fra) R.A.G.T. Semences - MG Rover                     
22 Jimmy Engoulvent (Fra) Cofidis - Le Crédit Par Téléphone               
23 Christophe Edaleine (Fra) Cofidis - Le Crédit Par Téléphone            
24 David Loosli (Swi) Saeco                                               
25 Sébastien Joly (Fra) Crédit Agricole                                   
 
Most combative
 
1 Michael Rasmussen (Den) Rabobank                                        
 
Teams
 
1 US Postal presented by Berry Floor                              18.26.25
2 T-Mobile Team                                                       0.27
3 Brioches La Boulangere                                              6.29
4 Team CSC                                                            6.55
5 Lotto-Domo                                                         10.07
6 Credit Agricole                                                    15.20
7 Illes Balears-Banesto Santander                                    16.37
8 Phonak Hearing Systems                                             16.45
9 Quick Step-Davitamon                                               17.10
10 Ag2R Prevoyance                                                   20.36
11 Rabobank                                                          23.55
12 Euskaltel-Euskadi                                                 35.16
13 Saeco                                                             35.39
14 Fdjeux.Com                                                        46.37
15 Alessio-Bianchi                                                   49.18
16 Gerolsteiner                                                      51.02
17 Domina Vacanze                                                  1.06.02
18 Liberty Seguros                                                 1.07.16
19 Cofidis Credit Par Telephone                                    1.09.28
20 Fassa Bortolo                                                   1.16.26
21 R.A.G.T. Semences-MG Rover                                      1.38.43
 
General classification after stage 13
 
1 Thomas Voeckler (Fra) Brioches La Boulangère                    58.00.27
2 Lance Armstrong (USA) US Postal p/b Berry Floor                     0.22
3 Ivan Basso (Ita) Team CSC                                           1.39
4 Andreas Klöden (Ger) T-Mobile Team                                  3.18
5 Francisco Mancebo Pérez (Spa) Illes Balears - Banesto               3.28
6 Georg Totschnig (Aut) Gerolsteiner                                  6.08
7 Jose Azevedo (Por) US Postal p/b Berry Floor                        6.43
8 Jan Ullrich (Ger) T-Mobile Team                                     7.01
9 Pietro Caucchioli (Ita) Alessio-Bianchi                             7.59
10 Sandy Casar (Fra) Fdjeux.com                                       8.29
11 Gilberto Simoni (Ita) Saeco                                        9.50
12 Carlos Sastre (Spa) Team CSC                                      10.03
13 Oscar Pereiro (Spa) Phonak Hearing Systems                        10.13
14 Levi Leipheimer (USA) Rabobank                                    10.47
15 Oscar Sevilla (Spa) Phonak Hearing Systems                        10.54
16 Christophe Moreau (Fra) Crédit Agricole                           11.49
17 Stéphane Goubert (Fra) AG2R Prévoyance                            12.44
18 Michael Rasmussen (Den) Rabobank                                  13.03
19 Richard Virenque (Fra) Quick Step-Davitamon                       13.06
20 Jose Luis Rubiera (Spa) US Postal p/b Berry Floor                 13.57
21 Vladimir Karpets (Rus) Illes Balears - Banesto                    14.05
22 Michele Scarponi (Ita) Domina Vacanze                             14.22
23 Laurent Brochard (Fra) AG2R Prévoyance                            14.29
24 Jérôme Pineau (Fra) Brioches La Boulangère                        14.48
25 Sylvain Chavanel (Fra) Brioches La Boulangère                     15.09
26 Michael Rogers (Aus) Quick Step-Davitamon                         18.08
27 Axel Merckx (Bel) Lotto-Domo                                      20.13
28 Iker Camaño (Spa) Euskaltel - Euskadi                             20.31
29 David Moncoutié (Fra) Cofidis - Le Crédit Par Téléphone           21.52
30 José Enrique Gutierrez (Spa) Phonak Hearing Systems               22.17
31 Patrice Halgand (Fra) Crédit Agricole                             25.19
32 Giuseppe Guerini (Ita) T-Mobile Team                              25.32
33 Santos Gonzalez (Spa) Phonak Hearing Systems                      27.04
34 Roberto Heras Hernandez (Spa) Liberty Seguros                     27.35
35 George Hincapie (USA) US Postal p/b Berry Floor                   30.39
36 Evgueni Petrov (Rus) Saeco                                        31.06
37 Floyd Landis (USA) US Postal p/b Berry Floor                      31.25
38 Juan Miguel Mercado (Spa) Quick Step-Davitamon                    32.35
39 Michele Bartoli (Ita) Team CSC                                    34.36
40 Jens Voigt (Ger) Team CSC                                         36.22
41 Jakob Piil (Den) Team CSC                                         36.31
42 Alexandre Botcharov (Rus) Crédit Agricole                         37.02
43 Egoi Martínez (Spa) Euskaltel - Euskadi                           37.39
44 Aitor Gonzalez Jimenez (Spa) Fassa Bortolo                        39.28
45 Santiago Perez (Spa) Phonak Hearing Systems                       40.58
46 Igor Gonzalez de Galdeano (Spa) Liberty Seguros                   42.40
47 Marius Sabaliauskas (Ltu) Saeco                                   44.31
48 Daniele Nardello (Ita) T-Mobile Team                              44.51
49 Iban Mayo (Spa) Euskaltel - Euskadi                               45.04
50 Jean-Cyril Robin (Fra) Fdjeux.com                                 45.38
51 Aitor Osa Eizaguirre (Spa) Illes Balears - Banesto                46.18
52 Bobby Julich (USA) Team CSC                                       46.49
53 Laurent Dufaux (Swi) Quick Step-Davitamon                         46.52
54 Stuart O'Grady (Aus) Cofidis - Le Crédit Par Téléphone            47.07
55 Rik Verbrugghe (Bel) Lotto-Domo                                   47.50
56 Mikel Astarloza Chaurreau (Spa) AG2R Prévoyance                   49.15
57 José I.Gutierrez Palacios (Spa) Illes Balears - Banesto           51.55
58 Manuel Beltran (Spa) US Postal p/b Berry Floor                    53.44
59 Kim Kirchen (Lux) Fassa Bortolo                                   54.12
60 Isidro Nozal Vega (Spa) Liberty Seguros                           54.53
61 Claus Michael Møller (Den) Alessio-Bianchi                        55.09
62 Iker Flores (Spa) Euskaltel - Euskadi                             55.50
63 Marcos Serrano Rodriguez (Spa) Liberty Seguros                    56.19
64 Marzio Bruseghin (Ita) Fassa Bortolo                              56.32
65 Michael Boogerd (Ned) Rabobank                                    57.18
66 Erik Zabel (Ger) T-Mobile Team                                    58.41
67 Jörg Ludewig (Ger) Saeco                                          59.15
68 Ronny Scholz (Ger) Gerolsteiner                                 1.00.33
69 Benoît Salmon (Fra) Crédit Agricole                             1.04.11
70 Grischa Niermann (Ger) Rabobank                                 1.04.14
71 Christian Vandevelde (USA) Liberty Seguros                      1.05.16
72 Paolo Bettini (Ita) Quick Step-Davitamon                        1.05.57
73 Benjamin Noval (Spa) US Postal p/b Berry Floor                  1.07.15
74 Iñigo Landaluze (Spa) Euskaltel - Euskadi                       1.08.04
75 Sergei Ivanov (Rus) T-Mobile Team                               1.09.14
76 Andrea Noè (Ita) Alessio-Bianchi                                1.12.11
77 Nicki Sørensen (Den) Team CSC                                   1.12.21
78 Sebastian Lang (Ger) Gerolsteiner                               1.12.38
79 Andrea Peron (Ita) Team CSC                                     1.13.00
80 Didier Rous (Fra) Brioches La Boulangère                        1.13.23
81 Santiago Botero (Col) T-Mobile Team                             1.14.13
82 Viatcheslav Ekimov (Rus) US Postal p/b Berry Floor              1.14.19
83 Christophe Mengin (Fra) Fdjeux.com                              1.14.23
84 Laurent Lefèvre (Fra) Brioches La Boulangère                    1.14.44
85 Daniel Becke (Ger) Illes Balears - Banesto                      1.14.48
86 Allan Davis (Aus) Liberty Seguros                               1.15.41
87 Nicolas Portal (Fra) AG2R Prévoyance                            1.15.53
88 Dariusz Baranowski (Pol) Liberty Seguros                        1.16.15
89 David Etxebarria (Spa) Euskaltel - Euskadi                             
90 Juan Antonio Flecha Giannoni (Spa) Fassa Bortolo                1.16.44
91 Pavel Padrnos (Cze) US Postal p/b Berry Floor                   1.18.05
92 Bert Grabsch (Ger) Phonak Hearing Systems                       1.18.25
93 Sylvain Calzati (Fra) R.A.G.T. Semences - MG Rover              1.18.35
94 José V. Garcia Acosta (Spa) Illes Balears - Banesto             1.20.04
95 Peter Farazijn (Bel) Cofidis - Le Crédit Par Téléphone          1.20.22
96 Koos Moerenhout (Ned) Lotto-Domo                                1.20.47
97 Mark Scanlon (Irl) AG2R Prévoyance                              1.20.51
98 Thierry Marichal (Bel) Lotto-Domo                               1.21.37
99 Scott Sunderland (Aus) Alessio-Bianchi                          1.22.20
100 Pierrick Fedrigo (Fra) Crédit Agricole                         1.22.27
101 Nicolas Jalabert (Fra) Phonak Hearing Systems                  1.22.54
102 David Loosli (Swi) Saeco                                       1.24.35
103 Walter Bénéteau (Fra) Brioches La Boulangère                   1.25.03
104 Carlos Dacruz (Fra) Fdjeux.com                                        
105 Paolo Valoti (Ita) Domina Vacanze                              1.25.04
106 Bram de Groot (Ned) Rabobank                                   1.25.59
107 Danilo Hondo (Ger) Gerolsteiner                                1.26.24
108 Marc Lotz (Ned) Rabobank                                              
109 Massimo Giunti (Ita) Domina Vacanze                            1.27.23
110 Filippo Pozzato (Ita) Fassa Bortolo                            1.27.45
111 Fabian Cancellara (Swi) Fassa Bortolo                          1.27.48
112 Dmitri Fofonov (Kaz) Cofidis - Le Crédit Par Téléphone         1.29.01
113 Christophe Rinero (Fra) R.A.G.T. Semences - MG Rover           1.29.17
114 Rolf Aldag (Ger) T-Mobile Team                                 1.29.23
115 Thor Hushovd (Nor) Crédit Agricole                             1.29.27
116 Massimiliano Mori (Ita) Domina Vacanze                         1.29.34
117 Matteo Tosatto (Ita) Fassa Bortolo                             1.29.53
118 Martin Elmiger (Swi) Phonak Hearing Systems                    1.30.07
119 Unai Etxebarria (Ven) Euskaltel - Euskadi                      1.30.26
120 Marc Wauters (Bel) Rabobank                                    1.30.30
121 Tom Boonen (Bel) Quick Step-Davitamon                          1.30.54
122 Salvatore Commesso (Ita) Saeco                                 1.31.38
123 Yuriy Krivtsov (Ukr) AG2R Prévoyance                           1.31.59
124 Robbie McEwen (Aus) Lotto-Domo                                 1.32.14
125 Karsten Kroon (Ned) Rabobank                                   1.32.31
126 Gilles Bouvard (Fra) R.A.G.T. Semences - MG Rover              1.32.44
127 Stefano Zanini (Ita) Quick Step-Davitamon                      1.33.03
128 Julian Dean (NZl) Crédit Agricole                              1.33.17
129 Xabier Zandio (Spa) Illes Balears - Banesto                    1.33.38
130 Aart Vierhouten (Ned) Lotto-Domo                               1.34.03
131 Frédéric Guesdon (Fra) Fdjeux.com                              1.34.07
132 Peter Wrolich (Aut) Gerolsteiner                               1.35.22
133 Filippo Simeoni (Ita) Domina Vacanze                           1.35.57
134 Anthony Charteau (Fra) Brioches La Boulangère                  1.36.19
135 Jimmy Engoulvent (Fra) Cofidis - Le Crédit Par Téléphone       1.37.14
136 Fabio Baldato (Ita) Alessio-Bianchi                            1.38.09
137 Christophe Laurent (Fra) R.A.G.T. Semences - MG Rover          1.39.53
138 Jean-Patrick Nazon (Fra) AG2R Prévoyance                       1.40.03
139 Jan Hruska (Cze) Liberty Seguros                               1.40.08
140 Pierre Bourquenoud (Swi) R.A.G.T. Semences - MG Rover          1.40.24
141 Franck Renier (Fra) Brioches La Boulangère                     1.41.16
142 Janek Tombak (Est) Cofidis - Le Crédit Par Téléphone           1.41.28
143 Alessandro Bertolini (Ita) Alessio-Bianchi                     1.41.57
144 Marcus Ljungqvist (Swe) Alessio-Bianchi                        1.42.00
145 Guillaume Auger (Fra) R.A.G.T. Semences - MG Rover             1.42.51
146 Bernhard Eisel (Aut) Fdjeux.com                                1.43.59
147 Kurt-Asle Arvesen (Nor) Team CSC                               1.44.19
148 Baden Cooke (Aus) Fdjeux.com                                   1.45.13
149 Uwe Peschel (Ger) Gerolsteiner                                 1.45.31
150 Erik Dekker (Ned) Rabobank                                     1.47.52
151 Ludovic Martin (Fra) R.A.G.T. Semences - MG Rover              1.48.55
152 Servais Knaven (Ned) Quick Step-Davitamon                      1.52.12
153 Wim Vansevenant (Bel) Lotto-Domo                               1.54.41
154 Francesco Secchiari (Ita) Domina Vacanze                       1.55.50
155 Christophe Edaleine (Fra) Cofidis - Le Crédit Par Téléphone    1.55.57
156 Davide Bramati (Ita) Quick Step-Davitamon                      1.57.18
157 Matthew Wilson (Aus) Fdjeux.com                                2.02.03
158 Frédéric Finot (Fra) R.A.G.T. Semences - MG Rover              2.11.15
159 Jimmy Casper (Fra) Cofidis - Le Crédit Par Téléphone           2.20.35
160 Sébastien Joly (Fra) Crédit Agricole                           2.25.08
 
Points classification
 
1 Robbie McEwen (Aus) Lotto-Domo                                       210 pts
2 Erik Zabel (Ger) T-Mobile Team                                       201
3 Thor Hushovd (Nor) Crédit Agricole                                   195
4 Stuart O'Grady (Aus) Cofidis - Le Crédit Par Téléphone               186
5 Danilo Hondo (Ger) Gerolsteiner                                      176
6 Tom Boonen (Bel) Quick Step-Davitamon                                128
7 Jean-Patrick Nazon (Fra) AG2R Prévoyance                             116
8 Laurent Brochard (Fra) AG2R Prévoyance                               102
9 Kim Kirchen (Lux) Fassa Bortolo                                       88
10 Francisco Mancebo Pérez (Spa) Illes Balears - Banesto                83
11 Andreas Klöden (Ger) T-Mobile Team                                   77
12 Baden Cooke (Aus) Fdjeux.com                                         77
13 Lance Armstrong (USA) US Postal p/b Berry Floor                      73
14 Jérôme Pineau (Fra) Brioches La Boulangère                           72
15 Michele Scarponi (Ita) Domina Vacanze                                70
16 Allan Davis (Aus) Liberty Seguros                                    65
17 Janek Tombak (Est) Cofidis - Le Crédit Par Téléphone                 62
18 Thomas Voeckler (Fra) Brioches La Boulangère                         58
19 Georg Totschnig (Aut) Gerolsteiner                                   54
20 Jakob Piil (Den) Team CSC                                            52
21 Filippo Pozzato (Ita) Fassa Bortolo                                  50
22 Fabian Cancellara (Swi) Fassa Bortolo                                47
23 Jan Ullrich (Ger) T-Mobile Team                                      41
24 Ivan Basso (Ita) Team CSC                                            40
25 Scott Sunderland (Aus) Alessio-Bianchi                               39
26 Iñigo Landaluze (Spa) Euskaltel - Euskadi                            38
27 David Moncoutié (Fra) Cofidis - Le Crédit Par Téléphone              37
28 Oscar Pereiro (Spa) Phonak Hearing Systems                           37
29 Jens Voigt (Ger) Team CSC                                            35
30 Paolo Bettini (Ita) Quick Step-Davitamon                             33
31 Kurt-Asle Arvesen (Nor) Team CSC                                     32
32 Sandy Casar (Fra) Fdjeux.com                                         30
33 Iker Flores (Spa) Euskaltel - Euskadi                                30
34 Juan Antonio Flecha Giannoni (Spa) Fassa Bortolo                     28
35 Sylvain Calzati (Fra) R.A.G.T. Semences - MG Rover                   28
36 Karsten Kroon (Ned) Rabobank                                         27
37 Egoi Martínez (Spa) Euskaltel - Euskadi                              26
38 Alessandro Bertolini (Ita) Alessio-Bianchi                           26
39 Filippo Simeoni (Ita) Domina Vacanze                                 25
40 Richard Virenque (Fra) Quick Step-Davitamon                          24
41 Jimmy Engoulvent (Fra) Cofidis - Le Crédit Par Téléphone             24
42 Levi Leipheimer (USA) Rabobank                                       24
43 David Etxebarria (Spa) Euskaltel - Euskadi                           22
44 Aart Vierhouten (Ned) Lotto-Domo                                     22
45 Peter Wrolich (Aut) Gerolsteiner                                     22
46 Daniel Becke (Ger) Illes Balears - Banesto                           19
47 Bram de Groot (Ned) Rabobank                                         19
48 Julian Dean (NZl) Crédit Agricole                                    18
49 Matteo Tosatto (Ita) Fassa Bortolo                                   17
50 Massimiliano Mori (Ita) Domina Vacanze                               17
51 Fabio Baldato (Ita) Alessio-Bianchi                                  17
52 Carlos Dacruz (Fra) Fdjeux.com                                       16
53 José Enrique Gutierrez (Spa) Phonak Hearing Systems                  16
54 Massimo Giunti (Ita) Domina Vacanze                                  16
55 Jimmy Casper (Fra) Cofidis - Le Crédit Par Téléphone                 16
56 Axel Merckx (Bel) Lotto-Domo                                         15
57 Thierry Marichal (Bel) Lotto-Domo                                    14
58 Carlos Sastre (Spa) Team CSC                                         14
59 José I.Gutierrez Palacios (Spa) Illes Balears - Banesto              14
60 Sylvain Chavanel (Fra) Brioches La Boulangère                        13
61 Pietro Caucchioli (Ita) Alessio-Bianchi                              13
62 Christophe Moreau (Fra) Crédit Agricole                              13
63 Marcus Ljungqvist (Swe) Alessio-Bianchi                              13
64 Christophe Edaleine (Fra) Cofidis - Le Crédit Par Téléphone          12
65 Michael Rasmussen (Den) Rabobank                                     12
66 Iban Mayo (Spa) Euskaltel - Euskadi                                  12
67 Paolo Valoti (Ita) Domina Vacanze                                    11
68 Gilberto Simoni (Ita) Saeco                                          10
69 Jose Azevedo (Por) US Postal p/b Berry Floor                          9
70 Oscar Sevilla (Spa) Phonak Hearing Systems                            9
71 Michele Bartoli (Ita) Team CSC                                        9
72 Aitor Gonzalez Jimenez (Spa) Fassa Bortolo                            9
73 Mikel Astarloza Chaurreau (Spa) AG2R Prévoyance                       9
74 Yuriy Krivtsov (Ukr) AG2R Prévoyance                                  9
75 Franck Renier (Fra) Brioches La Boulangère                            9
76 Wim Vansevenant (Bel) Lotto-Domo                                      8
77 Christophe Mengin (Fra) Fdjeux.com                                    8
78 Martin Elmiger (Swi) Phonak Hearing Systems                           8
79 Erik Dekker (Ned) Rabobank                                            8
80 Sergei Ivanov (Rus) T-Mobile Team                                     7
81 Salvatore Commesso (Ita) Saeco                                        7
82 Bernhard Eisel (Aut) Fdjeux.com                                       6
83 Santos Gonzalez (Spa) Phonak Hearing Systems                          6
84 Mark Scanlon (Irl) AG2R Prévoyance                                    6
85 Laurent Dufaux (Swi) Quick Step-Davitamon                             5
86 Stéphane Goubert (Fra) AG2R Prévoyance                                4
87 George Hincapie (USA) US Postal p/b Berry Floor                       4
88 Bobby Julich (USA) Team CSC                                           4
89 Ronny Scholz (Ger) Gerolsteiner                                       4
90 Vladimir Karpets (Rus) Illes Balears - Banesto                        2
91 Patrice Halgand (Fra) Crédit Agricole                                 2
92 Roberto Heras Hernandez (Spa) Liberty Seguros                         2
93 Floyd Landis (USA) US Postal p/b Berry Floor                          2
94 Frédéric Finot (Fra) R.A.G.T. Semences - MG Rover                     2
95 Michael Rogers (Aus) Quick Step-Davitamon                             1
96 Koos Moerenhout (Ned) Lotto-Domo                                      1
 
Mountains classification
 
1 Richard Virenque (Fra) Quick Step-Davitamon                          128 pts
2 Christophe Moreau (Fra) Crédit Agricole                               78
3 Francisco Mancebo Pérez (Spa) Illes Balears - Banesto                 77
4 Lance Armstrong (USA) US Postal p/b Berry Floor                       76
5 Michael Rasmussen (Den) Rabobank                                      72
6 Ivan Basso (Ita) Team CSC                                             66
7 Axel Merckx (Bel) Lotto-Domo                                          57
8 Jens Voigt (Ger) Team CSC                                             56
9 Sylvain Chavanel (Fra) Brioches La Boulangère                         53
10 Andreas Klöden (Ger) T-Mobile Team                                   50
11 Paolo Bettini (Ita) Quick Step-Davitamon                             42
12 Georg Totschnig (Aut) Gerolsteiner                                   41
13 Jan Ullrich (Ger) T-Mobile Team                                      27
14 Floyd Landis (USA) US Postal p/b Berry Floor                         24
15 David Moncoutié (Fra) Cofidis - Le Crédit Par Téléphone              22
16 Juan Miguel Mercado (Spa) Quick Step-Davitamon                       18
17 Laurent Dufaux (Swi) Quick Step-Davitamon                            17
18 Jose Azevedo (Por) US Postal p/b Berry Floor                         16
19 Carlos Sastre (Spa) Team CSC                                         16
20 Janek Tombak (Est) Cofidis - Le Crédit Par Téléphone                 14
21 Oscar Pereiro (Spa) Phonak Hearing Systems                           14
22 Egoi Martínez (Spa) Euskaltel - Euskadi                              14
23 Ronny Scholz (Ger) Gerolsteiner                                      12
24 Pietro Caucchioli (Ita) Alessio-Bianchi                              12
25 George Hincapie (USA) US Postal p/b Berry Floor                      12
26 Juan Antonio Flecha Giannoni (Spa) Fassa Bortolo                     11
27 Gilberto Simoni (Ita) Saeco                                          10
28 Michele Scarponi (Ita) Domina Vacanze                                10
29 Thomas Voeckler (Fra) Brioches La Boulangère                         10
30 Manuel Beltran (Spa) US Postal p/b Berry Floor                       10
31 Jakob Piil (Den) Team CSC                                             9
32 Matteo Tosatto (Ita) Fassa Bortolo                                    8
33 Bram de Groot (Ned) Rabobank                                          7
34 Erik Dekker (Ned) Rabobank                                            7
35 Jérôme Pineau (Fra) Brioches La Boulangère                            6
36 Jose Luis Rubiera (Spa) US Postal p/b Berry Floor                     6
37 Walter Bénéteau (Fra) Brioches La Boulangère                          6
38 Christophe Rinero (Fra) R.A.G.T. Semences - MG Rover                  5
39 Thierry Marichal (Bel) Lotto-Domo                                     5
40 Sandy Casar (Fra) Fdjeux.com                                          3
41 Iñigo Landaluze (Spa) Euskaltel - Euskadi                             3
42 Franck Renier (Fra) Brioches La Boulangère                            3
43 Iban Mayo (Spa) Euskaltel - Euskadi                                   2
44 Filippo Simeoni (Ita) Domina Vacanze                                  2
45 Bernhard Eisel (Aut) Fdjeux.com                                       2
46 Michael Rogers (Aus) Quick Step-Davitamon                             1
47 Michele Bartoli (Ita) Team CSC                                        1
48 Igor Gonzalez de Galdeano (Spa) Liberty Seguros                       1
49 Benjamin Noval (Spa) US Postal p/b Berry Floor                        1
50 Christophe Mengin (Fra) Fdjeux.com                                    1
51 Yuriy Krivtsov (Ukr) AG2R Prévoyance                                  1
52 Karsten Kroon (Ned) Rabobank                                          1
53 Jimmy Casper (Fra) Cofidis - Le Crédit Par Téléphone                  1
 
Young rider classification
 
1 Thomas Voeckler (Fra) Brioches La Boulangère                    58.00.27
2 Sandy Casar (Fra) Fdjeux.com                                        8.29
3 Vladimir Karpets (Rus) Illes Balears - Banesto                     14.05
4 Michele Scarponi (Ita) Domina Vacanze                              14.22
5 Jérôme Pineau (Fra) Brioches La Boulangère                         14.48
6 Sylvain Chavanel (Fra) Brioches La Boulangère                      15.09
7 Michael Rogers (Aus) Quick Step-Davitamon                          18.08
8 Iker Camaño (Spa) Euskaltel - Euskadi                              20.31
9 Mikel Astarloza Chaurreau (Spa) AG2R Prévoyance                    49.15
10 Benjamin Noval (Spa) US Postal p/b Berry Floor                  1.07.15
11 Sebastian Lang (Ger) Gerolsteiner                               1.12.38
12 Allan Davis (Aus) Liberty Seguros                               1.15.41
13 Nicolas Portal (Fra) AG2R Prévoyance                            1.15.53
14 Sylvain Calzati (Fra) R.A.G.T. Semences - MG Rover              1.18.35
15 Mark Scanlon (Irl) AG2R Prévoyance                              1.20.51
16 David Loosli (Swi) Saeco                                        1.24.35
17 Filippo Pozzato (Ita) Fassa Bortolo                             1.27.45
18 Fabian Cancellara (Swi) Fassa Bortolo                           1.27.48
19 Tom Boonen (Bel) Quick Step-Davitamon                           1.30.54
20 Yuriy Krivtsov (Ukr) AG2R Prévoyance                            1.31.59
21 Anthony Charteau (Fra) Brioches La Boulangère                   1.36.19
22 Jimmy Engoulvent (Fra) Cofidis - Le Crédit Par Téléphone        1.37.14
23 Bernhard Eisel (Aut) Fdjeux.com                                 1.43.59
24 Christophe Edaleine (Fra) Cofidis - Le Crédit Par Téléphone     1.55.57
25 Sébastien Joly (Fra) Crédit Agricole                            2.25.08
 
Teams classification
 
1 Team CSC                                                       171.52.16
2 US Postal presented by Berry Floor                                  5.52
3 T-Mobile Team                                                       8.07
4 Brioches La Boulangere                                             11.53
5 Illes Balears-Banesto Santander                                    23.08
6 Phonak Hearing Systems                                             23.20
7 Quick Step-Davitamon                                               25.57
8 Credit Agricole                                                    48.42
9 Euskaltel-Euskadi                                                  55.53
10 Saeco                                                             56.36
11 Ag2R Prevoyance                                                   58.14
12 Rabobank                                                        1.00.08
13 Liberty Seguros                                                 1.20.37
14 Alessio-Bianchi                                                 1.28.27
15 Lotto-Domo                                                      1.31.45
16 Gerolsteiner                                                    1.45.57
17 Fdjeux.Com                                                      1.46.52
18 Domina Vacanze                                                  1.57.08
19 Cofidis Credit Par Telephone                                    2.03.58
20 Fassa Bortolo                                                   2.04.43
21 R.A.G.T. Semences-MG Rover                                      3.45.05