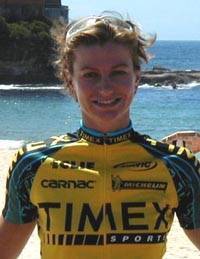 Tracey Gaudry
The Tracey Gaudry Diary 2000
The Local East Coast Australian Time is
Tracey Gaudry has been competing full time as a cyclist since 1995, although she first got the racing bug in 1992. Three years prior to this at age 20, Gaudry was diagnosed with Acute Lymphatic Leukemia. Overcoming this was, and will probably remain, her greatest life challenge. However, she did pull through and commenced an academic career as a lecturer.
The racing took over in 1995 after she had recorded some outstanding results on the Australian domestic circuit. She won two national titles, placed in the top five of the women's Tour de France and gained selection for the Australian Olympic team. In Atlanta in 1996, a crash destroyed any hopes of a medal in the road race and she spent some time out of competition before renewing her focus in 1998. In that year, she raced with the Australian team, and garnered a seventh place in the Commonwealth Games road race in Kuala Lumpur, Malaysia (won by Canada's Lyne Bessette).
This was just the prelude to a stellar 1999 season where, riding for the Ebly Team, she won the women's Tour de Snowy, the Montreal World Cup event, placed third in the New Zealand and French rounds of the World Cup for an eventual third overall in the series, and captured another Australian title (road race).
In 2000 she changed teams to ride for the US Timex team, and she has continued to build on her impressive palmares. This includes winning the Australian time trial championship, placing second overall in the women's Tour de Snowy and the Fitchburg Longsjo Classic (one stage win), 6th in the Montreal World Cup, winning the Cooma stage race, and several other top 10 placings in major national or international events.
She also has an extremely fluent and readable writing style, as you will see from reading these pages.
Thanks to the Timex website for the above information.