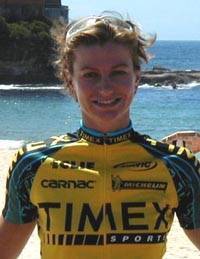 Tracey Gaudry
The Tracey Gaudry Diary 2000
The Local East Coast Australian Time is
BMC Criterium & Tour of Williamette & more
---
BMC Criterium Series, Round 1
Austin, Texas, USA, April 8, 2000
My initiation into the U.S. cycling calendar with Timex couldn't have been more Yankee Doodle Dandee if they tried! Texas, the state of big hats, big boots, big cars and very big steaks epitomised the America as viewed by the rest of the world.
Arriving only the evening before I had already lost two valuable pieces of luggage, and hoped that my bad run of three had taken the form of a brash air hostess, and that now only good times in America were ahead of me. The crowd downtown was great and we set off at a furious pace on the kilometre long straight-forward 3-block course. This criterium series is very lucrative (as far as women's cycling goes, and all the sprinters were present to stamp their ground before the hilly tour-racing starts next week. It was aggressive right from the gun and surprisingly I felt strong despite the 24 hours of air travel and time-zone jetlag. The roads felt really slick and as our team had already suffered an unfortunate training mishap, I held the bike slightly more upright around the corners for a while. As attacks went left right and centre Odessa slid and crashed for no real reason on a corner, and Erin went only a lap or so later! Crikey, two riders out already!
I was pretty active and formed or went with several breaks. It was apparent though that Saturn didn't want to work the break even though they were often the aggressors. Autotrader.com and Charles Schwab were also really active. I sprinted for a number of primes and came up trumps a few times. Erin rejoined the race and I readied to set her up for the sprint. Sanna and Kim were still around too. It was going to be a bunch kick. With two laps to go I went to the front and slotted into the trains of Saturn and Elita.
Where was Erin? One lap to go and I was fifth wheel, still looking behind for her. It was completely strung out. Then Petra came up fast and I jumped onto her wheel, only to have her back off into the second last corner as the Saturn and Elita train continued on to a victory for Nicole Reinhart (Saturn), followed by Karen Dunne (Elita). I was disappointed to finish 5th, especially when I heard that Erin had been pulled from the race with two laps to go after she had ridden a lap before taking a lap out due to her crash. Time now to try to catch up on sleep and get organised for the Tour of Williamette.
Tour of Williamette
Eugene Oregon, USA, April 11, 2000
I felt like a 'trackie' just for a day: a late start for a one kilometre race! So, just to feel a bit more 'roadie-ish' I went for an hour ride in the mornig with Giana, our Timex manager. An hour and a half later, we weren't yet half way around our mapped out route - crikey, not quite the warm-up that was planned! So we did an about-turn and semi-time-trialled all the way back! The weather and countryside in this land of redwood forests was absolutely breathtaking, making the extended time in the saddle a real pleasure that we wouldn't have the time to soak in once the tour got underway.
Prologue: 1km uphill Prologue Time Trial
Riding up the climb during warm-up was a real chore, the body wasn't waking up on call. Still, I prepared to 'hurt' for around two minutes, and set out up the first stage of the climb in my small chain ring. Sounds and looks very amateurish to be spinning such a little gear (39/16), but the plan worked. As the gradient increased gradually, the spinning slowed to a grind and by half way I already felt like I was going to blow up. I took heart when I could see Elizabeth Emery ahead of me, knowing that I was gaining time on a good time trialler, and stayed in the saddle, maintaining a steady cadence. The last 300m steepened suddenly and this was the 'grovel' section, out of the saddle all the way reefing on the bars, powering the pins straight up and down on the pedals. I was exhausted - it wasn't a scorcher of a ride, but pretty much in control. I had no idea how my time would rate against the many other gun time triallers and climbers, so I was pretty stoked to find I had won by a few seconds from Lyne Bessette (Saturn), with fellow teammate Mari in third. A solid start to our latest campaign.
Wednesday, April 12, 2000
Stage 1: Greenhill Road Race, 66 miles
The profile map for today looked scary, but I was assured that this was the easiest road stage in the tour! I didn't know whether I wanted to hear that or not. Within the first few miles, Petra attacked at a sizzling pace down the side of the road, opening up a handy break within a few miles. With only one lane of the road available to use, riders found it difficult to launch counter-attacks. We weren't getting time checks and before we knew it, Petra had four minutes on the field. Nobody was racing, and because I was in the leader's jersey it was up to us to bring the race back under control. Erin, Odessa and Kim rode tempo on the front and had brought back two minutes within five miles. Mari finished it off up the first QOM and still managed to win the sprint at the top. I was having a very ordinary day, and tried to conserve for the onslaught I knew was on its way.
With twenty miles to go and no major climbs, the attacks were going left, right and centre, mostly from Saturn who were trying to soften up the field, especially us I presumed. With only Kim, myself and Mari left, we had our work cut out for us. Poor Sanna had been sick all night and was riding conservatively. It was a one-mile uphill finish and much harder than I wanted today. Lyne attacked about one-quarter of the way up and it was totally strung out to the finish, with gaps opening up everywhere. She won by several seconds from a rider I didn't know with Mari in third. I was 6th in the stage. Lyne will wear the leader's jersey tomorrow, with Mari lying 2nd overall. I am 5th overall.
Thursday, April 13, 2000
Stage 2: Smith River Road Race, 52 miles
Overnight, the heavy clouds had burst open and we awoke to a very dismal, rainy, foggy day. In the mountainous forests, the single track country roads were covered in moss and strewn with leaves and branches. As we lined up to start in full wet-weather regalia, the commissaire warned us of a thirty-man pile up in the Pro Men's race that had started only moments ago. Great, just the confidence booster we needed. To make things worse a couple of casualties were riding back toward us, with ripped clothes, gashes and blood everywhere.
We started off downhill and I decided that the going would be much safer at the front and it was. Fortunately there were no major casualties at all in our field. Not a lot happened until after the intermediate sprint, that came up without warning. Mari punctured, was assisted with a wheel change and was back in the bunch in a flash thanks to some great work from Erin, Sanna and Odessa.
Soon after, the race became active and after a series of attacks, the decisive move came with Odessa in the break. It hovered for a while and then went out to around one and a half minutes. There were riders from every major team up there so the whole field sat up. Sanna and Erin kept the bunch going at a reasonable tempo to make sure that the time gap didn't open up too much.
Up in the break, the Autotrader girls were in a good position to take over the lead. Pam Schuster (Autotrader) rode away from the break for a solo win (riding into the leader's jersey at the same time, followed by Andrea (Autotrader). The main bunch sprinted for the fast uphill finish, with no major gaps. A big shuffle in the overall standings has the Top 10 riders all within about one and a half minutes. Mari is 5th overall and I am now 8th.
Friday, April 14, 2000
Stage 3: Kill Hill Road Race, 68 miles
With the pressure on the shoulders of Autotrader and Saturn, we had to think hard about how to use this to our advantage. The course contained two serious climbs in the middle of the race and a hard-ish climb finishing only 4 miles before the end. We are down to five riders now, with Odessa becoming very ill overnight, and Sanna is just recovering from a pretty wicked bug. Conditions were tough, with wind, rain, sun, rain, wind, In these circumstances it takes a great deal of concentration to maintain one's resolve.
Not a lot happened early in the race, and it wasn't until we neared the first QOM that things fired up. Saturn and Timex riders were very active, with Sanna, Erin and Kim attacking and covering attacks. At the 1km to go, I attacked up the climb, surprised that no one came with me. Taking the points I waited for Mari on the descent, but it was too far from the finish to think about staying out there. From then on Saturn really became aggressive, and Kim worked like ten men, being in every break there was, unless it was already instigated by Mari or myself. Obviously we weren't going to be let go. Meanwhile, Lyne Bessette was having a cruisy ride, waiting to do some damage later on.
The final climb came up quickly, and the pace was solid. I was sitting midfield when Lyne attacked fiercely. I watched as she rode away, with Autotrader trying to chase. Lyne was opening up a good gap and Mari took over. I countered up the right hand gutter and drove uphill in the big chain ring until I had grabbed onto her wheel. From then I sat right behind as she continued to drive, mimicking her every move. The bunch was shattered behind. I saw Mari coming up, with one or two others. She got to us and attacked, then I went again and that was it. Lyne and Dede blew up.
I waited for Mari to get back to me just as we neared the crest of the climb and we drove hard all the way down the slippery, winding descent. No time for fear now. Lyne and Dede were chasing frantically. A sharp left hand turn and one and a half miles of 'rollers' and a drag to the finish. I drove until my quads nearly burst to set it up for Mari to launch off me about 500 metres from the line. She made up some good time and I managed to hold off the rest of the field for second and some valuable seconds. Again, the overall standings have been tipped upside down, with Mari and I in first and second place, and only seconds dividing the Top 10. The next two days will be interesting indeed.
Saturday, April 15 2000
Stage 4: Coburg Individual Time Trial, 10 miles
Well this is where my 'direct from the horse's mouth' coverage ends, and I take up the armchair position, literally. Overnight I was flattened by what seems to be the same mysterious stomach virus that has affected half of our team this week! With barely enough energy to get out of bed, I slept mostly on the bathroom floor - it was safer there, nowhere to fall. A pity, because Timex had really worked hard yesterday to put Mari and I in the box seat and the TT is a good event for us.
Mari went out with a vengeance this morning, and completely blitzed the class field, enhancing her lead. Timex are going to have to be careful, with unfortunately reduced numbers and three Saturn riders in second, third and fourth on GC going into the criterium this afternoon and the killer mountain stage tomorrow.
Stage 5: Cotter Criterium, 30 minutes
Another rainy afternoon greeted the women's peloton, but thankfully the roads weren't slick and the corners were banked reasonably well. The Timex girls did a fantastic job of keeping the field together, despite numerous attacks, mostly from Saturn. Then, with five laps to go, Petra attacked and Mari jumped on her wheel. She looked back, expecting to see the field hot on their heels but there was no initial reaction, so she took over when Petra sat up in an opportunistic move.
Despite frantic attempts from Lyne to get across, Mari towed Petra for the final laps and gained even more precious seconds to further cement her place as first rider on GC. Petra of course, won the stage, but Mari also gained 10 bonus seconds as well as the time gap.
Sunday, April 16
Stage 6: Brownsville Road Race, 80 miles
Today was the total killer of stages, rivalling the most difficult of mountain stages in the big European tours. With two major mountain passes, it was going to be a very long day, especially with the unrelenting inclement weather. Timex rode tempo on the front while Heather Cole (Procter & Gamble) attacked, then a few others, then Anna Wilson (Saturn).
All of this was in vain, and the bunch was together at the base of the climb. Odessa and I dragged ourselves out of our sick beds to cheer on our teammates, and saw a largish group of a dozen or so ride the crest of the first QOM together. The bunch split up the second QOM with Mari, Lyne and Dede going away. It came back together after Lyne and Dede tried in vain to offload Mari. Then it split again up the hill toward the feedzone, and the three were away, never to be pursued again by the rest of the peloton. It was obvious by then that Mari was not going to be dropped and so the trio set out to get the race over and done with.
With only 5km to go, Lyne crashed unfortunately on a rough side section of road, but professionally motioned the remaining duo not to wait for her. Dede took the stage from Mari as a consolation. Lyne was third, managing to remount and stay away from the rest of the field.
For Timex, this was a great victory, despite the ravaging bug that struck half our team. With only four riders completing the race, I was proud to watch Mari take out the overall General Classification and Mountain Classifcation with full support from the whole team on and off the bike. We can't wait until we're firing on all six cylinders. Meanwhile I am implementing a slow rebuild, so that my recovery is complete. It's pretty tough when a one hour roll around the block leaves you exhausted!
Tour of Willamette wind down...?
Well, after a few days of letting the body settle from the remnants of the bug I caught, I figured I needed a jolt to kick-start the energy systems again. We visited the local bike shop and got directions for the weekly criterium in the Santa Rosa region. California is pretty big for cycling, so they draw a big field regularly. I arrived late due to getting lost on the way and had already missed the start of the 2nd race (US Men Cat 3 & 4) so I bit the bullet and entered in the final event (US Pro + Cat 1 + Cat 2 = bl---y strong fellas!).
I suffered like crazy for about 10 minutes while the field chased an early break. Then I got in a break of 5 riders, blowing up every time I had to do a turn and scrambling to get back into the slip stream of the guys . That break got caught (phew!) and another guy attacked. In my stupidity I jumped across to him (as if I had recovered enough - NOT!). I think he nearly dropped his bundle when he saw that it was me, assuming that the bunch would be straight up to us. I looked around and only two other guys were coming too. We worked really hard, though I still thought that the bunch would chase us down (only about 8 guys left in the main bunch by then from 50+ starters), but they didn't as they didn't have the numbers- and they mustn't have realised that I was in the break!
Our group was going very strong and I was on the rivet the whole time but managed to do some decent turns. It came down to a sprint and I got second! The average speed was 43-44km/h for 45 minutes. So I guess this means I have no excuses to not get out there to do some serious training again.