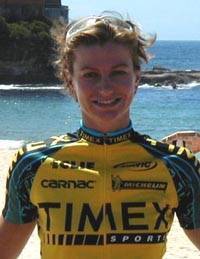 Tracey Gaudry
The Tracey Gaudry Diary 2000
The Local East Coast Australian Time is
Australian Open Road Race, Portarlington, Victoria
January 16, 2000 : 9 x 10.7 km circuits.
Sunday morning, 4.50am: bzzzzzzz bzzzzzzzz bzzzzzzzz.
What's this, my first pre-dawn Sunday morning wake up call in a long while. And what for? The National Road Race of all things! It's January, far too early, we're still working off that Christmas cheer! It's one of the selection events for the Olympic Games team - pressure for everyone. It's in Portarlington, a bit more 'nearly home town' pressure for me. It's threatening to rain - so what, it'll cool things down a little. It's but a week since THAT freak, near-tragic road trauma involving 16 of Australia's better male and female cyclists, but most of us were here to line up for the first 'big' race of the year. My beautiful new Cannondale had been badly damaged, but with some expert frame 'resurrection' from Evolution Bicycles and a heap of replacement parts from De Grandi's, I was thankful to hop onto my beloved bike.
The course was nearly 11km around with a hard drag, followed by a sharp descent turning off-cambre into a short, sharp hill. Other than that it was basically fast and flat with only a few rises near to the finish. Not a difficult circuit, so it would be up to the riders to make a race of it, especially if the wind came up..
By the time we had warmed up on the circuit, the rain had set in for the undignified 8am start. It was going to be a wet, grubby race so out came the clear lenses and black bootees. Nothing much happened on the first lap, but given the conditions it was safer to stay around the front. Sure enough, the crash of colliding bodies and metal on coarse asphalt was heard somewhere back in the peleton as we swept around the rough corner on the descent. Not knowing who had fallen, the only thing to do was to bolt ahead up the climb and then Anna and I were away. Five other riders, including Alison Wright - my sole ACT teammate - joined us as we tempoed for most of a lap, it was early in the race. A chase bunch of nine drove back to us so the race was already down to 16 riders, some from each state/territory. Kathy Watt, Margie Hemsley and Katie had unfortunately fallen off in the crash and were resigned to chasing with the rest of the field.
Things were pretty easy for a few laps and I had planned to start racing hard on the 6th lap, but Anna had other ideas and attacked on the 5th lap. Again we were away over the hill, but I looked around to see Ali, Alanya Burns and Hayley Rutherford chasing. Good, two ACT riders are better than one. We regrouped to five riders. We gained over a minute on the chasing group of Natalie Bates, Sarah Carrigan and Emma James after a lap and then continued to tempo. It was clear that Alanya and Hayley weren't going to take any risks so it was up to myself and Ali to try to soften up the field. When Anna attacked up the climb on the 8th lap, my chain caught and I was in dire straits, having to chase hard over the top. Thankfully no-one realised I was in trouble.
The next lap I attacked up the climb, and Anna was straight on my wheel, followed by the others. The numbers game wasn't working very well. Ali and I launched attacks and counter-attacks but it was clear that we weren't going to go anywhere. While I had the strength and felt good, I lacked some power from the effects of the past week. Now, what to do? Attack early up one of the drags before the finish, or wait for the sprint given Ali's capabilities. We decided to go with the latter, and confirmed our pre-race plan.
Alas, things didn't quite happen according to plan, and the sprint started too late, after Anna had already bolted and before I had even started to wind up on Ali's wheel. Anna raced well in spite of her jet lag and won the sprint convincingly, followed by Alison Wright and me, holding off Alanya and Hayley. Although it was somewhat disappointing not to finish in the fashion that had been envisaged, we were both on the Nationals podium for the second year in a row despite the hell week that had been. It was exhilarating to be back in the racing saddle again.
Time to get home to start training properly now, for the 'real' start of the season, in March.