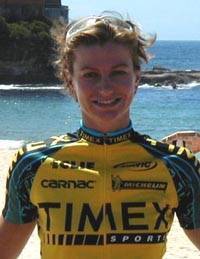 Tracey Gaudry
The Tracey Gaudry Diary 2000
The Local East Coast Australian Time is
---
Tour de Snowy
Australia, March 4-9, 2000
Saturday March 4
Stage 1: Tumut Criterium, 30km
After 3 weeks of searing temperatures, the Tumut locals were as hopeful as we were that things would cool down a little for the start of the Tour de Snowy. But it wasn't to be, and so we literally scorched our way through the short, sharp 30km criterium in 37 degree heat. None of us felt fantastic, but it was only 45 minutes of 'hurt'! The circuit was quite challenging for a criterium, about 1.3km long with rough corners, a narrow winding street in the back-straight and a hard drag up to the last corner.
There were 'sprint primes' every five laps too with financial rewards, so I was in a good position to take out one of these sprints without exerting too much energy. We covered all moves until about halfway through the race, when Mirjam Melchers (NED) broke away solo in a brave move. Liz Tadich (VIS) attempted to bridge the gap but this was shut down by Odessa. Timex were in all the counter attacks that followed, nothing managing to get organised enough to get across to Mirjam, or drag her back. She bravely soldiered on, hanging at between 15 and 30 seconds for the rest of the race, after all teams decided to call it a day with respect to the first stage win. Mirjam won by 14 seconds from a closely contested field sprint.
Our set up wasn't quite ideal in the heat and madness at the end, but Erin and I managed to get the field strung out so that Mari could slot into a reasonable position near the front to contest the sprint as we turned into the final straight. Anna Wilson (Saturn) kicked from the inside of the last corner and led the drag race to the line to take 2nd place overall, followed by Mari, then Alison Wright (AIS). A podium finish on the first stage was quite a pleasing result for Timex, and the 10 second time bonus for Mari won't go astray either.
Sunday, March 5
Stage 2: Tumut - Talbingo, 42.3km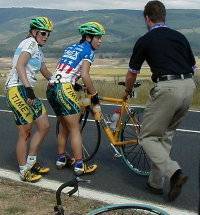 Mari Holden in trouble
Photo: © Cyclingnews
Mari and I recalled last year's one-hour dash which marked the beginning of the Tour. Though our 'opener' was a criterium last night, today was still going to be fast and furious. Thankfully, at 9.30am the temperature was on the pleasant side of hot and so I figured one bidon would quite satisfactorily last the distance. Riders were aggressive in fits and starts throughout the race, but it became apparent early on, that it would take a concerted effort to form a breakaway. I was content to sit in until the QOM sprint at 15km. The bunch was tightly packed, and a crash had already occurred near the rear of the peloton. Sanna was caught up in an accident that occurred when Karen Kurreck was rejoining the bunch after a mechanical problem. Karen was riding full-pelt - head down, bum up - next to her team van and completely wiped out Sanna who was pushed into the mirror of the van. Thankfully she is ok, but lost time on the main field.
Odessa had been setting a great tempo at the front for quite a while and with our two-way radios it was possible to talk to her to give her a rest. (After spending the whole of last season in Europe without any race communication whatsoever between riders and the team director, having this form of contact between team members is a great bonus and will benefit us greatly throughout the year.) The climb was in three stages and it was important to hold back until the final pinch. Geneviève Jeanson (Canada) rode at the front for the last 2 km and attempted to hold the field off for the mountain sprint. I launched from the the straggled field with 200m to go and overhauled Geneviève 50m from the line with Anna hot on my heels. It was good to be in the Mountain jersey for at least a day!
With only 10km to go, Mari needed a bike change, and Kim dropped back to help her. With 3 riders out of the peloton things were a bit tough when the Dutchies launched attack after attack. Feeling very uncomfortable on the bike today, I was hoping I looked in control. Mari rejoined the field with enough time to settle back in before the finish. It was mayhem, we couldn't get the 'train' going and so Mari and I looked for our own way through, she up the inside line, me up the outside. I found Anna on Dede's wheel but got blocked into the last corner. Mari was on the inside of Anna and Dede, and having a harder time bouncing out of the left hairpin uphill corner couldn't quite get over Anna. Anna took the stage, and a 20-second bonus to take possession of the leader's jersey. Mari was third and I was eighth.
Stage 3: Talbingo Time Trial, 8.9km
Time for the 'race of truth'. C'mon legs, do your stuff! Get over this 'nothing there' feeling, it's getting tedious. For the past week, having felt like lead balloons I am hoping that they will come good and day now - any minute now would be better! I was heartened to jump on my brand new Cannondale TT bike, and it fitted pretty well. Our Giro TT helmets didn't pass the safety standards (a plastic shell doesn't help much if you take a tumble) so it was a standard helmet and front wheel. I must say that I was doing better than many other teams who had brought only road bikes with clip-on bars, thinking that the time trial would be like last year's 3km uphill finish. I wish it was like that this year too!
This year we rode out 4.5km to a turn-around at the bottom of the climb at headed back to the start. As the afternoon progressed the wind was picking up gradually making the uphill drag back from the turn around even harder. Being last rider to start, I figured the conditions could easily have gone in my favour, so didn't stress about this much, the key was in the pacing. I went out steadily, being careful not to overdo the slight downhill drag on the way out. I was level with the lead riders' times to date at the turn around. Then I hit the headwind! Ugggh. It was hard, but I had enough strength to push a decent gear, but not enough zip to bump it up towards the end. I lost a couple of seconds per kilometre on Kristy Scrymgeour's time on the 4.5km way back, and finished 2nd overall.
Juanita Feldhahn had a blast of a ride to finish a smidgen behind me in 3rd with Anna Wilson 4th. Mari had a strong ride to finish within the Top 8 riders, so it sets things up for an interesting day tomorrow, with a dozen or so riders all within one minute of each other on the overall general classification.
Monday, March 6
Stage 4: Khancoban - Cabramurra, 110km
Ok, step aside here come the mountain goats, dancing up the mountain like it's a grassy mound in a playpark. Horses for courses, or should I say 'goats'...?
It's taking a huge effort to tap out this diary - three hours after the race has finished and my whole body is still numb. My arms are aching too much to hold my hands over the keyboard. I feel really old right now. I hope you really enjoy this report!
For those that recall last year's Tour de Snowy, today is the day that is remembered with chagrin by all who have ridden this course. 110km with tonnes of drags and hills for 80km, a wicked 8km descent, and, just before the finish, the 9km climb of all climbs that surpasses even the hardest of Tour de France climbs. Hence in my summer preparation to be 'strong' rather than lithe, I had taken myself out of the 'mountain goat' category that I was in this time last year.
Still I felt a bit more spark than I had in previous days as we rolled out onto the road and up the first of many climbs for the day. Knowing that 'opportunist' riders would try to make an early break we had our team ready to go with these attempts. Sure enough, Liz Tadich (VIS) rode off the front of the peloton within 10 minutes of the start. It would be a long day out for her if she was to stay away. Meanwhile a silly crash occurred in the middle of the peloton, causing me to come to a screeching halt to avoid the pile up. Lesson learnt: up to the front I go for the rest of the race.
Our girls sat in for a while, then Sanna attempted to bridge but was hauled in. At 30km Odessa attacked with a Dutchie on her wheel and they bridged across to Liz within 10kms. This was great for us, to have a rider up front so we could set an easy tempo along with the Dutchies on the front. Alas, just before the first hard climb of the day I saw Odessa coming back to the bunch - a puncture of all things! Darn! The rules in this race are such that with a small vehicle convoy, riders suffering a mechanical can be towed back to the back of the convoy, but if you are in a break there is no convoy behind the break so you are left out on your own. It was a shame for Odessa but she had fulfilled her main task for the day. Liz and the Dutch rider were soon reeled in as we progressed up the climb, single file on fast wheel of Geneviève Jeanson (Canada). She was on fire today.
Before the first QOM, the bunch had already dwindled to less than 25, and sure enough Geneviève attacked about 1.5km before the top of the climb. I expected the Aussie mountain goats to jump straight on her wheel and sat behind them, but they didn't and Geneviève quickly gapped the small bunch. I stepped out and counter attacked the bunch, but it was too late. She was already 100m up the road. So the race turned into an Individual Time Trial for two!
With 60km to go, Geneviève fled and I played 'chasey'. The bunch was in smithereens behind us, with Saturn riders continually trying to break away and bridge to us. Mari rode a really smart race and followed wheels of our opponents. Geneviève had 1.5 minutes on me at the top of the descent and I threw my bike into the steep, winding gorge gaining 40 seconds back on her by the bottom. Not enough. There was one more hurdle to overcome in the form of a 9km climb of between 8 and 13 percent grade all the way. Survival mode for me now. I grovelled steadily upwards as Geneviève floated upwards, feeling the crampy side effects of several Clif Shots and bidons of Coke. Geneviève won this epic stage by about 1-1.5 minutes from me. About 6 minutes later, Mari came in 4th, a short way behind Aussie climber Kym Shirley. Today's result was a bonus for me, despite not being able to haul Geneviève in. The race has only just begun!
Tuesday, March 7
Stage 5: Adaminaby to Jindabyne, 84km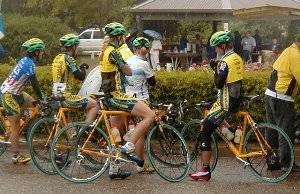 Timex warms up
Photo: © Cyclingnews
Anybody would think we were in Melbourne - the weather did a complete turnabout today! All night galeforce winds blew across Australia's highest township of Cabramurra, as I lay awake wondering what the next day would bring. Rain started falling early in the morning and did not abate all day. So, it was on with the semi-thermals and wet-weather gear for the 5th stage. This was to be my 'rest' day, and so I rugged up to keep my body protected from the elements. I took a glance and a whiff of the morning tea of bacon and eggs being put on for the tour staff, and thought how nice that would taste - after the race is done, of course.
The pace was pretty easy today, which made the peloton even more nervous than usual with riders jostling here and there, not riding in streamlined formation. Choosing to stay up near the front it was pretty obvious that I had a permanent shadow today in the form of young Geneviève, the dual Junior World Champion cyclist from 1999. Several attempts were made at breaking away by various riders, and by 15km a bunch of 7 or 8 had formed a decisive break.
Kim Smith smartly went with them. There weren't any threats to my overall position up front so we were content to let it go, with a Timex rider representing us. After a while, other teams were keen to play the numbers game and eventually Mirjam Melchers (Ned) bridged across, followed by Alison Wright (AIS) and Sanna. This was good for us. Not much else to do, except control the bunch for the day. When the break went out to over 4 minutes, things were starting to look a little shaky for Mari's overall position on GC, and we didn't want many other riders up within striking distance, especially if it meant 3 Saturn riders in the Top 7. All the Timex girls immediately went to the front and we pulled through steadily for the final 10km to bring the break back down to a respectable 2 minutes, without expending any unnecessary energy.
Meanwhile up front, Kim had launched from the break to attempt to ride away for the win, but was overhauled by Mirjam who went on to take out her second stage victory, followed by Suzy Pryde (Saturn) and Jacinta Coleman (NZ), with Kim finishing a very credible fourth to earn her first UCI points for the year.
We cruised in to the finish, with no objective to sprint. Lucky, we were already doing over 65km/hr in the downhill dash, only to be confronted by road barriers just 50m past the finish line! Consolidation day over, I cruised around the parking bay to greet a very enthusiastic bunch of school kids from Snowy Mountains Grammar School.
Wednesday, March 8
Stage 6: Jindabyne to Thredbo, 36km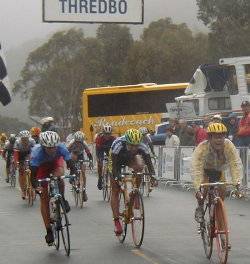 Tracey Gaudry (middle), flanked by Jeanson (l) and Wilson (r)
Photo: © Cyclingnews
Today was the day to do it. Timex orchestrated a plan that might just work, if all our chips fell into place. The weather was still atrocious, so out came the oil to provide our legs with insulation from the elements. The warmest part of the morning was the reception we received from all the local residents and kids from Snowy Mountains Grammar and other schools in the Snowy Mountains Region. If the Aussie Olympic Team gets anywhere near the same level of enthusiasm in Sydney, they will be literally carried to victory on a tidal wave of support!
Geneviève set out at a steady pace from 3km into the race when we turned left up the first steep rise to Thredbo. She was making sure that nobody would out-ride her tempo. Now, Timex is a little different in that we have a very eclectic mix of riders' nationalities, personalities and riding qualities. Our American mountain biker Kim Smith deftly set the pace as we traversed across over a kilometre of muddy, unsealed, potholey roadworks. I certainly had the best wheel for the job!
The QOM was at the renowned climb up to Ivo's farm. It is the 'grovel' climb we scaled up nearly every day when we have our annual training camp in this region. It never gets any easier. Today, I sat glued to Geneviève's wheel as she gradually accelerated, riders dropping off one by one. As we neared the peak I stepped out to jump ahead and she matched every move I made not letting me go anywhere. We were alone over the top and of course I sat up, hoping that some of my Timex teammates were coming back. Eventually a bunch of about 12 regrouped, and then the attacks started. Juanita, then Anna, then Jacinta. Everyone was trying to get away, and it became apparent that nobody was going to be able to go it alone.
I waited to let Geneviève tire from bringing breaks back. She wasn't working hard enough though, and Mari was tired from covering some of the moves though. I only had a few chances. I launched as hard as I could and gapped the bunch easily, but sure enough, Geneviève was instantly on my wheel.. I went again, and again, but there was no going anywhere. The kilometres were running out. The solo break wasn't going to happen. It would have to happen in the finish. With 1km to go. Juanita launched from the bunch, but it was too early. Dede Demet (Saturn) drove the chase for Anna. I couldn't find Mari for the lead out so jumped onto Anna's wheel, the Canadian shadow on mine. Anna jumped, I jumped - no gears left! Geneviève sat on me, and flicked me in the last 5 metres. Anna, Geneviève, Me for the stage. The quickest uphill 35km I think I have ever ridden!
Stage 7: Thredbo Circuit Race, 8*4.4km (35km)
With a mere 1.5 hours between stages, we literally had time to peel our wet, muddy clothes off jump into a steaming shower, don a fresh set of racing clothes, down a Clif Bar and a cup of coffee and we were off again. The circuit was challenging, with a 1km climb with a false flat mid-section a fast downhill on a graded gravel road, a sweeping bend on very slick road and a few roundabouts to the finish.
I was at a loss as to how to outsmart Geneviève, and given the amount of recovery on this course it was likely to be a day for 'unmarked' riders. And that's how it turned out. Juanita attacked on the first lap up the climb, was not pursued, and was never again sighted by the main field. The bunch shattered up the climb every lap and regrouped on the descents, as expected, with nobody driving at the front after the climb. There was no reason to.
Another small group broke away, and then Anna Wilson drove away alone. This was a threat to Mari but she didn't have the legs to go at that moment unfortunately. Geneviève sat at the front on the climbs, and on my wheel the rest of the time. There were no time bonuses left to sprint for, and so we rolled in together at the finish. A minute up the road, Juanita had been reeled in within the last kilometre by a fierce chase group with Anna pouncing on her 3rd stage win for the tour, followed by Karen Kurreck (USA) and Juanita holding on for 3rd after riding like a true trooper, really deserving a win. The outcome of the stage was unfortunately a loss to Mari as she slipped to 5th overall, behind Anna and Kim Shirley.
Thursday, March 9
Stage 8: Thredbo to Cooma, 97km
As a statistician, I figured that there is no use cursing about the dismal weather as the odds were even: 3 days of sunshine, 3 days of crap! Today it was snowing up on the slopes and the fog and drizzle had set in across the whole Snowy Mountains region. So, for the 4th time in 3 days, I thankfully donned every piece of thermal and wet weather gear provided by Timex. Shaking the young Canadian champ was going to be tough but was worth a shot.
Rolling out at 10am, I was glad for my 'sticky' tyres, given the 35-odd kilometres of descending into Jindabyne. The degree of faith a racer must have in the rest of the peloton is huge in these extreme conditions, when flying downhill and around sweeping bends at 75km/hr, and the teeming rain has caused a constant stream of water across the sloping road. My first effort for the day was to try to take Geneviève up the first QOM. No go - she actually gapped me! We went over the top alone, and waited to regroup with the peloton. The QOM jersey was not to be mine for this tour.
I attacked again up the next climb and again we were away, doing a 2-woman drag race. Out of Jindabyne at 40km into the race, the same again. I simply couldn't shake her alone. Had the circumstances been different we would have made an awesome 2-woman break away, but there was no purpose in it for either of us. I changed tack and hid in the peloton half a dozen wheels behind her and when she looked the other way, I launched down the other side of the road for a surprise attack. I gapped her, but her resilience and a bit of help from her Canadian colleagues reeled me back in. I wasn't going to get away alone, and of course no other riders would come with me, knowing that Geneviève and her girls would be immediately on the chase. The bunch shattered every time an attack occurred, and regrouped as riders settled each time our two-up war abated.
With about 30km to go, I went again this time with Alison Wright on my tail. She came through, but Geneviève still wasn't beaten and was suddenly there again. Ok, time for plan B. We settled for a while and then other riders started to become more active. A stage win was up for grabs and everyone wanted it. With 15km to go, a small bunch went away with Kim and Mari - perfect! It was apparent right from the start that Mari and Kim would have to drive it, as the other riders were protecting GC positions for their teammates back in the peloton.
Saturn's Dede Demet instigated a phenomenal chase, wanting to bring the break back for Anna. We kept upsetting the chase, and then AIS girls came to the front, wanting the break to stay away, but keeping it close for their 4th place rider Kym Shirley. The break hovered at a very frail 12-15 seconds until 3km to go when we went up a rise. The bunch slowed and the break moved away, only 4 riders left up there. Mari drove the whole break, and subsequently Sara Carrigan (AIS) attacked on a small rise before the finish to take a solo victory. Mari kept driving and still managed to hold on for 2nd, gaining enough time to move back up to 4th on GC. I was wrapt for her. As the mail field flooded into the finish I cruised in with my little shadow on my wheel, keeping herself well and truly out of trouble.
Stage 9: Cooma Criterium, 30km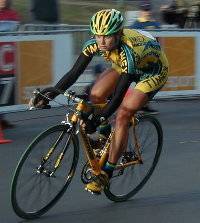 Tracey Gaudry
Photo: © Cyclingnews
Somehow miraculously, the rain abated and the skies cleared in the final moments before the Grand Finale as if to signal that the curse of bad weather had surrendered to the 'never-say-die' attitude of this most persevering bevy of female athletes. The sun greeted us, attempting to take the chill off our frozen bodies. We cruised about the short criterium circuit - only a streetblock around - warming up for the event and pushing the limits of our bikes faster through the corners as the roads dried up. This was to be the last chance to 'give it a go' from all teams, with GC pretty much sorted out. Of course we wanted a stage win too.
The start was easy as riders felt their way around the course and peloton, testing the skills of themselves and their rivals. We were all at the front and as a small group attacked Odessa went with them. Immediately a break had formed with Odessa, Alison Wright (AIS) and two Dutch riders. Would this be it? The break hovered between 15 and 25 seconds for the next 25 laps, with riders from the three teams in the break taking turns to slow the field, while the VIS and Saturn teams alternated attempts to bring the break back. Anna was doing most of the work for Saturn while also, it seemed trying to conserve for the finish in case the break came back. Odessa was sitting on the break, to maximise her chances of a stage win, given that her 3 opponents were all sprinters. A tough call, but a great opportunity for her.
I felt great tonight and floating about the front of the main field with Geneviève spending half of her time on my wheel, and the rest up the front to stay out of trouble. Had the bunch been together I would have attacked with one lap to go, thinking that the field would expect Geneviève to chase and hence I could get away. Instead I sat and waited to seen what would happen. Mari attempted to bridge to the break but gave up quickly knowing that this would only bring the break back. With 7 laps to go, the gap was narrowing by a couple of seconds a lap. It was nerve wracking. 15 seconds, 13 seconds, 10 seconds ... 2 laps to go and we could see them each time we went around the corner.
One lap to go. Karen Kurreck attacked to bring them back. Kristy Scrymgeour and I jumped on her wheel. Half a lap to go. I attacked from 3rd wheel and sprinted around the final corner to see the break nearing the finish line. Crash!!!! Alison Wright had been forced into the guard rail by the Dutch sprinter and slammed into the bitumen, body and bike parts everywhere.
I shifted my line and in a last-ditch effort, sprinted past the other Dutch rider in the 4-person break, just behind Odessa. A most sombre, unfortunate end to a fantastic race, poor Alison (my teammate last year with the ACTAS team) has a suspected broken coccyx, but was awarded the victory after the Dutch rider was disqualified for unsporting sprinting tactics. Odessa was 2nd and I was 3rd, so I was happy to have given it a solid go at the end.
After the completion of 9 stages in 6 days, Geneviève held onto her overall lead from me by 1.5 minutes. Anna Wilson was 3rd, some 5 minutes down, with Mari Holden only 14 seconds behind her. Kym Shirley, the Aussie climbing specialist finished 5th overall to mark her move into the elite ranks. For Timex, it was a most successful first outing as a team, with at least one rider finishing on the podium on all but 2 stages. All of our team was able to participate actively in the race, not only to support the overall standings of Mari and myself, but were given the opportunity to strive for individual results. Satisfied, we hoed into our huge chocolate Easter eggs as a reward from a pretty super guy by the name of Tony Gaudry.
Final Standings:

Overall Classification:

1       Geneviève Jeanson
2       Tracey Gaudry   	1.35
3       Anna Wilson     	6.38
4       Mari Holden     	6.54
5       Kym Shirley		7.27
...
QOM

1       Geneviève Jeanson	38 pts
2       Tracey Gaudry		30
3       Kym Shirley		13

Points

1       Anna Wilson		23 pts
2       Miram Melchers		12
3       Sara Carrigan		 9