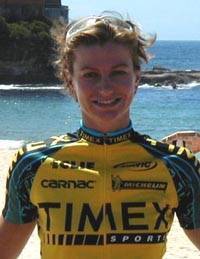 Tracey Gaudry
The Tracey Gaudry Diary 2000
The Local East Coast Australian Time is
---
Time out Down Under - The Timex Way!
Snowy Mountains, March 2, 2000
It's not everyday that a pro-rider gets to host her new team at a training camp literally in her own backyard, yet that's how I started my 2000 season with Timex. The usual travel, luggage, and transportation hassles out of the way, we successfully donned our 'race strip' for the first time as Team Timex, winning the inaugural Canberra to Cooma classic, and headed down to Jindabyne in southern New South Wales, Australia, for the 'getting-to-know-each-other' Timex training camp.
I say we have the most eclectic mix of riders I have come across, yet the group dynamics were most jovial and enthusiastic right from the outset. It certainly helps when you have a super-organised manager in Giana, a very knowledgeable director, Norm, a most accommodating soingeur, Scott, and Matt, the mechanic who makes our already superb Cannondales even more 'trick'. Of course, it won't be roses all the time, but this camp has given us the 'warm and fuzzies' needed to help us get through when times get tough.
Mind you, we had a hectic schedule of meetings and planning to complete during the week, to ensure that all members of Timex are aware of their respective rights, responsibilities and obligations for the duration of their contracts. After all, this is a career move for all of us, and we are taking it seriously. We also enjoyed 'hanging out' with the kids when we were guests at Snowy Mountains Grammar School and Tumut School. The students were extremely interested, surprisingly knowledgeable and fired more questions than we had time to answer! The American drawl of Mari, Kim and Erin mixed with Sanna's Finnish tongue and Odessa's Canadian accent all amused the kids to no end - I hardly needed to say anything at all!
As far as 'training' is concerned, this is pre-Tour de Snowy time, so each riders' preparation is a little different, given their relative strengths and pre-season training regime. Solo, I tackled the 33km Charlottes Pass climb, reminiscing over my win last year on this turf, but not too disappointed that the same stage has been omitted from the 'Tour' this year. As a bunch we trained over several of the 'Tour' stages, Adaminiby to Jindabyne, Jindabyne to Thredbo, Thredbo circuit race. The mountainous countryside charmed my international comrades, seeming to show off every aspect of Australia's natural environment that is so renowned around the world. Crisp, clear mornings, balmy sunny days, natural bushland aromas and all our unique sounds of nature, hypnotic sunsets - I was overcome with the welcome display that the Snowy Mountains region had turned on. The local residents complemented this perfectly. Nothing was too much to ask of the Cooma and 'Jindy' folk, and the girls felt immediately at home in this idyllic community.
A most cherished occasion was shared as we neared the end of the week-long camp. Our director Norm conveyed his commitment to the Timex team by humbly presenting every member with a handcrafted silver bracelet, each adorned with a Timex charm. We spent the rest of the evening stunned with the significance of this gesture. Throughout the season we will wear this bracelet with pride and as a reminder of the unity of Team Timex.