News for January 20, 2002
Edited by Paul Goldsmith
Jacob's Creek Tour Down Under news
Cadel Evans winds up and winds down
Mapei-Quick Step's Cadel Evans became the third Australian to win a stage in the Jacob's Creek Tour Down Under when he crossed the line in Tanunda 16 seconds ahead of Michael Rogers yesterday. Evans was clearly delighted with his win, giving his trademark bent arm MTB World Cup salute. Click here to read more
An interview with Brad Davidson
It's every young rider's ambition; the stuff of which dreams are made. One minute you are racing with your cycling club at home in Australia, then next (or so it seems), you have a lucrative contract with one of the best professional cycling teams in the world. Click here to read more
A team car ride with Team Francaise Des Jeux
"Aqua, s'il vous plait!" Number 61 in the 2002 Jacob's Creek Tour Down Under, Bradley McGee, calls out, raises his arm above his head and casts a pleading look at the Francaise Des Jeux team car, following 50 metres behind the bunch. Click here to read more
Millar with glandular fever

Dave Millar with fiancee Shari
Photo: © Frances Millar

The number one rider in Cofidis, David Millar, has suffered a big setback at the start of the season after he was diagnosed with glandular fever (mononucleosis) two days ago. Millar was blood tested by the French Cycling Federation as part of their compulsory health tests when it was found that he had the virus. He has been ordered to stay off the bike now until he recovers, and that could be several months depending on the severity of the illness.

Cyclingnews.com wishes Millar a speedy recovery and will bring you further updates on his condition. Cyclingnews recently interviewed Millar Click here to read
U.S. Postal Service
Jonathan Devich has been toiling away in the Arizona sunshine to follow Lance Armstrong's US Postal Service team prepare for the 2002 season. Here is just a taste of Jonathan's observations.
By Jonathan Devich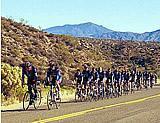 Lance A leads a training ride
Photo: © Paula deHaen

As I spoke with Floyd Landis, a survivor of the Team Mercury episode and one of the new recruits, I could see the confidence that could put him on a podium in one of the three major tours in years to come. Bruyneel has already hinted at the chance for Landis to ride this year's Tour de France in support of Armstrong's efforts. When asked if he feels confident to ride in the Tour Landis said without hesitation, "Yes". "I know that I can do it, it will just depend on how I perform in the spring." For now though, he is very happy to have been signed by the Postal Team. He commented on the opportunities that lie ahead as well as the chance to gain experience by riding for Armstrong and other grand Tour veterans.

For a recent interview with Floyd Landis Click here to read.

The full details of Jonathan's time in the desert will be revealed shortly.
Lehigh Valley Velodrome Signs 2-Year Deal
USA Cycling announced today that the Lehigh Valley Velodrome will host the 2002 and 2003 U.S. National Track Cycling Championships in Trexlertown, Pennsylvania. This is the most important event in United States track cycling and will be held at the conclusion of the 2002 season, from August 27 to August 31.
"This is the first multi-year deal for the National Championships in over a decade", said Pat McDonough, Lehigh Valley Velodrome director. "Over the next two years we will host these Championships at a level that will convince the National Cycling Federation (USA Cycling) to have us to host the Olympic Trials in 2004."
Athletes are expected from all points across the United States for this prestigious event, which will post the largest purse for U.S. track cycling this year. New for 2002 is the Women's Keirin, which will debut at international competition in the 2003 World Championships.
"It's great for the Lehigh Valley athletes and fans to have this event for the next two years," said 2000 Olympic Gold Medallist Marty Nothstein of Trexlertown, Pennsylvania. "This will be a key advantage for me and other local riders who dream of participating in the 2004 Olympics."
2002 U.S. National Track Cycling Championship Schedule of Events
August 27: 9:00 am.
Men and Women Pursuit Qualifications
August 27: 7:00 pm
Women Pursuit Semi and Finals
Men Pursuit Semi and Finals
Women Sprint Qualifications
Men Keirin Final
August 28: 9:00 am.
Women Sprint ¼ Finals
Team Pursuit Qualification
August 28: 7:00 pm
Women Sprint Semi and Finals
Men Kilometer TT Final
Team Pursuit Final
August 29: 9:00 am. .
Men Sprint Qualification
Men Points Race Heats
August 29: 7:00 pm
Men Sprint Rounds
Women 500 meter TT Final
Men Points Race Final
August 30: 9:00 am.
Madison Heats
August 30: 7:00 pm
Madison Final
Women Keirin Final
Men Sprint Semi and Finals
August 31: 9:00 am.
Olympic Sprint Qualification
Tandem Sprint Qualification
August 31: 7:00 pm
Tandem Sprint Semi and Finals
Olympic Sprint Final
Women Points Race Final
Team Jura
Team Jura have finally, finalised their roster for the coming season, with Swiss neo-pro Florian Ludi becoming the ninth member of the team.
Ludi, was 2nd in the elite w/c Swiss classification in 2001 and a stagiaire with team Phonak in 2001
South African warning
Hermanus, South Africa has claims to being the world's best land based whale-watching spot, however, as far as cyclists go, it is every man for themselves.
Cyclists have been warned to be on the lookout after several attacks were reported on the Swartdam road near Zwelihle in Hermanus in the past few weeks.
On Friday an elderly cyclist was attacked by a man armed with a golf club who tried to rob him of his bicycle, police inspector Eben Groenewald said.
On the same day, three youths attacked another two cyclists, but a police patrol was present and arrested one of the youths.
A second youth was later arrested.
Spinal Tap comes to cycling with Team Earth Fare
Showing that cyclists and teams can have a sense of humour, Team Earth Fare will continue to confuse race officials and onlookers with their unusual goals for the coming season.
Allowing to team to continue confounding expectations Earth Fare have announced the renewed sponsorship from Earth Fare Supermarkets of Asheville, North Carolina and Cycle Center of Columbia, South Carolina for the Columbia, South Carolina team.
The team's focus will be primarily on regional events, as well as select NRC events such as Athens Twilight, Shelby, The Tour of Sommerville, The Capital Cup, The Clarendon Cup, The Michelin Classic, and Coconut Grove. Team Earth Fare will also work in conjunction with Earth Fare, Cycle Center and various non-profit organizations to coordinate community events such as fun rides, health screenings, and children's bicycle safety seminars.
The team has added seven new riders to its roster. Among the new signees are: a U.S. Junior National Champion, two new category 1 / 2 riders, 3 women, and two junior men. With the addition of these new riders, the team is very large and is probably now only second in size to Mapei.
"It's great that our renewed sponsorship has allowed us to add additional strong riders, but the increased team size does change things from a management perspective. For example, just the other day when we were having team photos taken, we realized it's really hard to get that many people in one photograph. But, we put our heads together, studied the Mapei website to see how they did it, and eventually got everyone in there. It took some work, though," Ward Bates, co-team manager, said.
The strengthening of the category 1 / 2 team should lead to some strong placings in the 2002 season. Although the team scored several wins on the track, a road win escaped the squad during the 2001 season. However, you cannot fault their punctuality. There were several instances, where Team Earth Fare was the first to arrive at the race venue sometimes even before the officials.
"We were really happy that at a couple of the races we got there first. First is always good. And, when you are several minutes ahead of second place, that's even better. Hopefully, we can improve upon that this year. Personally, I'd like to see us getting there 30 minutes before second place. That may sound like a lofty goal for a second year team, but I think that the team has really matured this year and we can do it," Henry Corley, co-team manager, said.
Team Earth Fare's 2002 schedule will see them racing all over the Southeast, with trips extending as far North as Washington, D.C., and as far West as Mississippi. With eight Category I/II riders, Team Earth Fare expects to bring a major presence to the elite races. And although Team Earth Fare will not be fielding a pro team this season, they do know several pros from other teams and they read about pro cycling events quite frequently on Cyclingnews.com.
"We discussed having a 'sister team arrangement' with a European squad, but we just couldn't find a squad that we felt could live up to our, and our sponsors', standards," said Spencer Lueders, co-team manager. "We know we could hold up our end of the bargain if we go race in Europe, but what are those guys doing to do when they hit U.S. soil, huh? We just couldn't take that risk. We will revisit this objective after the 2002 season, when we expect several of the larger European teams to approach us for partnerships."
Some of the new riders are expected to make an immediate impact. In particular, new team member Brock Helms had an impressive 2001 season, despite the fact that he is attending college full time in Boone, North Carolina. The other members of Team Earth Fare are located in other cities in North and South Carolina, giving them a strong presence in local communities. And, while the team has a decidedly "domestic" feel, several of the riders do have relatives that are from France, Italy and Spain. The team is hopeful that these relations may lead to a 2002 Tour de France invitation. It should be interesting to see how Tour organisers react to this novel entry approach.
In addition to the beefed-up roster and new bikes from Specialized, the team also developed a new look with clothes produced by Verge Apparel.
"We took a look at our clothes from last year and realized that the overall design just didn't look fast enough. So, this year, Donovan-Bates Advertising & Design redesigned the clothes to use some really fast looking colors. More red and yellow is used -- and any rider worth anything knows that those colors are faster than others. Surprisingly though, a lot of teams ignore this and go with really slow colors and ugly clothing. I think it's those small things that will add up and insure strong results for Team Earth Fare this season," Jeff Franz, co-team manager, said.
Now that's a team I could ride for.
Team Earth Fare
New Riders
Category 1 & 2:
Brock Helms 22,
Chris Thomas 30
Women
Lauren Trull 14,
Adrienne Brown 25,
Diana Conn 28,
Junior Men
John Sarullo 14,
Brandon McKeever 14
Returning Riders:
Category 1 & 2
Jeff Franz 29,
Chris Knetsche 35,
James Wilson 23,
Ward Bates 28,
Tyler Ellis 19
Category 3
Jason Clutts 28,
Henry Corley 30,
Robert Hardison 19,
Spencer Leuders 33,
Ken Oglesby 33,
Team Managers
Henry Corley
Ward Bates
For more on Team Earth Fare visit www.TeamEarthFare.com
Recent results and new features on Cyclingnews
---