Latest Cycling News, January 14, 2009
Edited by Bjorn Haake
Baden Cooke: Fresh start with Vacansoleil
Baden Cooke had some question marks about his 2009 team
Photo ©: Roberto Bettini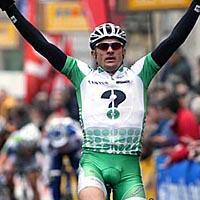 Baden Cooke will be aiming for success on home soil once the Tour Down Under starts on January 18th. He's recently switched to the new Vacansoleil team after a deal with Rock Racing wasn't what it seemed. Cooke spoke exclusively to Cyclingnews' Shane Stokes about this change, his reaction to his 2008 season and his goals for the year ahead.
For a rider who won the green jersey at the age of 24, recent seasons have been a frustrating time for Baden Cooke. Taking a stage victory plus the best sprinter's award in the 2003 Tour de France should have been the start of a successful run in the sport; instead, he's spent several years simply trying to get back to that level.
Injury and team woes account for some of that frustration. He rode the 2008 Tour with Barloworld but crashed out on the twelfth stage of the race. Prior to that, Cooke missed out on the 2006 and 2007 editions; he was with Unibet during those seasons and while the team didn't make the cut in 2006 due to its size - it was a developing Professional Continental team then - it fully expected to be there the following year due to the ProTour license it had obtained. However, a bitter struggle between the UCI and ASO saw the team suffer, with the French organisers appearing to use Unibet as a pawn in those battles and blocking it from its events.
Cooke's team woes have continued more recently. He was enticed away from Barloworld by a large contract with Rock Racing, and was initially happy with the deal. According to Cooke, the American team had told its riders around the time of his signing that it would be taking out a Pro Continental license and riding the major European events in 2009. However, Michael Ball's team then withdrew its application and was set to have a far smaller programme on that continent. Financial problems made the situation even worse and, facing up to a six-month contract rather than the agreed two-year deal, the Australian rider jumped ship.
Read the full interview with the Australian
Armstrong's appearance fee stays undisclosed
By Greg Johnson
Armstrong is confident for his comeback
Photo ©: AFP

The office of South Australian Premier Mike Rann has neither confirmed nor denied reports that Lance Armstrong will be paid one million USD for his appearance at next week's Tour Down Under. Instead Lachlan Parker, from the Premier's media department, said any monies that may have been paid to the seven time Tour de France winner will go to the Livestrong charity.
"All teams that take part are paid a fee to do so," Parker told Cyclingnews . "Any fee which may have been paid to Lance will go to his charity."
Parker was quick to point out that any monies which may or may not have been paid to Armstrong will not be disclosed. "No further information has been divulged," he said.
The comments come after political and business news publication Crikey.com.au reported Armstrong received a $500,000 USD down payment with the balance to be paid following the event.
Armstrong will attend a Cancer Council fundraising dinner at Adelaide Town Hall on Friday evening, before starting the Cancer Council Criterium on Sunday evening, and the Tour Down Under next Tuesday. The Texan announced his return to professional racing last September, with the aim of raising funds and awareness for cancer.
The 37-year-old is himself a survivor of cancer, having been diagnosed with testicular cancer in October, 1996. The cancer had already spread to his lungs, abdomen and brain, prompting the rider to undergo surgery to remove his brain tumour and the affected testicle.
Photography
For a thumbnail gallery of these images, click here
Images by AFP Photo
Milram around the world
Linus Gerdemann escaped the cold of Mallorca and trains in South Africa
Photo ©: Roberto Bettini

Milram riders are currently spread out over three continents to prepare for the season and depending on their locale they face different weather patterns. The faction of the team currently in Australia to prepare for the Tour Down Under is suffering from a heat wave. The riders in Mallorca complain about the cold weather and the rain. For Linus Gerdeman it was too much, so he flew to South Africa, where it is sunny and warm.
Gerdemann left Mallorca last weekend and flew to Cape Town, South Africa, the team confirmed. The 26-year-old was forced to miss training last month due to an intestinal infection, and is not yet in form for the season. He will stay in the sunshine and warm temperatures he found in South Africa to keep working on his preparations.
The hard winter that has swept much of Europe hit Mallorca, too, requiring the riders to test out their new winter clothing. But it didn't stop them from training. Directeur Sportif Christian Henn noted that the team rented a Vespa for day two and three, "and did some intensive training with the Qatar squad plus Gerald Ciolek."
The "very hot" category belongs to the seven riders currently in Adelaide, Australia, where they face temperatures of up to 49 degrees Celsius (120 Fahrenheit). "This must be what it feels like to ride a bike in a sauna," captain Christian Knees said on the team's website, team-milram.com. The good news is that the temperatures are supposed to drop over the next few days.(SW)
Rabobank team etiquette
The entire 2009 Rabobank squad faces severe fines for misbehaving
Photo ©: Bert Geerts

Team Rabobank riders are going to have to toe the line this season or pay the price - and the riders are not happy about it. The Dutch ProTour team published a list of violations and penalties, ranging from warnings to dismissals.
"We are being treated like children and not as top athletes," one rider, who wished to remain anonymous, griped to telegraaf.nl.
Another anonymous rider told sportweek.nl, "We accept that the anti-doping rules are strict. But our concerns now are especially with the other matters, which are simply absurd. I don't think that this is the way for adults to treat each other. It doesn't help the unity within the team at all."
A rider could also be fined 1,000 euro for having taken a training ride without his helmet.
The violations include not wearing a helmet, missing a flight, unauthorized guests in hotel room, speaking to the media without permission or giving detrimental information about the team. It also includes larger problems such as an official UCI warning or testing positive for the use of party drugs, the latter bringing about instant dismissal.
The punishments range from a warning for a first violation on the minor charges, with penalties increased up to four violations. A rider who misses a flight must pay for the flight himself, for example. More missed flights carry penalties of up to 5,000 Euro.
The fines are also based on the rider's income. Those earning more than 350,000 Euro per year face higher penalties.
Sport Director Erik Breukink defended the scheme. "The many new rules in cycling force the riders to carry more responsibility. Some don't see that and that makes problems. The behaviour of an individual has an enormous influence on the image of the team. Some people still need to get used to that idea."(SW)
Final night in Bremen Six is marred by bad crash
Andreas Beikirch crashed heavily and broke his vertebra
Photo ©: Bjorn Haake

The Six Days in Bremen, Germany, ended with a bad crash in the final night and two riders were sent to hospital. It took half an hour for the race jury to decide to continue the race. The crash came one day after German rider Andreas Beikirch fell and broke a vertebra. The event was won by Erik Zabel and Leif Lampater.
With only 11 laps left, a crash sent Olaf Pollack to the hospital with a suspected broken collarbone. He was joined there by Danny Stam, who injured his hip. After a meeting between the race jury and team representatives, the decision was made to continue the race - otherwise, the whole race would have been forfeit.
Franco Marvulli, Pollack's partner, said that the rider favoured continuation of the race. "We owed it to the great public here in Bremen. And besides, the best riders won."
Those best riders were Erik Zabel and his partner Leif Lampater. The two were known in the race as "the flying cows", since they wore the cow-design Milram jersey. It was Zabel's penultimate race before retiring. "I know it sounds corny, but what do they always say? You should stop when things are good - and in Bremen they were always especially good."
There was another serious crash on Monday evening, when German Andreas Beikirch went down. He touched wheels with Bruno Risi and fell on his back. He tried to get back on his bike, but the race doctor sent him to the hospital instead. It turned out that he had broken a vertebra, knocking him out of the race. He was able to leave the hospital the next day, but will not be able to race for five to six weeks.
He and his partner Robert Bartko had been in the lead before the accident. "His health is more important. I hope that Andi is fit again as soon as possible." Bartko was able to continue riding with Alexander Aeschbach, whose partner Tristan Marguet had to drop out with bronchitis.(SW)
De Rooij writes a book
Theo de Rooij, former general director at Team Rabobank, has said that he has written a book which will appear at the end of March, describing his experiences in cycling.
De Rooij left his position with the team in August 2007, after Michael Rasmussen was removed from the Tour de France and released from the team after questions about his whereabouts while preparing for the Tour.
While riding last summer, de Rooij, 51, crashed and broke his hip. "I could do nothing for six weeks. I had said more than once that I wanted to put down on paper everything I had experienced in cycling, and my wife said, this is the time to do it."
However, the Dutchman said there would be no spectacular revelations.(SW)
Landbouwkrediet - Tönissteiner presents team
The team in Anderlecht.
Photo ©: Roberto Bettini

The Belgian team Landbouwkrediet - Tönissteiner presented itself to the public on Tuesday in Anderlecht. The sponsor has extended its commitment for three years, until 2011. The squad has 18 racers, which mostly are Belgians. Four riders are from neighbouring France. The budget of the team is 2.5 million euro.
Manager Gérard Bulens summarised the team's goals very practically. "We want to be a great small team," said Bulens to Sportwereld. To make the team great, they signed Sven Nys during the 2008 season. Nys also already gave the squad a national title in cyclo-cross.
But the squad is mainly focused on the road, with Bert de Waele as the leader. Denis Flahaut, a strong sprinter, has moved over from Saunier Duval and experienced Geert Verheyen is also a captain on the road. Mountain biker Filip Meirhaeghe will also participate in the road races and tackles his last season as a pro.
De Waele has two goals for 2009. "I want to win a race that is shown on TV and I want to make the Worlds selection for Mendrisio."
Despite his 'cross background, Nys will also race on the road, one of the main reasons for his switch from Rabobank, where his options were limited. "I should start the Ronde van België and the Ster Elektrotoer to have an ideal preparation for the Belgian road championships."
The national road title event is on June 28 in Aywaille and one of the main objectives for Bulens. "There I want to see my racers do well. It is an attractive parcours. With riders like Bert De Waele, Sven Nys en Bert Scheirlinckx we have all trumps in the hand."
Bulens wants to top the nine season wins from last year. "But I have no illusions. The candidates for the Classics wins are not with us. We need to be in the breaks and go with the others as long as we can in the final. Our sponsor is a Belgian bank, without presence in other countries, so it is logical we predominantly will do the Belgian races."
The Belgian racers are Frédéric Amorison, Koen Barbé, Dirk Bellemakers, Jonathan Bertrand, Bert De Waele, Sébastien Delfosse, Benjamin Gourgue, Filip Meirhaeghe, Kevin Neirinck, Sven Nys, Kevin Peeters, Rob Peeters,Bert Scheirlinckx and Geert Verheyen. From France there are four, David Boucher, Matthieu Drouilly, Denis Flahaut and Martial Ricci Poggi.
Photography
For a thumbnail gallery of these images, click here
Images by Roberto Bettini/www.bettiniphoto.net
Sport directeurs are Belgians Gino Verhasselt, Claude Vancoille, Jozef De Bilde and Italian Marco Saligari.
Pendleton dominates as thrills and spills abound at Revolution 23
By BikeRadar
As if the star pull of Olympic champion Victoria Pendleton wasn't enough for the sell-out crowd at Manchester Velodrome, there were big crashes and electrifying races to boot at Revolution 23.
The penultimate event of the series kicked off with rugby league stars Denis Betts and Mike Foreshaw leading off the two teams in the Italian Pursuit. With Pendleton, fellow Olympian Ed Clancy and youngsters from the DHL Future Stars programme also involved, Betts' team won in a thrilling race.
The Gloucester coach was clearly in the cycling groove, as earlier on he had taken part in a special celebrity Rollapaluza event. Lining up against Betts in the roller race was former Olympic 400m runner Iwan Thomas. Betts emerged triumphant and recorded the second fastest time of over 170 riders that day, only to be bested by 14-year-old Matt Rotherham.
Thrilling would be one way to describe the DHL Future Stars races, hair-raising would be another. The night began with Ruby Miller's superbly-timed late charge to win the Girls' 1.5km Dash, with Ruby also just losing the 5km Scratch to Harriet Owen. But things would soon get messy.
The Boys' 5km Scratch ended up being the longest ever race of its kind after a five-rider pileup six laps in saw the race stopped and restarted, only for a four-man pileup to halt proceedings again. John Paul held off Richard Forrest and emerged from the carnage to win.
The following 5km Points Race passed without anyone hitting the deck and with Simon Yates taking a fine win. Matt Bailey took a tight win in the Boys' Six-Lap Dash, just pipping South/South West's John Paul into second spot. The Girls' 5km Points Race saw Hannah Manley take a fine victory, but there was another big pileup five laps before the end.
The Elite Men's Devil/Scratch race showed why hybrid events can be so entertaining, with Chris Newton and Tony Gibb tumbling in the Devil section, while Geraint Thomas held off Peter Kennaugh and Andy Tennant for the win, after breaking away at the start of the Scratch section.
Newton would make up for his wipeout in the 10km Points Race however, holding off stiff competition from Kennaugh and Thomas to secure a close win.
It was battle of the Kates in the women's 5km Points Race, with Katie Colclough and Kate Calvert ending the race tied on points, with Colclough taking the win due to higher placings in two of the sprints. Paralympian Sarah Storey was a notable entry in the Elite Women's lineup, breaking away and taking one of the sprints on her way to fifth overall.
It was a good night for Dani King, who edged a victory in the 5km Motor Paced Scratch, and took a second win in the Six-Lap Dash.
Dynamite duo Ed Clancy and Steven Burke had the arena pulsating as they rode a stunning 54.572 to win the Madison 1km Time Trail. At one point it looked as though the pair were going to break the all-time record set by Chris Hoy and Arnaud Tournant, but it was not to be, this time at least.
Clancy was on top again for the 10km Scratch, where a cagey race blew into life with nine laps to go when Tony Gibb turned on the power. Clancy lagged behind the leaders until the last lap when he powered past everyone in a dominant display.
And it's hard to talk about dominance without mentioning Victoria Pendleton. Competing in the Women's Omnium event, she stated her intent early in the 200m Time Trail with a time of 11.258 showing that she was out to impress.
Pendleton comfortably won both of her sprint heats, despite an audacious early move by Jess Varnish in her first round, setting up the final event of the evening, the Keirin. She might have a reputation for merely 'doing enough' to get the win in many races, but tonight she was in no mood to relax, and with one lap to go she hit the burners, shot past three riders ahead of her and kept powering on, leaving the otherwise impressive Helen Scott in her dust. It was a dominant performance for the queen of the sprint.
Enter the new Cyclingnews contest: Win an autographed Team CSC jersey
Team CSC jersey
Photo ©: Cyclingnews

Enter Cyclingnews' contest to win a piece of recent cycling history - a Spring 2008 team-issue Team CSC jersey signed by all eight team members from the squad's 2008 Ronde van Vlaanderen lineup.
Victory eluded the team on this day, but CSC played an important role in the race with Karsten Kroon positioning himself in a threatening five-man break which was caught with only 25 kilometers to go. Kurt-Asle Arvesen and Allan Johansen both finished the Ronde in the top-ten, crossing the line in seventh and tenth respectively.
The contest's winner will be selected at random from all correct answers to a Team CSC trivia question received through next Wednesday, January 14. To find out more about the jersey and its signers and to enter, click here.
(All rights reserved/Copyright Future Publishing (Overseas) Limited 2009)