First Edition Cycling News, January 14, 2009
Edited by Greg Johnson
Lowe impressed by Down Under
By Les Clarke
Trent Lowe
Photo ©: Shane Goss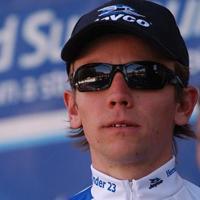 Garmin-Slipstream's Trent Lowe is excited about riding his first Tour Down Under next week. Lowe is one of only several current Australian professionals not to have ridden the nation's premier event.
"I've never done Tour Down Under before, and it wasn't until race director Mike Turtur picked us up from the airport that I realised how big a setup and show it is here, and how much bigger it is this year," said Lowe. "He was saying that was even more so this year because Lance will be here."
Having ridden the Tour de France before his own national tour, Lowe is one of Garmin's talented young options for stage races during 2009 after coming across from Discovery Channel before the 2008 season. "I'm blown away after seeing the setup they've got here. The race village, the hotel and the setup for accreditation," he said. "I haven't done it before so I'm not sure if it's like this every year, but I feel more like I'm at the Australian Open tennis more than a cycling event.
"We have the big tent that's like our base, and it's got everything we need in addition to being air-conditioned... It's like the green room for cycling," he added.
With a predominantly flat parcours for the week-long event, the Tour Down Under may not be suited to Lowe's strengths in the mountains, but he's definitely motivated to continue the Garmin tradition of providing surprises in major races. For Lowe the race itself is a surprise of sorts. "We're going to check out a few of the key stages this week, and I know Whitey's the best guy I can draw on for knowledge of the race," said Lowe of team director and former Tour Down Under stage winner Matt White.
"I also know Julian Dean has raced this event many times, so those guys generally know how it goes and what the terrain is like," he added. "Personally it's as much about tuning up for other races in the year because it's early in the season, but by the end of the week I should have some good rhythm in my legs."
"Our guys are looking really fit, though; Ryder [Hejesdal] looks good, and Julian and CJ [Sutton] look strong for the sprints and have been preparing well in the lead up to the New Zealand and Australian national championships respectively," he continued. "We'll have some options and some cards to play, and Whitey's great at giving us a task each day."
The Tour Down Under gets underway on Sunday evening with the Cancer Council Classic, a criterium pre-cursor to the actual ProTour race which commences on Tuesday.
Horner eyes return to Grand Tours
By Peter Hymas
Chris Horner at the Tour de Georgia in 2008
Photo ©: Mitch Clinton

The evergreen Chris Horner (Astana) is looking forward to his 15th season in the professional peloton with his typical zeal and verve. The 37-year-old kicks off his 2009 campaign at the Tour of California.
"Normally I'm a little bit rusty at California but it comes on shortly after that. I just started training again," Horner told Cyclingnews. "I always take off two to three weeks and start training in early January, so normally I get about five weeks on the bike by the time California starts. The form's always pretty decent there but it's nothing spectacular."
Horner detailed his initial race schedule, including a welcome return to the Grand Tours after a one-year hiatus. "After Tour of California I'll do Paris-Nice, Vuelta al País Vasco, Flèche Wallonne, Amstel Gold, Liège-Bastogne-Liège and the Giro d'Italia," said Horner. "I've got a great program. I could circle the whole year [as a highlight]. Any of those races are great races. As long as the form comes on somewhere I'm happy.
"It's my first time at the Giro," continued Horner. "It's still a bit long out to think about, but I know it's got a long time trial and a really short mountain stage. Those are the only two things that I've kind of picked out while I was reading the route maps."
Horner commented on the issue of age with both he and Lance Armstrong the Astana veterans at 37 years old. "Over in Europe my results have just been getting better and better each year," he noted. "I don't see any reason why Lance should have an issue. He's had some time off the bike but he's had some good training leading up to this season. I'm sure he's done some hard rides because I know he was doing that at training camp."
Armstrong endures the heat
The former Tour de France winner said
Photo ©: AFP

As Lance Armstrong stepped out for a training ride with four vehicle Police escort for the first time on Tuesday, the mercury skyrocketed in Adelaide, South Australia. Armstrong went training with his Astana teammates for the first time since landing in Australia on Sunday while the temperature passed 40 degrees Celsius.
"Got up to 105 (Fahrenheit; 40.6 C) here today. Insanely hot," Armstrong wrote on his social networking page.
Armstrong did manage to escape the conditions later in the day as he stopped by a local hospital. The seven time Tour de France champion will attend a Cancer Council fundraising dinner at Adelaide Town Hall.
"Just stopped by Adelaide Women's and Children's Hospital to see some survivors and staff there," he said. "They all inspire me so much."
The Texan believes he's in good shape for next week's Tour Down Under, but will need to adjust to racing again. The race will be Armstrong's first professional event since 2005 and help him prepare for this year's Giro d'Italia and Tour de France.
"I'm doing all right for an old man," he told the Ten network. "I feel like I've trained hard. The difference will be going from training pace to actually racing.
"No matter how much you train, the body has to adjust to that tempo," he said.
Armstrong finished off his third day in Australia with a tour of the local Penfolds winery. South Australia's Barossa Valley is home to some of Australia's top wineries.
McDonald steps out in green, gold and white
By Greg Johnson
Peter McDonald (Drapac Porsche) is the 2009 Australian Road Race Champion.
Photo ©: CJ Farquharson

Peter McDonald (Drapac Porsche) took his first ride in the Australian National Champion colours on Tuesday, and true to the sport's culture, it was down to the local coffee shop. McDonald was training in his new kit two days after out-sprinting Team Columbia duo Michael Rogers and Adam Hansen to become the 2009 Australian Open Road Champion.
"They gave me the kit so I went out training in the national kit today, which was pretty cool," he said. "It was good going down to the coffee shop."
McDonald is taking the success in his stride. After discovering the sport later in life, the 30-year-old says he's not actively pursuing a ride in Europe for 2010.
"I'm not really thinking down those lines, to tell you the truth, I'm happy with where I am," he said. "I have a business here, so I'm not really looking to move. I'd never say no, but it would have to be a good offer."
McDonald will head to Europe throughout 2009 with Drapac Porsche for a block of racing while based in Belgium. The new champion will then return to racing in the Asia Pacific region for the remainder of 2009.
"We'll head over there for a couple of months, we're trying to get into some races there like the Tour de Wallonie and a few more UCI races which should be cool…and having the jersey won't hurt," said McDonald.
Instead of contesting next week's Tour Down Under as a part of the Uni SA national team, a position that was his for the taking, McDonald will contest New Zealand's Tour of Wellington. It will be the second time in three years Australia's national champion hasn't appeared in the peloton at Tour Down Under. In 2007 the Uni SA team was selected prior to the national championships, including two Drapac Porsche riders Mitch Docker and Rob McLachlan, leaving no spot for their Drapac Porsche teammate and new national champion Darren Lapthorne after he beat the more favoured riders to the title.
McDonald has forgone a spot in the national team in protest that no Australian teams are invited to take part in the ProTour race - despite Continental teams being ineligible for ProTour events under UCI regulations. It's a point that angered Drapac Porsche owner Michael Drapac so much that in 2007 he threatened legal action against the race's organiser.
"The spot was mine for the taking if I wanted it, but the way it works with our team is if you want me to come then you have to bring the whole team, not just me," he said. "The whole team helped me win the race, so there's no way I can accept and the others miss out. They need to bring all of Drapac, which they should have done years ago."
In 2008 the Uni SA slot was awarded to Richie Porte - who had a solid finish in the ProTour event - after Matthew Lloyd won the national championship race. Lloyd was already riding Tour Down Under with his Silence-Lotto, which meant the spot was offered to Porte under revised selection criteria.
Schleck outlines season programme
By Shane Stokes
Andy Schleck (Saxo Bank)
Photo ©: Shane Stokes

Best young rider in the 2008 Tour de France, Andy Schleck, is aiming to ride strongly in this year's race and better his 12th place overall.
The 23-year-old Saxo Bank rider is, along with his teammates, currently logging early-season kilometres in Majorca. Schleck has still a month before starting racing and will use the weeks ahead to increase the intensity of his training.
"I start in Tour of California, then Paris-Nice," he told Cyclingnews. "I will do Milan San Remo, and also Criterium International. Next will be the Tour du Pays Basques, then the main goal in the first part of the season, [namely] Amstel, Fleche and Liège."
Schleck was fourth in Liège-Bastogne-Liège last year, one place behind his elder brother Frank. Returning to the race and fighting it out for the win is a big goal. His biggest regret from 2008 is missing out on a victory in a big event; his results include that fourth place, fifth in the Olympic Games, sixth in the Tour de Suisse and third on the Alpe d'Huez stage of the Tour de France.
As regards his preparations for the July race, he is likely to follow a similar route to last year. "Normally I will do things like I do every year. I am going to take a week off after Liège, not do Romandie, then I think [it will be] the Tour of Luxembourg, the Tour de Suisse and then the Tour de France," he said. "We have a lot of training camps mixed in, too…I will do those main races, and there will be a load of training too."
Along with the other Saxo Bank riders, Schleck is tweaking his position via the Specialized BG Bike Fit system. Monday's analysis resulted in several changes, and team manager Bjarne Riis is hoping that a clear benefit will be seen this season.
These changes will be discussed in detail in an upcoming feature, while a lengthy conversation with Schleck will also appear on Cyclingnews soon.
Wiscovitch wins Rock Racing court case
By Les Clarke
A week after it was reported Michael Ball had offered riders only six-month guarantees on their contracts, another former Rock Racing team member has spoken about his experience with the team's owner.
Jeremiah Wiscovitch, who was part of the Rock Racing squad during the 2007 and '08 seasons, told Cyclingnews he was dismissed on what he calls dubious grounds before being denied a part of his contract. The 25-year-old former BMX rider who turned professional with Team Seasilver in 2004 was sacked according to a performance assessment following last year's Tour of Missouri and told he would not be able to keep his De Rosa King 3 training bike, in contravention of a stipulation in his employment agreement.
"About two or three weeks after I completed Tour of Missouri - the only guys who finished Missouri from our team were me and Mike Creed - I got an email saying they were terminating my contract due to performance standards," said Wiscovitch. This came after having had a meeting earlier in the year to address claims made about Wiscovitch's apparent lack of enthusiasm for the team, which he said were "completely way off base".
"I contacted the company human resources department when they sent me my termination letter, and I asked on what grounds was I being terminated - which part of my contract did I violate? She couldn't answer the question," explained Wiscovitch. "She said, 'The only thing I can think of is performance...' I was riding better than 60 or 70 percent of the team at that time, so I didn't know how that could work. I think it's a loophole where they can say you're not performing to standards and they can cut your pay."
This came despite, "80 per cent of the other guys who did the race being re-signed; it didn't make any sense to me," he said.
"I was a team player from the start - whether it was leading out Rashaan Bahati in a sprint or spending 100km on the front for Oscar Sevilla, that's all I ever was," Wiscovitch added. "They said, 'If you do your job as we ask, you'll always have a place with us...' I guess I fell into that and believed him."
Wiscovitch outlined the fact that keeping his training bike was used as an incentive in his contract, although when team management failed to adhere to this clause, Wiscovitch was forced to take legal action. He attended court on January 5 to rectify the situation in relation to the bike, valued at over $8000, and was successful in being paid the amount the machinery was worth, less depreciation.
Ball spoke to Cyclingnews exclusively yesterday to address the rumours surrounding the team and its future. Click here to see the full interview.
(All rights reserved/Copyright Future Publishing (Overseas) Limited 2009)