Latest Cycling News, January 13, 2009
Edited by Bjorn Haake
Ball still in play
Michael Ball runs the Rock Racing team.
Photo ©: Roberto Bettini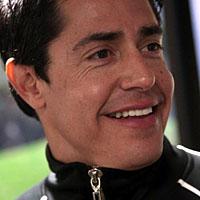 Since December rumours about the Rock Racing team have been plentiful – with riders coming and going, the team retracting its Pro Continental UCI license and talk of the team for sale, folding or merely downsizing. Cyclingnews recently interviewed Aussie Baden Cooke who had previous been linked with the team for 2009. However, in the interview he claimed that team owner Michael Ball made false promises about his contract, from a two-year deal with ample European racing down to a six-month contract of mostly American races, and was planning to sue. Ball spoke exclusively with Cyclingnews' North American Editor Mark Zalewski about this and the other rumours.
"These rumours that have been around, the demise of the team, they are untrue... that is absolutely false," said Ball from the start. However, in response to Cooke's claim in which Ball is now funding the team for only six months out of his own pocket while he looks for additional funding sources, he said, "That is certainly true. I am looking for a co-sponsor."
"We are in some good talks with some strong brands that are interested. Their budgets don't open for a few months and that is fine, as I said I am committed to the sport and will underwrite the team. But there is only so much that I am able to do, that I can do."
Read the full interview with the Rock Racing owner.
Contador's race programme revealed
No pink for Contador as this year he concentrates on the Tour
Photo ©: AFP
Alberto Contador will race with one single goal in 2009 - the Tour de France. Prevented from racing the French stage race last year he will put all his energy into achieving his second win in the Tour. Contador revealed his build-up programme to the Tour de France, which will consist of five races.
After the Astana training camp in California (February 1-10), Contador starts his 2009 campaign in Portugal, with the Tour de Algarve (February 18-22) according to L'Equipe. Then he will race again in Paris-Nice (March 8-15), which he won in 2007. After that he will head over the border and back to his native Spain for two races. He will participate in the Vuelta a Castilla y León from March 23 to 27 and in the Vuelta Ciclista al País Vasco (April 6-11). In the Basque Country, Contador emerged victorious in 2008.
The remainder of April and start of May will be spent training. "I will do reconnaissance rides of Tour stages and will do specific training to get better in the mountains and time trials."
Contador will then participate in his final race before the Tour, in the Dauphiné Libéré (June 7-14).
Contador's programme and form are in stark contrast to his teammate, Lance Armstrong. Armstrong is doing a marathon programme of races, including the Tour down Under, the Tour of California and a selection of Classics. The American said that he has never been in better form in January before.
Contador on the other hand has started the year slowly. "It is too early to draw conclusions about my condition. I have now finished all my obligations fore the winter and I am 100 per cent focussed on training. It is true that I am slightly behind in comparison to other seasons, but that doesn't frighten me."
Bartoli to ISD?
Michele Bartoli (l) trained with Ivan Basso over Christmas, here on the Passo del Bracco
Photo ©: Roberto Bettini

After weeks of speculation is seems likely Bartoli will join Italian team ISD, which is directed by his former teammate Luca Scinto.
ISD team manager Angelo Citracca revealed during the team's presentation on Sunday night that he is working on signing Bartoli as the team's 21st rider, according to another website.
"If you ask me how true the idea [of signing Bartoli] is, I'd say 99%. We're working at reaching an agreement and things could be sorted out within the next 15 days. We'll see what happens," Citracca said.
Bartoli kept in shape this winter by training with Ivan Basso. Citracca said that Bartoli is as strong as when he retired in 2004, according to tests performed recently.
Citracca and Scinto are aware of the fact that Bartoli could be involved in Operación Puerto and that he may face questioning by CONI, the Italian national anti-doping agency.
Bartoli has registered with the UCI in November, which could allow him to race the Giro d'Italia. Riders have to be in the doping testing pool for at least six months before the are eligible to race.
Usov hoping for Tour debut
By Bjorn Haake
Alexandre Usov looks for escapes and wants to do his first Tour
Photo ©: Bjorn Haake

Alexandre Usov has moved from AG2R La Mondiale to Cofidis this season and has set his sights on riding the Tour de France for the first time. His first stepping-stone will be to perform at the Down Under.
Usov has only one thing on his mind in 2009. "My grand objective is to participate in the Tour de France, because I have never done it." Usov knows it is the race with the most media attention. " A stage win in the Tour is unique - only the World Championships are equally prestigious. A stage win in the Tour brings you so much public adulation."
A training camp in the beginning of December has put Usov on the right track. "I am in the pre-selection of 13 riders for the nine places - so I am hopeful."
The camp in Greoux-les-Bains was a mix of riding and getting to know the new teammates, but Usov trains with one of the Cofidis coaches, who has given him a new programme. The first start of the season follows in less than a week. "I am going to Australia - the season is already starting!"
Cofidis initially decided not to participate in the ProTour before reversing its decision. Thus a start Down Under would have been unlikely when Usov signed his contract at the end of September. "ProTour or not, that didn't change anything. I already knew it was a team with a good structure and that they would ride a good programme." But the return to the highest-level racing was definitely welcome by Usov. "Cofidis changed its mind and we are part of the ProTour, from which we riders can only profit."
Andalucía-Cajasur will debut in San Luis
By Antonio J. Salmerón
Professional Continental team Andalucía Cajasur will start its season in Argentina, at the Tour de San Luis (January 19-25). The Spanish team, now in its fifth year, hopes for their best season ever, with a roster of riders based around the experienced Xavi Tondo, Manuel Calvente, Ángel Vicioso and Javier Ramírez Abeja.
Ramírez Abeja returns to the professional peloton after a year off. He started his career with Liberty-Würth and raced for Fuerteventura-Canarias in 2007. José A. Redondo, José Luis Carrasco (winner of a stage in the 2008 Volta a Catalunya) and the always combative José A. López Gil round out the roster.
Antonio Cabello is the manager of the team, with ex-professionals Francisco Cabello and Martínez Oliver acting as the directeurs sportifs. The team also has a U23 and junior development team.
This year, the calendar for Andalucía is comprised of about 30 races in Europe and Mexico, but the main goal is definitely the Vuelta a España. If the team gets invited it will be the third consecutive invitation to the Spanish Grand Tour.
The team will start its continental racing with the Challenge de Mallorca (February 8-12) before its home race, the Vuelta a Andalucia (February 15-19). The first ProTour race for Andalucía Cajasur will be the Volta a Catalunya (May 18-24)
Spitz and Grabsch win German cyclists of the year
Sabine Spitz and Bert Grabsch have been named German cyclists of the year, as voted by German road magazine Radsport. Both riders have won important titles this year. Spitz received the gold medal in the Olympic Games in Beijing, whereas Grabsch won the time trial World Championships in Varese, Italy.
Spitz earned the top spot with 42.1 percent, ahead of newly crowned German cyclo-cross champion Hanka Kupfernagel (20.3 percent). Third place went to Judith Arndt (15.8 percent).
Spitz was happy with the prize. "It is nice that the Olympic victory and the other successes in 2008 were honoured by the cycling fans. It is good recognition, also for the sport of mountain biking. Thank you very much!"
The men's race was tighter, with Grabsch (28.8 percent) narrowly edging out his 2008 Columbia teammate Linus Gerdemann (27.3 percent). Track star and Beijing silver medalist Roger Kluge (12.1 percent) finished third.
Spitz also finished sixth in the recent vote for female sports person of the year in Germany, behind double Olympic Champion Britta Steffen, a swimmer.
Skil Shimano for 2009
Skil Shimano has presented its team for the 2009 season and has big hopes of a wild card at the Tour de France. The team has five French riders, and is racing 50 per cent of its programme in France. Such details can provide strong arguments to Tour de France organiser, ASO, when it comes to wildcard time, with five places up for grabs.
Skil has a tough battle against teams like Agritubel, Cervélo Testteam, Barloworld and LPR Brakes, but could be getting the precious fifth wild card. Skil was the first Pro Continental team that implemented a biological passport programme.
Javier Guillén, race director of the Vuelta a España, and his Tour de France counterpart Christian Prudhomme recently talked about the different possible teams for their races. Skil has good chances for a the Tour, while new team Vacansoleil has good hopes of making the Vuelta.
Skil's director Iwan Spekenbrink is still hesitant to acknowledge the news, but the team has good relations with ASO and will participate in several races, like the Tour de Qatar, Paris-Nice, the Critérium International and Paris-=Roubaix.
New Aussie Champion surprises Australia by choosing Wellington
Relief and delight
Photo ©: CJ Farquharson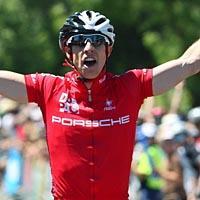 Peter McDonald, surprise winner of the Australian road championship at Ballarat last Sunday, has honoured a commitment to contest next week's Trust House Cycle Classic rather than take up an automatic entry into the high-profile Tour Down Under in Adelaide.
McDonald's three-up sprint victory over triple world time-trial champion Michael Rogers and his ProTour team colleague Adam Hansen to secure the title earned McDonald a spot in the composite UniSA national team in the Adelaide event. The race, featuring the return of Lance Armstrong, starts on Sunday.
McDonald was already entered in the Trust House Cycle Classic as a member of the Drapac-Porsche team. He preferred to stay with his teammates next week. "It hasn't sunk in yet, this is by far away my biggest win. We're only a small team but we can do big things," said McDonald. He also won the silver medal in the Australian Criterium Championship last month.
"I competed in the Tour of Wellington in 2005 and I really enjoyed the tour. Four years on, I'm looking forward to returning with my Drapac Porsche team as Australian Champion," McDonald said
McDonald competed for Drapac last year in Europe in UCI Continental events, and won races in Japan and Taiwan. His Ballarat victory came as a surprise to Rogers and Hansen. With their credentials and members of the same Columbia-High Road ProTour team they were expected to out-smart the largely unknown McDonald, who supplements his income as a bike mechanic. Rogers put down the blunder to "a communication error". McDonald has only been riding seriously for five years, and Rogers and Hansen conceded they would not have recognised McDonald in the streets of Ballarat beforehand.
"Peter [McDonald] came here in 2005 after being racing for only two years and showed he is a class rider, a very good climber and after winning the Australian road Championships, beating Tour of France stars will give him lots of confidence for next week's tour," Sandoval said
Having McDonald on the start line at Lower Hutt from next Wednesday is a major coup for Trust House classic race director Jorge Sandoval, who has a second national champion in the field. Gordon McCauley was winning a record fifth New Zealand road title at Te Awamutu, outsprinting three of his Subway Avanti team-mates, Joseph Cooper, Jason Allen and Eric Drower.
McCauley's fifth championship eclipsed the record of Jack Swart in the 1980s, and in the process the Subway squad left Europe-based professionals Julian Dean, Tim Gudsell and Greg Henderson in its wake. McCauley's Subway team will be expected to provide strong opposition to the four Australian professional outfits entered in the Trust House classic from January 21 to 25.
VW Camping
The Metro VW Cycling team's training camp, conducted in the team's home base of Grapevine, Texas, concluded this weekend. Over the course of the camp, the team prepared for the upcoming 2009 season.
"With the expansion of the team and an additional focus on NRC and European races this year, we spent extra time getting everyone on the same page," said directeur sportif Nathan Rogut. "We have so many new riders, and young riders, that our camp focused on working together as a team."
With Rogut in the driver seat and former Elite National Track Champion Mat Stephens racing with the team and acting as assistant directeur sportif, experience and knowledge are behind this young team. The team has many of the best U25 riders in the country, and after an eight-day intense camp, the riders are ready to begin the 2009 season as a team unit.
(All rights reserved/Copyright Future Publishing (Overseas) Limited 2009)