First Edition Cycling News, January 12, 2009
Edited by Greg Johnson & Les Clarke
Insecure Armstrong to face heat Down Under
Lance Armstrong is enjoying the sunshine in Adelaide
Photo ©: AFP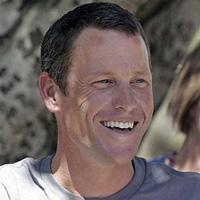 A block of training in Hawaii will serve Lance Armstrong well in the build up to next week's Tour Down Under, with Adelaide turning the heat on for the riders. The former Tour de France champion, who arrived in South Australia on Sunday evening, will face temperatures of 41 degrees Celsius in Adelaide today, with the race expected to commence in mid 30s.
Armstrong, however, believes it's not questions over his condition that will be an obstacle, but getting back in the grove of racing in a bunch. The American retired following his final Tour de France win in 2005, however announced last September he would return to the sport to help raise awareness for cancer.
"I know I have questions about my personal condition, but I've worked hard to get in shape, I've worked hard to show up here and try to ride at the front," he said. "But when you're one man out of 200, it's strange how 199 other guys dictate how your day goes. I think it would be unrealistic to expect a victory."
Despite his success on the international stage, Armstrong admits to being nervous about his return to professional racing in Adelaide. Armstrong has contested a small mountain bike and road race since announcing his return, in addition to completing wind tunnel sessions and a training block in Hawaii.
"I have a little bit of insecurity and a little bit of nervousness there, and so that's the reason I've tried to train hard and prepare hard - I'm fairly fit," he said. "You have to consider cycling; it's not just about your physical condition, it's about 200 guys going down the road and going around dangerous corners at 40 to 50 miles an hour - and how does that feel?
"That's a dynamic that you can't simulate in training, so I've got to get in the group," he added. "And those are the things that most people look at and think we're nuts to do this."
Armstrong met with South Australian Premier Mike Rann on Monday at his first press engagement since arriving in Australia. Rann's government is a major backer of Tour Down Under, now in its second year as a ProTour event.
"Really enjoyed meeting and spending time with him," Armstrong wrote on his Twitter after the meeting.
The Tour Down Under gets underway on Sunday evening with the Cancer Council Classic, a criterium pre-cursor to the actual ProTour race which commences on Tuesday.
Photography
For a thumbnail gallery of these images, click here
Images by AFP Photo
Tour Down Under changes enhance racing
By Les Clarke
Garmin-Slipstream directeur sportif Matt White is confident that this year's Tour Down Under should be tougher than previous editions. Last year's Tour Down Under was undeniably a race for sprinters. Andre Greipel's dominance in stage finishes and subsequent overall victory were evidence of this, and discussion in some quarters centred on making the race tougher to avoid a repeat in 2009.
Race organisers, led by 1984 Olympic gold medalist Mike Turtur, were forced to make changes to shake up the general classification.
"This year there are two stages where it can be mixed up," said White. "I think the Willunga stage will blow up a lot more because there are two ascents of it, not just one. There's no way a big group's getting around Willunga that day.
"I've also heard - and we'll soon find out - that the second stage to Stirling's quite a tricky circuit, quite up and down," added White, who won the fourth stage of the 2005 Tour Down Under. "If there are going to be gaps, they aren't going to be big."
"Gone are the days at the Tour Down Under where after 15km there's a group of 15 in a breakaway and that's the race. When there used to be 13 teams here, once there were 10 guys up the road that was pretty much the bike race," said White. "Even in the last couple of years, time bonuses have become more important. I still think a very fit sprinter could get round here but they'd want to be someone who climbs pretty well.
White also explained that the closeness of the racing can be attributed to the increased size of the race's field. "The field's a third bigger - we've gone from 130 riders to 190 riders - and every team is in the ProTour (other than the national team), so there are 21 super-strong teams. In the last five years there are so many more Anglo guys who are keen to race flat out in January."
He doesn't see a change in the nationality of those riders looking to win the event - Australians. Despite competing against the likes of 2006 Tour de France winner Oscar Pereiro and seven-time Tour champion Lance Armstrong, White knows that his countrymen won't be overawed and will be gunning for glory on home soil.
"This race has traditionally been dominated by Aussies, because there aren't many more motivated guys than Aussies racing on home turf," he said. "In terms of stage wins and the overall it's been totally dominated by us. I don't think that will change too much - last year Greipel was the only 'outsider' to do well, really."
Saxo Bank get training
By Shane Stokes in Majorca, Spain
Bjarne Riis and Fabian Cancellara study BG FIT
Photo ©: Shane Stokes

As is the case with several other teams the Saxo Bank squad have been training hard on Majorca, Spain prior to the start of the new season. The Danish team is staying in a hotel close to Playa de Palma and took in a long road ride on Monday, building endurance with a five hour outing.
Team owner Bjarne Riis is satisfied with things so far. "We have just started the training camp today, so it is difficult to say," he replied, when asked about the condition of the riders. "There are still a lot of riders not training today - they are going to Australia and Argentina. But it looks okay, they look fit."
The team changed bike and kit suppliers over the winter. Cervélo previously supplied the frames but Specialized has taken over in that regard, providing frames, fork, shoes, gloves, bar tape, helmets and other items. The transition to new material has been made easier by the BG Fits (Body Geometry) being offered to each and every one of the riders, the first time that a whole team has benefited in this way. Dr Andy Pruitt, EdD, PA, the Director of the Boulder Center for Sports Medicine pioneered the system and is helping the team find the correct racing positions in Majorca.
Riis thinks that the FIT system brings potential benefits to his riders. "We cannot tell exactly right now, but I believe it will be of benefit. They are just small adjustments [being made] but small adjustments can also mean something.
"There are a few things that we look at that we have never seen before, never taken care of before. I think it is interesting."
One of the things he was referring to is the flexibility of some riders. Both Frank and Andy Schleck lacked suppleness in this regard, while Olympic TT Fabian Cancellara scorched the assessment.
"I think that if they have a tight hamstring, it is difficult for them to put the saddle up into the position that I actually want them to ride," he said. "It is important that we can see that they can work on their hamstrings. Like Andy [Schleck], he has to work on his hamstrings, he has to work on his glutes so he gets stronger. He has already been working on that and he has improved. This will help him have a better position."
A full feature on the Bike FIT will follow soon.
Photography
For a thumbnail gallery of these images, click here
Images by Shane Stokes/Cyclingnews.com
Vacansoleil presented
The Vacansoleil team
Photo ©: Roberto Bettini

Dutch squad Vacansoleil presented its squad to those assembled in the town of Geertruidenberg last weekend, and the early signs are that it stands a good chance of success in 2009. With names such as Baden Cooke, ex-Skil Shimano rider Clément Lhotellerie and Classics exponents Bobbie Traksel and Björn Leukemans, Vacansoleil has recruited with the aim of taking good results immediately.
The team has been invited to a host of high profile events, which pleases Cooke, whose deal with Rock Racing recently turned sour and forced him to change tack ahead of the 2009 season. It's worked out for the best however, and the team was proud to announce the Australian's arrival at the outfit, saying he's "a great asset".
"I am happy with the team I have found," Cooke said. "With Vacansoleil, we are going to do the Classics, San Remo, probably the Giro and Tirreno-Adriatico. Other than the Tour de France, we are capable of probably doing everything straight away. I know a lot of guys on the team; I think it is going to be one with a lot of good morale."
Hilaire Van der Schueren returns to top-level competition as a member of the team's management crew, something Cooke is upbeat about, given he worked with the astute Belgian at the Unibet.com squad. "I also know Hilaire, the director, so on that side of things I am very happy to be going there. It is a sure thing," he explained.
Clément Lhotellerie was one of the revelations of last season, winning the mountains classification at last year's Paris-Nice and indicating that he has the ability to become a forceful stage racer. The addition of the Frenchman to the roster provides another line of attack during the shorter, early-season stage races such as Étoile des Bessèges, Tour Méditerranéen and Volta oa Algarve, all of which are on the team's programme.
The 2009 Vacansoleil roster: Thijs van Amerongen, Arnoud van Groen, Reinier Honig, Johnny Hoogerland, Gerben Löwik, Wouter Mol, Jens Mouris, Wout Poels, Matthé Pronk, Bobbie Traksel, Aart Vierhouten and Lieuwe Westra (All Netherlands), Wim de Vocht, Frederik Veuchelen and Björn Leukemans (all Belgium), Borut Bozic (Slovenia), Marco Marcato and Matteo Carrara (Italy), Martin Mortensen (Denmark), Clément Lhotellerie (France), Baden Cooke (Australia) andn Sergey Lagutin (Uzbekistan).
Team management: Michel Cornelisse (Netherlands) and Hilaire Van der Schueren (Belgium).
Manager: Daan Luijkx (Netherlands).
Photography
For a thumbnail gallery of these images, click here
Images by Roberto Bettini/www.bettiniphoto.net
No Tour for Basso
Ivan Basso won't ride this year's Tour de France, according to French sports newspaper L'Équipe. Liquigas' late-season acquisition has indicated that he wishes to ride the Giro d'Italia and Vuelta a España instead of France's national tour during his first full season in three years.
Many fans had hoped that the 31-year-old from Cassano Magnago, who was Giro champion in 2006, would ride the Tour against Lance Armstrong. The two fought an intriguing battle during the 2004 Tour where the American prevailed overall and the Italian finished second in Paris.
Armstrong's first participation in the Giro d'Italia will set the scene for the duo to be reunited in competition, albeit in different colours. On paper Basso should enter that event with a better chance of overall success given his third place in last October's Japan Cup against the likes of Damiano Cunego and Giovanni Visconti.
Keisse fired for doping
Team Topsport-Vlaanderen fired Iljo Keisse on Monday, following the official notification that the Belgian rider's B sample had come back positive. The Six-Day rider tested positive for two substances, cathine and hydrochlorothiazide (HCTZ), at the Gent Six Day Race the end of November.
The Professional Continental team suspended Keisse after the A sample came back positive, and has now dismissed him. "We could do nothing else but take this drastic step," manager Christophe Sercu told Sporza.be . "It says so in his contract, which he has to hold to."
Keisse continues to plead innocent, saying that while the cathine may have come from an over-the-counter cold medication he took, he does not know how the HCTZ could have come into his body.
Pedraza looking for new team
Walter Pedraza
Photo ©: John Pierce

Colombian Walter Pedraza is experiencing difficulty finding a new contract for this season. Katusha decided not re-sign the former Tinkoff Credit Systems team rider for 2009.
Pedraza, who finished third overall at the Vuelta a Burgos in Spain and eighth in Tour de Austria, only wants to race in Europe this year. "I'm looking for new team, ProTour, Professional Continental or Continental because I want only to ride in Europe this season."
Pedraza rode for Selle Italia-Diquigiovanni in 2006 and 2007.
The rider achieved his dream of contesting the Vuelta a España in 2008. "[It was] a dream for me," he said. "I was in good form with some breaks and very combative, but it was not enough. In Colombia I was bronze medal in the national championships."
In 2005 Pedraza was Colombian National Champion and finished second overall at Vuelta a Colombia.
President Bush excited to retire, ride in Dallas
By Gary Boulanger, US editor Bikeradar.com
United States President George W. Bush leaves the White House in less than two weeks, and is excited about mountain bike riding near his new home in Dallas, Texas, according to a recent UPI report.
"I'm looking forward to finding mountain bike trails and mountain bike trail riders," Bush told the Dallas Morning News. "I think they've got some good trails, which I've never ridden. So that's going to be part of my routine."
The 62-year-old former runner has been a high-profile mountain biker rider for most of his time as President. He rides a custom Trek mountain bike, and has received bikes from foreign dignitaries and leaders during international visits. His wife Laura gave him custom Shimano shoes and some cycling clothing for Christmas in 2007.
The 43rd President has already ridden with local cycling advocate Cindy Bradley, who is impressed with Bush's abilities on the bike.
"Hey, he is an incredible mountain biker!" she said to the Dallas Morning News. "You know, there were times when I was like, 'Hey I got to keep up.' He has fabulous endurance."
Bush gave up running in 2002 after developing knee problems. He shared saddle time with fellow Texan Lance Armstrong after the latter's seventh Tour de France victory in 2005, talking about cancer, the Iraq war and other topics while riding on Bush's Crawford, Texas ranch. (As an aside, Armstrong is selling his Dripping Springs, Texas ranch outside Austin for a cool US$12 million).
Trek Bicycle Corporation president John Burke is the chairman of the President's Council on Physical Fitness & Sports. No word yet on which Dallas-area bike shop will keep the soon-to-be unemployed Bush's bike dialed and trail ready, although a shoe-in would be Richardson Bike Mart, where Armstrong got his start in 1987.
Sastre, Armstrong in February's Procycling
Lance Armstrong is back on the cover of Procycling
Photo ©: Procycling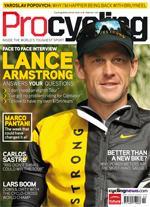 The February 2009 edition of our sister magazine, Procycling (issue 121), has gone on sale in the UK and will soon be available in the US and the rest of the world. The cover star is Lance Armstrong, who Procycling were given exclusive access to during Astana's December training camp in Tenerife. Rather than asking the questions everyone else has been asking the seven-time Tour champion, Procycling gave their readers the chance to put their own questions to Armstrong, it resulted in an illuminating exchange – and one that's fired up debate on the message boards at bikeradar.com
Also in the February edition of Procycling, 2008 Tour champ Carlos Sastre reveals the story behind the breakdown of his relationship with CSC-Saxo Bank boss Bjarne Riis before his move to the Cervélo Test Team for 2009. Cyclo-cross's man of the moment, world champion Lars Boom, talks to us about his plans to dominate the road scene in future. Procycling also meets SRM power meter founder Ulrich Schoberer and examines how measuring power output has transformed the sport.
Procycling's series of articles covering Armstrong's seven Tour wins turns to the 2000 race and focuses on the epic stage to Mont Ventoux and the epic struggle the Texan had that year with Marco Pantani. Procycling talks to those close to the Italian climber and the American champion to find out why the relationship between the pair degenerated into accusation and acrimony. Procycling also remembers another of the Tour's great climbers by retracing the route of Robert Millar's classy 1984 Tour ride to Guzet Neige in the Classic Climbs feature. Plus, Frankie Andreu tests Independent Fabrication's custom-built XS.
Also featured are interviews with Yaroslav Popovych and John-Lee Augustyn, plus the regular columns Gianni "The Prince" Savio and Garmin's Dan Martin.
Enter the new Cyclingnews contest: Win an autographed Team CSC jersey
Team CSC jersey
Photo ©: Cyclingnews

Enter Cyclingnews' contest to win a piece of recent cycling history - a Spring 2008 team-issue Team CSC jersey signed by all eight team members from the squad's 2008 Ronde van Vlaanderen lineup.
Victory eluded the team on this day, but CSC played an important role in the race with Karsten Kroon positioning himself in a threatening five-man break which was caught with only 25 kilometers to go. Kurt-Asle Arvesen and Allan Johansen both finished the Ronde in the top-ten, crossing the line in seventh and tenth respectively.
The contest's winner will be selected at random from all correct answers to a Team CSC trivia question received through next Wednesday, January 14. To find out more about the jersey and its signers and to enter, click here.
Previous News Next News
(All rights reserved/Copyright Future Publishing (Overseas) Limited 2009)