Italy's Ivan Basso
Photo ©: Roberto Bettini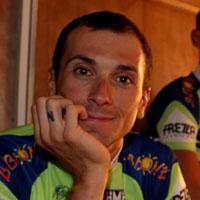 Brighter days ahead: The Ivan Basso Diary
Ivan Basso is back to racing after a forced rest of two years due to his involvement in Operación Puerto. The Italian, winner of the 2006 Giro d'Italia, looks to set the records straight and prove himself stronger than before while giving Cyclingnews' readers an inside look.
Basso first rose to prominence with his Under 23 World Championships win in 1998. The greater cycling public took notice of him when he won the stage to La Mongie ahead of Lance Armstrong on the way to a third overall in the 2004 Tour de France. He placed second the following year and won his home tour in 2006; however, his last major competition was the Castilla y León in 2007.
The Italian cycling federation (FCI) served him a 16-month suspension in June 2007. He came back to racing two days after his ban ended at the Japan Cup, October 26. He finished third in a close finish behind Damiano Cunego and Giovanni Visconti. The result was promising and Basso hopes there will be even brighter days ahead in 2009. Stay tuned as he recounts the journey.
December 31, 2008
Christmas time
Ivan Basso rides in Liguria, December 30
Photo ©: Roberto Bettini

Hello everyone!
Since I last dropped by Liquigas have held another training camp in Benicàsim, Spain. Unlike the previous get together we put in some hard miles and really intense training. We typically went out in groups or twelve depending on our goals for the coming season, so I've been training with all the guys who'll be riding the Giro with me next year. It's still early but I feel like it is all coming along well.
Next stop is Argentina, where I'll be training and racing with the team for a few weeks. We'll be trying to make the most of the warm climate and getting some race miles in our legs at the Tour de San Luis will help for later in the season.
"This year we have been sent gifts from fans all over the world."
- Basso talks of his children's gifts
Currently though I am at home with my family for the Christmas period. After I returned home, I was given the opportunity to help a cancer-specific hospital in Milano, called Tutto Tumore. I brought the children a lot of toys, Liquigas hats and jerseys, and well wishes. It felt really, really good to give back at this time of year.
Back at the Basso household my wife and I are preparing all the gifts for our own children, but we don't have to do a lot though to be honest. This year we have been sent gifts from fans all over the world. Gifts are arriving for my two children – Santiago and Domitilla – from Holland, France, Belgium... None are for me, but they are all for them. About 50 little gifts each!
Pisa with the family
Team Liquigas' Ivan Basso and ex-professional Michele Bartoli ride in Liguria, Italy,
Photo ©: Roberto Bettini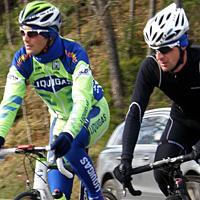 After we opened our presents on Christmas morning I went our training. It was only for a few hours but it's a tradition for me that I've always done. I don't tend to train that hard but with so many pros around this area it's a great way for us to have a good friendly ride.
After Christmas we headed down to Michele Bartoli's home in Pisa. Michele and I are good friends from the time we raced together [2002 to 2004] at Fassa Bortolo and CSC. Our wives are also close friends too. We both have two children around the same age, so it makes for a great time together. We'll stay with them until New Years Day.
By now you will have probably read about Bartoli's plans to return to racing. I don't have an opinion on what he should do, and as a friend I only want what is the best for him. If he is happy racing, then I want him to return, if not, then it is fine by me.
Before I dash to celebrate the New Year with the Bartolis, I wanted to thank Cannondale for helping me in the last few months. They and I have been working tirelessly on my new road and time trial bike. I can't say too much on it yet as it's all hush hush but we're specifically working on something for stage 12 of the Giro.
Merry Christmas and Happy New Year for 2009.
Ciao,
Basso
Photography
For a thumbnail gallery of these images, click here
Images by Roberto Bettini/www.bettiniphoto.net