Cyclo-cross News & Racing Round-up, January 14, 2009
Edited by Laura Weislo
Welcome to our regular roundup of what's happening in cyclo-cross. Feel free to send feedback, news and releases to mtb@cyclingnews.com.
Euro 'cross champions crowned
The elite men's podium:
Photo ©: Cyclingnews.com
The majority of European nations held their cyclo-cross national championships this weekend, and many of the titles fell into familiar hands. Sven Nys defended his place as Belgium's top dog, taking his sixth career championship in his typical dominant fashion. World Champion Lars Boom defended his title in the Netherlands against the onslaught of the AA-Drink team of Thijs Al and Richard Groenendaal. Remarkably, he has taken the national title every year since 2001 - the first three as a junior, the next three as an under-23 and the final three as an elite rider.
Things were quite different in Germany, where Philipp Walsleben stunned the elite ranks by winning the championship as an under-23 rider. He is currently leading the espoirs Superprestige and is a strong candidate to inherit the U23 world championship from Niels Albert.
The familiar names continued to shine in other countries. Peter Presslauer took his eighth Austrian 'cross title, Christian Heule took number five in Switzerland, as did Gusty Bausch in Luxembourg. In Italy, Enrico Franzoi reclaimed the title he was unable to defend due to injury last year, making it four in the elite ranks to add to his four victories as an espoir. Frenchman Francis Mourey also claimed his fourth national championships in a tight race with the Bouygues Telecom duo Steve Chainel and Julien Belgy.
In Germany, World Champion Hanka Kupfernagel added to her already dense palmares by piling on her sixth consecutive win in the elite women's cyclo-cross, bringing her record to eight in cyclo-cross and 23 total German championship gold medals.
In the Netherlands, Daphny Van den Brand took back the title which she has owned for eight of the past ten years. Mirjam Melchers-van Poppel, who took second today, has been the only other rider able to claim the Dutch title (2008, 2004). Boy Van Poppel took home the Dutch espoirs jersey for the second year running.
Perhaps the most impressive display of repeat victories came from Irish champion Robin Seymour, who took his 16th career crown ahead of Conor McConvey. The 37-year-old beat the McConvey, 19, in a two-man sprint for the line.
Other repeat winners include Helen Wyman, who took her fourth British championship, Zdenek Stybar, who took his third career title in the Czech Republic, and Joachim Parbo took his third Danish championship.
Follow the complete list of results, visit our national championship page, or view the list of champions in our summary page.
Home soil takes out local favorite
By Brecht Decaluwé in Ruddervoorde, Belgium
Klaas Vantornout (Sunweb-Projob)
Photo ©: Cyclingnews.com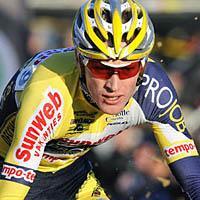 Top favorite and defending champion Sven Nys grabbed his sixth 'tricolore' jersey at the Belgian cyclo-cross national championships in Ruddervoorde, Belgium this weekend. Though UCI-leader Nys dominated the race, the so-called cannibal of cyclo-cross was threatened by local favorite Klaas Vantornout until he latter crashed out of the race. But Nys said the hometown hero wouldn't have stopped him from winning the championship.
"Klaas was the one who followed me most closely. He was stronger on the climb but I would certainly have gotten back to him and I certainly wasn't scared to head for a sprint with him," Nys said. It didn't come that far, as the crash from Vantornout in the seventh of ten laps offered Nys the gap that led him to the victory. "This was clearly Vantornout's territory and I heard some booing, especially after his crash," Nys said.
Vantornout dreamed of grabbing his first national title in front of a home crowd. "I'm disappointed. This is the biggest disappointment in my career. This race has been going through my mind all season long. For once I had perfect preparation and I was feeling incredibly strong. I didn't give Sven one single meter although he was going flat out.
"The type of course wasn't at all suited to my abilities. It was nothing but technical skills that mattered today. I had more power though and on that small climb I was even better than Nys. Actually I've never seen Nys suffer as much as today. I was as good as, if not better than Sven Nys," Vantornout claimed.
However, after seven laps of racing the sun and the multiple races started to take away the surface layer of soil, uncovering muliple patches ice underneath. In a fast right hand corner the Sunweb-Projob rider slipped away, taking him out of contention for the victory. "I can't blame anybody except myself. My front wheel slipped away and I hit the frozen ground with my hip. It was hard and it was over. I was in a lot of pain. You can't imagine what went through my mind on that moment. ... I should be OK for the World Cup round in Roubaix next week."
"This is a major setback but I'll have to get myself over it and focus on my remaining two goals which are the world championships and the Superprestige Series," Vantornout said. In the Superprestige, the 26 year-old is only trailing Nys by two points with two rounds remaining. "Nys is going to be surprised as I'm going to give him a hard time."
Nys has won the last four editions of the series, adding those to his four other overall victories in one of the most important series in Europe. "The World Cup is no longer important for me as I'm out of contention for a good classification," said Vantornout. If he fails to rack up points in the World Cup he could drop back in the UCI-rankings, but the Belgian wasn't worried about that. "I should remain on the front row at the start line of the World Championships in Hoogerheide, and even from second row I will be able to battle for the victory."
Baker gets three-month suspension
USA Cycling announced Wednesday that Boulder native Jonathan Baker has been given a three-month suspension for his actions during the US Cyclo-cross national championship race in Kansas City in December. Baker tangled with fellow competitor Adam Myerson during the race, and while trying to extricate his bicycle from the wreck, threw a punch at Myerson's head.
While Myerson did not file a complaint himself, the event's Chief Referee did so after receiving several reports from witnesses. USA Cycling assigned an independent investigator to review the case, and the investigator ruled that Baker violated rule 105 (c) of the USA Cycling Rulebook - No licensee may assault or do battery to anyone connected with any event held under a USA Cycling permit.
Baker waived his right to a hearing and USA Cycling handed down a three-month suspension, beginning on January 17, 2009 and ending on April 17. The sanction will prevent Baker, who traveled to Europe for the December 'cross races in Belgium, from fulfilling his season goal of racing the cyclo-cross world championships in the Netherlands.
The three-month sentence is light in comparison to the six-month sanction given to Roberto Gaggioli in 2004 after he attacked Jonny Sundt with a 2x4 before the US Pro Championships or the one-year suspension handed to Scott Mercer – who hit Myerson in the head in August, 2000.
Nys and Kupfernagel lead UCI rankings
Hanka Kupfernagel still leads the rankings
Photo ©: Cyclingnews.com

Sven Nys remains atop the men's UCI cyclo-cross rankings for the fifth consecutive points update, a position he's maintained since December 2, 2008. The only cyclo-cross racing which took place since the previous week's points ranking was the weekend of European national championships and the minor changes in position can be attributed to a rider's success in pursuing a national title.
Sven Nys prevailed for the sixth time in the Belgian national championships which further extended his lead over compatriots Bart Wellens and Kevin Pauwels, who rank second and third respectively. Wellens' and Pauwels' teammate on Fidea Cycling, Zdenek Stybar, won the Czech national championship and remained in fourth place overall.
Recently crowned Dutch 'cross champion Lars Boom moved into fifth place ahead of Belgian Niels Albert, who dropped one place to sixth since the previous ranking. Thijs Al moved into seventh ahead of Klaas Vantornout based on the points disparity of their respective second place and DNF finishes in the Dutch and Belgian 'cross championships.
Radomír Simunek Jr. returns to the top-ten buoyed by his second place finish in the Czech national championships, while Erwin Vervecken dropped out of the the top-ten due to a DNF in the Belgian title race.
On the women's side, the recently crowned German national champion Hanka Kupfernagel remains in first and maintained her 475 point lead over Daphny van den Brand, the winner of the Netherlands' national championship. The top five in the women's ranking remain unchanged since the previous points tally. Helen Wyman, who recently won Great Britain's national 'cross title, narrowly moved into sixth place ahead of Christel Ferrier-Bruneau whose second place finish in the French national championship did not provide enough points to defend her previous sixth place ranking.
Wendy Simms did not earn any points since the previous poll since her Canadian national championship was earned much earlier in the season and falls to tenth behind a pair of Dutchwomen, Sanne van Paassen and Saskia Elemans, who finished fourth and third respectively in the Netherlands' national championship.

Men
 
1 Sven Nys (Bel) Landbouwkrediet-Colnago                   2300 pts
2 Bart Wellens (Bel) Fidea Cycling Team                    1575
3 Kevin Pauwels (Bel) Fidea Cycling Team                   1545
4 Zdenek Stybar (Cze) Fidea Cycling Team                   1504
5 Lars Boom (Ned) Rabobank                                 1340
6 Niels Albert (Bel) BKCP - Powerplus                      1284
7 Thijs Al (Ned) AA Drink - BeOne                          1190
8 Klaas Vantornout (Bel) Sunweb-Projob                     1182
9 Sven Vanthourenhout (Bel) Sunweb-Projob                  1007
10 Radomír Simunek Jr. (Cze) BKCP - Power Plus             1007
11 Erwin Vervecken (Bel) Revor-Jartazi Continental Team    1000
12 Bart Aernouts (Bel) Rabobank                             931
13 Francis Mourey (Fra) Française des Jeux                  894
14 Philipp Walsleben (Ger) Team BKCP-Power Plus             852
15 Gerben de Knegt (Ned) Rabobank                           794
 
Women
 
1 Hanka Kupfernagel (Ger) Itera-Stevens                    1960 pts
2 Daphny van den Brand (Ned) ZZPR.nl-Destil-Merida         1485
3 Katherine Compton (USA) Spike                            1285
4 Pavla Havlíková (Cze)                                    1174
5 Maryline Salvetat (Fra) VSLL Castres                     1140
6 Helen Wyman (GBr) Vision                                  948
7 Christel Ferrier-Bruneau (Fra)                            945
8 Sanne van Paassen (Ned) ZZPR.nl-Destil-Merida             825
9 Saskia Elemans (Ned) Team Flexpoint                       810
10 Wendy Simms (Can) Kona Cyclocross Team                   764
11 Nadia Triquet (Fra)                                      700
12 Sanne Cant (Bel) A.D.S. Selle Italia Guerciotti          620
13 Georgia Gould (USA) Luna                                 610
14 Caroline Mani (Fra) Vienne Futuroscope                   577
15 Veerle Ingels (Bel) AVB - Cycling Team                   559

USA cycling's take on 'cross
Ryan Trebon wants the feds to step up with more support
Photo ©: John Pierce

In a two-part interview with Cyclingnews' Mark Zalewski, USA Cycing's CEO Steve Johnson spoke about his organisation's view of cyclo-cross and responded to criticism that the organistaion doesn't do enough to support this rapidly growing sector of the sport. Below is an excerpt from that feature.
"Cyclo-cross has a lot of intrinsic momentum. It is exciting and remarkable to see the growth in this country," Johnson said. But despite his enthusiasm for this branch of cycling, it doesn't receive the same level of support that Olympic disciplines get. Some riders, like national champion Ryan Trebon, have voiced their displeasure over the lack of support, particularly the monetary kind - despite pulling in medals at the world championships.
In response to this, Johnson was up-front about the choice to focus on the Olympic disciplines because they simply get more recognition. Despite his claims that judging performance based on medal counts is flawed, Johnson concedes it's the reality. "It is a limited resource pie, so we have focused on Olympic competitions as our primary opportunities. We have focused our funding and development resources there, and will continue to do so. Given that there is never enough time, money or people to go around, we have to be careful as we expand our programs.
"With that said, we have had a smaller group of funded athletes per capita that we send to cyclo-cross worlds than we send to road or track worlds. But for an organisation like ours that is graded on medals we have to be cognisant of our expectations when deciding funding for programs.
Johnson also turned the question back around, pointing out that top-level riders are sponsored individually, and that some funding can, and should come, from that avenue. "Cyclo-cross has a top level of the sport, like other sports, it is a professional environment. The athletes have relationships with their own personal sponsors, and so to create a traditional national team model doesn't work. We can't force our riders to ride our sponsor's bike, to use equipment - nor do we want them to have to. But that limits our opportunities to go out and secure sponsors and not have a guarantee."
"We try to look for alternative sponsorships and leverage existing sponsorships to fill-in as needed," adds Johnson. "But it is mostly about providing logistical support like housing and food for our athletes to get to international competition."
Wellens is father
Belgian cyclo-cross rider Bart Wellens became a father Wednesday morning, when his wife Lentel gave birth to their daughter Lily.
"Our princess is born!", he announced on his website, bartwellens.be. "Her mother worked very hard and together with my daughter I am very proud of her."
Wellens, 30, recently finished fourth in the Belgian national championships.
Recent Cyclo-cross results
Upcoming UCI races
January 14: Internationale Centrumcross van Surhuisterveen, Surhuisterveen (Ned) C1 ME
January 17: Eurocyclocross Valkenswaard, Valkenswaard (Ned) C2 ME/MU/MJ/WE
January 18: National Trophy Round 6, Derby (GBr) C2 ME
January 18: Coupe du Monde UCI / UCI World Cup, Roubaix (Fra) CDM ME/MU/MJ/WE
(All rights reserved/Copyright Future Publishing (Overseas) Limited 2009)