First Edition Cycling News, January 15, 2009
Edited by Sue George
Moncoutié ready to lead at last
By Bjorn Haake
David Moncoutié is confident going into his 13th year as a professional racer
Photo ©: Bjorn Haake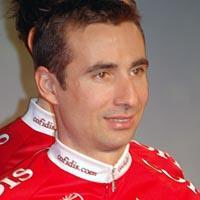 David Moncoutié missed most of 2006 and 2007 due to injury, but made a strong comeback last year. This season he is leading Cofidis in his 13th year as a pro with renewed confidence, after winning the climber's jersey in the Vuelta a España, but time is running out for the Frenchman to win some big races.
The quiet Moncoutié has long shied away from taking on a leadership position. Last year, Sylvain Chavanel filled that role with brilliance, as Moncoutié acknowledged. "Chavanel was the captain in most races as he was present from February to October." But now the lead role is being shared by a few riders. "In the stage races it will be Amaël Moinard and me. This will give me more responsibility."
Moncoutié has given up his hesitant attitude from earlier years. "I don't have that much time left to put some great races on my palmarès," he said.
He will race at most another couple of seasons. "I don't know yet myself ­ 2009 could be my last year, but I could also ride until 2010. I think I will make the decision after the Tour de France."
He came close to stopping his racing career once before, after two crashes cost him dearly. In 2006, he developed tendonitis and in 2007, he broke a femur. "In 2006 and 2007, I almost didn't ride as I was handicapped by injuries. So you can say this is my second life as a pro."
Dreaming of the Tour de France
Moncoutié has his goals firmly in sight
Photo ©: Bjorn Haake

Moncoutié worked harder than ever to come back after his injuries. "I have a great desire to win some races." There are several races on his calendar, which starts this week at the Tour Down Under. But being French he can't deny there is one race above all. "Le Tour is the objective number one."
He knows well that the Tour de France is the most competitive race out there. "A top 10 won't be the objective when I start the race, but who knows, with a bit of consistency it is do-able." Moncoutié has another prize in mind. "The climber's polka dot jersey could be a goal as well in the Tour. I have the characteristics for that. It worked well in the Vuelta, even though the Tour [level] is a bit above that."
He will also be looking into winning stages, something with which he has experience. He won stage 11 in 2004 and one year later he achieved every French rider's dream of winning on Bastille Day.
Yet, Moncoutié isn't solely focused on his famous home race. "There are also other great races, like Liège-Bastogne-Liège, Paris-Nice or the Dauphiné, where I would like to do well." Especially the Belgian one-day race, which he tackled three times so far, whets his appetite. His track record isn't the greatest. "I have finished Liège twice and far behind, but the final suits me, and I feel I could be there in the end [this year]." Only the tight racing on narrow Belgian streets isn't his favourite part of the sport. "You have to rub shoulders a bit, mais bon..."
His schedule is jam-packed, all the way until the Tour. "I know it is a lot of racing. But last year I realised I had to race more as I was lacking power. At the end of the Tour, I was getting better, such as in Alpe d'Huez [where he finished 14th]."
By year-end he was feeling great. "At the end of the Vuelta, I was at a level that I had before my two crashes." This capped a year of uncertainty. "2008 was my year of the return. 2009 hopefully is my year of confirmation."
Ng wants improvement in Beijing
By Greg Johnson
Malaysian rider Josiah Ng winning at the Melbourne Cup on Wheels
Photo ©: Carl Brewer

Malaysian track rider Josiah Ng is hoping to continue his progress at this weekend's Track World Cup round in Beijing, China. The sprinter finished the sprint at the Melbourne World Cup in fifth place, but is hoping to move up the leader board this weekend.
"I've been feeling extremely well these past few weeks in training," he said. "I think that I can get some good results here in Beijing and of course the idea is to do better than I did in Melbourne."
Ng was shocked to feel the temperature when he arrived in Beijing on Wednesday. Having travelled from his Melbourne base with the Australian team, where it was 38 degrees Celsius the day they departed, the minus 11 degrees they were greeted by was a shock to the system.
"I knew it would be cold but was not really prepared for the minus 11 temperature that greeted us," he said. "Luckily we're racing indoors, but I hear that even in the track it's not that warm, about 16 degrees. Hopefully they will turn up the heat come race day."
While the Great Britain squad will be absent from this weekend's event, the event features an impressive start list. Returning to the Beijing venue is Olympic Game silver medallists Gregory Bouge, Mikael Bourgain, and Kevin Sireau of France.
"From seeing the roster, the strongest teams in the sprint disciplines will be the French, followed by the Germans," said Ng. "This is the fourth round out of five World Cups held this season and judging from the roster, the depth is by far the deepest. I'm definitely looking forward to some good racing this weekend."
The Beijing Track World Cup runs from Friday through to Sunday. The event is the penultimate round of the Track World Cup, with the finale to be staged in Copenhagen next month ahead of March's Track World Championships in Pruskow, Poland.
Valverde plans pre-Tour racing
By Antonio J. Salmerón
Spaniard Alejandro Valverde (Caisse d'Epargne) leads
Photo ©: Roberto Bettini

Caisse d'Epargne is pinning its hopes for a Tour de France podium on 2008 UCI ProTour champion Alejandro Valverde, who plans to participate in high-quality competitions that will bring him fitness without arriving at the start of the French Grand Tour too tired.
My goal is to "help Valverde, who for me is the best rider in the World," promised teammate and former Tour de France winner Oscar Pereiro to Spanish newspaper As. Valverde will make his 2009 season debut at the Haut Var before returning to his home country of Spain to tackle the Clásica de Almeria. He has no plans to defend his title at the Vuelta a Murcia. Later, he will head to France for two classic races, the GP Cholet and Paris-Camembert, where he won in 2008. Next up will be the Criterium International.
In the spring, Valverde will race the Gran Premio de Estella and the Gran Premio de Amorebieta before tackling the trio of the Ardennes Classics including the Amstel Gold Race, in which he finished third in 2008, the La Flèche Wallonne and the Liège - Bastogne - Liège, which he won in 2006 and 2008.
Valverde's first objectives leading up to the Tour de France, due to their placement on the calendar, are the Volta a Catalunya, the Dauphiné Libéré and the Spanish National Championships.
Ballan and Cunego to GP Costa degli Etruschi
The GP Costa degli Etruschi, set for February 7 in Donoratico, is setting up to be a showcase of Italian cycling stars. World Champion Alessandro Ballan and Giro di Lombardia winner Damiano Cunego have announced their participation in the Tuscan race that traditionally opens the professional racing season in Italy.
The pair will join fellow Italians Ivan Basso, Alessandro Petacchi and Giovanni Visconti, who have already signed up. Also on the start list are Francesco Gavazzi, Enrico Gasparotto, Simone Ponzi, Pietro Caucchioli, Manuele Mori and Ukrainian Volodymyr Zagorodny.
"For us it is an important honor that these men have chosen to participate in the race," said a statement by the organizers. "This is the best reward for the great organizational work that our staff are performing."
Xacobeo Galicia unveils new jersey design
The new Xacobeo Galicia jersey
Photo ©: Team Xacobeo Galicia

In an official ceremony at the Casa das Federacións in Vigo, Xacobeo Galicia presented its new jersey for the 2009 season on Wednesday. Ezequiel Mosquera modelled the new look which was presented along with help from directeur sportif Jose Angel Vidal.
Director sportif Ávaro Pino missed the presentation due to a meeting in Geneva while Jesús Blanco was also absent - attending the team's second training camp. Officials called the jersey less colorful than the previous one, but said they consider it more easily identifiable within the peloton and more representative of Galicia. The team is hoping to show it off in the 2009 Giro d'Italia, among those it usually attends.
Taylor Phinney diary: My week with Lance
The entrance to the Armstrong house.
Photo ©: Taylor Phinney

Sometime in November, I got an invite from Lance to come train with him and Levi [Leipheimer] in Santa Rosa in December. Not only would I be training with LA himself, but we were scheduled to stay in Robin Williams' house. Yes, Robin Williams the actor/comedian. I know, right?
Of course, as I'm sure anyone else would have, I agreed. I invited my good friend and now teammate Ben King to come along with, just so I had a ride buddy for when Lance and Levi wanted to set fire to the roads. As the days ticked down to December 13th, the day I was to leave, we learned that it was to be rainy and not so awesome in Santa Rosa, so Lance called an audible and decided to stay in Austin, inviting me and Ben to stay down at his guesthouse. I thought, 'Hey, it's not quite Robin Williams' pad, but it will have to do.' I'm kidding.
I was equally, if not more stoked to stay in Lance's guesthouse. Little did I know, I was about to be spoiled beyond my years.
Read the complete diary entry.
New Zealand Olympians aim to recapture success in Beijing
Alison Shanks (New Zealand)
Photo ©: Rob Jones

New Zealand's Olympic medal winning cyclists will return to the venue of their success in Beijing, China, for the third round of the UCI World Cup starting Friday. The World Cup will provide the first major shakedown for the BikeNZ squad ahead of their goal of the world championships in Poland at the end of March.
Seven members of the Olympic team are competing in Beijing, including the men's team pursuiters Jesse Sergent, Wes Gough, Marc Ryan, Sam Bewley and Peter Latham together with Alison Shanks, fourth in the Olympic individual pursuit, and Catherine Cheatley.
There's also considerable interest in the World Cup outing for the women's team pursuit, with the squad including Shanks, Cheatley, Lauren Ellis and Kaytee Boyd, who earned her spot from the recent Power to Podium women's talent identification programme. Simon Velt Voothoven will compete in sprint events while world omnium champion Hayden Godfrey will race in the scratch race, 200m time trial and Madison with Ryan.
BikeNZ national track coach Tim Carswell said he is looking for a solid first-up effort from the squad although he is not expecting Olympic-standard performances. One reason is the weather in Beijing is considerably colder than at the Olympics.
"It's certainly a lot more low-key this time," Carswell said. "It is very cold here. It was six degrees below today and they have not turned on the track heating this time, so it was only 15 degrees Celsius on the track surface. So the times will be slower as a result."
"For the Olympians, this is their first competition since Beijing. We are nine weeks out from the world championships so this signals the start of the final build-up to the worlds. For instance, if the men's pursuit is within two or three seconds of their Beijing time, I will be happy. To go under four minutes is probably asking too much in these conditions."
The team is overcoming a crash during training that occurred on the eve of its departure for Beijing. "We snapped one of the bikes, and there were some injuries to Sam and Pete, and Wes had lost a fair bit of skin. But they are training just fine here which is great."
Sergent, who emerged as the strong man in the squad at the Olympics, has earned his chance in the individual pursuit in the absence of Hayden Roulston.
Carswell is especially excited and challenges with the new women's track programme. "We are all feeling our way at present as we work out just which combination works best. As well as the four women here, we also have three others back in New Zealand who have been training with us including Jaimee Nelson, the ex-rower, who has come through the power to podium programme. Kaytee (Boyd) had never ridden on a track 10 weeks ago, and Lauren (Ellis) has stepped up from the junior ranks."
"They are showing some good progress and Alison (Shanks) has really stepped up as the leader on the team. I am not expecting too much at this level quite yet. The group went 3:40 in Melbourne so it would be good to go under that time." Shanks and Sergent are first up on Friday in qualifying for the individual pursuit, followed by the points race and Ellis and Cheatley in the scratch race.
The men will do their team pursuit on Saturday, along with Van Velthooven racing the keirin, Godfrey the scratch race, Cheatley the points race and Boyd the 500m time trial. Val Velthooven and Godfrey will race in the 200m time trial on Sunday with the women's time trial and Godfrey and Ryan in the Madison.
Eight Belgian cyclists facing criminal drug charges
A court in northern Belgium ruled on Tuesday that eight Belgian riders, including two former professionals and six amateurs, will be tried in criminal court for possession of drugs. The court first opened its case in March 2006 after raids found small quantities of substances such as steroids, clenbuterol, nandrolone, EPO and growth hormones according to the Belga news agency and the AFP.
Former cyclo-cross specialist Peter Van Santvliet and former road racer Dave Bruylandts and the six amateur riders will be tried for violating the Narcotics Act for possession of illegal substances and hormonal products.
The Belgian Cycling Federation had sanctioned Bruylandts by fining him 10,000 Swiss Francs and suspending him for 18 months from October 1, 2004 to March 31, 2006.
The court's decision may still be appealed.
Grand Cycling Classic cancelled after loss of sponsorship
The 2009 Priority Health Grand Cycling Classic in Grand Rapids, Michigan, has been cancelled after its title sponsor ended its support due to economic pressures.
"It was the major factor for us," Priority Health's Amy Miller said to the Grand Rapids Press. "We felt the event here was a huge success, but we had to make some tough decisions in Michigan regarding the economy."
Last year's event, held in early September, was won by Tina Pic and Russell Langley and featured 400 racers in front of 6,000 spectators.
The Michigan-based health care provider Priority Health also ended sponsorship of the Tour de Leelanau and another event in Ann Arbor.
Australia looking for a few good women
The Australian Sports Commission's National Talent Identification and Development program, in conjunction with Cycling Australia, is identifying talented female athletes, aged 17 to 27, for road time trialling. The aim of the program is to provide athletes with an enriching environment and improved training, coaching and competition structures that will fast-track development to Olympic and world championship levels of competition.
Candidates should have a background in endurance sports such as (but not limited to) triathlon, cycling, rowing, swimming or distance running, a passion to be an elite cyclist, the dedication to join an elite development training squad and a desire to be an Australian Olympian. They must be available for physiological testing in a capital city between February 21 and March 3 and for a training camp in Melbourne between March 15-21 (camp costs covered by the NTID program) if selected for further involvement in the program.
For more information about NTID and to register for the program, visit www.ausport.gov.au/talent. Registration closes February 13.
(All rights reserved/Copyright Future Publishing (Overseas) Limited 2009)