Vlaamse Witloof Veldrit - C2
Tervuren, Belgium, January 4, 2009
Albert returns to his winning ways
By Brecht Decaluwé
Niels Albert (BKCP-Powerplus) gives his victory salute
Photo ©: Cyclingnews.com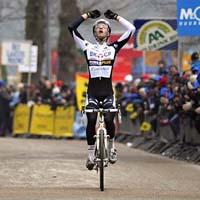 Niels Albert (BKCP-Powerplus ) proved that he is fully recovered from a crash that took him out of competition in mid-November. The 22-year-old Belgian won the final rehearsal ahead of the national championships that will happen throughout Europe next weekend. Albert won the race with an impressive solo effort which he initiated during the second of ten laps. Italian "crossista" Enrico Franzoi (Liquigas) finished second at twenty seconds behind Albert. Fifteen seconds later, Czech national champion Zdenek Stybar (Fidea Cycling Team) won the sprint for the remaining podium spot ahead of Kevin Pauwels (Fidea Cycling Team) and Sven Vanthourenhout (Sunweb Projob Cycling Team).
"I felt strong and wanted to make it a hard race. I was joined by Klaas and Enrico and when Klaas crashed behind me, I was able to get a couple of metres. Then one shouldn't delay, of course. It's been awhile since I was able to win. This feels good, especially ahead of the Belgian championships," Albert said to Sporza.
It was clear that not too many riders were keen on going full out during the 'cross in the royal park of Tervuren. They were saving their energy for the national championships next week. Current Belgian champion Sven Nys (Landbouwkrediet-Colnago) sat back in the main group and left the initiative to riders like Albert. The latter attacked during the first lap and was joined by Franzoi and Klaas Vantornout.
A key moment in the race occurred halfway the second lap when Vantornout slipped in the forest. The Belgian hit the frozen ground quite hard and forced Franzoi to go around him. As a result, Albert was granted a gap of a couple of meters on Franzoi, and The Italian could not close the gap. Vantornout licked his wounds and dropped back into the main chase group led by Jan Verstraeten (KDL-Trans).
Albert and Franzoi made the race in Tervuren. Each lap the Belgian managed to add a couple of seconds to his advantage. Halfway through the race, Albert had twenty seconds on Franzoi and from then on, the Albert eased off and kept his rival Franzoi at that distance.
"The last few weeks, I saw every race as a training, adding additional training sessions before and after. I should be able to batle for the win next week. I can focus on one race. I've been unlucky this season, and hopefully I can make up for that at the championships," Albert said.
Franzoi had no choice but to acknowledge Albert's strength although he easily managed to stay ahead of the chasers. "I was very strong," Franzoi said to Sporza. "This was a good race to get a result. I'm happy with my race. It's important to build up [my] form [heading] towards the Italian Championships."
Franzoi is also a strong road domestique. When asked how important cyclo-cross is to him, he said, "'Cross is very important for me. Road cycling is my main job and it's what I'm good at, especially Paris-Roubaix, but cyclo-cross is good for training and skills."
The chase group fell back as far as one minute at the half-way point of the race. During the final laps, the group picked up speed and Stybar went full out with one to go and captured third place at 35" behind winner Albert.
"I didn't have great legs but I'm happy to be on the podium again," said Stybar to Sporza. "I had a bad start and the others were gone straight away. I felt quite strong and tried to get away on one place. It was a bit of a test to see what my legs could do. I'm not surprised by Niels [Albert]."
Next week, Nys will attempt to defend his title at the Belgian Championships. The UCI-leader explained that he was focussing on that race instead of battling for the win in Tervuren. "I certainly didn't force myself. The first of January in Baal, I went for it and the days after that I rode at 80 percent," Nys said. "Today I crashed during the last time through the sand pit and I couldn't battle for third place. Nevertheless I'm going home with a good feeling. After Baal I rested a lot and this was nothing more than an intensive training. Last year I did too much after Baal, and I want to avoid that this year. I'm fully motivated for the championships," Nys said to Sporza.
"Niels was motivated and rode like he usually does," said Nys. "A couple of guys led the race but then there were crashes. After that it was easy for him to win. Niels is ready for the championships," Nys commented on how he thought the race unfolded.
In the women's race, Dutchwoman Daphny van den Brand (ZZPR.nl-Destil-Merida) won ahead of America's Rachel Lloyd (California Giant Berry Farms/Specialized).
Photography
For a thumbnail gallery of these images, click here
Images by Cyclingnews.com
Results

1 Niels Albert (Bel) BKCP-Powerplus                                  1.00.15
2 Enrico Franzoi (Ita) Liquigas                                         0.17
3 Zdenek Stybar (Cze) Fidea Cycling Team                                0.32
4 Kevin Pauwels (Bel) Fidea Cycling Team
5 Sven Vanthourenhout (Bel) Sunweb Projob Cycling Team
6 Erwin Vervecken (Bel) Revor Cycling Team                              0.44
7 Jan Verstraeten (Bel) KDL-Trans                                       0.49
8 Tom Van Den Bosch (Bel) Rendementhypo Cycling Team                    0.52
9 Klaas Vantornout (Bel) Sunweb Projob Cycling Team                     1.00
10 Sven Nys (Bel) Landbouwkrediet-Colnago                               1.05
11 Martin Zlamalik (Cze) Prodoli Racing Team                            1.40
12 Dieter Vanthourenhout (Bel) BKCP-Powerplus                           2.18
13 Davy Coenen (Bel)                                                    2.22
14 Vincent Baestaens (Bel)                                              2.40
15 Jan Soetens (Bel) Revor Cycling Team                                 2.43
16 Marek Konwa (Pol)                                                    3.00
17 Jim Aernouts (Bel) BKCP-Powerplus                                    3.10
18 Davy Commeyne (Bel) Wielergroep Beveren 2000                         3.17
19 Jeremy Powers (USA) Cyclocrossworld.com-Cannondale
20 Tom Meeusen (Bel)
21 Kay Van Den Brande (Bel) Scott USA Cycling Team                      3.20
22 James Driscoll (USA) Cyclocrossworld.com-Cannondale                  3.30
23 Robert Gavenda (Svk)
24 David Fletcher (GBr)
25 Mike Thielemans (Bel)                                                3.43
26 Tom De Kort (Bel) AVB Cycling Team                                   3.47
27 Nico Berckmans (Bel) DCM-GB Vorselaar Cycling Team VZW               4.10
28 Wesley Van Der Linden (Bel)                                          4.12
29 Derrick St John (Can)                                                5.28
30 Roger Hammond (GBr) Cervelo Test Team                                5.32
31 Thomas Onghena (Bel)                                                 5.42
32 Santiago Armero (Spa)                                                5.35
33 Unai Yus (Spa)                                                       6.11
34 Kevin Cant (Bel)                                                     6.35
35 Aaron Schooler (Can)                                                 6.45
36 Sylweser Janiszewski (Pol)                                           1 lap
37 Ruben Veestraeten (Bel)
38 Steven De Caluwé (Bel)
39 Molly Cameron (USA) Organic Athlete
40 Andre Sutton (Can) (Can)
41 Tom Desmet (Bel)                                                     3 laps

Women

1 Daphny van den Brand (Ned) ZZPR.nl-Destil-Merida               41.19
2 Rachel Lloyd (USA) California Giant Berry Farms-Specialized     0.31
3 Helen Wyman (GBr) Guerciotti                                    1.11
4 Pavla Havlikova (Cze)
5 Nikki Harris (GBr)                                              1.16
6 Saskia Elemans (Ned)                                            1.53
7 Joyce Vanderbeken (Bel)                                         2.33
8 Susan Butler (USA)                                              2.35
9 Natasha Elliott (Can)                                           3.18
10 Wendy Simms (Can)                                              3.54
11 Veerle Ingels (Bel)                                            4.09
12 Christine Vardaros (USA)                                       4.36
13 Anne Arnouts (Bel)                                             5.02
14 Nancy Bober (Bel)                                              5.20
15 Gertie Willems (Bel)                                           5.29
16 Laure Werner (Bel)                                             5.47
17 Anja Nobus (Bel)                                               6.05
18 Katrien Pauwels (Bel)
19 Suzie Godart (Bel)
20 Patsy Larno (Bel)                                              6.25
21 Ilse Vandekinderen (Bel)                                       1 lap
22 Kristien Nelen (Bel)
23 Dorien Raeymaekers (Bel)
24 Katrien Thijs (Bel)
25 Kim Van Renterghem (Bel)                                       2 laps
26 Sofie Leemans (Bel)
27 Sharon Defoor (Bel)
28 Maaike Lanssens (Bel)

Juniors

1 Sean De Bie (Bel)                                              38.20
2 Jan Nesvadba (Cze)                                              0.03
3 Zeb Veestraeten (Bel)                                           0.32
4 Gianni Vermeersch (Bel)
5 Matthias Bossuyt (Bel)                                          0.42
6 Ruben Scheire (Bel)                                             0.52
7 Sem Lambrechts (Bel)                                            1.03
8 Bart De Vocht (Bel)                                             1.16
9 Niels Koyen (Bel)
10 Karl Peeters (Bel)
11 Valentijn Van de Velde (Bel)
12 Hendrik Sweeck (Bel)                                           1.46
13 Angelo De Clercq (Bel)                                         1.54
14 Rinze De Proost (Bel)                                          2.11
15 Frederik Geerts (Bel)                                          2.29
16 Michael Peeters (Bel)                                          2.39
17 Sieën Veestraeten (Bel)                                        3.05
18 Daniel Horyza (Pol)                                            3.53
19 Tijs Van Aert (Bel)                                            4.32
20 Ingmar Uytdewilligen (Bel)
21 Kris Vermeir (Bel)                                             4.36
22 Olivier Vandevijver (Bel)                                      5.18
23 Olivier Vernaet (Bel)                                          5.26
24 Jeffrey Mellemans (Bel)                                        6.04
25 Gert-Jan Opsomer (Bel)                                         6.40
26 Jelle Cant (Bel)                                               6.55
27 Unai Martinez (Spa)                                            7.00
28 Jelko Vanderveken (Bel)                                        7.11
29 Jens Saey (Bel)                                                7.35
30 Jens Van den Bosch (Bel)
31 Elias Hoop (Bel)
32 Berten De Meyer (Bel)
33 Olivier Smet (Bel)

Beginners

1 Jens Vandekinderen (Bel)                                       39.25
2 Maxim Panis (Bel)                                               0.13
3 Jeroen Eykens (Bel)                                             0.27
4 Jorn Claes (Bel)
5 Matthias Van de Velde (Bel)                                     1.06
6 Niels Van den Driessche (Bel)
7 Daan Soete (Bel)                                                1.11
8 Lorenzo Pepermans (Bel)                                         1.26
9 Toon Wouters (Bel)                                              1.46
10 Jérôme Kerf (Bel)
11 Wout Van Aert (Bel)                                            1.55
12 Michael Vanthourenhout (Bel)                                   2.10
13 Daniel Peeters (Bel)                                           3.00
14 Rob Leemans (Bel)
15 Gertjan Bervoets (Bel)
16 Robin Van den Bruel  (Bel)
17 Jellen Schiettecatte (Bel)                                     3.20
18 Jochen Vervoort (Bel)                                          3.22
19 Joni Geeraerts (Bel)                                           3.33
20 Jan-Bartt Opsomer (Bel)
21 Nicolas Scheire (Bel)
22 Charles-Etienne Lambert (Bel)                                  4.35
23 Gillian Veestraeten (Bel)                                      4.14
24 Stijn Gielen (Bel)                                             4.52
25 Brent Trappeniers (Bel)                                        5.08
26 Pepijn Martens (Bel)                                           5.20
27 Sibe Smets (Bel)                                               5.30
28 Michiel Van Echelpoel (Bel)                                    5.50
29 Jorne Kockaertds (Bel)                                         6.04
30 Stef Goormans (Bel)                                            6.48
31 Ludovic Robeet (Bel)                                           7.42
32 Gert-Jan Decoster (Bel)                                        8.24
33 Yolan Brems (Bel)
34 Jasper Struelens (Bel)                                         1 lap
35 Caitlyn La Haye  (Bel)