GP de Ster Sint-Niklaas - C2
St. Niklaas, Belgium, January 2, 2008
2007 Results Results Past winners
First big victory for Peeters
By Brecht Decaluwé in Sint-Niklaas
Peeters was very happy with his victory.
Photo ©: Niels De Wit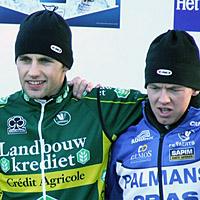 The Landbouwkrediet-Tönisteiner charity action that was organized in the city park near Sint-Niklaas couldn't have been supported any better than with the first big victory from the team's own cyclo-cross specialist Rob Peeters. It was close to the freezing point in Sint-Niklaas, and a cold wind made it even harder for the riders. Dieter Vanthourenhout (Palmans-Cras) led solo during the first half of the race, but then five riders, including Sven Nys (Rabobank), joined him. Peeters jumped away from this six-man group in the last lap and he was able to stay ahead until the finish line.
Most of the Landbouwkrediet-Tönisteiner riders lined up to gather money for the institute "Het Veer" where Tom Steels' daughter is staying. Peeters' win was a great way to support the campaign, and the team's public relations manager said that 10,000 Euro would go to the institute.
Peeters' victory came as a surprise since the 23 year-old only joined the pro ranks this season. The Belgian won his first pro race in Denain, but in Sint-Niklaas he was able to beat some of the best riders, including Belgian 'cross star Sven Nys. After a solo attack by Vanthourenhout, clad in his new team kit, five riders were able to join him just past halfway. Nobody seemed to get away and while everybody expected a sprint, some riders had saved something for the last lap.
Peeters had a five second gap on Radomír Simunek (Palmans-Cras) and the impressive Vanthourenhout. UCI-leader Nys finished fifth, although it was clear he wasn't taking any risks today with the Belgian National Championships coming up Sunday.
Peeters was rapturous about his victory. "To me, this is my first victory among the pros as the victory in Denain wasn't really special because the opposition was low-key. Actually I feel [like] it was a year ago since I won a race," Peeters said at the finish line. Due to the ground frost, the course was very fast which I liked a lot. The wind made it hard for attackers, so I didn't take any initiative. In the last lap I took the lead just before the sand section. At first I did it only to be well positioned, but then I decided to go through it as fast as possible. I never looked back, and here I am," Peeters smiled.
Dieter Vanthourenhout
Photo ©: Niels De Wit

"It's great to beat this sort of opposition. On Sunday I feel that I should have a chance on the podium. Nys and [Bart] Wellens are out of reach, but the battle for third place is wide open and I all goes perfectly I have a chance," concluded the optimistic winner.
The first American finisher was Ryan Trebon (Kona) in 12th. The former US National Champion was confined to his bed during the past two days and should be happy with this result. "It didn't feel good, my throat is still bothering me," the 26 year-old said. Trebon attacked the main group during the second lap, but missed out when some riders joined the leader halfway the race. "I attacked because it went pretty slow anyway. So I thought, why not give it a go? When Nys attacked I was in a group with [Jon] Page [Sunweb-Projob]. I was pulling and Page took over before the sand, but then he sat up. Was he trying to gap me or something? Same thing happened with the other Sunweb guy, Wesley Van Der Linden."
Page abandoned the race shortly afterwards and Trebon ended up riding on his own in 12th position for the rest of the race. Page didn't feel he had troubled Trebon. "I just went [and] passed him in the sand because I had more momentum and he was in a bad line that got him in deeper sand. I was forced into the water which annoyed me a lot," Page said. "Anyway, I don't think I blew the race for him. One lap later I pulled out because I felt that I couldn't dig deep enough. Yesterday I was still having fever, but this morning it was gone so I wanted to start anyway."
James Driscoll (FiordiFrutta Elite) had strong legs and claimed a solid 14th position in Sint-Niklaas. The 22 year-old was wrapping up two weeks in Europe and this was his last European race of his campaign before the World Championships in Treviso.
Jamey Driscoll choose to be on the wheel of Sven Nys
Photo ©: Brecht Decaluwé / www.cyclingnews.com

"It was pretty good," Driscoll smiled. "It surprised me I did well on this course as I'm normally going better in the mud in the US." At the start line Driscoll positioned himself just behind UCI-leader Nys. "Well, I could choose so I thought that I might as well get on his wheel. He didn't start too fast though," Driscoll laughed. "I hope to stay in this form until the World Championships, where I should finish in the top 15," Driscoll said of his realistic intentions for Worlds. "What I dream is something else," he laughed and off he went to the camper to get warm.
A lot of North American riders were present today and other good results were noted from Nicolas Weighall (Rad Racing NW), Danny Summerhill, Tristan Schouten (Planet Bike) and Molly Cameron (Vanilla Bicycles-Stumptown Coffee). Brian Weightman finished as last North American rider but he didn't mind too much. "I'm actually serving in the US Army in Germany and didn't touch my bike for five years. Nevertheless it's great to take part in these races. I want to take part in the next World Cup races as well," Weightman said to Cyclingnews.
How it unfolded
Gerben de Knegt
Photo ©: Niels De Wit

Gerben De Knegt (Rabobank) took the best start and had a small gap on the bunch during the first half of the race. No big gaps were created, and it was eventually Dieter Vanthourenhout who took over from the Dutchman. The 21 year-old jumped away from the bunch and quickly gathered a five second gap on the main group. During the third lap his lead grew to 10" and behind him about 15 riders were still riding together, including Page and Trebon.
Nobody really wanted to chase the Belgian in front and suddenly Trebon jumped away just before the end of the third lap. He gathered a couple of metres but was soon caught. Vanthourenhout's lead doubled during the fourth lap, and then the Rabobank riders started to work in the chase group. Nys jumped away in the fifth lap and in no-time he bridged up to Vanthourenhout. Behind them Simunek, De Knegt, Peeters and Davy Commeyne (Revor Cycling Team) rode together within striking distance.
Jan Soetens ((Revor Cycling Team) bridged up with the riders in front of him on his own and those seven riders battled it out for the victory. Trebon was riding alone in 12th position at one minute of the leaders. Before and behind him there was a 20" gap. With two laps to go Soetens joined the leaders and immediately jumped away.
The Belgian wasn't allowed to get too far and as the leaders hit the ultimate lap a sprint was to be expected. However, Peeters decided on a different outcome, and he steamed away on the beach next to the lake. Simunek tried to join the young Belgian but he fell short and had to settle for second place.
Photography
For a thumbnail gallery of these images, click here
Images by Niels De Wit/www.nielsdewit.be
Images by Brecht Decaluwé / www.cyclingnews.com
Images by Mario Varrewaere/www.cycling-pics.be
Results
Elite/23 Men

1 Rob Peeters (Bel) Landbouwkrediet - Tönissteiner             59.37
2 Radomír Simunek (Cze) Palmans-Cras                            0.05
3 Dieter Vanthourenhout (Bel) Palmans-Cras                      0.07
4 Gerben de Knegt (Ned) Rabobank                                0.08
5 Sven Nys (Bel) Rabobank                                       0.10
6 Jan Soetens (Bel) Revor Cycling Team                          0.18
7 Davy Commeyne (Bel) Revor Cycling Team                        0.27
8 Thijs Al (Ned) BeOne-Chain Reaction Cycles                    0.31
9 Marek Cichosz (Pol) CWKS Legia Warszawa                       0.34
10 Nico Berckmans (Bel) DCM-GB Vorselaar Cycling Team vzw       1.23
11 Stijn Penne (Bel) VZW Wielerclub Onder Ons Parike            1.27
12 Ryan Trebon (USA) Kona-YourKey.com                           1.57
13 Arne Daelmans (Bel) DCM-GB Vorselaar Cycling Team vzw        2.08
14 Jaimey Driscoll (USA) FiordiFrutta Elite                     2.20
15 Sylwester Janiszewski (Pol) CWKS Legia Warszawa              2.38
16 Kay Van Den Brande (Bel) Palmans-Cras                        3.11
17 Tomasz Repinski (Pol) CWKS Legia Warszawa                    3.22
18 Bert De Wispelaere (Bel) Wielerteam Morel & Zn - De Pinte    3.27
19 David Boucher (Fra) Landbouwkrediet - Tönissteiner
20 Patrick Bassez (Bel) Edegem BC                               3.55
21 Nicholas Weighall (USA) Rad Racing NW                        4.09
22 Steven De Caluwé (Bel) SDC-Rogelli Cycling Team              4.48
23 Danny Summerhill (USA) Clif Bar Development                  5.00
24 Tristan Schouten (USA) Planet Bike                           5.06
25 Quincy Vens (Bel) Davitamon - Lotto - Jong Vlaanderen        5.13
26 Filip Meirhaeghe (Bel) Landbouwkrediet - Tönissteiner        5.54
27 Bart Verschueren (Bel) Revor Cycling Team                    6.02
28 Molly Cameron (USA) Vanilla Bicycles-Stumptown Coffee        6.11

One lap behind

29 Bert De Wwaele (Bel) Landbouwkrediet - Tönissteiner
30 Nico Sijmens (Bel) Landbouwkrediet - Tönissteiner
31 Fabian Bzrezinski (Ger) IGAS Wendland
32 Martin Vestby (Nor) Norwegian National Team
33 Mitchell Peterson (USA) Devo
34 Kyle Douglas (Can) 3 Rox Racing
35 Shaun Adamson (Can) Juventus CC
36 Brady Kappius (USA) Clif Bar Development
37 Craig de Meyer (Bel)
38 Mark Cotton (GBr)
39 Johan Myngheer (Bel) VC De Zilverbergvrienden - Rumbeke
40 Kevin Neirynck (Bel) Landbouwkrediet - Tönissteiner
41 Steven De Schoesitter (Bel) Rudyco Cycling Team
42 Rene Mertens (Bel) MD CT Team
43 Dirk Bellemakers (Ned) Landbouwkrediet - Tönissteiner
44 Freddy De Meester (Bel) Rijschool AH - Gentse Velosport
45 Sébastien Delfosse (Bel) Landbouwkrediet - Tönissteiner
46 Brian Weightman (USA)
47 Kristof d'Hollander (Bel)
48 Wouter Van Mechelen (Bel) Landbouwkrediet - Tönissteiner
 
Juniors

1 Gerry Druyts (Bel)                                           37.50
2 Wietse Bosmans (Bel)                                          0.20
3 Zeb Veestraeten (Bel)                                         0.24
4 Andrzej Bartkiewicz (Pol)                                     0.27
5 Gavin Mannion (USA)                                           0.29
6 Eric Emsky (USA)                                              0.37
7 Valentijn Van de Velde (Bel)                                  0.40
8 Omer Claeyton (USA)                                           1.22
9 Steve Fisaer (USA)                                            1.47
10 Pawel Franczak (Pol)
11 Jonas De Boey (Bel)                                          2.00
12 Donald Zachu (USA)                                           2.18
13 Laudelino Lammens (Bel)                                      2.32
14 Raf Risbourg (Bel)                                           2.35
15 Gert-Jan Opsomer (Bel) Easypay Cyclocross Team               3.27
16 Ian Terry (USA)                                              3.40
17 Andrew Llewelyn (USA)                                        4.09
18 Kris Van Quathem (Bel)                                       4.12
19 Laurens Libbrecht (Bel)                                      4.13
20 Jens Van den Bosch (Bel)                                     4.30
21 Nick Vermunicht (Bel)                                        5.15
22 Lennerd Van den Bleeken (Bel)                                6.15
23 Dimitri Michielsen (Bel)                                     6.45
24 Ingmar Uytdewilligen (Bel)

One lap behind

25 Kevin Rokegem (Bel)
26 Jeroen Popelier (Bel)
27 Sandie Verriest (Bel) Asfra Racing Team
 
Novices

1 Yoshi Dedulle (Bel)                                          32.50
2 Dylan Desruelle (Bel)                                         0.12
3 Tim Merlier (Bel)                                             0.24
4 Robin Van Goethem (Bel)                                       0.28
5 Jordy Van Staeyen (Bel)                                       1.22
6 Tijs Van Aert (Bel)                                           1.28
7 Maarten van Trijp (Ned)                                       1.54
8 Ruben Geerinckx (Bel)                                         2.13
9 Kenny Bultynck (Bel)                                          2.17
10 Jorn Claes (Bel)                                             2.32
11 Daniel Peeters (Bel)                                         2.42
12 Jens Saey (Bel)                                              2.53
13 Fabrice Mels (Bel)                                           3.01
14 Jordy de Ryck (Ned)                                          3.13
15 Michael Vanthourenhout (Bel)                                 3.20
16 Jelle Bogaerts (Bel)                                         3.55
17 Tim Deceuninck (Bel)                                         4.03
18 Bruce Dalton (GBr)                                           4.37
19 Matthias Ballet (Bel)                                        5.02
20 Jens Van Slycke (Bel)                                        5.12
21 Kris Vermeir (Bel)                                           5.27
22 Dries Bombeke (Bel)                                          5.37
23 Matthias Van Walle (Bel)                                     6.20
24 Michael Dhondt (Bel)
One lap behind

25 Kenny Van Malderen (Bel)

26 Pieter-Jan Dhondt (Bel)
27 Matthias Demandt (Bel)
28 Gianni Bordui (Bel)
29 Jens Verleyen (Bel)
30 Nick Vliegen (Bel)
31 Klaas Vermetten (Bel)
32 Olivier Smet (Bel)
33 Mathias Couckuyt (Bel)
34 Maaike Lanssens (Bel)
 
Amateurs & Masters A

1 Bert Vervecken (Bel)                                         37.16
2 Benny Van Staeyen (Bel)                                       0.15
3 Nico Schroyen (Bel)                                           0.23
4 Ivan Smet (Bel)
5 Thomas Ingels (Bel)                                           0.30
6 Wim De Witte (Bel)
7 Marc Boudreau (Bel)                                           1.30
8 Robby De Baene (Bel) KSV Deerlijk - Gaverzicht                1.50
9 Gijs Jongeling (Ned)                                          2.15
10 Marnick Snoeck (Bel)
11 Sten Raeymakers (Bel) Cycling Team Oost-West
12 Jurgen Standaert (Bel)                                       3.00
13 Kris Ceulemans (Bel)
14 Richard Lister (GBr)
15 Davy Paeshuyse (Bel)                                         4.05
16 Andy Debruyne (Bel)
17 Tom Wilmsen (Bel)
18 Claudio Siviero (Ita)
19 Dirk Veldeman (Bel)                                          5.10
20 Sven Driesen (Bel)
21 Fredericq Dobbels (Bel)
22 Marnik Renier (Bel)
23 Nils Schepens (Bel)
24 Jos Van Looy (Bel)
25 Gregory Cool (Bel)
26 Carlo Allaert (Bel)
27 ER Brown (USA)

Masters B

1 Jan Van Donink (Bel)
2 Dirk Mertens (Bel)
3 Franky Van Tongelen (Bel)
4 Wim Van den Bergh (Bel)
5 Mark Verloo (Bel)
6 Luc Van den Bergh (Bel)
7 René Swinnen (Bel)
8 Mario Lammens (Bel)
9 Ludwig Gladines (Bel)
10 Peter Ballet (Bel)
11 Marc Coolen (Bel)
12 Luc Van Clapdorp (Bel)
13 Andy Van Looy (Bel)
14 Luc Joos (Bel)
15 Paul Dalton (GBr)
16 Pascal Dysserinck (Bel)
17 Kris Van Honste (Bel)
18 Robert Orange (Can)
19 Dirk Bryssinckx (Bel)

Masters C

1 Rudy Bloemmen (Bel)
2 Eric Van Steerteghem (Bel)
3 François Mertens (Bel)
4 Jan Guido Geudens (Bel)
5 Ivan Coopman (Bel)
6 Ludo Van den Buys (Bel)
7 Dirk Van Sinay (Bel)
8 Martin De Cock (Bel)
9 Luc Ruys (Bel)
10 Luc Vanwesenbeeck (Bel)
11 Edward Lievens (Bel)
12 Laurent De Vos (Bel)
13 Alex Spruyt (Bel)
14 Guy Ceuppens (Bel)
15 Karel Heirbaut (Bel)
16 William Govaert (Bel)
17 Chris Tauscher (USA)
18 Willy Minnen (Bel)
19 Eric Dhondt (Bel)
20 Jackie De Meester (Bel)
21 Gary Noe (USA)

Past winners
2007 Sven Nys (Bel) Rabobank
2006 Sven Nys (Bel) Rabobank
2005 Tom Vannoppen (Bel) Palmans-Sapim
2004 Peter Van Santvliet (Bel) Spaar Select
2003 Sven Nys (Bel) Rabobank
2002 Mario De Clercq (Bel) Domo-Farm Frites
2001 Sven Nys (Bel)
2000 Sven Nys (Bel)
 
Past winners by Mario Stiehl, www.world-of-cycling.com