First Edition Cycling News, April 22, 2009
Edited by Greg Johnson and Les Clarke
Evans rates himself a Flèche contender
Yes we can! Cadel Evans thinks he can give Silence-Lotto
Photo ©: AFP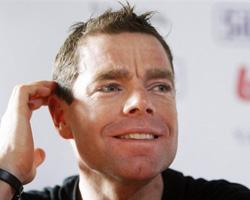 With an injury-free start to the season and ever-improving form, Cadel Evans' chances of standing higher on the Flèche Wallonne podium are better than ever. Despite serving as preparation for July's Tour de France - his main objective of the season - Evans is one of the favourites to take the crown on the Huy.
Silence-Lotto manager Marc Sergeant agrees. "The condition of Cadel Evans is very good," Sergeant told Sporza.
Last year he was narrowly beaten by Kim Kirchen on the Mur de Huy. With the Luxembourger in poor form following recovery from an injury, Sergeant is optimistic.
"He can set a high pace [up the Huy] so that no one can pass," explained Sergeant. "Last year, only Kirchen was left. Now, hopefully no one can."
The Belgian director is still under pressure to help deliver the team's first major win of 2009. He's keeping it all in perspective, admitting that, "the pressure is there," but the team was, "just missing the cherry on the cake".
This is how much chance our rivals have:
Photo ©: AFP

Evans has started 2009 with a solid base and constantly built on that with notable performances in races such as the Coppi Bartali and Vuelta a Pais Vasco. "My season has been average; not good, but not bad," explained Evans.
"I don't have a load of pressure," he added. "I put enough pressure on myself, and we'll start with the strongest team in the team's history."
That team support will serve him well in today's Flèche Wallonne and Sunday's Liège-Bastogne-Liège. "I'm looking forward to the Flèche Wallonne," said Evans. "I think it's one of the most beautiful one-day races of the year.
"Last year I was second and I hope to do even better," he added. "The Tour remains the primary objective of the year, but I like this race and once again I hope I can win."
Read Cyclingnews' full preview of Flèche Wallonne here.
Photography
For a thumbnail gallery of these images, click here
Images by AFP
Lloyd sidelined for a month
Team-mate Evans drops off a care package
The extent of Matthew Lloyd's injuries following a crash at Amstel Gold Race are being revealed, with the rider expected to spend four to six weeks off the bike. Lloyd will undergo further tests this week to reveal the full extent of the former Australian Open Road Champion's spinal injuries.
Coming up on
Cyclingnews will cover the 60th edition of the Dauphiné Libéré live as of stage 4 on Wednesday, June 10, at approximately 15:00 local Europe time (CEST)/ 23:00 Australian time (CDT)/ 9:00 (USA East).

WAP-enabled mobile devices: http://live.cyclingnews.com/wap/
"I was super lucky," Lloyd told YouAndIRide. "It could of been so much worse with the injuries that I have to my spine."
Lloyd was involved in a crash with Saxo Bank's Fränk Schleck and Johnny Hoogerland, who still finished the race, around 73 kilometres from the Dutch Spring Classic's finish. Schleck was discharged from the hospital in Maastricht and could return to racing as soon as this weekend's Liège - Bastogne - Liège.
"As it is, I have smashed my sacrum and busted bits of vertebrea and should be back on the bike in four-six weeks," said Lloyd. "Maybe even sooner if the bones come together well."
Lloyd has been visited on a number of occasions by team-mate Cadel Evans in hospital. Evans dropped in a care package for the bed-ridden rider yesterday which included DVDs like Fight Club, iNSOMNiA, Reservoir Dogs, L4yer Cake and The Patriot.
Impey fuming about unapologetic Bos incident
Team calls on UCI to set an example
By Shane Stokes
Patrick Calcagni helped Darryl Impey reach the finish line.
Photo ©: Presidential Cycling Tour

Facing extensive mouth work plus an enforced period of time off the bike, Barloworld rider Daryl Impey is seething at what he feels was very incorrect behaviour by Theo Bos on the final stage of the Presidential Tour of Turkey. The two riders tangled inside the final two kilometres, with overhead television shots appearing to show Bos grab Impey's jersey and hurl him to the ground, wiping himself out in the process.
Bos insisted that the action was accidental, while Impey says otherwise and said that no attempt was made to apologise afterwards, despite sharing an ambulance together. He wants action taken as a result.
"I was riding top 25, staying out of trouble," he told Cyclingnews. "Once we got under the one kilometre to go banner I could see none of us were in contention so I was just taking it easy on the left side behind my team-mate Paolo Longo Borghini. First Bos pushed me but I had nowhere to go, then, all of a sudden I felt a hand on my left shoulder pulling me into the barrier, crashing me."
Impey said nothing had happened in the run-up to the incident in order to provoke any aggressive behaviour. "I never had any words with Bos during the Tour," he said. "In fact we have never spoken before. So it is all a mystery as to why this happened. He could've pulled the brakes, especially [as it was] for twentieth place. Plus he is not allowed to take his hands off the bars."
While he's clearly angry, Impey said that he personally is unlikely to lodge a complaint. "I am leaving this up to my team," he said. "I would like to stay away from all the politics as I am not in the best position now, I just want my health back and to recover.
"The world of cycling saw it and something needs to be done about it," added Impey. "I would like them to review it all and make a decision, a final one. As I said, I don't want to get involved in the politics. But it makes me really mad when he couldn't even utter a word of apology when I was lying next to him in the ambulance. Clearly he was not that sorry."
Barloworld team director Claudio Corti has called on the UCI to sanction Bos. Corti believes should the now high-profile incident go unpunished, it could have a dangerous impact teams' attitudes.
"I'm certain that the race judges will take the necessary disciplinary action and adequately sanction Theo Bos for what he did," said Corti. "If they do not, every directeur sportif will be able to tell their riders to use their hands to make room for themselves during sprints".
Bos' version of events is that he was squeezed into the barriers and was already falling when the incident happened. "I didn't pull Impey down, I am not crazy," he insisted on Rabobank's website. "At that speed and that position I would have torpedoed myself. No way [that I would have done that].
"I just wanted to defend myself against him. He came over to my side and I was as good as in the barrier," he said, noting they appeared to be narrowing and that this caused the crash. "I touched a foot of one the barriers and that way brought down Impey."
The South African rider came off worse, with doctors reporting that he had suffered a fracture of the third disc of his lumbar vertebra, a micro-fracture of his neck, facial trauma, a few broken teeth and a deep cut in his lips. He told Cyclingnews that he will head home soon and get reconstruction done there, with Impey believing he will have to replace 'most of the teeth on the bottom part'.
Bos denies wrongdoing
As reaction grew against Bos, the former track sprint world champion said that he intended to talk to Impey about what happened.
"Everybody who knows me well knows that I would never purposely take risks to cause a crash in such a way. Why would have I taken myself down?," wrote Bos on the team website. "I want to make it right with Impey and I've said to the team, that I would like to have a conversation with him and tell him my side of it. I've got no reason to hide from him, though I do understand that he's quite angry."
Impey made that annoyance clear to Cyclingnews, saying that Bos already had a chance to talk about it but didn't do so. "It was totally uncalled for and he wasn't sorry in the least," he said. "He was in the ambulance with me and didn't even say a word, except asking the crew how far it was to the hospital. He could have broken my neck or back... it could've have been way worse, now I have a cracked vertebra and I am out of action for at least four weeks.
"I was working very hard for the Giro and after my performance in Turkey I was really upbeat about my condition and feeling strong and confident," he said. "The doctor has said I risk having a hunchback if I try sitting or standing, so it is all about recovery. My main objective now is to recover for the second part of the season and continue from where I left off."
Re-examination possible
As reported on Tuesday, the UCI has said that it could review the incident. It will first await the report of the president of the jury and then make a decision. In this case both riders are likely to be asked their side of events, and frame-by-frame analysis of the television footage will most likely be used.
For now, public opinion is divided. The bulk of those speaking on internet forums believing that Bos was at fault, while others say he was falling and reached out in a reflex action to grab Impey and try to stay upright.
"I feel bad to have made the news in this manner," said Bos. "As a sportsman, I want it to be known that I'm quite beside myself over this. I'm bothered by it. What happened was not on purpose. Not even in the heat of the moment. I would like everyone to understand that this is not how I win my sprints."
Rock Racing pulls out of Gila as funds dwindle
By Kirsten Robbins
Michael Ball runs the Rock Racing team.
Photo ©: Roberto Bettini

Rock Racing's financial difficulties have force them to pull out of the upcoming Tour of the Gila, set to begin on April 29 in Silver City, New Mexico. "There just isn't enough money for us to be able to get there," team owner Michael Ball told Cyclingnews.
The Rock'n'Republic jeans manufacturer owner is having to tighten his belt as the economic crisis impacts company sales. Earlier in the year Ball admitted the team would require another sponsor for its full roster and season to be guaranteed.
"We might try to do some other events," said Ball. "Gila is too expensive for us. We need to tighten the belt."
Rock Racing had enlisted a strong line up for the race which included US National Criterium Champion Rahsaan Bahati, Jeff Eckert, Danny Finneran, Sergio Hernandez and Nick Sanderson. Michael Creed, Chris Baldwin and Cesar Grajales were also expected to take part, but have since been 'let go' from the amateur squad due to budget cutbacks.
The team is confirmed to compete in the Tour of Columbia, the Tour of Missouri and TD Bank Philadelphia Championship, according to Ball. "We will still be out there racing but we have select races that have the best return for the sponsors," Ball said. "A year ago I threw money at the team and now it's different - very humbling."
The team's website has received a makeover, which includes the slogan 'Rocks not dead - brace yourself'.
Boonen sidelined with fissure
Tom Boonen (Quick Step) celebrates three
Photo ©: Florian Schaaf

Paris-Roubaix champion Tom Boonen will spend 10 days off the bike after x-rays revealed a fissure, or cleft, in his right foot. Boonen underwent x-rays at a hospital in Mol yesterday and was informed of the fissure by Herentals Clinic doctors later that day.
The injury, sustained in a finishing sprint crash at Scheldeprijs last week, comes at a good time in the Belgian's season. While he will be forced to spend 10 days off the bike, Boonen's currently in-between season goal with his Spring Classic campaign over and the Tour de France still two months away.
"When these things happen it's always better to look on the bright side," said Boonen. "Fortunately, we're talking about a fissure - a fracture would have been more complicated. Furthermore, this accident came in the last race marking the end of the first part of my racing season, and the recuperation time for the injury coincides with my period of rest from competition."
Quick Step doesn't expect their star sprinter's Tour de France campaign will be affected by the fissure.
Unlucky Arndt out of Flèche
Columbia-Highroad's Judith Arndt will miss today's 12th Women's Flèche Wallonne, following a crash at the weekend's Ronde Van Gelderland in Holland. Arndt was expected to make her World Cup return at today's race, having broken her collarbone earlier in the season, but is now out with another injury.
The German rider broke her scaphoid in her wrist after another competitor collided with her in Gelderland. "It's a real pity for Judith," said team sports director Ronny Lauke. "She was in great shape and it was an unlucky crash. Hopefully, she'll have a fast recovery and will be back racing again soon."
The squad will look to Mara Abbott and Luise Keller to fly its flag at the World Cup event. It will be Abbott's first time competing at the Women's Flèche Wallonne, but feels as though she's in good shape for the event.
"I saw the Mur de Huy last spring and half-rode, half-walked up it," Abbott said. "My favourite kinds of climb are longer, but I'm keen to see how I can do on a short hard climb like the Mur, too.
"I haven't done a lot of racing yet this year, but when I have I can tell I'm in good shape," added Abbott. "I'm really excited about Wednesday's race. I've mainly done stage races up to now, so it'll be interesting to see what I can do in a Classic where you base everything round one day's performance."
Nydam readies for Gila
By Kirsten Robbins
Scott Nydam (BMC) takes home the win
Photo ©: Marco Quezada

Scott Nydam will be a driving force at up coming Tour of the Gila if his 175 km solo victory at the Tour of the Battenkill on Sunday is any indication. The five-day stage race is set to begin on April 29 in Silver City, Mew Mexico where Nydam is hoping for another stellar performance.
"The Tour of the Gila is the first race I ever did and so I have an affinity with it," said Nydam, who will spend a week training at altitude in Utah before flying to New Mexico. "My expectations are to be a strong team-mate, to look for opportunity and to see how it shakes out for our team.
"I hope to put myself in the position to ride for the finish line," he added. "I hope to do well there. Plus, it's a chance to test out my climbing."
The BMC squad recently returned to the United States of America after a European campaign that ended with a invitation to the prestigious Paris-Roubaix. The squad was well prepared to take on the rare opportunity to participate in races like the Tour of Battenkill and Tour of the Gila that offer lengthy road races over epic terrain, according to Nydam.
"BMC wasn't created to stay here in North America," Nydam said. "Our vision is to move through the races in Europe. This is hard to do but we are all trying to hold ourselves to a hire standard. When races like Battenkill and Gila come up, Gavin Chilcott is quick to send us here because they suit the kind of riders we have. The longer the races, the better we will do."
The squad scored a major invite yesterday as the only wildcard to contest this year's Critérium du Dauphiné Libéré. The team edged out squads like local outfit Agritubel and Cervelo Test Team, which includes the reigning Tour de France champion Carlos Sastre.
Classic technical videos from Cyclingnews
The Ronde van Vlaanderen didn't go quite as planned for Fabian Cancellara (Saxo Bank)
Photo ©: James Huang

The peloton's gearing up for another Spring Classic today, and what better way to prepare yourself for it by checking out the team's gear. Cyclingnews has uploaded its video pro bike features on Fabian Cancellara's Specialized S-Works Tarmac SL2, Martijn Maaskant's Felt F1 and Daniele Benatti's Cannondale SuperSix Hi-Mod.
Of course if you're concerned about your boss springing you watching our videos when you perhaps shouldn't be, don't worry because you can see the text versions of Fabian Cancellara's Specialized S-Works Tarmac SL2 and Martijn Maaskant's Felt F1 by clicking on those links. Unfortunately, due to a slight theft issue*, you'll need to run the risk of watching the Benatti video (it's worth it, we swear).
Notes (*): Oh, and if anyone gets a good deal on a MacBook in the Belgium area that happens to have images of Daniele Benatti's pro bike on it, be a sport and let us know!
Previous News Next News
(All rights reserved/Copyright Future Publishing (Overseas) Limited 2009)