Tour of the Battenkill - NE
Cambridge, New York, USA, April 18-19, 2009
Main Page Results Overall standings Previous Stage
Race 2 - April 19: Cambridge - Cambridge, 200km
Nydam envisioned Battenkill victory
By Kirsten Robbins
Scott Nydam (BMC) takes home the win
Photo ©: Marco Quezada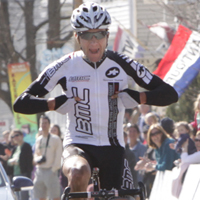 Having maintained a solo attack for most of the race, Scott Nydam (BMC) enjoyed a satisfying victory at the Tour of Battenkill-Roubaix Invitational. After spending nearly 175km off the front, Nydam muscled his way to the finish line more than two minutes ahead of second-placed Karl Menzies (OUCH p/b Maxxis) and third-placed Francois Parisien (Team Planet Energy).
"I'm stoked," Nydam told Cyclingnews. "It was a very satisfying win. I went into this race hoping to win and was envisioning going to the line alone. This win felt like it was a long time coming and everything came together today. I knew where to use my efforts on the course and how to maintain my speed on the climbs, descents and in the dirt."
The main group was reduced to just 25 riders by the end of the race. Menzies bridged across to Nydam's lone chaser, Parisien, and used his speed to win the two-up sprint for second place. "Obviously winning was our number one goal but we rode the race as best we could," said Mike Tamayo, OUCH p/b Maxxis directeur sportif. "We raced hard and BMC raced hard too. Hats go off to them for a great race. My guys really left it all out there today and they should be proud of that."
A beautiful scene, not that the peloton
Photo ©: Marco Quezada

The men's 160-rider peloton anxiously lined up to start one of the longest and toughest events held on American soil, literally. Nearly 40km of the total 200km road race was held on New York State dirt roads. Blue skies made the otherwise epic race tolerable because the dirt roads, combined with undulating terrain and strong winds, caused the large field to dwindle to 62 by the finish.
"It was a great course, a really hard course and riders made a big deal of the dirt," said Tamayo. "It was the climbs that made it hard. The dirt brought the handling skills factor out but the attrition came from the climbs."
Nydam initiated his early move with Bobby Lea (OUCH p/b Maxxis) in tow on the first dirt section, 16km into the lengthy event. The pair worked together for more than 100km and gained a maximum of five minutes on the peloton. "Bobby did a great job today," explained Tamayo. "Once he got caught he stayed in the race and did a lot of work for the team today."
Lea lost Nydam's wheel before the start of the second lap and was joined by Parisien. The pair of chasers worked together to try to bring Nydam back but the solo leader continued to pick up another valuable minute. "When I started the second lap I got radio bits that some attacks were going and a chase group had formed," Nydam said. "But I still had a three-minute lead and at that point my thought was to maximize the amount of time off the front to give my teammates a free ride for as long as possible."
Team Type 1 mechanic Alex Benyay does his work
Photo ©: Marco Quezada

Behind Nydam and his chasers, Bissell and Team Type 1 lead the bid to bring back the escaped riders. But, the time damage to Nydam was too hefty and the race continued for second place. "Once the chase was reabsorbed I knew there was going to be some time of indecision," Nydam said. "It was a long enough and hard enough race to really work into peoples heads."
Lea was reabsorbed into the bunch where his OUCH p/b Maxxis teammates assumed responsibility at the front. "We really relied on a rider like Tim Johnson to use is cross power over the dirt sections to bring back Parisien," Tamayo said. "That's where the race of attrition started to take over and ten riders fell off the back each time we went over another climb."
Menzies attacked the small chase group that included Sean Milne (Team Type 1) and the previous day's winner Chad Beyer (BMC) to bridged across to Parisien. "Karl got away on one of the descents wit eight kilometres to go," Tamayo said. "Overall it was a good bike racing, an epic day and a great ride. Tactical race and attrition took over at the end."
Photography
For a thumbnail gallery of these images, click here
Images by Marco Quezada/nyvelocity.com
Results

1 Scott Nydam (USA) BMC Racing Team                               5.16.32  (38.00km/h)
2 Karl Menzies (Aus) OUCH Pro Cycling p/b Maxxis                     2.17
3 Francois Parisien (Can) Team Planet Energy                         2.21
4 Shawn Milne (USA) Team Type 1                                      2.55
5 Chad Beyer (USA) BMC Racing Team                                       
6 James Driscoll (USA) Haymarket Bicycles/Trakkers                   3.46
7 Ryan Roth (Can) Team Planet Energy                                 3.47
8 Martin Gilbert (Can) Team Planet Energy                            3.50
9 Jonathan Garcia (USA) BMC Racing Team                              3.51
10 Antonio Cruz (USA) BMC Racing Team                                4.00
11 Cheyne Hoag (USA) Kelly Benefit Strategies Pro Cycling               
12 Adam Myerson (USA) Team Mountain Khakis Pro Cycling                   
13 Frank Pipp (USA) Bissell Pro Cycling                                  
14 Jacob Rytlewski (USA) Kenda Pro Cycling p/b Spinergy                  
15 Jackson Stewart (USA) BMC Racing Team                                 
16 Timothy Johnson (USA) OUCH Pro Cycling p/b Maxxis                     
17 Bruno Langlois (Can) Team Planet Energy                               
18 Thomas Soladay (USA) Team Mountain Khakis Pro Cycling                 
19 William Dugan (USA) CCB International                             4.01
20 Christopher Butler (USA) Team Mountain Khakis Pro Cycling             
21 Boyd Johnson (USA) DLP Racing                                         
22 Derrick St. John (Can) Ride With Rendall                              
23 Keck Baker (USA) Battley HARLEY-DAVIDSON/Sonoma                   4.02
24 Bobby Lea (USA) OUCH Pro Cycling p/b Maxxis                       5.09
25 John Delong (USA) Haymarket Bicycles/Trakkers                     5.30
26 Daniel Zmolik (USA) CRCA/Empire CT p/b Northwave                      
27 John Minutrn (USA) CRCA/Empire CT p/b Northwave                   6.23
28 Mike Stoop (USA) Team Mountain Khakis Pro Cycling                 7.25
29 Benjamin Martel (Can) MAZURCOACHING.com/BIKYLE                    7.26
30 Keven Lacombe (Can) Team Planet Energy                            7.38
31 Joshua Dillon (USA) BikeReg.com/Cannondale                            
32 Graham Howard (USA) Bissell Pro Cycling                               
33 Aldo Ino Ilesic (Slo) Team Type 1                                 8.00
34 Michael Mathis (USA) CRCA/Empire CT p/b Northwave                     
35 Justin Spinelli (USA) Spooky/NCC/Kenda                            8.01
36 Kevin Hazzard (Can) Jet Fuel Coffee                              10.13
37 Daniel Holt (USA) Team Type 1                                    11.05
38 Tiago Depaula Souza (Bra) DLP Racing                                  
39 Scott Tietzel (USA) DLP Racing                                        
40 Daniel Cassidy (USA) CCB International                                
41 Clayton Barrows (USA) CRCA/Empire CT p/b Northwave                    
42 Nick Frey (USA) MetLife Cycling Team                                  
43 Rafael Adolfo German Meran (Dom) GS Mengoni USA                  11.06
44 Bennet Van Der Genugten (USA) Kenda Pro Cycling p/b Spinergy     11.07
45 David Veilleux (Can) Kelly Benefit Strategies Pro Cycling       11.32
46 Jerome Townsend (USA) Independent Fabrications/Lionette's        13.22
47 Sean Barrie (USA) Battley HARLEY-DAVIDSON/Sonoma                 17.07
48 Omer Kem (USA) Bissell Pro Cycling                                    
49 Stephan Kincaid (USA) CRCA/Empire CT p/b Northwave               17.08
50 Eric Brownell (USA) CRCA/Empire CT p/b Northwave                      
51 Justin Lindine (USA) BikeReg.com/Cannondale                      17.09
52 Sheldon Deeny (USA) Bissell Pro Cycling                               
53 Ryan Dewald (USA) Battley HARLEY-DAVIDSON/Sonoma                      
54 Steven Gordon (USA) DLP Racing                                   21.13
55 Nick Bennette (USA) MetLife Cycling Team                              
56 Nathaniel Ward (USA) Spooky/NCC/Kenda                            21.14
57 Peter Morse (Can) Jet Fuel Coffee                                     
58 Kier Plaice (Can) Team Type 1                                         
59 John Murphy (USA) OUCH Pro Cycling p/b Maxxis                    21.16
60 Jake Hollenbach (USA) CRCA/Empire CT p/b Northwave               25.30
61 Adam Sullivan (USA) Spooky/NCC/Kenda                             25.33
62 Simeon Green (GBr) Haymarket Bicycles/Trakkers                   27.19
DNF Tom Zirbel (USA) Bissell Pro Cycling                                 
DNF James Duncan (USA) DLP Racing                                        
DNF Shawn Kane (Can) DLP Racing                                          
DNF Philip (Alder) Martz (USA) DLP Racing                                
DNF Andrew Olson (USA) DLP Racing                                        
DNF Jonny Hamblen (USA) DLP Racing                                       
DNF Jacob Keough (USA) Kelly Benefit Strategies Pro Cycling             
DNF Shane Kline (USA) Kelly Benefit Strategies Pro Cycling              
DNF Jonathan Sundt (USA) Kelly Benefit Strategies Pro Cycling           
DNF Chad Burdzilauskas (USA) Kenda Pro Cycling p/b Spinergy              
DNF Jonathan Parrish (USA) Kenda Pro Cycling p/b Spinergy                
DNF Benjamin Renkema (USA) Kenda Pro Cycling p/b Spinergy                
DNF Tyler Stanfield (USA) Kenda Pro Cycling p/b Spinergy                 
DNF Timothy Swain (USA) Kenda Pro Cycling p/b Spinergy                   
DNF Scottie Weiss (USA) Kenda Pro Cycling p/b Spinergy                   
DNF Andy Applegate (USA) Kenda Pro Cycling p/b Spinergy                  
DNF Jonathan Chodroff (USA) OUCH Pro Cycling p/b Maxxis                  
DNF Roman Kilun (USA) OUCH Pro Cycling p/b Maxxis                        
DNF Andrew Baker (USA) Team Mountain Khakis Pro Cycling                  
DNF Mark Hekman (USA) Team Mountain Khakis Pro Cycling                   
DNF Logan Loader (USA) Team Mountain Khakis Pro Cycling                  
DNF Charles Marzot (USA) Team Mountain Khakis Pro Cycling                
DNF Andrew Randell (Can) Team Planet Energy                              
DNF Maxime Vives (Can) Team Planet Energy                                
DNF Andrew Hunt (Can) Team Type 1                                        
DNF Charles Eldridge (USA) Team Type 1                                   
DNF Kenneth Hanson (USA) Team Type 1                                     
DNF Harold Phil Southerland (USA) Team Type 1                            
DNF Brian Butts (USA) Battley HARLEY-DAVIDSON/Sonoma                     
DNF Jose Escobar (USA) Battley HARLEY-DAVIDSON/Sonoma                    
DNF Charles Hutcheson (USA) Battley HARLEY-DAVIDSON/Sonoma               
DNF Russell Langley (USA) Battley HARLEY-DAVIDSON/Sonoma                 
DNF Thom Coupe (USA) BikeReg.com/Cannondale                              
DNF Nicholas Keough (USA) BikeReg.com/Cannondale                         
DNF Joshua Lipka (USA) BikeReg.com/Cannondale                            
DNF Eric Schildge (USA) BikeReg.com/Cannondale                           
DNF Dan Timmerman (USA) BikeReg.com/Cannondale                           
DNF Stephen Weller (USA) BikeReg.com/Cannondale                          
DNF Matthew White (USA) BikeReg.com/Cannondale                           
DNF Aliksandr (Sasha) Bialiauski (Blr) CCB International                 
DNF Alex Cox (USA) CCB International                                     
DNF Yahor Buben (Blr) CCB International                                  
DNF Colin Jaskiewicz (USA) CCB International                             
DNF Dylan Mcnicholas (USA) CCB International                             
DNF Chris Worden (USA) CCB International                                 
DNF Luis Aquino (Uru) Champion Systems/Gladiator Wine                    
DNF Franklin Burgos (USA) Champion Systems/Gladiator Wine                
DNF Gavri Epstein (Can) Champion Systems/Gladiator Wine                  
DNF Rodney Santiago (PRc) Champion Systems/Gladiator Wine                
DNF Wilson Vasquez (USA) Champion Systems/Gladiator Wine                 
DNF Euris Rafael Vidat Paulino (USA) Champion Systems/Gladiator Wine     
DNF Matthew Johnson (USA) CRCA/Empire CT p/b Northwave                   
DNF Michael Margarite (USA) CRCA/Empire CT p/b Northwave                 
DNF Eugene Boronow (USA) GS Mengoni USA                                  
DNF Salvatore Divetta Scotto (USA) GS Mengoni USA                        
DNF Amauri Perez Fernandez (Dom) GS Mengoni USA                          
DNF David Wiswell (USA) GS Mengoni USA                                   
DNF Stephen Cummings (USA) Haymarket Bicycles/Trakkers                   
DNF Gonzalo Escobar (USA) Haymarket Bicycles/Trakkers                    
DNF Jared Nieters (USA) Haymarket Bicycles/Trakkers                      
DNF John Parks (USA) Haymarket Bicycles/Trakkers                         
DNF John Rowley (USA) Haymarket Bicycles/Trakkers                        
DNF Adam Branfman (USA) Independent Fabrications/Lionette's              
DNF Jonathan Bruno (USA) Independent Fabrications/Lionette's             
DNF Robbie King (USA) Independent Fabrications/Lionette's                
DNF Emerson Oronte (USA) Independent Fabrications/Lionette's             
DNF Kevin Wolfson (USA) Independent Fabrications/Lionette's              
DNF Todd Yezefski (USA) Independent Fabrications/Lionette's              
DNF Ryan Aitcheson (Can) Jet Fuel Coffee                                 
DNF Bryson Bowers (Can) Jet Fuel Coffee                                  
DNF David Byer (Can) Jet Fuel Coffee                                     
DNF Jamie Riggs (Can) Jet Fuel Coffee                                    
DNF Adrian Huemmer (Can) MAZURCOACHING.com/BIKYLE                        
DNF Brendan Matthias (Can) MAZURCOACHING.com/BIKYLE                      
DNF Justin Steeds (Can) MAZURCOACHING.com/BIKYLE                         
DNF Mark Walters (Can) MAZURCOACHING.com/BIKYLE                          
DNF Jan Zak (Can) MAZURCOACHING.com/BIKYLE                               
DNF Scott Dolmat-Connell (USA) MetLife Cycling Team                      
DNF Ryan Fleming (USA) MetLife Cycling Team                              
DNF Charles Mccarthy (USA) MetLife Cycling Team                          
DNF Peter Bell (USA) MetLife Cycling Team                                
DNF Vincent Scalia (USA) MetLife Cycling Team                            
DNF Brad Sheehan (USA) MetLife Cycling Team                              
DNF Marc Boudreau (Can) Ride With Rendall                                
DNF Casey Roth (Can) Ride With Rendall                                   
DNF Greg Reain (Can) Ride With Rendall                                   
DNF Jim Tsilemos (Can) Ride With Rendall                                 
DNF Christopher Reid (Can) Ride With Rendall                             
DNF Thomas Devisscher (Can) Ride With Rendall                            
DNF Glen Rendall (Can) Ride With Rendall                                 
DNF Matthew Brewster (USA) Spooky/NCC/Kenda                              
DNF Alec Donahue (USA) Spooky/NCC/Kenda                                  
DNF Mukunda Feldman (USA) Spooky/NCC/Kenda                               
DNF Matt Mainer (USA) Spooky/NCC/Kenda                                   
DNF Matthew Purdy (USA) Spooky/NCC/Kenda                                 
DNF Eric Tremble (USA) Spooky/NCC/Kenda