A Lance in full: Armstrong at the pinnacle
Cyclingnews' European Editor Tim Maloney interviewed three-time Tour de France winner Lance Armstrong the day before this year's Milan - San Remo, the rider's first major hit-out for the year. In this special two-part interview, Armstrong discusses the year ahead, his TdF training template and reveals even more about dealings with French authorities, who have found another reason to make life difficult for the American champion. Part Two will appear next week.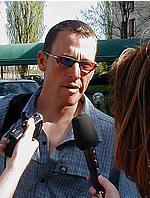 Lance Armstrong at Milan-San Remo
Photo: © Tim Maloney
Lance Armstrong first came to the attention of Racy Language not in the Lone Star State but the Red Star capital, Moscow USSR where the young Texan put on a show of impressive strength but few racing smarts in the '89 Junior World Championship.
Two years later, Armstrong was back in RL and by this time, he had learned to race, with an impressive win by the not quite 20 year-old in Italy's prestigious Settimana Bergamasca stage race. The Armstrong story continued to unfold as the emerging champion was a favorite for the last amateur Olympic road race in '92, then turned pro.
'Massive explosion' would be one way to characterize Lance's first full pro season, when he won a triple crown million bucks and the USPRO championships, then a stage of the Tour De France in Verdun. I remember so well watching Armstrong on Eurosport, powering to his World Championship in Oslo, Norway at 21 while the faces of Indurain and Chiapucchi were twisted in pain and desperation chasing the American. That had to be one of my most enjoyable editions of RL.
The continuing legend of Lance grew, with back to back Tour DuPont wins in '95 and '96, the year when Armstrong bulled his way to win his first classic on a cold day in the Ardennes at Fleche Wallone and a disappointing loss to eventual Olympic champion Pascal Richard in Liege-Bastogne-Liege a few days later. Lance had arrived as a stone cold classics killer, but as he rode in Le Tour and the '96 Atlanta Olympics, something seemed 'off'.
That something turned out to be the advanced testicular cancer that shocked the sports world in October 1996. Armstrong battled his disease just as he had battled the steep climbs of the Ardennes that spring and his will and determination helped the Texan overcome cancer, his life's acknowledged defining event.
You know the rest of the story: the incredible comeback, the three consecutive Tour De France wins. Not much more to say except that Lance Armstrong is clearly at the pinnacle of his career as he faces the daunting challenge of conquering his fourth consecutive Tour De France, a feat that only Jacques Anquetil (1961-64), Eddy Merckx (1969-72) and Miguel Indurain (1991-94) have achieved before. Racy Language spoke to Armstrong on the eve of Milano-San Remo, his first race of the 2002 season.
Cyclingnews: First of all, we wanted to talk to you about the challenges facing you and USPS in going for your fourth consecutive Tour De France win. You've been quoted as saying that you, Johan (Bruyneel) and the team have created a "template"; that you have put in place a winning program. Can you tell us more about this and how you see the challenge this year of going for your fouth consecutive Tour De France win?
Lance Armstrong: Well, I mean the answer is pretty boring because, like you say, we have the program, we have this template and we just haven't changed it. We just keep basically hitting rewind and play, rewind and play in terms of the preparation.
You can never hit rewind and play for the race, because it's a bike race and it's three weeks and there's hundreds of variables, or thousands that can change everything. The only thing that we have refined, or changed is that in the beginning – the beginning being 1999, when we did these camps – it was purely just to look and see and to experience what those big climbs were like; to basically take the stage, to do the stage and to feel what that was like. I had obviously done that in '93 and '94, those years, but never really done it with the idea that a few weeks later or a few months later I would try and win the Tour de France.
So those were purely just going there and a look see. As we've gotten further along, we've started to increase the intensity of the training. So the next year, being 2000, we brought more guys; a little more competitive, a little more intense and then last year, there was just a full blown attack fest. We really – not raced, but we trained hard and traded punches. It was fun, it was really hard training. So it wasn't so much going and looking; it was also a chance to do some intense, hard, quality, long training. I mean, we did one of the days, I should say we did six days, one day was six, the next day was seven, the next day was eight (hours of daily training); just long stages. It's easy to do eight hours in the mountains; the day we did eight was the day that ultimately finished at Pla d'Adet.
CN: So you rode the TdF parcours, but at a fast training pace?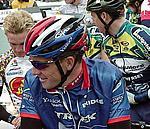 At the GP San Francisco
Photo: © Jon Devich
LA: Right; it takes a long time, so you stop, change clothes if it's cold, take food; it's not a race. We definitely stop… you can't ride along at 40-45 (km/hr) like you do in a race.
CN: That's not too boring; looking to win your fourth consecutive Tour De France win is a major feat in cycling!
LA: I have a lot of confidence that I'll be ready; that the training will go; that I'll have the motivation to race, be motivated to train; that the team's motivated; that the preparation will go well. But I don't have entire confidence that we can win again, because again it's a three week race and a lot of things can happen: crashes, illnesses, bad luck, bad tactics, crosswinds, miss the selection. I mean, I'm very realistic when it comes to losing the Tour de France. I know that it's that close a lot of times. But at the same time, we know how important it is to us. You just can't make silly little mistakes and you have to be always attentive in the Tour de France and I think that's what we do. We put everything aside, all conversation in the peloton and just we know how important it is and stay in front.
CN: I recently heard a quote from Tiger Woods who just won his third consecutive tournament…
LA: Bay Hill
CN: … Woods said something to the effect that 'I've won here before and even though I may not be playing that well going into it but I know I've won on this course and I know that I have the confidence to do that again. That echoed some of the things that you have said.
LA: Obviously, different events. But if everything goes according to plan, the preparation… And along the way, there are little markers; either tests you do in training, testing you do in a race. I go to Midi-Libre, I go to Dauphine and have certain results, you know compared to the others where you are, you can get a good idea of 'will you be close?' And that's as good as you can get, that's as close as you can possibly expect to be. You would be a fool to start the Tour and say "I'm going to win", or "I can't lose". That would be suicide.
CN: One of the changes in the template is a greater emphasis in the classics, in supporting George Hincapie in the classics. You will be taking a bigger role in this respect.
LA: It doesn't change much in terms of what I've done up until now. I had the bad luck with the stomach bug, but I've trained probably the same as last year. I probably could have done, with the condition I had last year, an OK San Remo; helped George, helped the team, been somewhere near the front I suppose, but I think I just had a desire to do some bigger races earlier. I like to race, I like the feeling of a classic; as you well know. At these big events, there is just a great feeling around them and I kind of wanted to come back and feel some of that stuff earlier in the season than I had. Don't get me wrong; races like Murcia and Aragon are fine races for preparation but it's not like being on the start line in Sint Niklaas for the Tour Of Flanders; it's pouring rain and there are a million people on the side of the road. It's a good feeling.
CN: Do you still get some butterflies in your stomach?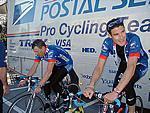 Warming up
Photo: © Tim Maloney
LA: Oh, those (races). Not so much for tomorrow 'cuz it's a straightforward race, but Flanders, I will be nervous as a cat. It's a dangerous race, but that's good. It's good to have some stimulation. At the end of the day, there are three things. Number one, I think a lot of George Hincapie. I think he's a great kid; I've known him a long time and he's one of my favourite people in the world. Second of all, I think he has good possibilities every year, but this year especially, I see a different George; he's tougher, he's trained harder. He's lacked "grinta" in the past and I think he's acquired some of that. The third thing (laughing) is that I don't know that I can be of any help (to George). A race like Flanders; it's been so long (since I've ridden) that I don't know if I can do it. With good legs, you can increase your chances. We'll see.
CN: Did you watch Paris-Roubaix last year on TV?
LA: Yeah, I was at home in Spain.
CN: What went through your mind when you saw George up there with those Domo guys?
LA: That was an interesting race To me (P-R) is not the biggest classic. If I had to compare Flanders or Roubaix, Flanders is a much more complete race. Everybody's there. It doesn't take a scientist to figure this out I'm not trying to criticize Roubaix but if you take the start list, the UCI top 100, the top teams, the people that are there (at P-R), it lacks a lot of guys, whereas if you look at Flanders, everybody's there.
CN: Is that the cycling purist in you speaking?
LA: Don't get me wrong; someday I'd like to start Roubaix, just to experience it, but that's why you see the domination by one team (in P-R); it seems like 10 years, because if you've got one team that says "OK, this is the race"; for a long time it was Mapei, last year it was obviously Domo, that's what happens. You can do that (at P-R). Nobody can do that in the Tour Of Flanders.
CN: Like you guys (USPS) do in the Tour De France.
LA: Umm… and it works. Last year at P-R it was pretty obvious that it was going to be very difficult for George to win. He had that flat when (George) was with Peeters when he came out of the Arenberg and he was just noodlin' along; it didn't even look like he had a chain on the bike. If it was my choice – it's not my choice, but if I had to pick a (classic) race to win, it would be Flanders.
CN: You've talked about wanting to experience Paris-Roubaix; have you ever considered changing the template and becoming a classics rider?
LA: (Laughing) No… I've already transitioned officially and I don't think that I'll ever transition back.
CN: What about another Grand Tour? You've already been fourth in the Vuelta.
LA: The Giro still holds some space in my mind, probably because I've never done it before. I really like racing in the country (Armstrong's second pro win in August '92 was in Marostica, Italy – Ed). Italy has a lot of god things to offer: great bike racing, great fans, great food. I would like to do the Giro at some point, but now – with the Spanish emphasis of our team, with only 23 guys – we can't do three big tours, there's no way we can do the Giro with the way it's set up now. we'll see. And I don't know how much longer I'll be around…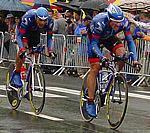 2001 Tour rain
Photo: © Phil McKnight
CN: What about the new guys on the USPS team this year…I'm curious how this may affect the template.
LA: When you first asked about the template, that was the obvious thing; the first thing that came to mind to me. We always have to change the way we pick the team a little bit; Certain guys fit in; is he a climber, a sprinter, a flatlander… what is he? That always changes. If you look at the team we had in '99 to what we have now, it's totally different.
But in the off-season, when we make these selections, we don't just go around blindly; we have some thought as to who's going to fit in where, if this guy's available, what can he do? Can he do the Classics and help George? Can he do the Tour? Can he do both? Is he young? Is he a wild card? As we've always said, its hard to lose people, but if you look at sports, it's normal; it's absolutely, totally, perfectly normal that the championship team loses players. So it's difficult for us; because we (USPS) get accused of burning people out or not letting people shine. That's the furthest thing from the truth.
If you go back and look at history. Jonathan Vaughters in '99; we rode for him and supported him in Dauphiné; rode for him and supported him in Route Du Sud. Tyler in 2000 rode a great race in Dauphiné, won the Dauphiné. People ride all year long for themselves and then when it's time to leave, and they have great offers, we can't stand in the way.We (USPS) have a limited budget. The other teams want to take some of our players and at the end of the day, you have to let them go. You develop them, become friends with them and you want what's best for them. If there is an opportunity to grow in another team, let 'em go!
CN: What about the criticism about Tour De France selection?
LA: People just have to fit into the team; to ride the Tour, to be one of those nine guys, you've got to be a perfect fit. And if you're not, we'll work next year, or start with the Vuelta.
You've got to begin with baby steps. "I've had some results in America and I'm on US Postal and damnit, I want to do the Tour de France." It just doesn't work like that. Let's be realistic like that.
CN: How does it feel to be the target of the sensationalist European tabloid newspapers who are looking to create a scandal around your relationship with Dr Michele Ferrari?
LA: Well if you look back to the Festina affair, that was the biggest one day sales of (French sports daily) L'Equipe ever. Drug, sex, rock and roll… it SELLS, dammit. So of course they're gonna play that and they want to sell their papers but they can't seem to find the balance of what's ethically correct as a journalist, as a reporter or as a human versus selling papers.
And it's crossed over into all of our sports life, and have people – athletes – made mistakes? Riders and teams have been dumb; taking stupid risks, risked their occupation and their sports livelihood and should they be punished? Absolutely. But other situations, while they may seem that there is something there, that other people may have seemed guilty, certain journalists have just wanted to destroy them. Maybe I'm a little bit… I suffer from cycling's (bad) reputation, from having Michele Ferrari as an advisor. But if you step back and look at the facts about Ferrari, if you go all the way back, Michele Ferrari is really guilty of one thing: being a terrible PR person.
CN: You mean his orange juice quote?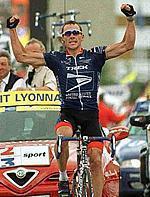 Winning
Photo: © Sirotti
LA: How can you say… it was a terrible quote. But the guy is, ultimately, the guy is completely honest and totally direct. (The media) were just egging him on and egging him on and he said "I suppose if you drank that much orange juice, it'd kill you too." And boom! It was finished. Bad call!
(Ed. note: In '94, Ferrari was allegedly misquoted in the Italian cycling media as having said that EPO isn't any more dangerous than orange juice. In an interview last fall with a Danish tabloid, Ferrari claimed that his quote was along the lines of "In the course an interview I was drinking a glass of orange juice and used it as an example. Drinking orange juice in and of itself isn't dangerous. But it can be dangerous to drink 10 litres, for example Ð you could develop diarrhea. Only the French L'Equipe quoted me correctly.")
So here we are. If you go and look at the facts, if you talk about the sensationalist, the Danish people, a particular Irish person; they follow me around, they know what hotel I stay in. It is a little funny. The article (on Armstong's relationship with Michele Ferrari published in October 2001 in Ekstrabladet) basically told me that Lance Armstrong likes to stay in nice hotels, which is true! Don't we all? But there wasn't much there and the cycling media in the (TdF) pressroom recognized that. To say "I have a mole who was in Motorola", a rider who said this or that, well it boils down to three people: me, Frankie Andreu and Sean Yates. I don't think so.
CN: Last year towards the end of the Tour De France, French journalist Phillipe Bruneel published an article in L'Equipe that seemed to pick up on the TdF press corps' scepticism on doping claims against you, essentially declaring that you deserved the benefit of the doubt in this matter.
LA: Well, now, look at this (French judicial) investigation. Look at what they've put us through. I could talk to you for hours about this investigation. They looked high, low, middle, everywhere, left, right, and it has taken them, what, a year and a half to finally say "We have found nothing."
Let's keep in mind that these tests take one day. We just saw it at the Olympic Games. A year and a half later, with egg on the face, they will say "we have found nothing" no EPO, no NESP – which they surely looked for because they thought "oh we can't find EPO; it must be something else" – no NESP, no cortisone, no nothing! Not even cortisone! Do you know how many riders in the 2000 Tour de France were clean (without cortisone) on their medical dossier? Three! And so we've been put through that How could a journalist want to ignore those facts, and how could a journalist not ultimately, at some point, ask some questions of the (French) judicial system? "Guys what are you doing?" So if these sensationalist journalists can really look at the facts, if they're Danish, if they're British, if they're whatever, they're coming after the wrong people.
(See US Postal Investigation - Why? by Darren Tulett for the full story on the USPS investigation – Ed)
CN: You didn't characterize it as a witch-hunt this time!
LA: Do you want to hear a good one? It's spilled over into other areas and now the tax authorities are chasing me in France. They can't find drugs in his urine, so he must be a tax cheater, so the the tax authorities have now decided to send me a tax bill for the 1999 Tour de France prize money, the whole thing. It's like $400,000. I've gotten the bill. Because they just assume – actually they don't assume, because they know that the history and the tradition of cycling is that the winner gives all the money away. But they've sent me the bill; the full bill as if that check was written to me.
They know damn well STF wrote the check to the (US cycling) federation, who wrote us a check, to the team and it was disbursed to the team members. I didn't take a dime, but I'm liable for the entire tax penalty. And they know that and they're going to do it for 2000 and 2001. Right now it's at the point where we're showing them the documentation that I didn't receive a red cent and hopefully that's enough. We're pushing back.
CN: You've been in this game a long time now. How do you look at the sport of cycling from a personal perspective?
LA: Oh, I love it! I absolutely love it. At the end of the day I don't need to race anymore. I've done a helluva lot more than I ever thought I'd do. Done better in terms of results, financially, travelling, experiences, introductions… you name it. It's been a hundredfold (more). So if I didn't love it, I would have been gone now. But I still just, I really dig it! I'm going to walk out this door and go sit at the dinner table with seven other guys and have a damn good time, laugh, goof around, be a part of a team. That to me is eternally cool. And that may stop and when the training becomes a little boring or maybe my age catches up with me. You asked about my age; I'm now the second oldest guy on the team.
CN: Are your team-mates calling you pappy yet?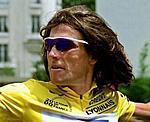 Missing a few days' riding has dire results
Photo: © AFP
LA: Not yet, they're nicer than that. But I still have a ton of passion for bike racing, and it's twelve months a year. I mean there's months that I don't do much, but man, if I go three or four days without riding my bike, I get really cranky. I like riding my bike, I crave it. In the wintertime, when I'm on the road, I just go nuts! I'm in New York for four days or something and I see Central Park and I don't have a bike and I go crazy! Just ask my wife…
Coming Next: A Lance In Full-Part Two – Life as father of three, easy listening and dirt bike adventures
Previous Lance Armstrong & US Postal features on Cyclingnews