Cyclingnews 2007 Reader Poll Results
Female Mountain Bike Racer of the Year
Georgia Gould
Photo ©: Rob Jones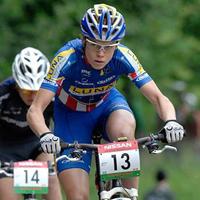 In 2007, Georgia Gould stepped up from being an elite national-level racer in the United States to being a contender on the international scene. The 27 year-old Luna Chix rider scored five top-ten cross country finishes in at the UCI Mountain Bike World Cup events in Houffalize, Champéry, Mont St Anne, St Felicién and Maribor, with her best finish a fifth place at St Felicién in Canada.
She also finished ninth at the World Championships in Fort William, Scotland. Although Gould was unable to defend her national cross country title from 2006, she earned the crown of Pan American champion in March and went undefeated in the American National Mountain Bike Series (NMBS) and won the USA Cycling National Mountain Bike Calendar. Her strong international performances throughout 2007 have put her in contention for the race to earn one of two spots on the US Olympic team.
Gould's career has been a textbook example of how to enter the sport of mountain biking and progress upward. Earlier this year she told Cyclingnews in an interview, "My near future goals are to continue to do well nationally, to do well in the World Cup series in 2008 and in the World Championships, and to focus on finishing on the podium in more World Cups next year."
The humble, realistic Gould keeps her racing in perspective. "Long term, I'd like to see myself as the world champion," Gould said. "But overall, I don't have a lot of specific expectations that I'll be really upset if I don't meet. I just take them as they come and try not get too stressed out about it. After all, it's just bike racing and I've been lucky enough to do this as my job and be successful at it, and if I could continue this as my job I'd be happy."
Gould won the reader poll in a convincing fashion with 26.44% of the votes. Also a strong racer in cyclo-cross (she finished fourth in the Cyclingnews Reader Poll for best female 'cross racer), Gould's name recognition spans disciplines. Second through sixth places were closely matched, with each taking nine or 10% of the votes. Consistently top-notch performances in major international cross country and marathon events carried German Sabine Spitz to second place while downhillers Tracy Moseley and World Downhill Champion Sabrina Jonnier finished third and fourth respectively.
On an interesting note, cross country World Champion and overall top UCI-ranked Irina Kalentieva only made it to fifth place, which she shared with last year's third place finisher, Canadian cross country racer Marie Hélène Prémont. The Russian Kalentieva was ranked ninth last year in the reader poll.
Last year's winner Norwegian Gunn Rita Dahle Flesjaa was nowhere to be found on the 2007 Rider of the Year rankings after she had to sit out most of the season due to illness. However, look out for her to return to the rankings in 2008. The reigning Olympic Champion has returned to training in recent months and has her sights firmly set on the Games in Beijing in August where she will be looking to add another medal to her gold from 2004 in Athens.
Results

                            Votes        %ge
1 Georgia Gould              2040      26.44
2 Sabine Spitz                839      10.87
3 Tracy Moseley               759       9.84
4 Sabrina Jonnier             736       9.54
5 Marie Hélène Prémont        732       9.49
6 Irina Kalentieva            732       9.49
7 Jill Kintner                605       7.84
8 Mary McConneloug            535       6.93
9 Anneke Beerten              533       6.91
10 Ren Chengyuan              204       2.64

                  Total:     7715