An interview with Georgia Gould, December 12, 2007
Georgia Gould: Climbing higher
The name Georgia Gould has appeared at the top of the North American cyclo-cross results so often this year that it's hard to believe that the 2006 US national mountain bike champion has only been a professional racer for only a few years. Perhaps it's her alliterative name, perhaps it's her prodigious winning streak this season, but this Baltimore native just seems to belong at the top of the podium. Gould spoke with Cyclingnews' Kirsten Robbins about her journey to the top and her Olympic dreams.
A smiling Georgia Gould
Photo ©: Mitch Clinton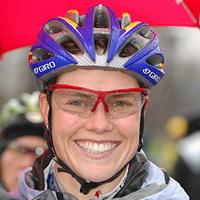 A mountain bike racer first and foremost, 27 year-old Georgia Gould won her first professional race in the 2006 US mountain bike championships. Since then, she's been on a winning streak that included just about every cross country race she entered on the US calendar, including the national mountain bike series. She ended the mountain biking season sixth in the UCI's rankings, the season's only disappointment was being denied a repeat win in the national championship at Mt. Snow this year.
The always smiling Gould hung up the wide knobbies in September to hit the North American cyclo-cross circuit, and it's no surprise she's become quite fond of the sport after taking home four victories and the overall the series win in the US Gran Prix of Cyclo-cross. Last season she was just two seconds off of a national title in her second sport. This year, after taking on the continent's best women in the knee deep mud at the series finals in Portland and winning, it's no surprise that Gould's answer to the question, "Can you win the US 'cross championship?" was a resounding "Yes!".
Off road roots
When growing up in Baltimore, Maryland, Gould wasn't exposed much to cycling. In fact, it wasn't until she moved to Sun Valley, Idaho after completing a degree in psychology that she first picked up the bike.
Gould and her husband Dusty LaBarr currently live in Fort Collins, Colorado, but Gould explained that Sun Valley was where she first took up mountain biking, and then started taking it more seriously after being exposed to the multitude of training rides and weekend races.
"I noticed that mountain biking was something a lot of people did so I started exploring all the trails," said Gould. "When I was nineteen I met Dusty out there and he was also mountain biking, so we ended up riding together a lot. The next couple years I did racing here and there and in 2003, I got more serious and did the whole regional series as an expert. Then in 2004 I got my professional license."
"That fifth place in the Canadian World Cup was good for my career and combined with the other good finishes on the world cup circuit, I made myself known internationally this year."
-Gould on her ascent into the top ten of the UCI rankings
In her first professional season with Team Tamarac, the pair based themselves out of a fifteen-passenger van and drove to the national calendar events. "My husband is very supportive," acknowledged Gould. "He has been my support from the very beginning: he's my mechanic, he feeds me and used to even clean my bike. We train together and we also pre-rode the courses together."
Gould quickly advanced into a full-blown professional mountain biker, a progression she attributes not only to her supportive family but also to her long time coach Ben Ollett of Source Endurance. "My coach has been great and I've been working with him since I got my pro license," said Gould. "His style of coaching has worked well with what I need. I've never worked with another coach and he's been with me from the very beginning. All the things I've accomplished wouldn't have been done with out his help."
After a season of consistent high finishes in 2005, Gould landed a contract with the Luna Women's MTB Team, one of the most renowned women's team in the US that provided a large support staff and hired top end riders including Katrina Nash and Shonny Vanlandingham. "They contacted me because they thought that I had some potential and they took a chance," said Gould.
On the podium with Luna team-mate Katherina Nash
Photo ©: Kurt Jambretz

"I'd say it's a very cohesive unit, even though tactics don't play a huge role in mountain biking or cyclo-cross, having your team-mates there with you is great," continued Gould. "We all get along together really well. I was worried about that at first, was there going to be drama on a women's team. But, I had a lot of success early on and I think that if I had team-mates who weren't as supportive things might have be different for me. I've never wanted to look for another team."
There were no victories, but consistent results continued to roll in during her first season with Luna that kept the potential-packed rider hungry for some rugged improvements. After a long season her first win arrived in the last race of the season at the 2006 US national mountain bike championships. "Winning the national title is what really put me on the map as a rider," said Gould. "Since I had never won a race before that, I figured it was a great one to start out with."
Gould placed second in this year's 2007 US mountain bike national championships, a disheartening way to end her all-season winning streak. "I think that winning the overall series was a very good way to end the season and even though it was a bummer that I didn't win nationals, I was actually happy with my performance there because I rode well in muddy conditions that I usually have trouble in," said Gould.
Gould credits her racing schedule in Europe for her improvements in the 2007 year where she rode into several top ten finishes on the world cup circuit and a fifth place in the St. Felician World Cup in Canada. "I think that fifth place in the Canadian World Cup was good for my career and combined with the other good finishes on the world cup circuit, I made myself known internationally this year."
There was no special secret to her improvements except that diving into European mountain biking where the level of competition is a notch higher, made her that much stronger in more ways than one. "There are stronger riders over there, the field is a lot deeper, you have to be aggressive, have good technical skills and be really fit. What ever your weakness is it's going to be very apparent in those races. I think confidence is huge and you have to gradually build it up.
What Georgia does to stay fit in the off-season
Strong technical skills
Photo ©: Mitch Clinton

Because of her international success as a mountain biker, confidence was one thing that Gould was not lacking when she hit the American cyclo-cross circuit this fall. Gould has now moved herself into a position to challenge the three year stranglehold Katie Compton has had on the US cyclo-cross championship.
Though she maintains that mountain biking is her number one priority and the sport that she calls her career, cyclo-cross has stolen a small part of her heart. "I love cyclo-cross and I look forward to it every year," said Gould. "I love the atmosphere and the fans and I think that the two sports can be complimentary to one another.
"Cyclo-cross has helped me as a racer in terms of the racing being more tactical and not as much of a time trial the way a mountain bike race is. It gives me a lot of experience in a short amount of time. I don't stress out about cyclo-cross because I can't take it as seriously as my mountain biking season - it would be too much for me."
Because her cyclo-cross racing takes a back seat to mountain biking, Gould has turned down several opportunities, including an invitation to compete with US national team in Europe. "I have to sacrifice things, like last year I didn't go to 'cross worlds because I knew I would be racing on the world cup mountain bike circuit this year and so I didn't want to be burned out before the season started."
According to Gould, cyclo-cross is a good way to keep some off-season fitness however, competing all the way to the world championships at the end of January leaves little time to rest for the mountain bike season that starts in February. That being the case, Gould's cyclo-cross endeavours will end in Kansas City in the national championships.
"I would absolutely love to give cyclo-cross my all internationally some day."
-Gould on her second favourite sport, cyclo-cross
Having already proven her ability by winning four consecutive USGP races; two in New Jersey and two in Portland while challenging world ranked North American riders like Katie Compton and Lyne Bessette, Gould is hopeful to continue her cyclo-cross success in Kansas. "Yes I do think I have a good chance to win nationals," said Gould confidently. "And I would absolutely love to give cyclo-cross my all internationally some day. I can't this year because next year is such an important year with the Olympic Games, that's my focus."
American cyclo-cross has taken on life of its own with the field sizes, sponsorships, events and teams growth, Gould noted that she would like to be a part of the sport's growing popularity in future years. "I think its fantastic to see the sport growing so quickly," said Gould. "The year after next I'd like to do some 'cross races in Europe and try out the world championships too. But this year I need to stay focused on the goals I have right now for mountain biking next year."
Managing two sports at an internationally competitive level does not pose a challenge with the right amounts of organized time management skills and allowing for some rest and relaxation. "Last year I took a couple of weeks between mountain bike season and 'cross season where I did what ever I wanted to do," said Gould who feels that taking time completely off her bike is not really her style. "If I felt like riding or running I did. I don't really take time totally off because I never really feel good when I do that. I take unstructured time to myself. After that I start training. Also, I don't need too much time off the bike, I like riding my bike especially my mountain bike.
The Olympic spirit
Gould has had plenty of opportunity
Photo ©: Kurt Jambretz

A successful performance is dependent upon multiple factors, according to the Olympic hopeful. But whether it is qualifying for the Olympic games or winning a grassroots race, Gould believes the most important factor in being successful comes when you have worked to the best of your ability. "I always think that doing the best you can is successful enough, but maybe it's a little bit of everything," said Gould. "I've done races that I've been really proud of and I didn't necessarily win them. I think it depends on which race it is and on the competition, its not about what your placing is because there are so many factors and really you can only control what you've done to prepare for yourself. You can't control how others have prepared, I try to race with what I've prepared myself with."
Gould has surpassed her expectations every year since she began racing as a professional, and she hopes to carry that momentum into the coming season. "My near future goals are to continue to do well nationally, to do well in the world cup series in 2008 and in the world championships, and to focus on finishing on the podium in more world cups next year."
"Long term, I'd like to see myself as the world champion," Gould continued. "But overall, I don't have a lot of specific expectations that I'll be really upset if I don't meet. I just take them as they come and try not get too stressed out about it. After all, it's just bike racing and I've been lucky enough to do this as my job and be successful at it, and if I could continue this as my job I'd be happy."
The multi-talented rider has yet to qualify for the 2008 Beijing Olympic Games, and will have to go through a competitive selection process that allows for only two riders. The US national team women have worked hard through this season's calendar in order to collect enough UCI points to qualify as one of six countries that can take two riders. With that mission accomplished, it's a matter determining who will be selected.
The podium has become a familiar place
Photo ©: Mitch Clinton

"Next year there are four world cups that will determine who goes to the Olympics," said Gould. "I made the qualification to go over to China for the Olympic test event, and I got to see the course. I'm glad I got the opportunity to do that because its different from anything I've ever raced on. I'd definitely say that's one of my goals but not my only goal. I think it will be challenging to make the Olympic team because there are more than two women capable of qualifying."
"As a kid growing up, I was never thinking I could do what I've done now," said Gould in regards to her goals as a world-class cyclist and maybe even an Olympian. "As bits of success came along I started to look forward to the next successes and it was all a progression. So I think it was just building on the things I had accomplished and then reaching for the things I haven't accomplished. I have a solid foundation and I am going to continue to build on that."