2007 Australian Senior Track Championships - CN
Dunc Gray Velodrome, Sydney, February 5-11, 2007
Main Page Results Previous Day
Day 6 - February 10: Men U19 1km TT final, Men U19 omnium, Women 3000m team pursuit, Men keirin, Women U19 7.5km scratch
Evening of firsts at Australian Track Championships
Introducing the Omnium and women's team pursuit
By John Michael Flynn at Sydney's Dunc Gray Velodrome
Leonard slipped
Photo ©: John Veage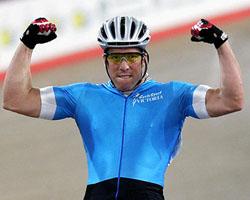 It proved to be an evening of firsts on the penultimate day of the Australian Track Cycling Championships at Sydney's Dunc Gray Velodrome. The first ever staging of an omnium, the first women's teams pursuit and the first time in recent memory a rider has won the blue ribbon men's keirin event in a breakaway…that's right; a breakaway!
"I saw the opportunity, I've got the kilometre background, I can go for four laps, so two laps aren't going to hurt me that much," Victorian Joel Leonard told Cyclingnews after his breakaway victory. "I laid it down, had a go, and to cross the finish line with no-one coming around me was an excellent feeling."
Leonard's bizarre victory - what happened?
"The most bizarre keirin I've ever ridden, just bizaare," was how Victorian Mark French aptly described the chain of events which led to Joel Leonard's second Australian keirin championship. The startled crowd no doubt agreed as a stunned silence filled the house; no sound but the animated tones of race announcer Paul Craft.
In a final featuring Olympic champion Ryan Bayley, the ACT's Daniel Ellis, talented Malaysian Josiah Ng, the in-form Shane Perkins, former world junior champion French and 2005 National Keirin champion Joel Leonard (the latter three members of Victoria's gold medal winning team sprint), expectations were high for an electrifying match sprint at the death.
But it was Leonard, hooking onto the wheel of the motorbike at the race start, who chanced his hand in track cycling's version of the 'meat tray raffle' (an Australian pub tradition). The Victorian, always highly rated as a contender, getting the victory, just not in a way anyone had planned. "When the bike came off I accelerated, had a look and there was a gap," Leonard said.
French, who was a couple of wheels back when Leonard jumped, watched in disbelief as the man on the front of the group allowed the margin to increase."Daniel Ellis just gave him sixty metres," French said, still shaking his head. "Just let him go, sixty metres … I don't know what his theory was behind that."
When Leonard looked back a second time, he decided it was time to hit the gas. The Victorian, who won the national keirin championship in 2005 but was disqualified in 2006, made the most of his opportunity. "I saw the gap and said I'm going now, the show's on. If they get around me, they get around me," Leonard said. "You have a few tactics going into the race, and you re-work your new tactics during the race. I got the [motor] bike and thought I'm going to stay here, lead it out."
Bad luck for Benny K
A dose of old fashioned bad luck cost Commonwealth Games kilo champion Ben Kersten any chance of defending his national keirin championship from 2006. Kersten was eliminated in the semi finals after the seat on his bike snapped - and he was unable to apply full power to the pedals. "Yeah I've broken my seat just when the moves were coming and I had to try and ride without any pressure on my seat," Kersten said. "It was unfortunate, I had pretty good legs tonight, I was just looking forward to getting on with racing and putting the drama behind me, but not to be."
A triple gold medalist at last year's national track championships in Adelaide, Kersten has endured a tough road into the 2007 titles. His Commonwealth Games success in 2006 was followed by back surgery to correct a nagging disc problem. It meant a lengthy lay-off from the sport.
Kersten made a successful return to racing at the Tasmanian Track Carnivals but since then has hit a few potholes. "I've just tried to cram the last year that I've missed out in training into the last two months," Kersten admitted. "I was doing pretty well and it all came crashing down around me the last few weeks, I thought I had glandular fever or something. I think I'm just in the biggest hole I've ever been in and I picked a nice week for it to happen."
Kersten intends to ride in the inaugural men's omnium at the Australian championships and will enter the event, despite his form, as one of the favourites, given his diverse abilities in both sprinting and track endurance.
Howard wins under 19 time trial and omnium
JM19 Omnium
Photo ©: John Veage

Introduced to the Australian Track Championship program for the first time, the under 19 men's omnium occupied the major share of the Saturday evening program at the Dunc Gray Velodrome, and from the riders at least, there was a seal of approval.
The event which combines a one kilometre time trial, flying 200 metre time trial, five kilometre scratch race, 2000-metre individual pursuit and 15 kilometre points race appeared custom made for dynamic Victorian Leigh Howard, whose abilities both as a sprinter and track pursuitist are already well documented.
Howard opened his account in the omnium with an impressive victory in the under 19, 1000-metre time trial. The under 19 kilo doubled both as an omnium event and an individual event and the Victorians enjoyed all the spoils, with Howard, Glenn O'Shea and James Langedyk scoring the trifecta.
Clocking a time of 1.04.889, Howard finished more than half a second in front of O'shea, the eventual silver medalist. "The track's obviously pretty quick out there," Howard told Cyclingnews after his time trial victory. "Its nearly a second quicker than I've done at State Titles."
Last out of the blocks, Howard needed to produce a lightning quick time after O'Shea - one of the finds of the carnival - lifted himself with a personal best 1.05.454. "That guy he's on absolute fire at the moment," Howard admitted. "He had me worried when he came out and did that time, he's done 2.5 seconds quicker than his states and he just about annihilated the field in the points race."
Howard followed up with a victory in the flying 200 metre time trial, fourth place in the scratch race, first in the individual pursuit and third (on countback) in the 15 kilometre points race. Under the omnium points system, it gave Howard the least number of points - and the overall omnium victory.
Victorian team-mate O'Shea placed third in the 200 metre time trial, third in the scratch race, second in the individual pursuit and second in the points race - a well deserved silver medal to go with his gold in the points race. "Yeah it's been awesome I've been training so much for this (championships)," O'Shea said. "It (the omnium) was hard, the last race I was in a bit of trouble, a bit tired. It was good fun, a few events like the 200 metre fly I haven't done for about three years so it was good to have a go at them."
The omnium - first impressions
The first staging of an omnium might not have set the Dunc Gray velodrome alight, but for the eventual victor in the inaugural race on Australian soil, Victorian junior world champion Leigh Howard, it was all positive. "It's a fabulous event, you've got your pure sprinters have got their events, pure pursuiters have got their events and then you've got people like myself and Glenn (O'Shea) who can do it all at a reasonable pace so it's a good event for us as well," Howard said. Hopefully it'll stick around.
Victorian coach Hilton Clarke (Snr) also sees plenty of positives with the omnium. The under 19 event attracted 26 competitors at its first running. "I think it gives track riders another avenue to compete for a world championship," Clarke told Cyclingnews. "Its good for the kilometre riders who can ride a pursuit and sprint. It's an all round cyclist. I think it'll have to be a specialized event on one afternoon so that they can restrict it and so they can just run it right through in one program."
When Cyclingnews sought a penny for Cycling Australia President Mike Victor's thoughts on the omnium, there was a similar response in terms of the staging of the omnium. "First time for the omnium and it takes up a lot of the program, it was a bit of an issue to get a program out of the whole week because of the omnium and which riders are going to ride the omnium," Victor said. "The thought was the omnium becomes a specialist event, however we haven't found those specialist riders yet."
Cycling Australia is also investigating the concept of staging the omnium as an individual event, perhaps even taking it to a regional centre, similar to what has happened with the Australian Madison championship. The addition of the omnium to the Australian Championships program has effectively extended it by one day - to a lengthy seven day program. "There was talk today in a meeting that maybe the omnium event stands alone on another weekend of the year like the Madison does at the moment," Victor said. "And we'll go back to the original program, fewer number of days, where we have the time trial first, earlier in the week."
New South Wales wins inaugural women's team pursuit
A challenge
Photo ©: John Veage

Along with the omnium, tonight saw the staging of Australia's first ever women's teams pursuit - an optimistic concept perhaps, given only three riders contest the women's individual pursuit earlier in the week. Three states managed to field teams in the event, with New South Wales, Western Australia and Victoria, entering three-woman teams in the 3000 metre event.
Victoria's team of Jessica Berry, Tess Downing and under 19 Lisa Friend was eliminated in the heats, leaving Western Australia's all under 19 team of Sarah Kent, Camille Pallett and Josephine Tomic to fight it out with the New South Wales team of Sky-Lee Armstrong, Toireasa Gallagher and Amanda Spratt in the final.
Despite never having ridden a team pursuit before, the New South Wales girls lifted themselves for the occasion, to become Australia's first women's team pursuit champions. "I've been waiting years for this event to happen," New South Wales pursuit rider Toireasa Gallagher said post race. "Amanda (Spratt) she was our powerhouse out there today."
Better known as a sprinter, Sky-Lee Armstrong was an unknown quantity going into the pursuit, but managed to hold on until the finish. "That was actually my first pursuit ever, we haven't trained together yet so, Gary Sutton goes, oh we'll be right," Armstrong said. "The lactate levels are a lot different to a point score or a scratch race and as Gary said, doing more pursuits will only make us stronger for the pointscore, so the next couple of years watch out, once I do more pursuit work!".
New South Wales teams pursuit anchor Amanda Spratt had set herself for the event, after sitting out yesterday's women's scratch race. The teams pursuit high on her list of priorities. "It's fantastic, I think it's so great that they've introduced this event at national level and it's going to be at world's too," Spratt said. "The start list for the individual pursuit was disappointing a few days ago, hopefully with this it can encourage a few more women into the sport."
Cycling Australia concerned
The lack of depth in women's track endurance numbers, the mediocre showing in the inaugural women's teams pursuit and arguably dreadfully poor numbers in the women's individual pursuit were duly noted by Cycling Australia.
When quizzed by Cyclingnews, Cycling Australia President Mike Victor was obviously concerned. "From a women's perspective, we're very very disappointed with the numbers because with an individual pursuit, you only have three riders turn up, it's not on," Victor said. "I can't understand some of these coaches, the girls are here. Even for a teams pursuit, if there's girls that have finished their racing, they might be a sprinter or whatever, there's no reason they can't line up over three thousand metres."
Possible solutions being discussed include opening up the national track championships beyond the traditional domain of State teams, or increasing the size of state teams to help increase the field sizes. "The situation with track endurance with women was addressed the other day," Victor said. "We all agree there's a real problem why we haven't got the numbers. Katie Mactier lines up, she's that much ahead of the other two girls she raced against, maybe she frightened them all away."
More success for Victoria - Friend wins under 19 women's scratch race
Lisa Friend
Photo ©: John Veage

Adding yet another gold medal to Victoria's haul was Melbourne's Lisa Friend, who positioned herself perfectly in the sprint to win the under 19 women's scratch race. The pace slow early, and a crash involving WA's Camille Pallett and ACT's Jessica Ellis didn't help proceedings.
Only Pallett re-mounted with the race ending in a sprint finish. Queensland's Pip Hindmarsh was expected to feature in dash for the medals, but found herself positioned too far back at the rear of the field.
Friend, meantime, found herself in an ideal position, sitting on the wheel of one of the pre-race favourites Josephine Tomic, who spent her energy chasing down a late breakaway. "Three laps to go there was two girls away and I was third wheel in the bunch, Josie was on the front," Friend recalled. "She had to commit to driving and catching them, and I went to just sprint around and it worked really well."
Friend is now hoping to impress national selectors in the under 19 women's points race, one of the feature events on the final day of the Australian track championships program.
Photography
For a thumbnail gallery of these images, click here
Images by John Veage
Images by John Flynn/Cyclingnews.com
Results
Men U19 Omnium Final After 5 Rounds
 
1 Leigh Howard (Vic)                                 10 pts
2 Glenn O'Shea (Vic)                                 12
3 Thomas Palmer (Act)                                20
4 Jack Rhodes (SA)                                   24
5 Dale Scarfe (NSW)                                  29
6 Luke Davison (NSW)                                 33
7 Malcolm Rudolph (Qld)                              36
8 Matthew Meisel-dennis (Act)                        43
9 Thomas Robinson (Tas)                              45
10 Ben Grenda (Tas)                                  49
11 Michael Freiberg (WA)                             53
12 Stephen Hall (WA)                                 54
13 Nicholas Ferguson (SA)                            57
14 Joshua Edwards (Qld)                              60
 
Men U19 15km Points Race Omnium Round
 
1 Michael Freiberg (WA)                              11 pts (18.37)
2 Glenn O'Shea (Vic)                                 11
3 Leigh Howard (Vic)                                 11
4 Dale Scarfe (NSW)                                   9
5 Matthew Meisel-dennis (Act)                         7
6 Malcolm Rudolph (Qld)                               5
7 Jack Rhodes (SA)                                    4
8 Ben Grenda (Tas)                                    3
9 Thomas Palmer (Act)                                 3
10 Thomas Robinson (Tas)                              1
11 Luke Davison (NSW)                                 1
12 Joshua Edwards (Qld)                               0
13 Stephen Hall (WA)                                -20
14 Nicholas Ferguson (SA)                           -20
 
Women U19 7.5km Scratch Race Final
 
1 Lisa Friend (Vic)                                9.52
2 Josephine Tomic (WA)                                 
3 Chloe Hosking (Act)                                  
4 Philippa Hindmarsh (Qld)                             
5 Netasha Pearse (NSW)                                 
6 Courtney Le Lay (Qld)                                
7 Carlee Taylor (SA)                                   
8 Camille Pallett (WA)                                 
9 Esther Pugh-uren (Vic)                               
10 Bethany Coleman (Tas)                               
11 Ellen Marks (NSW)                                   
12 Andrea Beer (NSW)                                   
13 Myfanwy Galloway (Act)                              
14 Sarah Edwards (Qld)                                 
15 Sarah Kent (WA)                                     
16 Laine Hammond (Vic)                                 
DNF Jessica Ellis (Act)                                
DNF Stephanie Morton (SA)                              
 
Men Keirin Final
 
1 Joel Leonard                                    11.19
2 Shane Perkins                                        
3 Daniel Ellis                                         
4 Josiah Ng                                            
5 Ryan Bayley                                          
6 Mark French                                          
 
Men U19 2000m Individual Pursuit Omnium Round
 
1 Leigh Howard (Vic)              2.13.500 (53.92 km/h)
2 Glenn O'Shea (Vic)              2.14.700 (53.46 km/h)
3 Dale Scarfe (NSW)               2.17.700 (52.29 km/h)
4 Thomas Palmer (Act)             2.19.300 (51.69 km/h)
5 Thomas Robinson (Tas)           2.19.400 (51.67 km/h)
6 Jack Rhodes (SA)                2.20.900 (51.11 km/h)
7 Malcolm Rudolph (Qld)           2.21.100 (51.02 km/h)
8 Joshua Edwards (Qld)            2.21.300 (50.94 km/h)
9 Luke Davison (NSW)              2.21.500 (50.9 km/h)
10 Ben Grenda (Tas)               2.21.700 (50.8 km/h)
11 Michael Freiberg (WA)          2.23.400 (50.21 km/h)
12 Matthew Meisel-dennis (Act)    2.23.900 (50.02 km/h)
13 Nicholas Ferguson (SA)         2.24.200 (49.94 km/h)
14 Stephen Hall (WA)              2.27.900 (48.69 km/h)
 
Open Women 3000m Team Pursuit Final
 
Gold & Silver Medals
1 Skye-lee Armstrong (NSW)         3.39.100 (49.3 km/h)
 Toireasa Gallagher                                    
 Amanda Spratt                                         
 
2 Sarah Kent ** (WA)               3.39.300 (49.24 km/h)
 Camille Pallett **                                    
 Josephine Tomic **                                    
 
Men U19 5km Scratch Race Omnium Round
 
1 Jack Rhodes (SA)                                 6.11
2 Thomas Palmer (Act)                                  
3 Glenn O'Shea (Vic)                                   
4 Leigh Howard (Vic)                                   
5 Luke Davison (NSW)                                   
6 Dale Scarfe (NSW)                                    
7 Malcolm Rudolph (Qld)                                
8 Ben Grenda (Tas)                                     
9 Nicholas Ferguson (SA)                               
10 Matthew Meisel-dennis (Act)                         
11 Stephen Hall (WA)                                   
12 Thomas Robinson (Tas)                               
13 Michael Freiberg (WA)                               
14 Joshua Edwards (Qld)                                
 
Men Keirin Round 1
 
Heat 1
1 Ben Kersten (NSW)                                    
2 Joel Leonard (Vic)                                   
3 Ryan Bayley (WA)                                     
4 Benjamin Simonelli (Qld)                             
5 Kial Stewart (Act)                                   
6 Chad Anderson (NT)                                   
 
Heat 2
1 Mark French (Vic)                                    
2 Daniel Ellis (Act)                                   
3 Andrew Taylor (NSW)                                  
4 Rizal Tisin (Mas)                                    
5 David Miller (SA)                                    
6 Lindsay Mcmaster (Qld)                               
 
Heat 3
1 Josiah Ng (Mas)                                11.086
2 Shane Perkins (Vic)                                  
3 Michael Lewis (NSW)                                  
4 Scott Sunderland (WA)                                
5 Alex Bird (Act)                                      
6 Jeremy Hogg (Qld)                                    
 
Men U19 200m Time Trial Omnium Round
 
1 Leigh Howard (Vic)                10.980 (65.57 km/h)
2 Thomas Palmer (Act)               11.047 (65.18 km/h)
3 Glenn O'Shea (Vic)                11.086 (64.95 km/h)
4 Luke Davison (NSW)                11.153 (64.56 km/h)
5 Jack Rhodes (SA)                  11.214 (64.21 km/h)
6 Matthew Meisel-dennis (Act)       11.301 (63.71 km/h)
7 Dale Scarfe (NSW)                 11.421 (63.04 km/h)
8 Stephen Hall (WA)                 11.439 (62.94 km/h)
9 Nicholas Ferguson (SA)            11.479 (62.72 km/h)
10 Malcolm Rudolph (Qld)            11.488 (62.67 km/h)
11 Thomas Robinson (Tas)            11.584 (62.15 km/h)
12 Ben Grenda (Tas)                 11.774 (61.15 km/h)
13 Joshua Edwards (Qld)             11.877 (60.62 km/h)
14 Michael Freiberg (WA)            12.199 (59.02 km/h)
 
Open Women 3000m Team Pursuit Qualification
 
1 Skye-lee Armstrong (NSW)        3.40.500 (48.98 km/h)
 Toireasa Gallagher                                    
 Amanda Spratt                                         
 
2 Sarah Kent ** (WA)              3.40.600 (48.95 km/h)
 Camille Pallett **                                    
 Josephine Tomic **                                    
 
3 Jessica Berry (Vic)                3.41.3 (48.8 km/h)
 Tess Downing                                          
 Lisa Friend **                                        
 
Men U19 1000m Time Trial Final
 
1 Leigh Howard (Vic)              1.04.900 (55.48 km/h)
2 Glenn O'Shea (Vic)              1.05.500 (55 km/h)
3 James Langedyk (Vic)            1.05.500 (54.93 km/h)
4 Byron Davis (Qld)               1.05.600 (54.85 km/h)
5 Thomas Palmer (Act)             1.06.300 (54.26 km/h)
6 Luke Davison (NSW)              1.06.700 (53.97 km/h)
7 Ben Sanders (Vic)               1.07.300 (53.5 km/h)
8 Jack Rhodes (SA)                1.07.400 (53.38 km/h)
9 Malcolm Rudolph (Qld)           1.07.600 (53.27 km/h)
10 Thomas Robinson (Tas)          1.07.700 (53.17 km/h)
11 Stephen Hall (WA)              1.07.900 (53.04 km/h)
12 Dale Scarfe (NSW)              1.08.000 (52.94 km/h)
13 Matthew Meisel-dennis (Act)    1.08.200 (52.81 km/h)
14 Peter Lewis (NSW)              1.08.800 (52.36 km/h)
15 Jason Holloway (WA)            1.09.000 (52.16 km/h)
16 Ben Grenda (Tas)               1.09.200 (52.04 km/h)
17 Sean Boyle (SA)                1.09.300 (51.94 km/h)
18 Nicholas Ferguson (SA)         1.09.500 (51.82 km/h)
19 Joshua Edwards (Qld)           1.09.700 (51.65 km/h)
20 Michael Matthews (Act)         1.10.300 (51.22 km/h)
21 Michael Freiberg (WA)          1.10.400 (51.14 km/h)
22 Cameron Bayly (SA)             1.10.700 (50.91 km/h)
23 Daniel Jamieson (Tas)          1.11.400 (50.44 km/h)
24 Joel Callaghan (Qld)           1.12.500 (49.68 km/h)
25 David Trott (NT)               1.14.000 (48.65 km/h)