2007 Australian Senior Track Championships - CN
Dunc Gray Velodrome, Sydney, February 5-11, 2007
Main Page Results Previous Day Next Day
Day 2 - February 6: Men U19 sprint, Men sprint, AWD pursuit qualifying & finals, Women team sprint, Women 25km points
Bayley blitz blows away French
By John Michael Flynn at Sydney's Dunc Gray Velodrome
Ryan Bayley wins
Photo ©: John Veage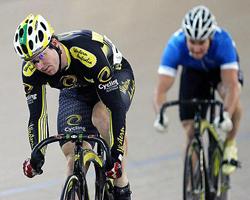 A thoroughly dominant performance by dual Olympic champion Ryan Bayley in the men's sprint provided just one of the highlights on the second night of the 2007 Australian Track Cycling Championships at Sydney's Dunc Gray Velodrome.
Matched up against an in-form Mark French in the final, Bayley turned around the earlier performances in qualifying as his superior match racing skills shone through, as they often do, under pressure.
"Yeah I was pretty impressed. In the 200 [flying 200 qualifier] Mark French had a couple of tenths on me, which usually means I'm settling for second," Bayley told Cyclingnews after winning his second national senior sprint championship.
"It's just how I am when I get in a race and I go full tilt and see what happens. Tactically I rode very good races and gave him no way to come past me."
French had looked particularly sharp during the earlier sprint rounds and entered the final with some judges tipping an upset. Bayley took the first match sprint in a close contest but in the second, riding from the front, the Olympic champion had too much power. "Tactically, I was going to try to get to the front but hesitated and Ray [Bayley] just never gave me the door," French said.
Victorian Mark French.
Photo ©: John Flynn

"It's one of those frustrating things about racing Ryan .. he can pull some good speed out from the front and it's hard to get around, but that's what he is, he's a match racer."
The good news for Australian track cycling is that faster times and even better results should be just around the corner for Bayley and French. With Australia's track sprinters in heavy training ahead of the Manchester World Cup - the week of the National Championships is being punctuated with heavy gym sessions.
For Bayley, the results this week are doing his preparation no harm. "I need a bit of confidence, I'm training my backside off I'm doing everything to get in the position that I need to be in," Bayley said.
There's also the small matter of the Australian Keirin championship later in the week - an event Bayley is yet to win at national level - and the final trophy in world keirin racing's 'box set' of results. "I've won a World Championship keirin, an Olympic keirin, a Commonwealth Games keirin, all the big keirin's but I haven't won the national one yet," Bayley said. "It'd be great to win one."
Davis wins under 19 sprint
Byron Davis
Photo ©: John Flynn

In the under 19 men's sprint, Queenslander Byron Davis continued his impressive run of recent weeks, living up to the expectation of his sub eleven second qualifying ride with a victory in the final against Victorian Trevor Griffiths.
A medalist in the team sprint at last year's junior world championships, Davis demonstrated his on-going improvement as a track sprinter. "That was the goal, come out here tonight and take away the gold medal," Davis said.
After watching his eventual rival race in the early rounds, Davis formulated a race plan which worked to perfection."I knew Trevor would like the front and I'm quite confident going from the front," Davis said. "In the first round I got him by quite a good margin , I knew he'd come back in the second one."
Meares sisters snatch team sprint
The Meares sisters.
Photo ©: John Flynn

In the women's team sprint, Rockhampton's magnificent Meares sisters joined forces once again - and came close to matching the 'world's best' (there is no official world record in the team sprint) time for the event, with their performance in the final against the New South Wales pairing of Elizabeth Georgouras and Kaarle McCulloch.
After injuring a hamstring two weeks ago, and missing vital training heading into the championships, Kerrie Meares knew she needed to lift her game to set up the win for her world champion sibling. "This one in particular was pretty special because we've gone really close to the world's best time and set a really good benchmark for a national record and we did it together as sisters," Kerrie Meares told Cyclingnews. "I haven't had the most ideal preparation and my first training day was the start of the five hundred metre time trial."
The result was important for the older of the Meares sisters, who desperately wants to win a World Championship - and provided she can convince selectors to allow the sisters to pair up at international level (several Australian women are in contention for the second spot in Australia's women's team sprint), it may be on the cards. "My current motivation is the opportunity with the women's team sprint being a world event for us," Kerrie Meares said. "I'm still chasing a world championship and striving for an Olympic championship."
Anna Meares, whose form looks to be almost as good as it was when she broke a world record two months ago at the Sydney World Cup, was just happy to get the result alongside her sister. "It's always special, it doesn't happen often and it doesn't happen enough for our liking," Anna Meares said. "I'm really happy that we can go out and win the national title and win in such good form as we did. It was a tough competition."
Gutsy Goss wins women's points race
Belinda Goss,
Photo ©: John Flynn

The final event on the second night program produced one of the most exciting races so far at the 2007 Australian Track Championships as Tasmanian Belinda Goss broke through for her first national championship at senior level.
The victory was no surprise given Goss's recent form on both the track and the road (including a second place at the Bay Criterium Series) - but Goss was forced to do it the hard way, gathering sprint points and chasing down breakaways, without any notable help.
Featuring a New South Wales contingent of Rochelle Gilmore, Amanda Spratt and Sky-Lee Armstrong and a three strong Victorian presence of Monique Hanley, Jessica Berry and Tess Downing, the lone Tasmanian in the race was never going to be given any favours.
Gilmore managed to pick up one of the early sprints, and with Tess Downing racking up points with regularity, Goss needed to stay involved from start to finish. Queenslander Sasha Harvey tried to steal the race with a last ditch breakaway, but it was the consistent Tasmanian who triumphed in the end.
"It would have been nice to get in a breakaway but it didn't come off this time, I had to revert to my sprinting," a beaming Goss said at race end. "This is probably my best summer that I've had, second at Bay Crits overall and then to come on and to win the national title here, the points race is my favourite event."
The Tasmanian women are looking hard to beat in the scratch race later this week, with Goss and Laura McCaughey two of the form riders in the event.
Records tumble in AWD events
Michael Gallagher breaks the record
Photo ©: John Veage

Records went tumbling in the Athletes With Disabilities category at the National Track Championships, with Victorian Michael Gallagher the standout performer, breaking his own world record in the LC1 individual pursuit.
Gallagher lapped his opponent, British visitor Gary Rosbotham-Williams, on the way to recording a time of 4.40.378 - a result which sliced almost four seconds off his previous world mark and wasn't far off being in contention in the able bodied version of the same event.
"That's what I'm trying to measure myself against," Gallagher said. "Having the world record, you have to try and improve on it and competing against those sort of times was the only way I was going to improve."
Milton smashing records again
Michael Milton breaks the Australian record
Photo ©: John Veage

As trivial pursuit questions go, it's a special...
Which athlete holds records as both the world's fastest man on a single ski and the national track cycling pursuit in his home country?
The answer .. Michael Milton!
Although the pace might have seemed a little pedestrian for the man who clocked 213.65 kilometres per hour descending in snow, Michael Milton was still going fast enough to set a new national record in the LC3 individual pursuit at the National Track Cycling Championships.
Equally impressive - it was the first time Milton had ever ridden a pursuit. "I guess I've been training for quite a while now to get ready for this," Milton said. "I only rode the track for the first time in July."
The outdoor track in Canberra where Milton trains has also thrown up its share of challenges - to ensure he keeps riding fast at all times. "It's interesting sometimes, I had a brown snake strike at me the other day while I was training," Milton revealed.
Although dedicated to the sport of speed skiing, the world's fastest man on one ski is now considering spending more time on the bike, to go from setting national benchmarks, to world benchmarks. "More track time, more training, there's some equipment stuff we've got to work out with a bucket to put my stump in," the amputee said. "It's going to improve my balance and hopefully improve my start. I'm a bit of a slug out of the start - I can wind it up and finish it."
Photography
For a thumbnail gallery of these images, click here
Images by John Flynn/Cyclingnews.com
Images by John Veage
Results
Session 3

Men U19 sprint round 1

Heat 1

1 Byron Davis (Qld)
  Bye

Heat 2

1 Trevor Griffiths (Vic)
  Bye

Heat 3

1 Mark Glowacki (SA)                  11.876
2 Liam Hodge (NT)

Heat 4

1 Jason Holloway (WA)                 11.890
2 Joel Callaghan (Qld)

Heat 5

1 Luke Davison (NSW)                  11.695
2 Toby Dite (Vic)

Heat 6

1 Nicholas Ferguson (SA)              11.831
2 Daniel Jamieson (Tas)

Heat 7

1 Stephen Hall (WA)                   11.845
2 Ben Sanders (Vic)

Heat 8

1 Paul Fellows (NSW)                  12.017
2 Peter Lewis (NSW)

Quarter finals

Heat 1

1 Byron Davis (Qld)                   11.318   11.563
2 Paul Fellows (NSW)

Heat 2

1 Trevor Griffiths (Vic)              11.750   11.591
2 Stephen Hall (WA)

Heat 3

1 Mark Glowacki (SA)                  12.835   12.266
2 Nicholas Ferguson (SA)

Heat 4

1 Jason Holloway (WA)                 11.881   11.418
2 Luke Davison (NSW)

For 5th - 8th

5 Luke Davison (NSW)
6 Paul Fellows (NSW)
7 Stephen Hall (WA)
8 Nicholas Ferguson (SA)

Men sprint round 1

Heat 1

1 Mark French (Vic)                   11.194   11.762
2 Kial Stewart (ACT)

Heat 2

1 Ryan Bayley (WA)                    11.212   11.208
2 Ben Kersten (NSW)

Heat 3

1 Shane Perkins (Vic)                 11.020   10.951
2 Jason Niblett (Vic)

Heat 4

1 Daniel Ellis (ACT)                           10.919
2 Scott Sunderland (WA)

LC3 men 3000m individual pursuit qualifying

1 Michael Milton (ACT)                4:14.748 (42.39 km/h) AR 
2 Glen Jarvis (Vic)                   4:22.383 (41.16 km/h)
3 Andrew Hughes (NZl)                 4:29.912 (40.01 km/h)

LC3 women 3000m individual pursuit qualifying

1 Sarah Bailey (GBr)                  3:57.622 (45.45 km/h)
2 Fiona Southorn (NZl)                4:06.412 (43.83 km/h)
3 Claire Mclean (WA)                  4:09.132 (43.35 km/h)

LC2 men 4000m individual pursuit final

1 Jonathon Baxter (NZl)               5:55.700 (40.48 km/h)

CP3 men 4000m individual pursuit final

1 Darren Kenny (GBr)                  3:53.354 (46.28 km/h)

CP3 U19 women 3000m individual pursuit final

1 Jayme Paris (NSW)                   5:03.296 (35.61  km/h)

Session 4
Women team sprint - qualifying

1 Anna Meares              34.784 (25.87 km/h)
 Kerrie Meares                     
 
2 Elizabeth Georgouras     35.184
 Kaarle Mcculloch                  
 
3 Josephine Butler         35.995
 Kristine Bayley                   
 
4 Philippa Hindmarsh       36.278
 Chloe Macpherson                  
 
5 Chloe Hosking            37.661
 Jennifer Loutit                   
 
6 Esther Pugh-Uren         37.851
 Apryl Eppinger                    
 
7 Samsiah Rice             38.185
 Davina Summers                    
 
8 Stephanie Morton         38.667
 Katie Parker                      
 
9 Jessica Ellis            38.884
 Myfanwy Galloway                  
 
Women team sprint - final
 
Gold & Silver Medals

1 Anna Meares              0.34.553 (26.05 km/h)
 Kerrie Meares                     
 
2 Elizabeth Georgouras     0.35.187
 Kaarle Mcculloch                  
 
Bronze Medal

3 Josephine Butler         0.35.812 (25.13 km/h)
 Kristine Bayley                   
 
4 Philippa Hindmarsh       0.36.418
 Chloe Macpherson                  

Men sprint - semi finals
 
1 Mark French            11.273     10.951
 Scott Sunderland                
 
2 Ryan Bayley            10.929     11.010
 Shane Perkins                   
 
Men U19 sprint - semi finals
 
1 Byron Davis            11.362     11.700
 Jason Holloway                  
 
2 Trevor Griffiths       11.472                11.972
 Mark Glowacki                      12.367    

M19 sprint - finals
 
Gold & Silver Medals

1 Byron Davis            11.290     11.356
2 Trevor Griffiths          
 
Bronze Medal

1 Jason Holloway         12.615     11.696
2 Mark Glowacki             
 
Men sprint - finals
 
Gold & Silver Medals

1 Ryan Bayley            10.920     10.853
2 Mark French               
 
Bronze Medal

3 Shane Perkins          11.045     10.962
4 Scott Sunderland       

LC1 Men 4000m Individual Pursuit Final
 
1 Michael Gallagher                  4.40.378 (51.36 km/h)
2 Gary Rosbotham-Williams                    
 
LC3 Men 3000m Individual Pursuit Final
 
1 Michael Milton                     4.11.694 (42.91 km/h)
2 Glen Jarvis                        4.11.694
 
LC1 Women 3000m Individual Pursuit Final
 
1 Sarah Bailey                       caught rider at 7 laps                               
2 Fiona Southorn                             
 
LC3 Women 3000m Individual Pursuit Final
 
1 Paula Tesoriero                    4.28.929 (40.16 km/h)
2 Jane Armstrong                     4.34.301
 
CP4 Men 3000m Individual Pursuit Final
 
1 Christopher Scott                  3.37.955 (49.55 km/h)
2 Trent Deacon                       0.07.536
   
Women 25km Points Race - Final

1 Belinda Goss          30 pts
2 Tess Downing          25
3 Amanda Spratt         18
4 Rochelle Gilmore      12
5 Erica Allar           10
6 Sasha Harvey           6
7 Monique Hanley          
DNF Skye-Lee Armstrong    
DNF Jessica Berry         
DNF Davina Summers        
DNS Theresa Cliff-Ryan