2007 Australian Senior Track Championships - CN
Dunc Gray Velodrome, Sydney, February 5-11, 2007
Day 1 - February 5: AWD 1000m & 500m TT, Women U19 500m TT, Men U19 sprint 200m qualifying, Men sprint 200m qualifying, Men U19 3000m IP, Men 4000m IP, Women 500m TT, Men sprint round 1
Meares regains 500 metre time trial national crown
By John Michael Flynn at Dunc Gray Velodrome in Sydney, Australia
World record holder Anna Meares
Photo ©: John Veage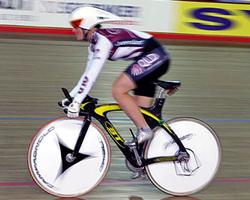 Queensland's Anna Meares provided a hint that more world records could be just around the corner - after easily regaining her Australian 500 metre time trial crown on the opening night of the Australian Track Cycling Championships at Sydney's Dunc Gray Velodrome.
Meares time of 34.543 seconds was just over half a second outside her world record mark of 33.944 seconds, set on the same track at the Sydney World Cup meet in November last year.
The result was impressive, considering the world and Olympic champion is in the middle of an intensive training block - and there was more than a scent of satisfaction given Meares was forced to sit out the same event at last year's national championships due to a nagging back injury.
"For me personally, I really wanted to win my title back, 500's definitely my pet event, the one that I enjoy most," Meares said post-race. "It was hard for me to sit it out last year."
The win didn't come without significant pressure being placed upon Meares, who rode off last against a field of talented emerging Australian women's sprinters.
Kristine Bayley
Photo ©: John Flynn

Kristine Bayley, who claimed the silver medal, bronze medalist Kaarle McCulloch, and Anna's sister Kerrie (fourth) all recorded times of sub 36 seconds, while the Meares sisters' regular training partner, former world junior keirin champion Chloe McPherson was just a further half second behind in fifth.
"It gives me confidence (in the future of Australian women's sprinting) and a bit of fear as well with these up and coming girls," Meares admitted. "I know the one they want to knock off is me."
That being the case, the Rockhampton sprint weapon is just as determined as ever to come away from the championships with the maximum possible medal haul. "I want to win all of them, I want to go home with a clean sweep."
Speedy start to men's sprint qualifying as French fires
Mark French
Photo ©: John Flynn

On a hot, humid night at Sydney's Dunc Gray Velodrome, the surface conditions appeared ideal for fast times - and in the men's sprint qualifying rounds the marquee riders delivered.
There was much on the line, given in a sense that these championships represent the first significant step on the long road to the Beijing Olympics.
Byron Davis set the mood early when he broke eleven seconds to qualify fastest in the under 19 men's flying 200 metres - but bigger things were to come in the Open Men's flying 200, with Shane Perkins, Ryan Bayley, and Mark French all recording times of sub 10.5 seconds.
Ryan Bayley
Photo ©: John Flynn

The controversy-plagued French was clocked at 10.27 seconds, confirming his place as the fastest of the men's sprint qualifiers. "I just flew up from Melbourne this afternoon, late, so in the gym this morning, training all the way through nationals," French told Cyclingnews. "I'm happy with the time, extremely happy."
Ryan Bayley, who has a tendency for pulling out big results, despite what the form guide says, wasn't too concerned about finishing second in the qualifying round.
Like French, he too is in the middle of a World Cup training program and will rely on his match racing skills in the sprint rounds and the keirin. "Unfortunately at the moment I'm concentrating a little bit more on the World Cup coming up in two or three weeks, so unfortunately I'm training through (the National Championships). I've got gym work during the week," Bayley said.
"I'm a sprinter. I want to go faster. I've done 10.1 before, I want to go quicker. I'm happy but at the same time I'm pissed off because I don't like losing."
Thuaux does his talking on the track
Phil Thuaux
Photo ©: John Flynn
The men's individual pursuit showcased Australia's emerging track endurance talent - and there was much to be said for the future of Australian cycling with two junior world champions fighting it out for the bronze medal in the open men's division.
Western Australia's triple junior world champion Cameron Meyer, who just two weeks ago enjoyed his first senior World Cup race victory was matched up against another junior world champion, Michael Ford in the bronze medal ride-off. In the gold medal ride, hometown favourite Phil Thuaux took on the impressive Zak Dempster - fresh from his success at the national road championships.
With good mate Ben Kersten screaming support trackside, Thuaux fought back from an early deficit in the final, to score the biggest win of his track career - and a significant milestone on the road to the Beijing Olympics.
"Definitely, to do a p.b. in qualifying and to back up within a second or so in the final is great," a beaming Thuaux told Cyclingnews. "If you're going to go to Beijing you've gotta take steps along the way and this is one of them."
Howard sounds a warning to the world's best juniors
World Junior Champion
Photo ©: John Flynn

For any cyclist dreaming of stealing Australia's teams pursuit crown at the world junior championships, the results of today's under 19 national pursuit championship could only be described as a bitter pill.
With Cameron Meyer now racing in the open division, the remaining three members of the 2006 World Championship team fought it out in the medal round of the under 19 individual pursuit.
Matched up against Travis Meyer in the gold medal ride-off, Victorian Leigh Howard produced another personal best performance - and at one stage looked to be close to world record pace. "It's fabulous, I've been working at this all year, and all three of us, myself Travis (Meyer) and Jack (Bobridge) are that even it's not funny," Howard said. To come out on top, it's just awesome."
Howard was also eager to send a message to any international rivals keeping an eye on the Australian Championship Results via the internet.
"I'm sure all the guys from overseas are going to be looking up our times, and I'm sure they're going to be crapping themselves when it comes to teams pursuit," Howard said. "Myself and Travis and Jack and James Langedyk, we're all fabulous pursuit riders, we can all put it together in the team pursuit at worlds and show them how to do it."
Mercy for the Englishmen (at last)
British World Champions
Photo ©: John Flynn

Finally there was some mercy for Englishmen on Australian soil this summer - and it came in the form of world championship tandem pairing Richard Storey and Anthony Kappes.
The British duo are world beaters in the tandem sprint and time trial. They out-powered three of Australia's promising young pairings in Ben Demery & Shaun Hopkins, Bryce Lindores & Steven Storer and Ben Holmes & Ben Macfie in the tandem one thousand metre time trial.
The Brits are guests at the Australian Track Championships, where they are getting used to the experience of international travel - not to mention coming to Australia to race the best tandem cyclists in the business.
"Not many of us have travelled long haul before, it's an attempt to be better prepared for Beijing," Storey told Cyclingnews. It's about the Olympics, just getting used to the flights and stuff, it's an ideal opportunity to come and race as well."
A veteran of the tandem scene, Storey is impressed with the young Australia pairings, who, as the demonstrated today with a string of personal best performances, are continuing to improve. "Definitely talent, and young talent as well, which we're struggling to find at the moment," Storey said. "We're looking over our shoulder, they're getting quicker and quicker. So it's good for us."
The young Australians intend to make amends in the tandem sprints, arguably one of the most exciting events on the track program at the National Championships. "Yeah we always want to race the poms because they're our biggest rival at world titles," New South Wales tandem pilot Shaun Hopkins said.
World's fastest snowman hits the track
Michael Milton
Photo ©: John Flynn

Better known for his death defying world record attempts while descending powder snow, another fresh face at the Australian Track Cycling Championships was none other than the world's fastest man on a snow ski - Michael Milton.
Competing in the athletes with disabilities category, the inspirational amputee is quickly getting the hang of track cycling after deciding to take it up late last year. "I'm here at Dunc Gray having a bit of fun, running the kilo and making life hard for myself as usual," Milton quipped. "It's not hard to do p.b.'s when you're a rookie like me."
Seriously, though, Milton is considering a tilt at cycling with a view to possibly qualifying for Australia's Paralympic team to Beijing. "It's going as an experiment, do the things that I've done in my skiing career - will they work in cycling? Who knows how far it's going?"
Milton will try his luck again in the pursuit, an event which he's expecting to be significantly harder than the kilo.
Photography
For a thumbnail gallery of these images, click here
Images by John Flynn/Cyclingnews.com
Images by John Veage
Results
Session 2
Women U19 500m Time Trial - Final

1 Josephine Butler        0.36.949 (48.72 km/h)
2 Philippa Hindmarsh      0.37.007
3 Stephanie Morton        0.37.726
4 Samsiah Rice            0.37.749
5 Esther Pugh-Uren        0.38.784
6 Sarah Edwards           0.38.902
7 Chloe Hosking           0.39.231
8 Ashlee Ankudinoff       0.39.767
9 Myfanwy Galloway        0.40.030
10 Jessica Ellis          0.40.155
11 Netasha Pearse         0.40.397
12 Lauren Hooper          0.40.426
13 Zoe Appel              0.40.545
14 Lauren Kitchen         0.40.943
15 Bethany Coleman        0.41.212
16 Ellen Marks            0.41.851

Men U19 200m Sprint Qualification

1 Byron Davis             0.10.970 (65.63 km/h)
2 Trevor Griffiths        0.11.000
3 Mark Glowacki           0.11.090
4 Jason Holloway          0.11.170
5 Luke Davison            0.11.270
6 Daniel Jamieson         0.11.350
7 Stephen Hall            0.11.350
8 Paul Fellows            0.11.430
9 Peter Lewis             0.11.500
10 Ben Sanders            0.11.530
11 Nicholas Ferguson      0.11.590
12 Toby Dite              0.11.620
13 Joel Callaghan         0.11.740
14 Liam Hodge             0.11.980

Men 200m Sprint Qualification

1 Mark French             0.10.270 (70.11 km/h)
2 Ryan Bayley             0.10.400
3 Shane Perkins           0.10.420
4 Daniel Ellis            0.10.580
5 Scott Sunderland        0.10.630
6 Jason Niblett           0.10.650
7 Ben Kersten             0.10.660
8 Kial Stewart            0.10.860
9 Andrew Taylor           0.10.890
10 Wade Cosgrove          0.10.960
11 Jeremy Hogg            0.10.990
12 Alex Bird              0.11.100
13 Benjamin Simonelli     0.11.100
14 Michael Lewis          0.11.130
15 Gary Ryan              0.11.180
16 Lindsay Mcmaster       0.11.390
17 David Miller           0.11.670
18 Chad Anderson          0.11.920

Men U19 3000m Individual Pursuit - Final
 
Gold & Silver Medals
1 Leigh Howard            3.20.162 (53.96 km/h)
2 Travis Meyer            3.24.610
 
Bronze Medal
3 Jack Bobridge           3.23.350 (53.11 km/h)
4 James Langedyk          3.25.838
 
Men 4000m Individual Pursuit - Final

Gold & Silver Medals
1 Phillip Thuaux          4.24.955 
2 Zakkari Dempster        4.30.070
 
Bronze Medal
3 Cameron Meyer           4.29.691
4 Michael Ford            4.30.686
 
Women 500m Time Trial - Final

1 Anna Meares             0.34.542 (52.11 km/h)
2 Kristine Bayley         0.35.548
3 Kaarle Mcculloch        0.35.650
4 Kerrie Meares           0.35.848
5 Chloe Macpherson        0.36.403
6 Elizabeth Georgouras    0.36.471
7 Cassandra Kell          0.36.718
8 Laura Mccaughey         0.36.888
9 Hayley Wright           0.38.074
10 Jennifer Loutit        0.38.297
11 Monique Hanley         0.38.362
12 Apryl Eppinger         0.38.685
13 Davina Summers         0.39.669
14 Katie Parker           0.39.898

Men Sprint - Round 1

1 Mark French             0.11.630
 Lindsay Mcmaster                 
 
2 Ryan Bayley             0.11.075
 Gary Ryan                        
 
3 Shane Perkins           0.11.719
 Michael Lewis                    
 
4 Daniel Ellis            0.11.091
 Benjamin Simonelli                         
 
5 Scott Sunderland        0.11.614
 Alex Bird                        
 
6 Jason Niblett           0.11.237
 Jeremy Hogg                      
 
7 Ben Kersten             0.11.605
 Wade Cosgrove                    
 
8 Kial Stewart            0.11.331
 Andrew Taylor         
Session 1
Men 4000m Individual Pursuit - Qualifying

1 Phillip Thuaux        4.23.555 (54.64 km/h)
2 Zakkari Dempster      4.26.571
3 Michael Ford          4.28.346
4 Cameron Meyer         4.28.683
5 Robert Lyte           4.31.229
6 Peter Dawson          4.33.074
7 Sean Finning          4.35.402
8 Hayden Josefski       4.36.312
9 Matthew Pettit        4.40.029
10 Douglas Repacholi    4.42.124
11 Kyle Marwood         4.42.598
12 Benjamin King        4.48.440


Men U19 3000m Individual Pursuit - Qualifying

1 Leigh Howard              3.19.838 (54.04 km/h)
2 Travis Meyer              3.20.003
3 Jack Bobridge             3.23.793
4 James Langedyk            3.24.029
5 Rohan Dennis              3.24.870
6 Glenn O'Shea              3.24.911
7 Thomas Palmer             3.25.309
8 Dale Scarfe               3.28.801
9 Jack Rhodes               3.29.423
10 Malcolm Rudolph          3.30.087
11 Christos Winter          3.30.320
12 Angus Morton             3.30.926
13 Joseph Lewis             3.31.341
14 Michael Freiberg         3.31.485
15 Matthew Meisel-Dennis    3.31.872
16 Thomas Robinson          3.32.241
17 Ben Grenda               3.32.757
18 Richard Lang             3.32.954
19 Jamie Crass              3.32.978
20 Alastair Loutit          3.36.550
21 Joshua Edwards           3.37.041
22 Adam Semple              3.37.417
23 Michael Matthews         3.38.537
24 Mitchell Brooks          3.41.516
25 Daniel Jamieson          3.43.506
26 David Trott              3.48.363

Men 1000m Tandem Time Trial - Final

1 Richard Storey      1.05.230 (55.19 km/h)
 Anthony Kappes               
 
2 Ben Demery          1.05.403
 Shaun Hopkins                
 
3 Leon Larkins        1.06.532
 Tyson Lawrence               
 
4 Bryce Lindores      1.07.095
 Stephen Storer               
 
5 Benjamin Holmes     1.07.581
 Benjamin Macfie              
 
6 Jayden Veljacich    1.11.567
 Joshua Yates         

Women 1000m Tandem Time Trial - Final

1 Ellen Hunter          1.11.803 (50.14 km/h)
 Aileen Mcglynn                 
 
2 Toireasa Gallagher    1.12.360
 Lindy Hou                      
 
3 Felicity Johnson      1.14.800
 Katie Parker                   
 
4 Michelle Laurenson    1.17.690
 Jayne Parsons                  
 
5 Annaliisa Farrell     1.18.970
 Neelu Memon                    

LC1 Men 1000m Time Trial - Final

1 Michael Gallagher           1.10.139 (51.33 km/h)
2 Gary Rowsbotham-Williams    1.14.165
 
LC2 Men 1000m Time Trial - Final

1 Jody Cundy                  1.10.970 (50.73 km/h)
2 Martin Vcelka               1.12.982
3 Jonathon Baxter             1.24.921
 
CP4 Men 1000m Time Trial - Final

1 Christopher Scott           1.12.596 (49.59 km/h)
2 Trent Deacon                1.15.048
3 Richard Waddon              1.37.672
 
CP3 Men 1000m Time Trial - Final

1 Darren Kenny                1.14.360 (48.41 km/h)

CP4 M19 1000m Time Trial - Final
 
1 Andrew Summers              1.25.406 (42.15 km/h)

LC1 Women 500m Time Trial - Final
1 Sarah Bailey                0.40.987 (43.92 km/h)
2 Claire Mclean               0.43.519
3 Fiona Southorn              0.43.570
 
LC2 Women 500m Time Trial - Final

1 Angela Fleming              0.43.540 (41.34 km/h)
 
LC3 Women 500m Time Trial - Final
1 Jane Armstrong              0.46.937 (38.35 km/h)
2 Paula Tesoriero             0.47.204
 
CP3 W19 500m Time Trial - Final

1 Jayme Paris                 0.47.515 (37.88 km/h)