2007 Australian Senior Track Championships - CN
Dunc Gray Velodrome, Sydney, February 5-11, 2007
Main Page Results Previous Day Next Day
Day 5 - February 9: Women's U19 sprint final, Men U19 keirin, Men's points race, Women's scratch race final, MD men's team sprint
Home state triumphs in track endurance events
Rathbone produces "ride of the carnival" in men's points race
By John Michael Flynn in Sydney
Men's points race podium
Photo ©: John Veage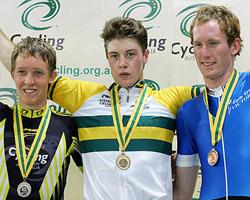 Sydney's Dunc Gray Velodrome has hosted more than its share of magnificent cycling moments, but tonight brought one of those stories which will be handed from generation to generation – told and re-told by track purists at world class velodromes and dimly lit regional cycle tracks for years to come.
It was the night Jackson-Leigh (J.L.) Rathbone produced the ride of his life to win the Australian men's points race championship. To be more specific it was the night the twenty year old New South Welshman picked himself up off the deck after crashing heavily with twenty five laps to go and rode to glory.
When one hundred and sixty laps of the Dunc Gray Velodrome (40 kilometres) were finally complete, Rathbone found himself level on 27 points with Western Australian Cameron Meyer. Ultimate victory was Rathbone's on a countback.
"It hasn't sunk in yet, it was a real big achievement for myself, and those around me," the quietly spoken Rathbone said at race end. The sentiment perhaps better expressed by Cycling New South Wales President Kerry Ruffels, who choked back tears as he rated the performance among the best he had seen.
"He's a great kid, he's just a great bloke, I know his coaches, everyone that has anything to do with him will be absolutely rapt," Ruffels said. "The fall, the effort … beautiful."
Jackson-Leigh Rathbone fell
Photo ©: John Veage

Few will forget the final laps of the epic encounter at Dunc Gray. Down by just one point after placing in the penultimate sprint, Rathbone had to contend with in-form 2006 triple world junior champion Cameron Meyer – the same rider who had just returned to Australia after winning his first senior World Cup points race in Los Angeles.
The catch was, with two competitors (American Jame Carney and Victorian Zac Dempster) launching a successful breakaway move with seven laps to go, only the points from the minor placings were up for grabs in the final sprint. Adding more to the suspense, the possibility of Dempster winning the race should he achieve maxium points in the final sprint, and Meyer and Rathbone miss out altogether.
"I actually heard over the speaker and looked on the scoreboard, just sat in there be patient," Rathbone said regarding his approach to the final laps. "I've got a sprinting background, so I was pretty confident that I had some top end there, as long as the endurance can hang in and it did, so worked well."
Meyer didn't die wondering. The Western Australian launched himself with two laps to go, in the hope of burning off Rathbone, or limiting his sprinter's kick. But Rathbone responded with gusto. "I jumped with two to go knowing that J.L. was in second and hopefully got caught out, but he got out and he had the legs to come three wide," Meyer said. "I just didn't have the legs in that last fifty metres to hold him off."
As brilliant as the victory was, it was the way Rathbone responded after crashing that spoke volumes of his courage and commitment. In line with the race rules he re-joined the bunch after the incident – and resumed the fight. "I'm just so proud of him, it's unbelievable," New South Wales Head Coach Gary Sutton said. "He's a part time athlete, he works fifty hours a week in a bikeshop, the quietest person you'd ever meet."
As for the crash, which almost ended his points race, Rathbone wasn't blaming anyone but himself. "I just went to sleep a bit in the head and things got fuzzy and I just hit a wheel," Rathbone admitted. Getting back on the bike didn't take much encouragement, given the situation on the scoreboard. "You don't really make a decision, you just do it, you just get back up and that's it," Rathbone said.
New South Wales wins women's scratch race
Skye-Lee Armstrong
Photo ©: John Veage

Earlier, the New South Wales team scored its first major victory for the night, in the women's 40 lap (10 kilometre) scratch race. Continuing her improvement in 2007 after a nightmare year in 2006, the talented Sky-Lee Armstrong beat home a quality field including state team-mate Rochelle Gilmore, and Tasmania's Belinda Goss, who won the national points race title a few days ago.
The race always appeared likely to come down to a sprint, with only a couple of brief attacks by Toireasa Gallagher upsetting the rhythm of the sprinters. Amstrong, who by her own admission was missing in action in the points race earlier this week, responded with a performance more typical of her ability. "To finish first and turn it around was a great achievement for me," Armstrong said. "Rochelle Gilmore is one of the world's best, Tess Downing, Belinda Goss. I was on the bottom (entering the straight) I knew I had Rochelle Gilmore on my hip Belinda goss was coming around, I thought I was totally gone."
The win gives Armstrong a likely start for Australia at the Manchester World Cup and it shapes as a busy month ahead both on the track and the road - with the Geelong Tour and Geelong World Cup also just around the corner. New South Wales team-mate Rochelle Gilmore – who won bronze – was impressed with Armstrong's efforts. "It was an awesome ride, she really needed it for her confidence, she just deserved it she was the best rider," Gilmore said. "She has been the best in training as well, to come out and do it on race day is fantastic."
What about Rochelle?
One of Australia's finest on the track and road, Rochelle Gilmore had to settle for bronze on the night – and still appears to be suffering from a yet to be fully diagnosed medical condition. "Yeah I have got some problems at the moment, I may be forced to have a long rest, six months, I don't know, the decision will come in the next couple of weeks," the Cyclingnews diarist said.
"I'm off to the hospital right now to have some more blood tests to see what's happening after a race. We're not exactly sure what it is but we've got the best doctors in Australia looking at it so we'll sort it out."
Gilmore is still hoping to hook up with her European pro team in time for the women's giro and while that will mean totally ruling out the World Track Championships – in the back of her mind is being in peak condition when qualifying starts for the Beijing Olympics.
Queensland under 19's impress – Davis wins keirin
Queensland Byron Davis brings it home in the men's U19 keirin.
Photo ©: John Veage

Gold Coaster Byron Davis added another national championship to his rapidly expanding resume tonight, with a decisive victory in the under 19 men's keirin. Davis came from behind in the final, and produced his now customary kick within sight of the line, "That was the plan all along, I always thought I'd have to do that and just to prove that I can do it from the back is awesome," Davis said. "Especially after winning the sprint, you always want to clean up all the sprint races and the keirin, I was pretty nervous coming here tonight, just glad I pulled it off."
Davis showed potential as a first year under 19 at last year's national track championships. This time around, with Scott Sunderland moving up to the senior ranks – it's Davis who is enjoying the spotlight. "It gives me awesome satisfaction, last year I came away with three silver medals, after winning that first one on Tuesday night was the best feeling I've ever felt," Davis said. "Getting my first couple of national titles is awesome."
Gold and bronze for rocky girls
Rockhampton cyclists Philippa Hindmarsh and Sarah Edwards added to the Queensland medal tally at the Australian Track Championships, winning gold and bronze in the under 19 women's sprint. Hindmarsh, who already has several national junior championship to her credit, looked a class above her rivals in the under 19 division and easily accounted for Western Australian Josephine Butler in the ride-off for Gold.
"I felt a bit of pressure but just good to do it again," Hindmarsh told Cyclingnews. "Hopefully I'll get in the Australian team so I might be overseas soon – but we'll have to see what selectors decide."
Edwards, one of the more lowly placed qualifiers proved that pure speed isn't everything in sprint racing - using race tactics to defeat the A.C.T.'s Chloe Hosking in the ride-off for bronze. "Bit of a surprise for me, I haven't done any sprints since last year so I was pretty happy," Edwards said. "I thought the only way I was going to get anywhere was through tactics, I wasn't anywhere near as fast as the other girls." (Ends)
Photography
For a thumbnail gallery of these images, click here
Images by John Veage
Images by John Flynn/Cyclingnews.com
Results
Men 40km points race	

1 Jackson-Leigh Rathbone (NSW)      27 pts	
2 Cameron Meyer (WA)                27	
3 Zakkari Dempster (Vic)            25	
4 Peter Dawson (WA)                 21	
5 Jame Carney (USA)                 15	
6 Sean Finning (Vic)                15	
7 Hayden Josefski (Qld)             12	
8 Stephen Rossendell (Tas)           8	
9 Richard England (Vic)              6	
10 Douglas Repacholi (WA)            2	
DNF Brenden Savage (Act)              	
DNF Joel Stewart (Act)                	
DNF Anthony Bennett (NSW)             	
DNF Peter Fitzpatrick (NSW)           	
DNF Steven George (Qld)               	
DNF John Forrest (Act)                	
 	
Men U19 keirin	
 	
Heat 1	
1 Peter Lewis (NSW)                   	
2 Byron Davis (Qld)                   	
3 Scott Sittampalam (Vic)             	
4 Liam Hodge (NT)                     	
5 Clay Murfet (Tas)                   	
 	
Heat 2	
1 Luke Davison (NSW)                  	
2 Jason Holloway (WA)                 	
3 Anthony Rix (Vic)                   	
4 Joel Callaghan (Qld)                	
5 Ben Grenda (Tas)                    	
 	
Heat 3	
1 Trevor Griffiths (Vic)       0.11.43	
2 Mark Glowacki (SA)                  	
3 Stephen Hall (WA)                   	
4 Paul Fellows (NSW)                  	
DNS Michael Matthews (Act)            	
DQS Daniel Jamieson (Tas)             	
 	
Round 2	
 	
Heat 1	
1 Jason Holloway (WA)          0.11.72	
2 Peter Lewis (NSW)                   	
3 Mark Glowacki (SA)                  	
4 Anthony Rix (Vic)                   	
5 Clay Murfet (Tas)                   	
6 Joel Callaghan (Qld)                	
 	
Heat 2	
1 Luke Davison (NSW)                  	
2 Byron Davis (Qld)                   	
3 Paul Fellows (NSW)                  	
4 Liam Hodge (NT)                     	
5 Trevor Griffiths (Vic)              	
6 Daniel Jamieson (Tas)               	
 	
Repechage	

Heat 1	
1 Joel Callaghan (Qld)                	
2 Paul Fellows (NSW)                  	
3 Clay Murfet (Tas)                   	
Rel Scott Sittampalam (Vic)           	
 	
Heat 2	
1 Daniel Jamieson (Tas)        0.12.00	
2 Anthony Rix (Vic)                   	
3 Liam Hodge (NT)                     	
4 Ben Grenda (Tas)                    	
5 Stephen Hall (WA)                   	
 	
Men U19 keirin final	
 	
1 Byron Davis (Qld)            0.11.23	
2 Paul Fellows (NSW)                  	
3 Jason Holloway (WA)                 	
 	
4 Luke Davison (NSW)                  	
5 Mark Glowacki (SA)                  	
6 Peter Lewis (NSW)                   	
 	
Women 10km scratch final	
 	
1 Skye-Lee Armstrong (NSW)    13.10.00	
2 Tess Downing (Vic)                  	
3 Rochelle Gilmore (NSW)              	
4 Belinda Goss (Tas)                  	
5 Jessica Berry (Vic)                 	
6 Laura McCaughey (Tas)               	
7 Erica Allar (USA)                   	
8 Toireasa Gallagher (NSW)            	
9 Davina Summers (WA)                 	
10 Monique Hanley (Vic)               	
11 Sasha Harvey (Qld)                 	
DNF Hayley Wright (Qld)               	
 	
Women U19 sprint semifinal	

Heat 1	

1 Philippa Hindmarsh (Qld)     0.13.34	13.260
2 Chloe Hosking (Act)                 	

Heat 2	

1 Josephine Butler (WA)        0.13.31	12.850
2 Sarah Edwards (Qld)                 	
 	
Women U19 sprint final	
 	
Gold & Silver Medals	

1 Philippa Hindmarsh (Qld)     0.12.62	12.640
2 Josephine Butler (WA)               	
 	
Bronze Medal	

3 Sarah Edwards (Qld)          0.13.29	12.926
4 Chloe Hosking (Act)                 	
 	
MD Men team sprint final	
 	
Gold & Silver Medals	

1 Richard Waddon (GBr)         0.17.22	52.270
  Jody Cundy                           	
  Darren Kenny                         	
 	
2 Michael Eaddy (Vic)          0.15.70	57.336
  Michael Gallagher (Vic)              	
  Martin Vcelka (Vic)