2007 Australian Senior Track Championships - CN
Dunc Gray Velodrome, Sydney, February 5-11, 2007
Main Page Results Previous Day Next Day
Day 4 - February 8: Women U19 sprint, Women 3000m IP, Open team pursuit, AWD tandem sprint, Women sprint, Men U19 team pursuit, Men U19 10km scratch
Meares upstages world champion sibling to win sprint gold
By John Michael Flynn at Sydney's Dunc Gray Velodrome
Kerrie Meares
Photo ©: John Veage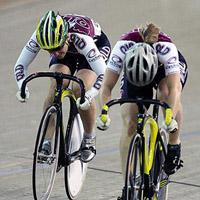 Rockhampton's Kerrie Meares provided the biggest upset of the 2007 Australian Track Cycling Championships tonight, upstaging her world champion sister, Anna, to win gold in the women's sprint. In the process, Meares created a potential selection headache for Australian team management - as she builds a compelling case to be included in the team for the world track championships on the Spanish island of Majorca.
The older Meares sister is making no secret of her desperation to race alongside her younger sibling in the team sprint at the world championships, and tonight did her chances no harm. She dispensed with rival Kristine Bayley in the semi-final, before lining up against Anna in the gold medal ride-off. As expected the final didn't need to go to a deciding third race. It was the final placings that went against the script. If anything, Kerrie Meares made a task many others have found impossible (beating her sister) look relatively straight forward.
"I'm really shocked with my form at the moment," Kerrie Meares admitted after clinching the gold medal and preventing her sister from winning a fourth straight national sprint championship.
In the first of two match-ups in the final, Kerrie Meares rode a smart tactical race against her sister, closing out the sprinters lane and effectively halting Anna's momentum. The second race brought a serious tactical blunder from the younger of the Meares girls, with Anna giving Kerrie too much room, and timing her run over the top too late.
"Now that I've shown the selectors that I can win gold in the sprint, they've given me till the 25th of February to do a qualifying time (for the world championships)," Kerrie Meares said. "Anna needs the female cyclist with the fastest standing lap in Australia to help win gold at the world championships, and I want to be the one to do that with her."
Anna Meares, who came to the National Championships with the goals of making it a clean sweep of gold medals and winning the champion of champions trophy, was far from enthused with the result. "The sprint's something that I have to work on," Anna conceded after being shown up by her big sister. "I'm quite ticked actually, I've been going so well all season and I want to get my hands on that champion of champions trophy. I'm going to have to try that keirin to get an individual gold medal."
Australian selectors are now faced with a dilemma, as to whether Kerrie Meares or Kristine Bayley should ride alongside Anna Meares in the team sprint. It's likely to come down to mathematics - and which cyclist can record the fastest time for a standing lap.
"I need to be doing a 19.6 (seconds) or faster standing lap," Kerrie told Cyclingnews. "Kristine Bayley, she did a 19.65, my personal best is 19.6 at the moment."
Kerrie Meares entered the championships with a disrupted training program, following a hamstring injury. She attributed her match sprint racing success to the tactical knowledge of sprint mentor Sean Eadie. "Everything that I know about sprinting has come from Sean," Kerrie said."The main thing I focused on prior to this competition was to have enough speed to cover my jump when Anna was going to come at me like a cannon, not to hesitate and fully commit and be patient."
Mactier Wins Pursuit
Katie Mactier cruising
Photo ©: John Flynn

With only three entrants in the field, and a guarantee of medals for anyone who showed up, the women's pursuit at the Australian Track Cycling Championships could easily have been a totally lacklustre affair… if not for the presence of former World Champion Katie Mactier.
The recently crowned Australian women's road champion solidified her qualifying ride with another tradesmanlike effort in the final. Mactier caught her opponent Amanda Spratt with relative ease - and decided not to keep riding for a recorded time.
Mactier is in the early stages of training for the world championship, with the serious build-up about to get underway. "I came here to secure the national title and by doing it I feel happy and can move on, concentrate on the world championships only six weeks away," Mactier told Cyclingnews. "We head into the national camp in a week's time, it's a four week camp, you absolutely flog your guts out."
Victoria Wins Men's and Under 19 Teams Pursuit Titles
Victorian team
Photo ©: John Veage

Continuing what has already been a successful week for track cycling in Victoria, the flying V's delivered two more dominant gold medal performances in the under nineteen and open men's teams pursuit events. After missing out on gold last year, the team of Sean Finning Richard England, Zac Dempster, and Michael Ford joined forces once again with the express intention of winning the national pursuit title.
The team was riding high on confidence following the efforts of Richard England and Dempster, who secured Victoria's earlier win in the men's scratch race. "We weren't coming here to come second, we were coming here to win, Dempster told Cyclingnews. "To win here is a big achievement for all four of us."
The Victorians were confronted with an in-form New South wales team in the final - the blues squad also confident following Phil Thuaux's victory in the men's individual pursuit. But the Vics had done their homework - only packing enough punch in the qualifying round to match the time of the New South Wales riders.
"We were last to go off this arvo, all we did was ride to the New South Wales time and we did that spot on," Dempster said. "We knew we had a lot more in the tank."
Petrol in the tank was only one bonus for the Victorians - the leg strength of Finning, Dempster, Michael Ford, and the improving Richard England helping slice more than four seconds off the qualifying time.
"Oh its fantastic I've been waiting to win that again, I won it in 2003," Richard England told Cyclingnews. "It came together beautifully today, I think that's the fastest I've ever ridden in a teams pursuit, which was really nice to do because I've been struggling, I've had a really bad three months on the bike,"
England is hoping better times are ahead as he prepares to join U.S. team Priority Health for the 2007 race season. ."I found my form again yesterday, I really still don't feel anywhere near 100 per cent, so I'm really rapt to be back," England said. "To come back and go quicker and finish the ride and contribute made me feel really good."
Experience also played a part. Sean Finning was always confident of coming away with the gold. "We knew we were going to go a fair bit quicker tonight, as to how much we weren't 100 per cent sure," Finning said. "We knew we were capable of going around the 4.09 sort of area so it's good to actually put it together." Victoria's under 19 pursuit team also rode itself into a gold medal in the age-group division. The result, a little complicated, given the open men and under nineteen teams were grouped together in qualifying - with the fastest four teams going into the medal rounds in the open division.
In the end, the team of Leigh Howard (world junior teams pursuit champion), James Langedyk, Glenn O'Shea, and Jamie Crass contested the bronze medal ride in the open men's division, only to be narrowly beaten by a team boasting world teams pursuit champion Peter Dawson and junior pursuit champion Cameron Meyer.
"It was pretty tough racing against the older guys," Crass admitted post-race. "We rode a good time." As always, Leigh Howard was talking up the result - and it would seem there is likely room for at least one of his Victorian teammates in Australia's junior teams pursuit squad with Cameron Meyer having moved up to the seniors.
"I think it was a fabulous ride by the whole lot of us," Howard said. "The ultimate goal is August next year, world titles at altitude - we want to go for this world record and we can do it."
Queenslander Rudolph impressive in Under 19 scratch race
Although Australia's junior pursuit stars were expected to feature in the under 19 men's scratch race - it was unheralded Queenslander Malcolm Rudolph who broke through for his first national title. The victory came by way of a perfectly executed move from the Queenslanders .. with Josh Edwards launching Rudolph like a cannonball with one and a half laps remaining.
"My Queensland team-mate josh Edwards came past and said you know get on I'll give you a lead out," a triumphant Rudolph said after winning his first national title. "He took me up the bank and I just come around and pulled down the bank, got a good run down the hill and just managed to hang on in the end."
Ben and Ben on road to World Cup - as Englishmen get the gold
British world champions
Photo ©: John Veage

The tandem sprints were expected to be a highlight on the fourth night of the Australian track cycling championships - and they didn't let down.
After enduring a nightmare year following their first Australian Championship sprint victory in Adelaide in 2006, the Queensland pairing of Ben Holmes and Ben Macfie lifted themselves to a new level against the number one pairing in world tandem racing, Richard (Barney) Storey and Anthony Kappes of Great Britain.
The highly experienced Brits (visiting Australia as guests at the championships) were too strong on the night, but the young Aussies learned much, and while it was the Englishmen who rode away with the gold, the enthusiastic Brisbane-based pairing secured themselves a second national championship and a trip to the World Cup event in Manchester.
It was a deserving reward for the duo, who endured the heartache of missing last year's World Championships when they crashed in training, with Macfie fracturing his skull. "We're still really on a rebuilding phase after our accident," Macfie told Cyclingnews. "We're rapt that we're somewhere in the ballpark with the Great Britain team - we're just happy to be up there, we know we've got a lot more improvement to go."
The Brits needed only two races in the best of three final to beat the Australians came away better for the hit-out. "The experience that we've gained from competing against the best in the world, this is a match that would happen at Beijing Olympics," Holmes said. "Coming up against Barney (Storey) and Anthony, every time I've come away with something."
Photography
For a thumbnail gallery of these images, click here
Images by John Flynn/Cyclingnews.com
Images by John Veage
Results
Session 7

Women U19 sprint qualifying

1 Philippa Hindmarsh (Qld)                    11.957 (60.22 km/h)
2 Josephine Butler (WA)                       12.265 (58.70 km/h)
3 Samsiah Rice (WA)                           12.686 (56.76 km/h)
4 Chloe Hosking (ACT)                         12.778 (56.35 km/h)
5 Laine Hammond (Vic)                         12.948 (55.61 km/h)
6 Sarah Edwards (Qld)                         12.953 (55.59 km/h)
7 Lauren Kitchen (NSW)                        13.029 (55.26 km/h)
8 Stephanie Morton (SA)                       13.044 (55.20 km/h)
9 Netasha Pearse (NSW)                        13.220 (54.46 km/h)
10 Esther Pugh-Uren (Vic)                     13.243 (54.37 km/h)
11 Bethany Coleman (Tas)                      13.282 (54.21 km/h)
12 Jessica Ellis (ACT)                        13.365 (53.87 km/h)
13 Andrea Beer (NSW)                          13.652 (52.74 km/h)
DNS Myfanwy Galloway (ACT)
DNS Zoe Appel (Qld)

Women 3000m individual pursuit qualifying

1 Katie Mactier (Vic)                        3.34.500 (50.35 km/h)
2 Amanda Spratt (NSW)                        3.44.480 (48.11 km/h)
3 Monique Hanley (Vic)                       3.54.090 (46.14 km/h)

Women under 19 sprint round 1

Heat 1

1 Philippa Hindmarsh (Qld)
  BYE

Heat 2

1 Josephine Butler (WA)
  BYE

Heat 3

1 Samsiah Rice (WA)
  BYE

Heat 4

1 Chloe Hosking (ACT)                         13.641
2 Andrea Beer (NSW)

Heat 5

1 Laine Hammond (Vic)                         13.867
2 Jessica Ellis (ACT)

Heat 6

1 Sarah Edwards (Qld)                         13.343
2 Bethany Coleman (Tas)

Heat 7

1 Esther Pugh-Uren (Vic)                      13.359
2 Lauren Kitchen (NSW)

Heat 8

1 Stephanie Morton (SA)                       13.210
2 Netasha Pearse (NSW)

Open men 4000m team pursuit qualifying

1 Robert Lyte (NSW)                         4.14.940 (56.48 km/h)
  Matthew Pettit (NSW)
  Jackson-Leigh Rathbone (NSW)
  Phillip Thuaux (NSW)

2 Zakkari Dempster (Vic)                    4.14.980 (56.48 km/h)
  Richard England (Vic)
  Sean Finning (Vic)
  Michael Ford (Vic)

3 Peter Dawson (WA)                         4.17.920 (55.83 km/h)
  Benjamin King (WA)
  Cameron Meyer (WA)
  Douglas Repacholi (WA)

4 Jamie Crass (Vic)                         4.18.520 (55.70 km/h)
  Leigh Howard (Vic)
  James Langedyk (Vic)
  Glenn O'shea (Vic)

5 Jack Bobridge (SA)                        4.19.448 (55.50 km/h)
  Sean Boyle (SA)
  Rohan Dennis (SA)
  Jack Rhodes (SA)

6 Mitchell Brooks (WA)                      4.24.790 (54.38 km/h)
  Michael Freiberg (WA)
  Travis Meyer (WA)
  Adam Semple (WA)

7 Joseph Lewis (NSW)                        4.27.900 (53.75 km/h)
  Angus Morton (NSW)
  Dale Scarfe (NSW)
  Laurence Van Schie (NSW)

8 Alastair Loutit (ACT)                     4.29.117 (53.51 km/h)
  Michael Matthews (ACT)
  Matthew Meisel-Dennis (ACT)
  Thomas Palmer (ACT)

Women tandem sprint qualifying

1 Lindy Hou (NSW)                             11.880 (60.61 km/h)
  Toireasa Gallagher (NSW)

2 Ellen Hunter (GBr)                          12.110 (59.45 km/h)
  Aileen Mcglynn (GBr)

3 Felicity Johnson (SA)                       12.470 (57.74 km/h)
  Katie Parker (SA)

4 Michelle Laurenson (NZl)                    12.960 (55.56 km/h)
  Jayne Parsons (NZl)

5 Annaliisa Farrell (NZl)                     13.170 (54.67 km/h)
  Neelu Memon (NZl)

Men tandem sprint qualification

1 Richard Storey (GBr)                        10.780 (66.79 km/h)
  Anthony Kappes (GBr)

2 Benjamin Holmes (Qld)                       11.080 (64.98 km/h)
  Benjamin Macfie (Qld)

3 Leon Larkins (WA)                           11.090 (64.92 km/h)
  Tyson Lawrence (WA)

4 Ben Demery (NSW)                            11.200 (64.29 km/h)
  Shaun Hopkins (NSW)

5 Matt Miller (SA)                            11.290 (63.77 km/h)
  Kieran Modra (SA)

6 Bryce Lindores (Qld)                        11.340 (63.49 km/h)
  Stephen Storer (Qld)

7 Peter Spencer (Qld)                         12.080 (59.60 km/h)
  Damien Williams (Qld)

8 Jayden Veljacich (WA)                       12.460 (57.78 km/h)
  Joshua Yates (WA)

Session 8

U19 Men scratch final

1 Malcolm Rudolph (Qld)    11.45.41
2 Jack Bobridge (SA)               
3 Dale Scarfe (NSW)                
4 Luke Davison (NSW)               
5 Glenn O'Shea (Vic)               
6 Clay Murfet (Tas)                
7 Thomas Palmer (Act)              
8 Ben Grenda (Tas)                 
9 Paul Fellows (NSW)               
10 Travis Meyer (WA)               
11 Adam Semple (WA)                
12 Alastair Loutit (Act)           
13 Michael Matthews (Act)          
14 Jamie Crass (Vic)               
15 Daniel Jamieson (Tas)           
16 Anthony Rix (Vic)               
17 Joshua Edwards (Qld)            
18 Michael Freiberg (WA)           
DNF Liam Hodge (NT)                
DNF David Trott (NT)               
DNF Joel Callaghan (Qld)           
DNF Nicholas Ferguson (SA)         
DNF Christos Winter (SA)           

Women U19 sprint final	

Heat 1	

1 Philippa Hindmarsh (QLD)    0.14.06	13.264
2 Stephanie Morton (SA)              	

Heat 2	

1 Josephine Butler (WA)       0.12.81	12.738
2 Esther Pugh-Uren (VIC)             	

Heat 3	

1 Sarah Edwards (QLD)         0.13.18	13.407
2 Samsiah Rice (WA)                  	

Heat 4	

1 Chloe Hosking (ACT)         0.13.59	13.536
2 Laine Hammond (VIC)                	
 	
5-8 final	

1 Samsiah Rice (WA)           0.13.42	
2 Esther Pugh-Uren (VIC)             	
3 Laine Hammond (VIC)                	
4 Stephanie Morton (SA)              	
 	
 	
Men U19 team pursuit final	

Gold medal	

1 Jack Bobridge (SA)          0.56.09	4:16.750
 Sean Boyle                          	
 Rohan Dennis                        	
 Christos Winter                     	
 	
2 Mitchell Brooks (WA)               	
 Michael Freiberg                    	
 Travis Meyer                        	
 Adam Semple                         	

Bronze Medal	

3 Jack Bobridge (SA)                 	
 Sean Boyle (SA)                     	
 Rohan Dennis (SA)                   	
 Christos Winter (SA)                	
 	
4 Mitchell Brooks (WA)               	
 Michael Freiberg (WA)               	
 Travis Meyer (WA)                   	
 Adam Semple (WA)                    	

Women sprint semi-final	

Heat 1	

1 Anna Meares (QLD)           0.12.11	12.776
2 Laura Mccaughey (TAS)              	

Heat 2	

1 Kerrie Meares (QLD)         0.12.50	12.592
2 Kristine Bayley (WA)               	
 	
Women sprint final	

Gold & Silver Medals	

1 Kerrie Meares (QLD)         0.12.27	12.197
2 Anna Meares (QLD)                  	
 	
Bronze Medal	

1 Kristine Bayley (WA)        0.12.57	12.728
2 Laura Mccaughey (TAS)              	
 	
Women's pursuit final	
 	
1 Katie Mactier (VIC)                	
2 Amanda Spratt (NSW)         (caught)       	
 	
Men team pursuit final
	
Gold & Silver Medals	

1 Zakkari Dempster (VIC)      4.09.87	
 Richard England                     	
 Sean Finning                        	
 Michael Ford                        	
 	
2 Robert Lyte (NSW)           4.12.53	
 Matthew Pettit                      	
 Jackson-Leigh Rathbone              	
 Phillip Thuaux                      	
 	
Bronze Medal
	
3 Peter Dawson (WA)           4.14.97	
 Benjamin King                       	
 Cameron Meyer                       	
 Douglas Repacholi                   	
 	
4 Jamie Crass  (VIC)          4.16.18	
 Leigh Howard                      	
 James Langedyk                   	
 Glenn O'shea                      	
 	
Women tandem sprint final	

Gold & Silver Medals	

1 Ellen Hunter                0.12.31	12.206
 Aileen Mcglynn                      	
 	
2 Lindy Hou                   0.12.95	
 Toireasa Gallagher                  	
 	
Bronze Medal
	
3 Felicity Johnson            0.13.08	00:12.9
 Katie Parker                        	
 	
4 Michelle Laurenson                 	
 Jayne Parsons                       	
 	
Men tandem sprint final	

Gold & Silver Medals	
 	
1 Richard Storey              0.11.80	00:10.9
 Anthony Kappes                      	
 	
2 Benjamin Holmes                    	
 Benjamin Macfie                     	
 	
Bronze Medal	
 	
3 Ben Demery                  0.11.55	00:11.4
 Shaun Hopkins                       	
 	
4 Leon Larkins                       	
 Tyson Lawrence