2007 Australian Senior Track Championships - CN
Dunc Gray Velodrome, Sydney, February 5-11, 2007
Main Page Results Previous Day Next Day
Day 3 - February 7: Women sprint, Women U19 2000m individual pursuit, AWD tandem pursuit, Men U19 team sprint, Men team sprint, Men U19 25km points race, Men 15km scratch race
Victorian gold rush at National Track Championships
Team sprint, scratch race and points race success
By John Michael Flynn at Sydney's Dunc Gray Velodrome
Victoria wins the men's team sprint.
Photo ©: John Veage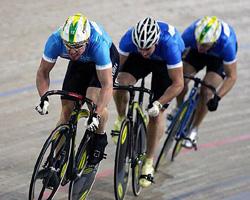 A Victorian gold rush - punctuated with a series of stellar individual performances - capped off an unforgettable evening of racing at Sydney's Dunc Gray Velodrome on day three of the 2007 Australian Track Cycling Championships.
Most notable were the performances of Shane Perkins, Mark French, Jason Niblett and Joel Leonard in the men's team sprint, Zak Dempster in the open men's scratch race and emerging talent Glenn O'Shea in the under 19 points race.
Equally, it was the way the Victorians worked as a team in each of the gold medal successes - with one of the team coaches perhaps summing it up most effectively. "We've got a fantastic crew here with the Victorian squad and the other coaches," Victorian Coach Tim Decker told Cyclingnews. "We've just made a group of one out of all our riders and it really showed tonight."
Perkins sizzles
Victoria's first gold medal success for the evening was delivered by the state's burgeoning stocks of world class track sprinters.
Shane Perkins, Mark French and Jason Niblett won their way through the qualifying round, with Niblett sitting out for Joel Leonard in the final against traditional rivals New South Wales - spearheaded by Ben Kersten.
The story of the night was Shane Perkins, who set the Victorian train in motion with a couple of electrifying opening laps - the times bettering his previous national marks - set at Dunc Gray Velodrome during the recent World Cup event. "Yeah I was pretty happy with that 17.699 and then in the second ride 17.74," Perkins told Cyclingnews. "Previously my p.b. and the best time by an Australian was 17.861, which I did here in Sydney at the World Cup in November. To go two tenths under that, I'm very happy."
West Australia's Peter Dawson
Photo ©: John Veage

Joel Leonard was equally impressed to come away with gold in the team sprint - though anything less would have seen the Victorians labeled 'underachievers', given the quality of riders they sent to the start line. "We've got four of the best sprinters in Australia to wack em in one team is pretty special," Leonard said.
"Shane started and Mark (French) was second wheel and I was third, it was just a matter of getting on Shane's, he's in great form at the moment riding real fast lap times. No sprinter in Australia's ever done the times that he's been doing."
In the bigger picture, the result also augers well for Australia's assault on the World Championships.
The Western Australian team of Ryan Bayley, Peter Dawson and Scott Sunderland finished third and claimed the bronze medal. Combining Bayley with the best of the Victorians, should ensure Australia a formidable lineup at international level.
"Imagine at the World's, here you go look out, we've got myself, Mark French and Ryan Bayley," Perkins said. "Everyone's doing world class times so hopefully we can get a world title."
More Victorian gold - O'Shea in ride of the championships
Glenn O'Shea
Photo ©: John Flynn

In what could only be described as the best individual ride of the championships thus far, Bendigo's Glenn O'Shea rode out of his skin to claim victory in the under nineteen 25 kilometre points race. Competing against a talented group, including a string of junior world champions, O'Shea appeared to care little for reputations as he systematically blasted the field apart.
When O'Shea attacked with fifty laps to go, the plan was to establish a breakaway, but the Victorian soon found himself within range of lapping the field - and drew upon his deepest reserves to bridge the gap to the bunch. Not content with the points bonus, O'Shea attacked again with 32 laps remaining and claimed another sprint bonus - effectively clinching the gold medal with an unassailable lead.
"Awesome, it's unbelievable, I just went out really aggressive and it paid off," an overjoyed O'Shea said post race. "My coach Tim Decker just said you've gotta be in the breaks because that's where all the points are made up. I saw the opportunity, (to establish a one lap lead) and I had to take it."
At one stage it appeared O'Shea might not be strong enough to make it across to the bunch, but the superb teamwork of the Victorians, who rode with intelligence, helped secure the win. "It was worst pain I've ever had but I had my team-mates James Langedyk and Leigh Howard helping me out," O'Shea said. "They just sacrificed themselves, Langa's got second (silver medal) so it was awesome.
The performance also earned worthy praise from O'Shea's coach. "He deserves it, he puts in hard, he's one of the hardest trainer and most dedicated person I've known," coach Tim Decker said. "He just kept fightin and kept fightin and really wanted it - this is the pinnacle of his career so far and hopefully he can go on from here."
Dempster brings Victorian gold trifecta
Road and track talent Zak Dempster (SouthAustralia.com-AIS), who just a few weeks ago won the National under 23 road time trial championship, delivered the Vic's third gold medal for the night at the Australian track championships with another classy ride in the men's 15 kilometre scratch race.
Zak Dempster takes Jame Carney
Photo ©: John Flynn

Again it was the teamwork of the Victorians which made the difference - Dempster relying on Richard England to sacrifice himself and establish a breakaway, then backing himself to bring it home in the finish. It was a race plan which worked almost to perfection for the Victorians - but there were some anxious moments in the final laps, as Dempster had his work cut out in a breakaway group of five, including U.S. track veteran Jame Carney.
The bell lap bordered on chaotic, as Western Australian World Champions Cameron Meyer and Peter Dawson came storming home over the top. But Dempster employed hard line tactics to keep the last ditch move in check. "The last lap I was watching Cam Meyer and Pete Dawson," Dempster explained. "I threw a hook and then just dived straight at Carney and I just got around him."
Dempster was quick to pay tribute to his team-mate Richard England, who went a long way to delivering a place for Dempster in Australia's World Track Championship squad. "Richard buried it out there and I really have to thank him a lot for it," Dempster said. "It's my first two senior national championships (with the under 23 road time trial from three weeks ago). I've got two races to go and I won't be giving an inch from now.
Meares and Georgouras in gritty sprint showdown
Another of the talking points of the night at the Australian Track Cycling Championships came in the quarter finals of the women's sprint - where the showdown between Queensland's Kerrie Meares and her long time New South Wales rival, Elizabeth Georgouras, produced its share of heart stopping racing.
Kerrie Meares
Photo ©: John Flynn

"Probably the most eventful races of my life," was how Georgouras described the 'thrill a minute' quarter final stoush. "I've raced Kez [Kerrie] a lot of times but we've never come to grips that much."
Meares won the first race but was handed a warning by the race commissaries, after hooking, and allegedly altering her line. The second match race was even more eventful with Meares relegated after being deemed by commissaries to have illegally snuck into the sprint lane underneath Georgouras. The shoulder to shoulder racing continued in the third and deciding match race, but this time commissaries were unable to find Meares at fault as Georgouras dropped her bike while lunging toward the finish line.
"To my understanding Lizzy must have been throwing to the line and she's thrown up the track and her hand's hit my leg and she's come down," Meares told Cyclingnews post race. "I rode a straight line, its very unfortunate for anyone to crash," she added.
Georgouras wasn't exactly sure of what happened in the final sprint, but was happy to survive without serious injury. "I thought everything was going well .. Kez was right on the red and I was within the sprinters lane and oh well, shit happens," Georgouras said. "I thought I had her but it was pretty close... I was really happy to have gotten that close to her."
In the end Kerrie Meares progressed to the semi final of the women's sprint where she will meet Western Australian Kristine Bayley. Sister Anna faces an equally difficult match up against the rapidly improving Tasmanian Laura McCaughey.
Western Australian trifecta in under 19 pursuit
Western Australian Camille Pallett
Photo ©: John Flynn

Western Australia proved it's not only in the men's ranks where the state has developing talent as three of the state's emerging female cyclists, Josephine Tomic, Sarah Kent and Camille Pallett, produced a trifecta in the women's under 19 pursuit.
Tomic, a prolific national champion on the road and track, re-emerged with a world class time of 2.25.811 for the 2000 metre distance, winning gold ahead of her state team-mate Sarah Kent. "Yeah I'm really happy after the disappointment of last year not making the team," Tomic said. "To do that and get so close to the world record I'm really happy and the other girls were really good, they were first years - they'll be amazing next year."
The win adds to an impressive collection of national gold medals for Tomic. "That would be my seventh gold, I haven't got one since 2005," Tomic said. "This is my most memorable because I wanted to make this team so badly."
World Record sooo close for tandem pair
Lindy Hou and Toireasa Gallagher,
Photo ©: John Veage

In the Athletes with Disabilities events at the 2007 National Track Championships, it was almost a case of world records on two nights running - as Toireasa Gallagher and Lindy Hou came within the narrowest fraction of the world mark in the 3000 metre tandem pursuit.
Gallagher, who medalled in the women's time trial at the Australian road championships recently, now appears more motivated than ever to snatch the world mark and her team-mate Hou is equally obsessed with shaving the pairs p.b. by just one hundredth of a second.
"It's been a big buildup for this week, its paid off for the track, we're on fire with the pursuit time," the in-form Gallagher told Cyclingnews. "The racing is what we don't get enough of, Australian teams are looking for more of that now."
Queensland tandem team praise their mentor
Another of Australian cycling's recent success stories, the tandem racing program in Queensland, produced another National Championship winning pairing tonight in Peter Spencer and Damian Williams.
The Brisbane/Gold Coast combination teamed up in the 4000 metre tandem pursuit final against Western Australians Leon Larkins and Tyson Lawrence - a race which turned into an intense tactical battle.
Queensland pairing
Photo ©: John Flynn

With their mentor Paul Martens calling the times trackside - the Queenslander's stuck to the race plan and waited until their pre-planned moment to bring home the steam-train of stoker Williams. "Six to go, we just decided it was time to put the heat on," pilot Spencer told Cyclingnews. "All you have to do to a blind guy (Williams is visually impaired) is keep saying up, up, up and they do that they - they trust you."
Williams stuck to the game plan, as the Western Australians were reeled in. "Hard to tell when you can't see where the other team is," Williams said. "With six laps to go when Paul called it, I said call me at six and then I'll give it all at six."
The ecstatic champions are just the latest to come from Queensland's tandem racing talent factory - much of it the work of Paul Martens, who had helped get tandem racing for athletes with disabilities off the ground in Australia. "This is all for Paul Martens , he organized everything, you couldn't ask for a better bloke and as a volunteer as well, he deserves everything we can give him," an emotional Spencer said. "That's not just a carton (of beer) for taking us down him to Sydney, if it wasn't for him, tandem racing in Australia wouldn't be what it is."
Photography
For a thumbnail gallery of these images, click here
Images by John Flynn/Cyclingnews.com
Images by John Veage
Results

Session 5

Women sprint 200m qualifying

1 Anna Meares (Qld)                          11.390 (63.21km/h)
2 Kerrie Meares (Qld)                        11.775 (61.15km/h)
3 Kristine Bayley (WA)                       11.940 (60.30km/h)
4 Laura McCaughey (Tas)                      12.027 (59.87km/h)
5 Kaarle McCulloch (NSW)                     12.064 (59.68km/h)
6 Cassandra Kell (NSW)                       12.115 (59.43km/h)
7 Elizabeth Georgouras (NSW)                 12.129 (59.36km/h)
8 Chloe MacPherson (Qld)                     12.227 (58.89km/h)
9 Apryl Eppinger (Vic)                       12.569 (57.28km/h)
10 Davina Summers (WA)                       13.058 (55.14km/h)
11 Jennifer Loutit (ACT)                     13.098 (54.97km/h)
12 Hayley Wright (Qld)                       13.135 (54.82km/h)

Women U19 individual pursuit qualifying

1 Josephine Tomic (WA)                     2.26.117 (49.28 km/h)
2 Sarah Kent (WA)                          2.27.401 (48.85 km/h)
3 Camille Pallett (WA)                     2.28.248 (48.57 km/h)
4 Lisa Friend (Vic)                        2.33.618 (46.87 km/h)
5 Ashlee Ankudinoff (NSW)                  2.36.648 (45.96 km/h)
6 Carlee Taylor (SA)                       2.36.883 (45.89 km/h)
7 Sarah Edwards (Qld)                      2.36.900 (45.89 km/h)
8 Courtney Le Lay (Qld)                    2.36.988 (45.86 km/h)
9 Lauren Hooper (Vic)                      2.37.013 (45.86 km/h)
10 Zoe Appel (Qld)                         2.37.283 (45.78 km/h)
11 Bethany Coleman (Tas)                   2.37.755 (45.64 km/h)
12 Andrea Beer (NSW)                       2.38.168 (45.52 km/h)
13 Ellen Marks (NSW)                       2.40.307 (44.91 km/h)
14 Myfanwy Galloway (ACT)                  2.42.581 (44.29 km/h)
15 Lauren Kitchen (NSW)                    2.44.178 (43.85 km/h)

Women sprint round 1

Heat 1

1 Kaarle McCulloch (NSW)                     13.398
2 Hayley Wright (Qld)

Heat 2

1 Cassandra Kell (NSW)                       12.831
2 Jennifer Loutit (ACT)

Heat 3

1 Elizabeth Georgouras (NSW)                 12.334
2 Davina Summers (WA)

Heat 4

1 Chloe MacPherson (Qld)                     12.797
2 Apryl Eppinger (Vic)

Men 4000m tanden pursuit qualifying

1 Peter Spencer (Qld)                      4.36.920 (52.00 km/h)
  Damien Williams (Qld)

2 Leon Larkins (WA)                        4.37.830 (51.83 km/h)
  Tyson Lawrence (WA)

3 Matt Miller (SA)                         4.39.130 (51.59 km/h)
  Kieran Modra (SA)

4 Jayden Veljacich (WA)                    5.07.170 (46.88 km/h)
  Joshua Yates (WA)

Women 3000m tanden pursuit qualifying

1 Toireasa Gallagher (NSW)                 3.36.826 (49.81 km/h)
  Lindy Hou (NSW)

2 Annaliisa Farrell (NZl)                  3.54.561 (46.04 km/h)
  Neelu Memon (NZl)

3 Michelle Laurenson (NZl)                 3.56.880 (45.59 km/h)
  Jayne Parsons (NZl)

Women U19 2000m individual pursuit qualifying

1 Josephine Tomic (WA)                     2.26.117 (49.28 km/h)
2 Sarah Kent (WA)                          2.27.401 (48.85 km/h)
3 Camille Pallett (WA)                     2.28.248 (48.57 km/h)
4 Lisa Friend (Vic)                        2.33.618 (46.87 km/h)
5 Courtney Le Lay (Qld)                    2.35.510 (46.30 km/h)
6 Ashlee Ankudinoff (NSW)                  2.36.648 (45.96 km/h)
7 Carlee Taylor (SA)                       2.36.883 (45.89 km/h)
8 Sarah Edwards (Qld)                      2.36.900 (45.89 km/h)
9 Lauren Hooper (Vic)                      2.37.013 (45.86 km/h)
10 Zoe Appel (Qld)                         2.37.283 (45.78 km/h)
11 Bethany Coleman (Tas)                   2.37.755 (45.64 km/h)
12 Andrea Beer (NSW)                       2.38.168 (45.52 km/h)
13 Ellen Marks (NSW)                       2.40.307 (44.91 km/h)
14 Myfanwy Galloway (ACT)                  2.42.581 (44.29 km/h)
15 Lauren Kitchen (NSW)                    2.44.178 (43.85 km/h)

Session 6

M19 Team Sprint
 
1 Trevor Griffiths (Vic)    48.068 (56.2 km/h)
  Anthony Rix (Vic)                 
  Ben Sanders (Vic)                 
 
2 Luke Davison (NSW)       48.245
  Paul Fellows (NSW)                
  Peter Lewis (NSW)                 
 
3 Joel Callaghan (Qld)     48.652
  Byron Davis (Qld)                 
  Malcolm Rudolph (Qld)             
 
4 Sean Boyle (SA)          50.938
  Nicholas Ferguson (SA)            
  Mark Glowacki (SA)                
 
5 Stephen Hall (WA)        51.370
  Jason Holloway (WA)              
  Michael Freiberg (WA)            
 
6 Liam Hodge (NT)          52.143
  David Trott (NT)                 
  Laurence Van Schie (NSW)          
 
Men Team Sprint
 
1 Mark French (Vic)        45.049 (59.9 km/h)
  Jason Niblett (Vic)               
  Shane Perkins (Vic)               
 
2 Ben Kersten (NSW)        46.787
  Michael Lewis (NSW)               
  Andrew Taylor (NSW)               
 
3 Ryan Bayley (WA)         47.144
  Peter Dawson (WA)                
  Scott Sunderland (WA)            
 
4 Wade Cosgrove (Qld)      47.468
  Lindsay McMaster (Qld)            
  Benjamin Simonelli (Qld)          
 
5 Daniel Ellis (ACT)       47.859
  Joel Stewart (ACT)                
  Kial Stewart (ACT)     

Women Sprint Quarterfinals

1 Anna Meares (Qld)       12.864     12.715
  Chloe Macpherson (Qld)           
 
2 Kerrie Meares (Qld)     12.406                12.223
  Elizabeth Georgouras (NSW)         12.524      
 
3 Kristine Bayley (WA)    12.310                13.057
  Cassandra Kell (NSW)               12.698       
 
4 Laura McCaughey  (Tas)             12.146     12.694          
  Kaarle McCulloch (NSW)   unknown          

Women U19 2000m Individual Pursuit Final

Gold & Silver Medals

1 Josephine Tomic (WA)    2.25.811 (49.38 km/h)
2 Sarah Kent (WA)         2.30.124
 
Bronze Medal

3 Camille Pallett (WA)   2.29.035 (48.31 km/h)
4 Lisa Friend (Vic)      2.34.514

M19 Team Sprint Final
 
Gold & Silver Medals

1 Luke Davison (NSW)       48.024 (56.2 km/h)
  Paul Fellows (NSW)                
  Peter Lewis (NSW)                 
 
2 Trevor Griffiths (Vic)   48.160
  Anthony Rix (Vic)                 
  Ben Sanders (Vic)                 
 
Bronze Medal

3 Joel Callaghan (Qld)     47.951 (56.3 km/h)
  Byron Davis (Qld)                 
  Malcolm Rudolph (Qld)             
 
4 Sean Boyle (SA)          50.641
  Nicholas Ferguson (SA)           
  Mark Glowacki (SA)               
 
Men Team Sprint Final
 
Gold & Silver Medals

1 Mark French (Vic)        45.220 (59.7 km/h)
  Joel Leonard (Vic)                
  Shane Perkins (Vic)               
 
2 Ben Kersten (NSW)        47.562
  Michael Lewis (NSW)               
  Andrew Taylor (NSW)               
 
Bronze Medal

3 Ryan Bayley (WA)         46.906 (57.6 km/h)
  Peter Dawson (WA)                
  Scott Sunderland (WA)            
 
4 Wade Cosgrove (Qld)      47.234
  Lindsay McMaster (Qld)            
  Benjamin Simonelli (Qld)          

Men 4000m Tandem Pursuit Final
 
1 Peter Spencer (Qld)             4.36.682 (52.1 km/h)
  Damien Williams (Qld)                    
 
2 Leon Larkins (WA)               4.37.981 (51.8 km/h)
  Tyson Lawrence (WA)                     
 
3 Matt Miller (SA)                caught opponent at lap 7        
  Kieran Modra (SA)                       
 
4 Jayden Veljacich (WA)                  
  Joshua Yates (WA)                       
 
Women 3000m Tandem Pursuit Final
 
1 Toireasa Gallagher (NSW)        3.40.820 (48.9 km/h)
  Lindy Hou (NSW)                          
 
2 Annaliisa Farrell (NZl)         caught opponent at lap 7        
  Neelu Memon (NZl)                        

Women Sprint 5th-8th Final

1 Kaarle McCulloch (NSW)          12.75
2 Chloe Macpherson (Qld)       
3 Elizabeth Georgouras (NSW)   
4 Cassandra Kell (NSW)          

M19 25km Points Race Final

1 Glenn O'Shea (Vic)             44 pts
2 James Langedyk (Vic)           19
3 Travis Meyer (WA)              10
4 Dale Scarfe (NSW)              10
5 Jack Bobridge (SA)             10
6 Jack Rhodes (SA)                8
7 Rohan Dennis (SA)               8
8 Leigh Howard (Vic)              6
9 Clay Murfet (Tas)               3
10 Adam Semple (WA)               2
11 Thomas Palmer (ACT)            2
12 Joseph Lewis (NSW)             2
13 Ben Grenda (Tas)                
14 Mitchell Brooks (WA)           
15 Alastair Loutit (ACT)           
16 Malcolm Rudolph (Qld)           
17 Daniel Jamieson (Tas)          
18 Joshua Edwards (Qld)            
DNF Matthew Meisel-Dennis (ACT)    
DNF Richard Lang (NSW)             

Men 15km Scratch Race Final

1 Zakkari Dempster (Vic)           
2 Jame Carney (USA)                
3 Cameron Meyer (WA)              
4 Douglas Repacholi (WA)          
5 Peter Fitzpatrick (NSW)          
6 Richard England (Vic)            
7 Peter Dawson (WA)               
8 Hayden Josefski (Qld)            
DNF Brenden Savage (ACT)           
DNF Joel Stewart (ACT)             
DNF Ben Kersten (NSW)              
DNF Jackson-Leigh Rathbone (NSW)   
DNF Steven George (Qld)            
DNF Jeremy Hogg (Qld)              
DNF David Miller (SA)             
DNF Stephen Rossendell (Tas)       
DNF Kyle Marwood (Vic)             
DNF John Forrest (ACT)