Introduction to Track Racing - What's a Wheelrace? - Introduction to Six Day racing
Tasmanian Christmas Carnivals
Tasmania, December 23, 2006 - January 20, 2007
Tassie's Christmas gift to the track cycling world
By Greg Johnson
Matt Goss (TIS/Cyclingnews.com) wins at Latrobe last year
Photo ©: Shane Goss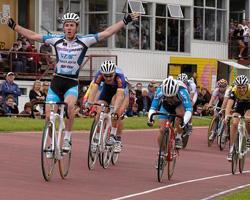 Tasmania's month-long National Grid Christmas Carnival Series gets underway on December 23, 2006 at Rosebery's athletic carnival, with the post-Christmas cycling action commencing on Boxing Day, December 26, with Latrobe's two-day carnival.
"It's going to be fantastic," said president of the Sports Carnival Association of Tasmania (SCAT), Grant Atkins. "I think in total the riders, right across the board, are up on last year slightly, so that's good.
"We've been pushing a policy of trying to let the rest of Australia, out in those big cities, know it's a great series down here and I think that's starting to work."
The Christmas Carnivals' reputation has spread throughpout the world of track cycling, and the races have featured riders and training squads from the USA, UK, many European nations and also Japan.
The annual event's growth is reflected in the corporate support from local and multinational businesses - including that of title sponsor National Grid. The United States-based firm, which has interests in mainland-based utlities, provides the island state with electricity from the mainland and has increased its ongoing support of the Christmas Carnival Series. "[They are] the third biggest utility provider in the United States - they've got a annual budget of US$64 billion, I understand," said Atkins. "We're very fortunate to have them; the sponsorship we've picked up this year is good."
Seats are as good as gold
Photo ©: Shane Goss

Support of companies like National Grid has enabled SCAT to offer competitors a large prize pool. "We did total it up one year - it was well over $200,000," said Atkins.
But the carnival has more than just prizemoney going for it - with some of the biggest names in Australian track cycling returning to take part in the event. Among this year's field is Commonwealth Games gold medalist and multiple Australian champion Ben Kersten, up and coming Australian track cyclist Scott Sunderland (no relation to the retired pro and now Team CSC director) and Rabobank's dual Athens gold medalist, the sprinter Graeme Brown.
"The other big thing is, it looks like Jobie Dajka is going to be racing, if he gets his licence back today," added Atkins. "We've accepted his nomination and we're hoping it comes through."
Riders line up in Launceston
Photo ©: Shane Goss

Dajka's licence, which has been reinstated by Cycling Australia just in time for the carnival, means the event will be the first time the South Australian has competed since being banned from the sport for three years in 2005. CA handed out the suspension after Dajka, who hopes to contest the 2008 Beijing Olympic Games, assaulted Australian cycling coach Martin Barras when he was kicked off the AIS team for disciplinary reasons.
The former world keirin champion is likely to arrive in Tasmania hungry for racing and victories, and the racing against riders like Kersten and Brown will be genuinely world-class.
Continued growth
The steady growth of the carnivals can largely be attributed to its heritage and the organiser's ongoing desire to improve the events year on year.
"We've had to reschedule every year, re-look at everything to try and make the events relevant," explained Atkins. "We continue to take on board ideas and suggestions. There's a lot of tradition there that has built up over the years. We're pretty excited, there's even 15 riders coming from West Australia."
Ben Kersten at last year's event
Photo ©: Shane Goss

That flow of riders from the mainland is aided by a generous offer of $100 to any mainland competitors who takes part in three, or more, of the carnivals. Event organisers also help visiting riders, which this year come from as far as Scotland, organise billeting where possible. "I think even though it's only $100 per rider, it's a little bit extra to help out with their costs," said Atkins.
Atkins again expects Latrobe's two-day carnival to be the main drawcard for spectators and competitors alike. The event, which kicks off on Boxing Day, includes Australia's richest wheel race, with $12,500 on offer to the winner. "It's the blue ribbon event," said Atkins. "Everyone wants to win the Latrobe wheels, it's the Melbourne Cup of cycling as far as wheel races go - it's got a huge tradition of well over 100 years. As far as carnival racing goes it's the premier race in Australia, we believe."
Another addition to this year's carnivals is a special sprint series, sponsored by financial institution B & E Limited, to be run at the series' four main carnivals at Latrobe, Burnie, Launceston and Devonport. "The top 14 sprinters have been selected and at each carnival there will be two sprint events," said Atkins. "There's going to be a lot of interest in that between people like Kersten, Dajka, Sunderland and those sorts of guys. It will be interesting to see how that all plays out."
So, with all the planning out of the way and the events about to commence, what does Atkins hope to get for Christmas? "All we want now is the weather," he concluded.
There's still time...
Season passes for the National Grid Christmas Carnival Series are still available via the website www.tascarnivals.com. This gains entry to Latrobe, Launceston, Devonport and Burnie for $60, which is a saving of $25 off the gate entry price.
Passes will also be sold at the gate on Boxing Day only at Latrobe, so people need to get in quick if they want to take advantage of this great saving otherwise they risk missing out.
Further reading - special features on the Tasmanian Carnivals by Gerard Knapp
Inside the carnivals - part 1 and part 2. Fixed-gear track racing remains the drawcard at Tasmania's Christmas Carnivals, but can they maintain their long tradition and stay relevant in 2005 and beyond?
Team America takes the far track: A posse of American riders made the big trip south for warmer weather and hot racing in Tasmania. Gerard Knapp reports on their southern sojourn
An interview with Liz Williams, December 29, 2004: The Ulmer influence builds track cycling in NZ
The Launceston Classic: How two local riders brought their dream to life. This story won the 2003 Cycling Australia Print Media award.
The program
2007
2006