Introduction to Track Racing - What's a Wheelrace? - Introduction to Six Day racing
Tasmanian Christmas Carnivals
Tasmania, December 26, 2003 - January 4, 2004
Main Page Wheelrace Results Complete event results
Launceston Carnival - December 28
Top international field for Launceston Wheel Race
Stephen Wooldridge on the front of the field, followed by Graeme Brown, Brett Aitken and Mike Tillman.
Photo ©: Gerard Knapp/Cyclingnews.com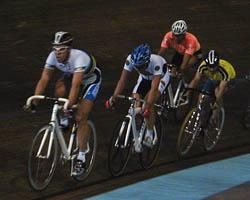 The Launceston Wheelrace in Australia is one of the grand slam event events of the Tasmanian Christmas Carnival Series. This year's race is shaping up to be one of the most exciting ever, with a high-class international field as riders from the Northern hemisphere make their way to Tasmania for some warm-weather racing.
The American contingent has already arrived in Tasmania. Long-time Tasmanian carnival rider Jame Carney has been joined by US national scratch race champion Sarah Hammer and top US sprinter Becky Conzelman, among others. Riders from England, Belgium, Switzerland, Japan and New Zealand will also contest the Launceston Wheel Race, which this year is sponsored by Tooheys/Hahn Premium Light. There are a total of 78 non-stop events starting at 12:30pm on December 28.
A highlight of the evening session will be the return of former wheel race winner and international cycling legend Danny Clark. He will ride off scratch in the Frank Clark Invitational Masters handicap and 60 metres in the Hahn Premium Light Wheel Race heat.
The final event for the evening, the A Grade scratch race, will be a spectacle with 25 of the best track riders including international star Graeme Brown, Jame Carney from the USA, Nathan and Danny Clark, and local junior champion Mark Jamieson all fighting hard for a win in the prestigious event. Danny Clark previously won the event in 1990 and 1991 and past winners include Mathew Gilmore and Michael Grenda.
The Tasmanian carnivals also feature wood-chopping contests and Launceston City Cycling Club is excited about the return of World Champion axeman David Foster who will no doubt be a highlight of the chopping events in the central arena.
Launceston Wheelrace, 2000 M
Heat 1



Roberto Chiappa (Italy)                         scr

Nathan Clarke (Latrobe)                         scr

Kevin Belz (USA)                                 20

Chris Hoy (England)                              30

Stephen Rossendell (Tas)                         50

Kouji Yoshi (Japan)                              80

Gui Nelessen (USA)                               90

Tommy Nankervis (Vic)                           100

Chris Wilding (Tas)                             120

Adrian House (Vic)                              120

Yoshito Urakado (Japan)                         130

Ian Morwood (NSW)                               150

Tony Winter (NSW)                               150

David Dennis (Hobart)                           170

Liz Williams (NZ)                               200

Jason Bellchambers (Dev)                        200

Tarrisha Jones (Geo. Town)                      250

Tom McDonagh (Tas)                              250



Heat 2



Jame Carney (USA)                               scr

Peter Dawson (WA)                               scr

Craig Maclean (England)                          20

Gareth Atkins (Dev)                              30

Danny Clark  (Tas)                               60

Grant Young (Lton)                               80

Andy Sparks (USA)                                90

Alexander Sommer (NSW)                          100

Hamish Taylor (Vic)                             100

Jason Johnson (Hobart)                          130

Corey Parnell (Qld)                             130

Thomas Atkinson (NSW)                           160

Glen Baldwin (Vic)                              160

Kharne Hammersley (Lton)                        170

Jarrod Harman (Dev)                             180

Josh Murfett (Lton)                             200

Tim Walker (Tas)                                210

John Towers (Lton)                              250



Heat 3



Graeme Brown  (NSW)                             scr

Brett Lancaster (Vic)                           scr

Miles Olman (Qld)                                20

Kristian House (England)                         40

Daniel Cutting (Spreyton)                        60

Matthew Atkins (Latrobe)                         90

Paul Atkinson (Hobart)                          100

David Browne (Vic)                              110

Stephen Cummings (England)                      110

Matthew Sydes (Lton)                            130

Phil Dixon (NSW)                                140

Trent Deacon (Burnie)                           160

Michael Gargioni (Hobart)                       160

Nathan Hingston (Lton)                          180

Hamish McKirdy (SA)                             180

Ty Winduss (Dev)                                210

Louise  Yaxley (Lton)                           210



Heat 4



Wouter Van Mechlen (Belgium)                    scr

Darren Young (Dev)                              scr

Todd Wilksch (Vic)                               20

Mark Jamieson (Acacia Hills)                     50

Ross Edgar (England)                             60

Brendan Geale (Lton)                             90

Carlo Barendilla (Italy)                        100

Keiran Page (England)                           110

Damian Ladd (Vic)                               120

Adam Hartley (Boat Harbour)                     140

Corey Heath (NT)                                140

Ryan Johnson (Lton)                             160

Brett Johnstone (NSW)                           160

Dwayne Smith (Lton)                             180

Craig Burrows (Lton)                            190

Becky Conzelman (USA)                           220

Sarah Hammer  (USA)                             220



Heat 5



Grant Irwin (Qld)                                60

Dean Downing (England)                           70

Markus Kammerman (Switzerland)                   70

Markus Eichler (Germany)                         80

Matt  Goss (Lton)                                90

Dayle Cheatley (NZ)                             100

Simon Price (Hobart)                            100

Andrew Loft (Lton)                              120

Stephen Price (Hobart)                          120

Bradley Payne (Qld)                             140

Jim Burke (NSW)                                 140

Ben Price (Ulv)                                 160

Wes Sulzberger (Flowery Gully)                  160

Reece-Emerson van Beek (Vic)                    190

Michael Wood (Dev)                              190

Peter Dadson (Lton)                             230

Howard Smith (Lton)                             230



Heat 6



Stephen Pearce (Ulv)                             60

Russell Downing (England)                        70

Leigh  De Luca (Vic)                             80

Andy Williams (NZ)                               80

Karl Menzies (Lton)                              90

Ashley Humbert (NSW)                            100

Andrew Swatton (Vic)                            120

Daniel Vogels (WA)                              120

Dylan Forbes (NSW)                              140

Kaidan Homan (Ulv)                              150

Laurie Venn (Lton)                              160

Matthew Wyles (England)                         160

Mark Cooper (England)                           170

Colin Barnes (Geo. Town)                        200

Belinda Goss (Tas)                              200

Zoe Southwell (Tas)                             230

Paul Wilson (Lton)                              230