Introduction to Track Racing - What's a Wheelrace? - Introduction to Six Day racing
Tasmanian Christmas Carnivals
Tasmania, December 26, 2003 - January 4, 2004
The world's best head for Tasmania
Stephen Wooldridge on the front of the field
Photo ©: Cyclingnews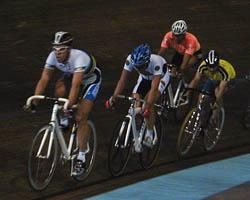 Once again it is time for the Tasmanian Christmas Carnivals, one of the highlights of the Tasmanian cycling season. The hugely popular series of track carnivals is held over the Christmas and New Year period around the Australian 'island state' of Tasmania, with its slightly cooler climate providing a break from the heat of the Australian mainland.
The series starts off on Boxing Day with the Latrobe Carnival, before making its way to Launceston, Devonport and Burnie. Launceston will also provide action with the Doherty Hotels Launceston International Criterium on December 27.
The Christmas Carnivals will see a battle of the old with the new, as riders such as 52-year-old, Danny Clark, arguably Australia's best ever track rider, competing against future champion Mark Jamieson. In the women's race, Tasmanian Belinda Goss will pitt herself against the cream of international female track riders such as Sarah Hammer (USA) and Liz Williams (NZ).
International riders from around the world will also be making an appearance, with Chris Hoy (Scotland), Jame Carney (USA), Roberto Chiappa (Italy) and Kouji Yoshi (Japan) just a few of the riders to be competing.
Handicaps have already been released for the following races.
Races
2003
2004
January 1, Burnie Carnival - Handicaps
January 4, Hobart Carnival
Photography
Shane Goss/www.licoricegallery.com took these shots of visiting international riders at the recent Launceston City Cycling Club race at the Launceston Silverdome.