2nd Doherty Hotel's Launceston International Classic - NE
Tasmania, Australia, December 27, 2003
2nd Doherty Hotels Launceston International Criterium
The winners
Photo: © CN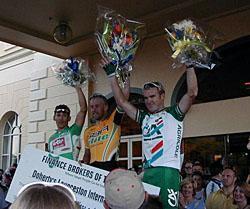 The streets of Launceston will host the Doherty Hotels Launceston International Criterium (LIC) for the second time this December.
The race will be the only gathering of all of Australia's seven Tour de France riders on home soil. Brad McGee and Matt Wilson will be joined by fdJeaux.com teammate Baden Cooke, who is recovering from complications as a result of cyst in a rather delicate place. The 2003 Tour de France green jersey winner is well known in Tasmania after taking an active role in the promotion of last year's inaugural event, and will be one of the crowd favourites on December 27.
Stuart O'Grady will make his final racing appearance in both his Credit Agricole colours and National Champions jersey at the Launceston race. O'Grady will return to France to the Cofidis team presentation directly after the event.
Last year's pre-race favourite (who eventually placed second) Robbie McEwen will be back in 2003 to avenge his defeat and try and take home the $10,000 first prize. McEwen's Lotto-Domo teammate, Nick Gates will be having his first start in the LIC in 2003 and should prove a valuable asset to his fast finishing team leader.
The Launceston Classic:
How two local riders brought their dream to life
By Gerard Knapp in Launceston
"Hey Stan, waddya reckon we get Robbie, Stuey and the lads in for a big crit in the middle of town ..."
Earlier this year (2002), two local Launceston riders were out on a ride and the talk turned invariably to pro racing and 'wouldn't it be good to get a whole bunch of pros here for a crit around the town, and recreate the atmosphere of a European race right in the middle of town?'
Of course, such talk is cheap and quite often plentiful. But the city of Launceston, like all of Tasmania, has a proud cycling heritage. The whole state is cycling friendly: cyclists out commuting or on training rides are treated with respect and courtesy by other road users. The local townsfolk have great pride in their attractive small city. Read more.
This story won the 2003 Cycling Australia Print Media award.
Quickstep-Davitamon's Michael Rogers is also another first timer for this year's race and the man tipped to be the brightest star of Australia cycling future will generate a lot of crowd support in the island state.
Another man who will be back in 2003 is the only person who knows what it takes to win the $10,000 first prize. Hilton Clarke upstaged the biggest names in Australian cycling last year and will be out to ensure that people don't regard his 2002 win as a fluke.
Race organiser, Dr. Stan Siejka has promised a bigger and better 2003 race, and after fact-finding trips to the Tour Down Under and several professional races in Europe, has added several features to this year's race. A fully catered corporate area will be set up on Cascade Straight. The stands in this area will have a full view of the finish line and a direct view of Siejka's other big innovation, the giant TV screen.
The 2003 LIC is an open event and anyone who wants to take their shot at the big prize, or just wishes to ride alongside their idols for a few laps, can enter online at www.licrace.com.
Click here for full results and reports from the 2002 race.