World Track Championships - CM
Stuttgart, Germany, July 30 - August 3, 2003
Event program and results Qualifying 1/16 Finals 1/8 Finals Quarter Finals Semi Finals Finals Men's Sprint
Women's Sprint
Double gold for Grankovskaya
By Valkerie Mangnall in Stuttgart, Germany
Grankovskaya and Tsylinskaya battle
Photo: © Hennes Roth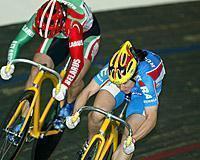 Russia's Svetlana Grankovskaya added the sprint gold medal to her keirin title when she beat Natallia Tsylinskaya in straight heats, relegating the Bielorussian to the silver medal position.
Great Britain's Victoria Pendleton was impressive, taking 2001 time trial world champion Nancy Contreras Reyes to three heats in the contest for the bronze medal. The Mexican won two heats to one but Pendleton, who has only been training full time since January, suggested she would be one to watch at next year's Olympics.
Tsylinskaya vs. Contreras and Pendleton vs. Grankovskaya in semis
Great Britain's Victoria Pendleton made it through to the semi-finals of the women's sprint and finds herself up against Svetlana Grankovskaya on tomorrow's final day of competition.
Natallia Tsylinskaya remained on track for the sprint double, setting up a semi-final meeting with Mexico's Nancy Contreras Reyes, whom the Belarussian beat to win the 500m time trial on Thursday.
Photos
Round 1
Images by Hennes Roth/www.roth-foto.de
Finals
Images by Hennes Roth/www.roth-foto.de
Images by AFP
Results
Qualifying

1 Natallia Tsylinskaya (Bielorussia)             11.133 (64.672 km/h)
2 Svetlana Grankovskaya (Russia)                 11.233
3 Tamilla Abasova (Russia)                       11.285
4 Daniela Larreal (Venezuela)                    11.286
5 Lori Ann Muenzer (Canada)                      11.308
6 Victoria Pendleton (Great Britain)             11.337
7 Katrin Meinke (Germany)                        11.374
8 Cuihua Jiang (China)                           11.421
9 Susann Panzer (Germany)                        11.439
10 Anna Meares (Australia)                       11.493
11 Nancy Contreras Reyes (Mexico)                11.552
12 Rosealee Hubbard (Australia)                  11.583
13 Oxana Grishina (Russia)                       11.599
14 Evgenia Radanova (Bulgaria)                   11.625
15 Kathrin Freitag (Germany)                     11.633
16 Clara Sanchez (France)                        11.640
17 Tanya Lindemuth (USA)                         11.643
18 Iryna Yanovych (Ukraine)                      11.643
19 Tian Fang (China)                             11.731
20 Kerrie Meares (Australia)                     11.799
21 Szilvia Szabolcsi (Hungary)                   12.003

1/16 final

Heat 1

1 Natallia Tsylinskaya (Bielorussia)             11.871 (60.652 km/h)
2 Iryna Yanovych (Ukraine)

Heat 2

1 Svetlana Grankovskaya (Russia)                 12.317 (58.455 km/h)
2 Tanya Lindemuth (USA)

Heat 3

1 Tamilla Abasova (Russia)                       12.462 (57.775 km/h)
2 Clara Sanchez (France)

Heat 4

1 Daniela Larreal (Venezuela)                    12.298 (58.546 km/h)
2 Kathrin Freitag (Germany)

Heat 5

1 Lori Ann Muenzer (Canada)                      11.939 (60.306 km/h)
2 Evgenia Radanova (Bulgaria)

Heat 6

1 Oxana Grishina (Russia)                        12.335 (58.370 km/h)
2 Victoria Pendleton (Great Britain)

Heat 7

1 Katrin Meinke (Germany)                        11.957 (60.215 km/h)
2 Rosealee Hubbard (Australia)

Heat 8

1 Nancy Contreras Reyes (Mexico)                 11.878 (60.616 km/h)
2 Cuihua Jiang (China)

Heat 9

1 Anna Meares (Australia)                        11.989 (60.055 km/h)
2 Susann Panzer (Germany)

Repechages

Heat 1

1 Victoria Pendleton (Great Britain)             11.470 (62.772 km/h)
2 Susann Panzer (Germany)
3 Iryna Yanovych (Ukraine)

Heat 2

1 Rosealee Hubbard (Australia)                   12.134 (59.337 km/h)
2 Evgenia Radanova (Bulgaria)
3 Tanya Lindemuth (USA)

Heat 3

1 Cuihua Jiang (China)                           11.693 (61.575 km/h)
2 Kathrin Freitag (Germany)
3 Clara Sanchez (France)

1/8 finals

Heat 1

1 Natallia Tsylinskaya (Bielorussia)             11.768 (61.182 km/h)
2 Cuihua Jiang (China)

Heat 2

1 Svetlana Grankovskaya (Russia)                 11.910 (60.453 km/h)
2 Rosealee Hubbard (Australia)

Heat 3

1 Victoria Pendleton (Great Britain)             11.542 (62.380 km/h)
2 Tamilla Abasova (Russia)

Heat 4

1 Daniela Larreal (Venezuela)                    11.853 (60.744 km/h)
2 Anna Meares (Australia)

Heat 5

1 Nancy Contreras Reyes (Mexico)                 11.625 (61.935 km/h)
2 Lori Ann Muenzer (Canada)

Heat 6

1 Katrin Meinke (Germany)                        12.428 (57.933 km/h)
2 Oxana Grishina (Russia)

Repechages

Heat 1

1 Cuihua Jiang (China)                           13.601 (52.937 km/h)
2 Oxana Grishina (Russia)
3 Anna Meares (Australia)

Heat 2

1 Tamilla Abasova (Russia)                       12.124 (59.386 km/h)
2 Rosealee Hubbard (Australia)
3 Lori Ann Muenzer (Canada)

1/4 finals

Heat 1

1 Natallia Tsylinskaya (Bielorussia)             12.656   11.370
2 Tamilla Abasova (Russia)

Heat 2

1 Svetlana Grankovskaya (Russia)                 11.989   11.717
2 Cuihua Jiang (China)

Heat 3

1 Victoria Pendleton (Great Britain)             11.784   12.028
2 Katrin Meinke (Germany)

Heat 4

1 Nancy Contreras Reyes (Mexico)                 11.801   11.646
2 Daniela Larreal (Venezuela)

Semi-finals

Heat 1

1 Natallia Tsylinskaya (Bielorussia)             11.712    11.616
2 Nancy Contreras Reyes (Mexico)

Heat 2

1 Svetlana Grankovskaya (Russia)                 11.666    11.617
2 Victoria Pendleton (Great Britain)

Finals

For gold and silver

1 Svetlana Grankovskaya (Russia)                 12.558    11.798
2 Natallia Tsylinskaya (Bielorussia)

For bronze

1 Nancy Contreras Reyes (Mexico)                           12.198     12.009
2 Victoria Pendleton (Great Britain)             11.669

5th-8th

5 Daniela Larreal (Venezuela)                    12.318 (58.451 km/h)
6 Katrin Meinke (Germany)
7 Tamilla Abasova (Russia)
8 Cuihua Jiang (China)

9th-12th

9 Oxana Grishina (Russia)                        11.969 (60.155 km/h)
10 Anna Meares (Australia)
11 Lori Ann Muenzer (Canada)
12 Rosealee Hubbard (Australia)